This is the largest dungeon in the game, and will probably take several days or even several weeks of game time to fully explore it. There are seven sections of this dungeon, and the difficulty will jump quite a bit here.
Note:
Raven will not begin stocking items from Rune Prana until you clear the third arc.
Temple Area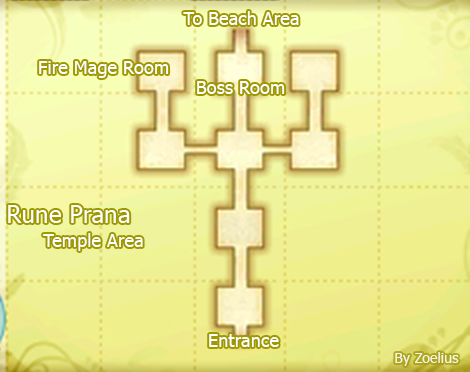 The first part of the dungeon is fairly simple and linear. There are two switches that need to be pressed to unlock the area in the center. The switches are located on the west and east ends of the area. The west switch has a very annoying obstacle; you have to defeat all the Flare Mages in the area before you can press the switch, but a wall will prevent you from reaching them. The best way to deal with them is to equip a fire immunity accessory and use a weapon with a very long range to hit them. You can extend a weapon's range by upgrading a weapon with a Glitta Augite and Raccoon Leaf.
Glitta Augite randomly drops when you chop a mature Twinkle Tree, grown from Shining Seeds obtained from the tree west of Obsidian Mansion. You can keep tilling Withered Grass, Corn, or 4-Leaf Clovers into the soil to keep the Twinkle Tree's health from falling to zero, allowing you to continue chopping at it for more Wood and Glitta Augite. Raccoon Leaves drop from Magnuto, an optional boss found in Demon's Den. To reach it, take the airship to Sercerezo Lake during the beginning of the month and go north, all the way east, then south. The mushrooms will be cleared away on the first few days of the seasons, allowing you to enter; once you visit it once, you can return here whenever you want by airship. From the save point, drop down the left hole three times to reach the boss.
If you do not have either Glitta Augite or a Raccoon Leaf, you can try using a spear or two handed sword, but it's very difficult to hit them without any range extension. If all else fails you can use magic, but they are very resistant to spells being casters. You can also mine Oricalcum ore in this area, which will let you create the new armor and weapons you'll need to clear this area. Once you have successfully pressed the two switches, go to the area in the center to fight the boss.
Boss Battle
HP
Weakness
Resist
Taming Item
Item Drop
Bane Dragon
50000
N/A
Wind (Absorb)
Rockfish Stew
Electro Crystal
A returning boss from previous Rune Factory games, the Bane Dragon has a simple pattern. It can turn itself invisible and create an electric spark that chases you. Each time it reappears again the Bane Dragon will either lash you with its tongue or breathe out a green smoke that will paralyze you. There is no way you can hit the Bane Dragon when it's invisible, so wait till it appears and use that opportunity to strike. Once the Bane Dragon's HP is below 50% it will go berserk, creating larger electric sparks and sometimes stomping you when it reappears.
Beach Area
The map in this area is pretty straightforward. However, you will probably notice a lot of area is blocked by a strong gust. The legitimate way to bypass the wind is to wear a pair of Heavy Boots, but you can also use the Spear Rune Ability Axel Disaster to dive through it. Beware of the plant traps though; these traps inflict way more damage and stepping in a few of them can kill you nearly instantly. If you travel to the northeast area, you can find a treasure chest containing a recipe for an accessory. To bypass the wind here, I suggest using Axel Disaster at an angle. Once you're finished exploring, return to the entrance area and travel west until you have reached the end.
Boss Battle
HP
Weakness
Resist
Taming Item
Item Drop
Octopirate 2
40100
N/A
Wind (Absorb)
Grilled Snapper
Ammonite, Fish Fossil, Vital Gummi
If you have been doing Seed dungeons, you might have encountered the Octopirate. This is an upgraded version that is around level 200. The Octopirate is probably the easiest boss in Rune Prana, and while it has high defense, it has low attack power compared to the other bosses in this area. The Octopirate has very few attacks; it likes to strike with its tentacles when you get near it, but the damage from this attack is extremely low. The only other attack it has is throwing a spiked ball at you, which can be easily dodged by moving out of its path.
Snow Field
This is the smallest section of Rune Prana. If you travel two maps north, you will immediately head into a boss fight. However, there are hidden passage through the trees that can take you to the east and west end. There you can fight High Orc Vikings which drop the materials you need to craft stronger gear.
Boss Battle
HP
Weakness
Resist
Taming Item
Item Drop
Crystal Mammoth
42560
Fire
Water
King Pineapple
Diamond, Icy Nose
This is an upgraded version of the Crystal Mammoth that you can find in the hidden area of Sechs Territory. It will most likely be your first encounter with it if you haven't been married yet. The Crystal Mammoth is fast and extremely unforgiving at this point of the game. You will need to pay attention to the crystal shards attached to the Mammoth's back. The crystals will change colour to yellow, when all crystals changed to yellow, you will hear a ding. During this moment, the mammoth will create a shockwave of ice that covers nearly the entire map. You will to stay away as far as possible when that happens, Getting hit by this shockwave is fatal at this point of the game.
Volcano Area
A lot of monsters in this area absorb fire attacks. The worst part is that the heat in the area will deal continuous fire damage to both you and the monsters, preventing them from dying. If you're ever stuck in a room with a force field where a monster just won't die, it's because the continuous fire damage is healing them. Start the area by heading north, then head right and fight a Red Dragon. Defeating it will spawn a treasure chest containing a curry recipe. Now return to the previous room and head west to find two rooms. The room in the west is filled with fire spirit monsters, and if you manage to defeat them a switch will appear that spawns more dragons. There is no reason to be in this room unless you want to grind for experience points, so head to the room north instead. Defeat all the monsters in this area to reveal a yellow switch. Press it and it will remove the yellow pillar in the starting area. Head to the room where the yellow pillar was. Watch out for the fire trap and press the blue switch in the area, then continue north. This room appears to be a dead end, but there is actually a hidden passage on the right through the pile of rock. Take the path east again, and another hidden passage can be located through the rocks. Once you press the red switch, head back to where the red pillar was and fight the boss.
Boss Battle
HP
Weakness
Resist
Taming Item
Item Drop
Hinoe (Red Lion)
AKA: Crimsone
39000
Love
Fire
Salted Char
Red Lion Fur, Quality Fur, Fur
Kinoto (Blue Lion)
AKA: Aramanthine
31500
Love
Wind
Salted Char
Blue Lion Fur, Quality Fur, Fur
This boss fight is actually a lot easier than fighting the Crystal Mammoth, even if you are fighting two bosses at the same time. Each lion has a different elemental, but Aramanthine is more magic based, while Crimsone is more physical. Aramanthine can heal about 30% of it's HP when its HP drops to a certain point and can also cause tornadoes. Crimsone's magic is much simpler and just breathes fire in a straight line. It's best to deal equal damage to both lions so you can take them both out at the same time. Like the statues, the other lion will go berserk when one of them dies, which increases its attack power so much it can potentially kill your character in one hit.
Cave Area
Start the area by running left and then south. Defeat all the monsters in the area to create a red switch near a treasure chest. From here head all the way to the northwest to where the dead end is. From the last room where the dead end is, head south and then head east. There will be another hidden passage leading you through a tunnel of falling boulders. Pass through it and you will be at the starting area. Destroy the gate, take the warp, and then kill all the monsters in the area. This will create a red switch exactly where you were earlier. Backtrack all the way there and press the yellow switch to remove the yellow pillar. Now head to the north exit to fight the boss.
Boss Battle
HP
Weakness
Resist
Taming Item
Item Drop
Siren
42000
N/A
Water(Absorb), Fire, Wind, Earth, Light, Dark
Giant 4-Leaf Clover
Melody Bottle, Mealy Apple (Rare)
Siren has a few attack patterns; usually, she will stay still and start singing notes. The notes are extremely dangerous because they can cause every status ailment including instant death. Use hit and run tactics, attacking Siren when she stops and running away from her when she begins to sing. If Siren dives into the water, she will summon monsters into battle. You will have to defeat all the monsters before Siren will resurface. Siren can also swing her tail, shooting four water lasers in a single direction. Once you have defeated Siren, her drop will may end up falling into the pond. You will need a fishing rod to obtain the loot.
Temple Area 2
This section of the dungeon is pretty straightforward but laced with the most number of traps, all of which are lethal. You need to defeat all the monsters in each room before you can actually remove the walls. Start by heading north until you reach a dead end with a guardian monster. Defeat the guardian and destroy the gate surrounding the area to reveal a red switch. You will need to place an item on the white switch in the same room to remove the block near the red switch. Then return to starting area, head west, and keep moving until you finally reach the red switch. Press the red switch and then take the north exit to fight the boss.
Boss Battle
HP
Weakness
Resist
Taming Item
Item Drop
Death Wall
62000
 ?
 ?
Ice Cream
Broken Ice Wall, Small Crystal
The Death Wall isn't a hard boss, but I highly suggest bringing an extra party member because of one of his attacks. Death Wall mostly relies on transforming into different objects to attack you. If it transforms into a sword, it will swing three times in your direction. If it transforms into a hammer, it will slam that ground in a radius around it. The attack you need to watch out for is when it transform into a drill, as it will continue drilling endlessly until you're KO'd. Bringing party members to distract Death Wall is a huge help.
Forest Area
The last section of Rune Prana is long but fairly straightforward. Here you can mine Dragonic Stones, needed to make some of the best equipment in the game. You'll also find numerous treasure rooms containing high-end crafting recipes that can be opened by having the correct giant crop in your rucksack.
Boss Battle
HP
Weakness
Resist
Taming Item
Item Drop
Dead Tree 2
80000
 ?
 ?
Greenifer+
Moving Branch, Apple, Apple Tree Seed
The Dead Tree has been heavily upgraded from the last time you battled it. It shoots apple projectiles that are faster and deal much more damage compared to the Yokmir Forest version. When then Dead Tree's HP goes below 50%, the apples will become even larger making them harder to dodge.
Boss Battle
HP
Weakness
Resist
Taming Item
Item Drop
Chimera 2
100797
 ?
 ?
Royal Curry, Ultimate Curry
Chimera's Tail, Chimera's Claw
Chimera 2 is not that much different from the version you fought in the Water Ruins. It's a bit faster but its attack patterns remain the same.
Boss Battle
HP
Weakness
Resist
Taming Item
Item Drop
Greater Demon 2 x2
50000
 ?
 ?
Big Autumn Grass, Big Fireflower
Chest Hair, Quality Fur
You be fighting two Greater Demons. They're not exactly difficult bosses, however fighting two large bosses in a small area makes this fight really cumbersome. The Greater Demon, only has a few attacks, they can charge at you, but once they start charging, they can't change their direction. The other attack is they create a shockwave the split in three directions. Other attacks include earth magic, just focus on dealing one Greater Demon, and then finish the other one off. The Greater Demons have weaker status then the previous boss due to having two bosses instead of one.
Boss Battle
HP
Weakness
Resist
Taming Item
Item Drop
G Golem
70000
 ?
Physical (50%)
Oricalcum
Tablet of Truth, Golem Tablet, Platinum, Diamond
The G Golem can be the hardest boss in the game depending on your current gear. Due to G Golem's ridiculously high defense and crit resistance, you will do next to no damage even with the best gear you can find at the moment. Magic attacks however work very well, and if you don't have a staff or other caster gear you can craft and equip the Magic Charm accessory. This will cause all your attacks to use your highest stat whether it's Attack or Magic Attack, so you will be able to use powerful spells even while wearing Attack- and STR-based gear. If you must rely on physical attacks, it is best to have the Rune Ability Cyclone or Double Kick. The last hit of both these particular moves negate defense, allowing that strike to deal normal damage despite the G Golem's high defense. The G Golem's attack pattern is exactly the same as the Sech Golem boss found in the Floating Empire, only it's bigger and faster. It can do a rocket punch as well as spin its arms to attack whenever you're close to it. If all else fails, you can win the encounter by taming it with Orichalcum.
Boss Battle
HP
Weakness
Resist
Taming Item
Item Drop
Olive
30000
 ?
Earth
Big White Crystal
Yellow Core, Earth Crystal, Small Crysta
Emerald
30000
 ?
Wind
Big Green Crystal
Green Core, Wind Crystal, Small Crystal
Rouge
 ?
 ?
Fire
Big Red Crystal
Red Core, Fire Crystal, Small Crystal
Marin
35000
 ?
Water
Big Blue Crystal
Blue Core, Water Crystal, Small Crystal
These four elemental fairies have a very strong magic attack power and can instantly KO your character if you get hit by multiple projectiles. The good news is they are also very fragile and can be defeated easily before they can unleash their magic at you. Try to defeat them quickly instead of prolonging the fight. This battle should be a total breeze compare to the G Golem.
Boss Battle
HP
Weakness
Resist
Taming Item
Item Drop
Ragnarok
 ?
 ?
 ?
N/A
Throne of the Emperor
This is a palette swap of Etherberd. The attack pattern is mostly the same as the final boss of the second story arc, except now he moves faster and shoots more projectiles at you. The only difference with this battle is that Etherberd can transform into one of the four dragons and use their ultimate attack. For example, he can transform intto Terrable to unleash a giant meteor or Ventuswill for a tornado attack. Otherwise, this battle is pretty much the same as the Etherberd battle in the second arc.
Once you have defeated Ragnarok, head to the next room. After the event, return to town. There's no credits this time, but you're now done with the final story arc.
---
Last edited by
Wolfwood
on Oct 28, 15 3:31pm