Friday, Jun 5
4 total articles

Net Articles Summary
It appears like From Software's Dark Souls III announcement for E3 has been leaked earlier by Youtube channel, The Know, who released early screenshots and speculative gameplay details via a video earlier today. The leaked information and assets almost certainly come from an early embargoed or unreleased press kit, but somehow The Know got their hands on them or otherwise decided to put them out early. Either way, this news all but makes Dark Souls III official. After From Software's affair with the PlayStation 4 exclusive Bloodborne, they're back onto their main franchise. Dark Souls III, unofficially, is planned for release on the PlayStation 4 and Xbox One in 2016.
Of note immediately is that PC is not listed alongside PlayStation 4 and Xbox One. The Youtube video says that a PC version of the game is currently "negotiable," but in all odds the current plan for Dark Souls III is similar to previous iterations in the franchise. Since From Software develops first for console, they prioritize release on those platforms. They're then able to take their time optimizing the game for PC and PC hardware, which could dismantle the speedy release schedule From Software seems to be holding itself to in recent years. As it stands, delaying a PC release means From can hold to a potential annual release schedule for games. That's speculation on my part, of course, but fits the situation perfectly.
Let's move on the specific details about Dark Souls III. For all appearances, Dark Souls III will not follow in Bloodborne's footsteps with regards to speedier combat. Instead From will iterate on Dark Souls II, retaining heavier armor and more deliberate movements along with other features like the Estus Flask and up to four player multiplayer. The game will feature up to 10 playable classes, 45 enemies, 15 bosses, 100 weapons, 40 amor sets, and that's only what's new, as there's apparently the possibility that content from previous Dark Souls titles will return. There will also be up to 12 new areas to explore and over 60 minutes of cutscenes, which seems like the standard size of the game and the scale of it's normal atmospheric storytelling. That is, another big world with very little direct narrative.
Changes to the formula will also be made, though seemingly not in any huge ways. "Sacrifice Ceremonies" involving dragging corpses to specific places will be the source of multiplayer incursions, both friendly and competitive. These rituals can also create bonfires, apparently. New attacks have also been added, branded as "Sword Fighting Arts." "Rush In" and "Circle" were two examples provided. Perhaps these are class-based attacks? Bosses will now feature a "Heat Up" factor which can completely change a fight. It's unclear if this is meant to be similar to Bloodborne's Insight difficulty changes or a more direct, middle-of-fight type of transformation.
It must be said that these details are to be treated entirely as rumor and hearsay until further details have been provided from official sources. The Know has proven itself an unreliable source, though the screenshots they've provided are undeniable. The written details, however, could either be true to source or exaggerated speculation based off of assumptions made from the screenshots. There are also some gamers who believe the screenshots to be altered or photoshopped images from either concept art or even Bloodborne's unrevealed expansion, though that seems unlikely given the detail of the screenshots.
Expect more information from official sources by E3 starting June 15 or earlier should Namco Bandai decide to spill the beans due to the leak. The screenshots look outstanding and Bloodborne's influence in creating gorgeous landscapes is clear. There's room for discussion on whether From Software should be releasing annual games, but as they continue to release outstanding titles time after time you can't really call it a controversy just yet. Let's hope Dark Souls III keeps that level of quality alive.
Click here to see more images
The Steam Machine revolution will start early for pre-orderers. Man, that's like a defining and depressing statement capturing our modern industry, isn't it? Regardless, Valve announced today that pre-orders have opened for the initial wave of Steam Machine Hardware. That first wave will include the Steam Controller, the Steam Link, and a range of Alienware Steam Machines with four different hardware configurations. Valve has also partnered with GameStop, which means that folk can pre-order through the retailer or through Steam if they so choose to. But the biggest part of the announcement is that pre-orderers will receive their orders on October 16, weeks earlier than the previously announced November 10 launch.
I'm not a fan of pre-orders and I'll maintain the perspective that folk should wait until launch reviews come out before putting down their hard earned cash for a Steam Machine. That actually goes double here, because players deserve to know how optimized each Steam Machine will be before they end up spending $500-$1000. There are still some interesting things that have come out as part of the announcement, however. One of those things is Valve's partnership with GameStop, which shows how the PC gaming company is really trying to push the Steam Machine as a console competitor. I'm not sure Alienware is the best hardware manufacturer for those purposes, but they've definitely showed they're savvy on what Valve is trying to do just based on pricing and design alone.
What's most exciting is that Valve's released a special trailer showcasing their Steam Controller in all of its glory. This is the final design of the controller, now with a smooth surface for the right touchpad and the imprint of a directional pad laid onto the left touchpad. It's one thing to see still-shots of the damned thing, but another entirely to see it used in action. In the trailer we get to see the faceless player using the controller for all sorts of games including: SimCity, The Witcher 3, Wolfenstein: The Old Blood, and Assault Android Cactus. That's a sim/god game, action adventure, shooter and dual-stick shmup. As far as keyboard and mouse, or controller intensive games go that's a pretty great example of titles. Some sort of competitive multiplayer would also have been great to see, but this will do for now.
The full line-up of Steam Machines from over a dozen manufacturers, as well as Steam Controllers and Steam Links will go on sale on November 10. Players now have the option of preordering Steam Controllers, Steam Links or the Alienware Steam Machine through GameStop and Steam for a limited time to get their purchases as early as October 16. CyberPower is also taking part of this early release, but the pre-orders have to go through their own website.
The next Super Smash Bros. DLC character is set to arrive on-stage as E3 begins, announced Nintendo today. Starting on June 14, 8:00am Pacific Time, Lucas the protagonist of Mother 3 will be returning to the fighting arena. Say it with me: PK Freeze! PK Fire! PK Thunder! PK... Starstorm! Ah, it feels good to get that out my system. What do you mean Ness already says those things? Who is Ness? Lucas forever!
Launching at the same time as Lucas will be a couple of other pieces of DLC, too. The Wii U Miiverse stage will also become available for download to all players, entirely free of charge. This hopefully notes Nintendo's goal of keeping any future stage DLC entirely free so all players can experience them both offline and online. The second piece of DLC, this bit premium, will be Splatoon costumes for Mii fighters. There are technically two pieces of DLC here: an Inkling Squid Hat, then an Inliking Wig and Outfit combo for both male and female characters.
What's probably my favorite part of the DLC, however, is the pricing. Who'd have thought, huh? Nintendo is actually super reasonable about their DLC pricing for Super Smash Bros., especially considering how packed full of content the game already is. As already said, the Miiverse stage will be entirely free. Lucas himself will cost only $3.99, which is a third of the price folk will end up paying for his upcoming Amiibo release. The Splatoon cosmetic DLC, as said earlier is in two separate packs. Each pack will cost only $.75. Less than a dollar!
As exciting as the Lucas DLC itself is, what's perhaps just as if not more exciting is that it opens the door for Nintendo to announce even more Super Smash Bros. DLC during their E3 press conference. Will we finally see that Ryu and Roy DLC announced? Will we see a whole season of Super Smash Bros. DLC announced? Will they finally start to provide DLC codes alongside Amiibo releases? Ahh, it's E3 everyone! How exciting.
Lucas will join the Super Smash Bros. Wii U and 3DS roster starting on June 14. It'll be accompanied by the Wii U Miiverse stage (for free) and a couple pieces of Mii Fighter costume DLC (for cheap). Stay tuned for more Super Smash Bros. DLC information during Nintendo's E3 press conference on Tuesday, June 16.
PK THUNDER! On 6/14 @ 8 a.m. PT, Lucas is available to buy as a DLC character in #SmashBros for #WiiU & #3DS. pic.twitter.com/DlzexRRjYa

— Nintendo of America (@NintendoAmerica) June 5, 2015
Thursday, Jun 4
9 total articles

Net Articles Summary See more
The Mortal Kombat X Worldwide Competitive Program finals are well underway, and Warner Bros. Interactive today announced they will be doubling the prize pool to $100,000 USD. Now that's a lot of change.
When Warner Bros. initially announced their partnership with the Electronic Sports League in March, the final prize pool was $50,000 and games were set to begin May 3. Sales of Sub-Zero's Blue Steel skin, we learned, would go toward increasing the prize sum as well as funding a number of other "initiatives" by Warner Bros. and developer NetherRealm Studios.
Well, a month later the publisher has bumped the pool by twice the original amount, while the Sub-Zero promotional fundraiser will remain active through June 29. That's $1.99 for each skin, if you're wondering.
Further contribution to the ESL Mortal Kombat X Pro-League finals prize pool. The deadline for the Blue Steel Sub-Zero Skin to fund this tournament is

June 29

.

Funding a series of Mortal Kombat X tournaments including:
Mortal Kombat X is currently available for PC, Xbox One, and PlayStation 4. Warner Bros. Interactive will, of course, be showing at E3 in a couple weeks.
ArenaNet has revealed a new legend for the Guild Wars 2: Heart of Thorns Revenant class, and his name is Ventari. In addition to this new style of healing, the class will be able to use staves as melee weapons.
Ventari centaur was a pivotal character in the first Guild Wars, later planting the seed that would grow into the Pale Tree that birthed the sylvari race. Given he was a very peaceful character, ArenaNet will be making his Revenant legend a healing spec, one that operates differently from any other class' support capabilities. At the very core of this spec is Ventari's Tablet, which can be summoned and utilized in any number of ways.
While the tablet's focus is protecting and healing allies, it can also be used to mess with enemies a bit. ArenaNet's Roy Cronacher details some of the abilities:
Ventari's Will

"Will the tablet toward the target location. As the tablet moves, it will heal allies it passes through."

This is a core skill of the legend since the other skills are based around commanding the tablet to do something. Because the tablet heals allies it passes through, the revenant will need to strategically coordinate with other players to get the most out of each movement.

Protective Solace

"Summon a protective barrier around the tablet that destroys enemy projectiles."

This skill creates a barrier of natural energy around the tablet. While this barrier is active, it will destroy all projectiles that come into contact with it. This is the upkeep skill for the legend, so you can toggle it on or off at the cost of rapidly depleting your energy bar. The tablet can be moved while the barrier is active.

Energy Expulsion

"Force energy to erupt from the tablet, knocking back foes and leaving behind energy fragments that heal allies."

This is the elite skill, which I briefly touched on before. It will send a surge of energy through the tablet, dismissing it. Foes will be knocked back by the energy forced through the tablet, so you can use it at opportune times to interrupt key skills or even knock enemies away from a downed ally. Energy fragments are left around the area as well, and allies will be able to walk over these fragments to receive healing, similar to the staff skill Rejuvenating Assault.
As for the Revenant's staff mastery, this is the first time we'll be seeing the staff weapon used in a melee capacity. Talk about a relief, given how odd Guardians look when waving around a staff.
Staff Revenants will use a combination of their Mist-given magic and martial arts to support the team, using prevention over direct offensive attacks to fit with the entire Ventari theme.
Below are two of the new staff abilities for Revenant:
Rejuvenating Assault

"Cleave foes around you with your staff, creating healing orbs for you and your allies."

This skill is the third part of the autoattack chain. When you strike foes with this skill, shards of energy will fly off onto the ground around the target. You or your allies can walk over these for a small amount of healing. This encourages strafing around your target to pick up the orbs as you attack, and it creates more interaction between you and your allies. We wanted to promote healing through offense rather than as a passive effect.

Surge of the Mists

"Charge forward, knocking back enemies that cross your path."

When you use this skill, you'll charge forward with your staff, repeatedly knocking back foes along your path and either thrusting them out of the way or pushing them along with you. This control skill is a Ventari-approved way to separate enemies from your injured allies.
More Revenant legends and weapon swill be revealed in the near future. ArenaNet also has plans to make some Guild Wars 2 announcements in a couple weeks at E3. Popular rumor now is a release date for Heart of Thorns, though I wouldn't be surprised if we get more class reveals then.
Click here to see more images
It looks like I was wrong about that Uncharted trilogy remaster being announced at E3! Greg Miller of Kinda Funny Games just tweeted a screen capture of the PlayStation mobile storefront which, proud and center, displayed an advertisement for Uncharted: The Nathan Drake Collection. Our first unintentional publisher leak prior to E3, folks! Cheers to the PlayStation 4 fans who knew it's be Sony and Naughty Dog's race all along.
A remastered version of the Uncharted trilogy has been rumored for quite some now on, so it's exciting to hear the thing officially confirmed. Still, I'm quite a bit surprised considering Naughty Dog is almost certainly crunching on Uncharted 4 for it's early 2016 release. How did they even find the time? They must be magicians. Magic programming wizards or something.
Let's just to go over it again to make sure we're not misrepresenting what we've found. It's a promotional image posted on PlayStation's mobile storefront. The image reads in large lettering Uncharted: The Nathan Drake Collection and then in smaller text above it the subtitles of the three original console Uncharted games. That's Drake's Fortune, Among Thieves and Drake's Deception for those who aren't familiar.
Technically there's no lettering or branding indicating that the game will be a remaster as opposed to a simple port of each game. Technically there's no lettering or branding indicating that the game is for PlayStation 4. Still, we can probably assume that The Nathan Drake Collection will be a remaster for PlayStation 4. The PS4 part of it is I'd say 99% and the remaster part 85%. That first Uncharted game would not look great these days.
As it stands, however, I think we can call this rumor confirmed. It doesn't get any more confirmed without some official word on the matter, which is likely to come very soon now that it's in the wild. Uncharted: The Nathan Drake Collection. It's been a good day for awesome games.
Update: One final clarification -- just because the advertisement is on the PlayStation mobile storefront does not imply that this is a mobile title. It's just the normal PlayStation store as viewed through a mobile device. Since mobile requires its own advertisements, sized appropriately for handheld devices, these sorts of leaks can occur where on the standard storefront they'd never have gone through. There's just a lack of oversight.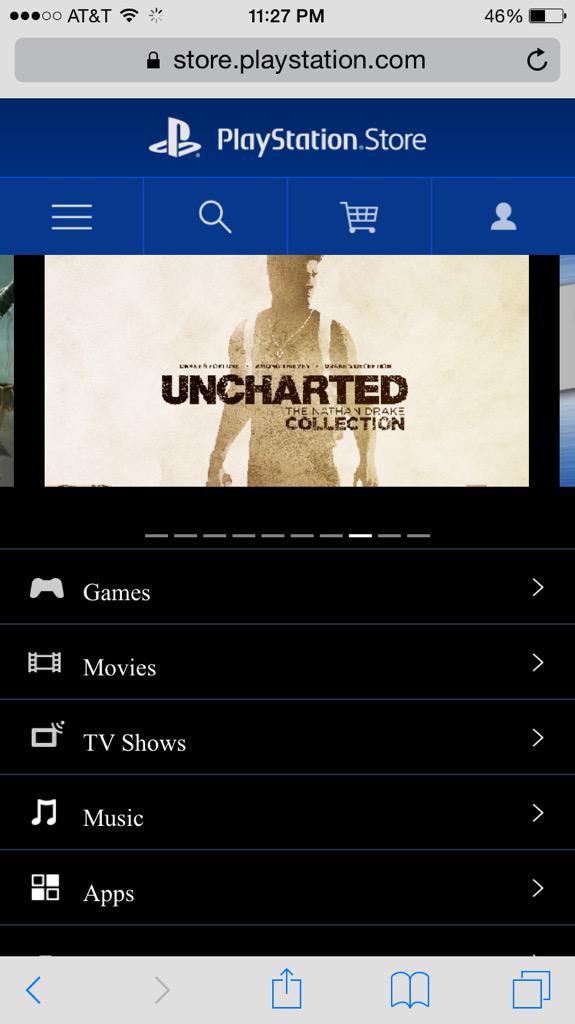 Wednesday, Jun 3
New Inhouse Articles
NVIDIA Shield Android TV Review
The NVIDIA Shield Android TV is an insanely powerful device that sets a new standard for living room entertainment.
6 total articles

Net Articles Summary See more
With two weeks left before E3, Activision and Vicarious Visions have unveiled Skylanders SuperChargers, the upcoming addition to the ridiculously popular video game and toy franchise. Due for release in September, SuperChargers further expands the Skylanders cast while also introducing vehicles to the series.
If you weren't aware, each new Skylanders game since Skylanders Giants comes with a hook, a new feature and toys that create new gameplay. Nothing about the game is drastically changed, but new toys introduced with each specific game can serve special purposes and unlock unique content. In SuperChargers, that hook is vehicles. Every car, sub, and plane seems to have a physical toy equivalent, which can be scanned to be used in-game.
Of course, SuperChargers has actual Skylanders too, and each of the 20 new characters comes with his or her special form of transportation. Swapping is an option, obviously, and the vehicles themselves have an elemental theme; submarines, for instance, are required for water traversal. Players will also be able to customize and mod their vehicles, likely both for visual effect and gameplay. All that said, we'll likely be learning more at E3.
Skylanders SuperChargers will be out September 20 for Xbox One, Xbox 360, PlayStation 4, PlayStation 3, Wii U, Wii, and 3DS. Check out the announcement trailer below, and the screenshots after the break.
Click here to see more images
These are buzzwords that are all the rage these days in video games: first-person shooter, team-based multiplayer, free-to-play. If those are your kind of buzzwords then check out Dirty Bomb, Splash Damage's online mulitplayer shooter and follow-up to Brink. Dirty Bomb has officially entered Open Beta, which means anyone who wants to can download and play it right now. Or any time they please. At first glance it may strike some as Counter-Strike: Global Offensive inspired, but that's only half the truth. The rest is that Dirty Bomb takes heavily from MOBAs and other hero/champion-based games to create a diverse but familiar meta of team compositions.
For Open Beta 12 "Mercs," the heroes/champions of Dirty Bomb, will be accessible. Being a free-to-play game, only 2 of those 12 will actually be entirely free. The others will require players unlock them through the game's monetization system which also allows for in-game unlocks. There will also be a rotation of free-to-play characters which will change on "an ongoing basis." Maps seem to be freely available as well, with five total maps in Open Beta and more planned for the future. At least one will be added before full launch. There will also be two game modes available, both Objective and Stopwatch, though they're technically the same. Objective just features one round while Stopwatch features two with the teams switching sides.
The heart of the experience, like many other online shooters these days, will of course be the leveling and experience system. Killing enemies, assisting in kills, completing objectives and all that nonsense that shooters like to reward will help players level, including support actions that can often be forgotten.
Now let's talk about the money, because the real issue with all free-to-play games is how well the publishers decide to treat the customers. How much they respect the game versus hoe much they value a profit. Unfortunately, it appears that Dirty Bomb does indirectly sell power, though they twist it a bit by saying paying players won't have a "competitive advantage." The core of the monetization scheme come in buyable card "Cases." These cases include different tiers of "Augments," as well as customizations for weapons and outfits. These Augments will improve player stats in "minor" ways. Cases in-game will drop at a supposed rate of 2 per hour and have very low chances of unlocking high-level Augments. Meanwhile, paying customers can buy a tier of cases which guarantees access to these tiers of Augments. Technically every card can be earned entirely by playing free, but don't be surprised when paying customers jump in day one with awesome augments that take 100s of hours for non-paying customers to earn.
Dirty Bomb, published by Nexon, is now available in Open Beta. It's downloadable through Steam for those interested in a character-focused take on Counter-Strike style game modes. It's like an evolution Splash Damage's Brink made purely for multiplayer. Which is honestly pretty exciting. If only it wasn't for those Augments.
Catalog this one under, "About damn time, Riot!" League of Legends will soon have a complete HUD rework landing on their public beta environment, which almost certainly will be rushed to live within the next few weeks. That's because the HUD rework really is just that good, but even more because it's just that much necessary. What both Riot and fans wants is coming true -- a stripped down HUD that focuses on straight forward information conveyance with little to none of the "fluff" taking away players' view of the on-screen action.
With the overall goal of streamlining the UI while minimizing the amount of junk on-screen, Riot went to work on figuring out the types of information that players use and how they can support players through the HUD. According to a brief introduction to the HUD, Riot prioritized strategic and tactical information first and foremost. Strategic information, which players need in moment-to-moment gameplay like skills, gold and activatible items, is placed front and center at the bottom of the screen. Tactical information, which players don't need immediately, but is useful to check often to paint a better picture of the state of the game, is located in the bottom right corner. This includes the mini-map and teammate/enemy status.
There's also support information which isn't on-screen full time, but is still available should a player want it. That includes clicking on a friend or foe for further information, which pops a box into the upper left corner until you deselect them. And finally there's the tab screen which shows all players, their items, KDA, CS, towers, dragons, and so on. Players can now arrange everyone to line up with their lane opponent for faster and more efficient comparisons. This, as previous, will show up in the middle of the screen and should only be used in safe situations.
Overall the HUD changes are very sleek and very sexy, while still maintaining the theme of the game in general. It's not minimalist, it's just streamlined. Yet there's still one problem and League of Legends players are already letting Riot know about that. It's the mini-map placement, its size, its seemingly unnecessary borders and the inability to move it at all. It's odd to say that whole Riot cut so much fat off the rest of the HUD that the mini-map has this thick border around it that serves no purpose. More than that though, you'd hope Riot would at least allow players to shift it to the left side of the screen. Other things like how allies' ultimate abilities still aren't included in the UI, transparency issues and requests for mana bars in certain places are also making the rounds. Riot says they're listening and still have plans for the HUD in the future, but any changes probably won't make it through for launch.
Small frustrations noted, this is a great improvement for League of Legends and it's great to see Riot prioritizing it. Say what you might about client changes and champion pick needing to be redone, but in-game stuff should be a priority and so it is. As mentioned earlier, the HUD changes will be heading to the PBE soon with a full launch planned in the near future.
Click here to see more images
The Guild Wars 2 Gem Store is due for a good clean-up, so ArenaNet has removed numerous outfits and skins from the cash shop. That said, the developer did add a new mini, PVP finisher, and back item skin.
The new mini is a Miniature Beetle arriving just in time for all this Maguuma Wastes business, and can be purchased for 500 Gems. The new back item skin, the Daydreamer's Wings, allows anyone who grabbed all the other Daydreamer skins to complete their collection, should they choose to (so much green), for an added 500 Gems.
The Permanent Honor Guard Finisher gives PVPers something to blow their money on, coming in at 700 Gems. I'll probably stick to the Llama Finisher myself, but those golden swords don't look too bad.
As for the items being removed from the Gem Store, these include the release armor skins, the animal hats, and various other cosmetics. If you find yourself missing any of these, don't worry -- they will return next Fall. The Wintersday weapon set will be removed in one week.
Krytan Armor Skins
Profane Armor Skins
Primeval Armor Skins
Zodiac Armor Skins
Quaggan Warrior Backpack
Wintersday Earmuffs
Fuzzy Bear Hat
Fuzzy Leopard Hat

Glowing Crimson Mask Skin
Mask of the Crown Skin
Sailor's Beanie
Top Hat
Reading Glasses
Frost Wasp Logging Tool

Tireless Logging Minion
Tireless Harvesting Minion
Bone Pick
Fused Molten Logging Axe
Molten Alliance Mining Pick
Fused Molten Sickle