dynamic
blogged
A Sign of Things to Come?
Snow finally graced the rolling hills of Devon this week, much to me and my friends delight. It's been nigh on a decade since we had snow at such an impressive level and the whole experience captured our hearts and it really does bring out the best in people.
However, I couldn't help but sense a feeling of animosity from the adults I was around during the snowy period. You see for children and teenagers, you don't need to worry about anything, you can just run outside and fall down sloping hills and cover yourself in snow for a few hours and then come home, shivering cold but grinning from ear to ear to be welcomed by mugs of hot chocolate, warm fires and a blanket from under which you can barely manage to let out a sigh of happiness.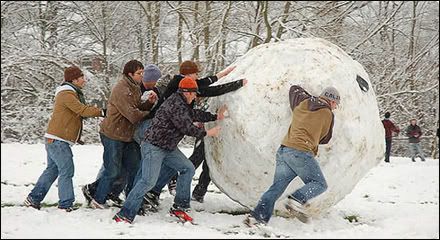 But with the fact you have to drive to work over frozen roads, barely being able to see out of your windscreen due to the flurry of white flakes bearing down at you from all directions can understandably dampen ones love for snow.
But this seems like another small, but definite warning to me, time is running out, you shan't be young forever. One day, you'll be muttering and grumbling because you kids will drag you all the way up to the top of some ridiculous hill just so they can slide down it on a piece of wood. However despite the horrible prophecies I seemed to get throughout my snow day, I still loved every last second, savouring it more and more as the time went by and the precious flakes began to melt. I may grow old one day, but for now, I'm still a kid.
Responses (9)
Joe -
Exeter, Devon, England
Joined Jul 31, 2007
Male
19 years young
private
Microsoft account

dynamic@live.co.uk
Most commented posts
Most popular posts
Search