neo the internet only had two guestbook signings... I was shocked and was forced to slit my wrist and salt it. Well thanks for being the leader of my first smash crew and stuff. and even though i'm gone now I'm not gonna let it die. and we need to brawl sometime or something. I need to show you how much better i've gotten. Unfortunatly I don't have a stamp for you, and unless you want a giant pic of lucario in your guestbook it wouldn't be a good idea to ask for one.

-Steam
I guess I forgot for some reason, but that's ok.
Thanks for letting me join the Mafia a while
back, it was one of my best crews that I've been
in for a long time.
I still miss the old Mafia, but they still had
a great leader like you, wolf.
Well I'll see you back at the SM thread then,
bye for now.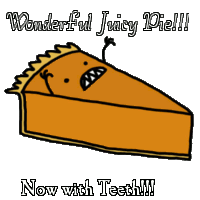 Eat this pie!
Thanks for taking me in the crew man.