Biography
My favourite DBZ character is Broly (as if you couldn't guess). :) I'm currently in university majoring in political science. I'm a right wing Libertarian. My favourite foods are bacon cheeseburgers, lobster (and most other shellfish), & pepperoni pizza.
Interests
Dragonball Z, Star Wars, South Park, Family Guy, Robot Chicken, House (any show that is badass).
Signature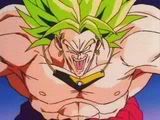 Goku-Hey, why don't you give us a handicap!
Broly-Is that another word for a coffin?
Whitby, ON, Canada
Joined Jan 23, 2008
Male
23 years young
private
Student
Statistics
Profile views

1,874

Number of logins

430

Forum Posts 631