Author: The Voiceless
Date: Jan 22, 13 at 4:09pm (PST)
Subject: Total Championship Wrestling: Roleplay Thread II
-------------------------------------------
Total Championship Wrestling
Introduction
As many of you already know, roleplays have long been a part of the Interactive Roleplay Forum, going back a decade. A relatively long break from the scene means there is a new hunger to roleplay from people both new and old in this community, and this is where TCW comes in.

Total Championship Wrestling is the first wrestling roleplay in the IRP, and on neoseeker as a whole, for eight months. Many of the veteran members of the forum will be able to tell you that this is almost unheard of, but activity reached a low and it was decided to put roleplaying on an indefinite break. That break is now over, and TCW aims to give everybody the fun, creative experience that they deserve. The roleplay promotes creativity, working together as a team to create fun and exciting storylines, and helps people hone their writing ability in general. But above all else, TCW promotes fun. The whole aim of the roleplay is for people to have something that they enjoy to do in their downtime, and if you're not enjoying it, someone isn't doing their job right. I hope you all have a good time in TCW, and I look forward to reading all of your creative and exciting storylines!
Below are a few simple rules that we request people abide by. We aren't going to rip your head off if you make the mistake once or twice if you're new, but if you consistently break the rules we may need to consider whether or not you're in the roleplay.
So, how do I get started?
For the majority of you at this stage, this won't apply. But for anybody who missed the signup thread, all you need to do is
PM
myself or
Smell The Chiken
and we will make sure you are added to the roster.
Simply entitle your message
[Signup]
, and state what
unoccupied
character or diva you would like to take on. We will get you added to the roster as soon as we possibly can, and you can be on your way roleplaying in no time.
Participation and Quality
Wrestling roleplays have long sought an optimal level of activity for its players. In TCW, we want activity, but we want
decent activity
.
Quality OVER Quantity.
Numerous, but low-quality roleplays will obviously have a harder time stacking up next to better written pieces, even though there may be less of them. Simply putting words together isn't enough, it's
how
you use them to your advantage. It is your goal to make the reader believe in your character. Knowing this will take you quite far in roleplaying.
In line with the quality over quantity thought process, we're going to be implementing a
roleplay limit
in TCW. It's nothing too strict, with a
counted
limit of
three
roleplays a week for a normal weekly show, and
four
for a Pay Per View, unless you and your opponent between you agree on a higher or lower limit, and
both
of you PM myself or Smell the Chiken with the arrangement.
[Voiceless Edit]
: After a recent miscommunication, I'm going to go ahead and say that if you break the roleplay limit, without getting the okay from the authorities, it
WILL
count against you.
Leave of Absence
Real life can get in the way, we get it. If this happens and you can't roleplay, simply PM one of the authorities and let us know. If you let us know, we don't get annoyed.
The maximum time you can use on any given hiatus is
ONE MONTH.
Your character will be held frozen until the one month date. Unfortunately, if you have not yet returned by that point, your character(s) will become a free agent(s), available for the taking by absolutely anyone interested. If you return three months later, and said character is vacated, you can take them back, no questions asked.
ALWAYS INFORM!
- Nothing pisses us off more than someone who carelessly leaves. Your character suffers needless losses, and effort is spent writing matches for someone who fails to compete. If you fail to inform us of your departure, you do not get a month. Depending on the circumstances and actions, you may lose your character in
two weeks. If you come back to find you've been let go, you may also find we've imposed a suspension and you can't pick up another character until the suspension has expired.
What can I do if I'm unhappy?
If you feel unsatisfied with the company, whether it be a bad call, problems with another roleplayer, or just need a private consult, feel free to contact us. We will get back to you as soon as possible. Rest assured that both of us will see your message and discuss it. Also, do not be afraid to call one of us out if you feel one of us may be the problem. We are mature people, and we can take a bit of criticism. Simply be respectful and honest.
SEND A PRIVATE MESSAGE to one (or both, or all) of the authorities. Do this so we can look at and solve any issues.

DO NOT post it in the general discussion. Honestly, public approval is not needed to solve most problems you may have. If you are unhappy with the ruling and opinions of the council, again, you are risking your account on this site by taking it public. We honestly would rather you stick around, so just play it nice and take care of your issues properly.

- - - - -
That's about it! If you have any further questions, feel free to PM us, or ask in the general discussion. We'll be happy to get back to you and answer any questions as soon as we can.
Credit to Disenchanted for
rules
post.
---
Author: The Voiceless
Date: Jan 22, 13 at 4:09pm (PST)
Subject: re: Total Championship Wrestling: Roleplay Thread II
-------------------------------------------
Chairmen
The Voiceless's Profile
Smell The Chiken's Profile
Chief Operating Officer
Disenchanted's Profile
General Managers
Suzaku'_Firebird's Profile
Province's Profile
---
---
» Champions:
Back To Top
Total Championship Wrestling World Heavyweight ChampionshipCurrent Champion:
Oxygen - Dean Ambrose
Reign Began:
Apocalypse
Defences:
2
Total Championship Wrestling Television ChampionshipCurrent Champion:
CM Punk
Reign Began:
No Mercy
Defences:
1
Total Championship Wrestling Tag Team ChampionshipsCurrent Champion:
The Brothers of Destruction
Reign Began:
No Mercy
Defences:
0
Money In The BankCurrent Holder:
Alex Shelley
Commentators: Michael Cole, Booker T, Taz

Interviewers: Todd Grisham, Jonathan Coachman, Maria, Josh Matthews

Announcers: Lillian Garcia

Road Agents: Ron Simmons, Billy Gunn, John Laurinaitis, Pat Patterson

Referees: Charles Robinson, Mickie Henson, Mike Chioda and Nick Patrick
Tag Teams:
The Brothers Of Destruction
- Kane & Undertaker - Jaffers & Disenchanted
------
N/A
------
John Morrison & Dolph Ziggler
- Morrison & Ziggler - StraightEdgeXSavior & Smell The Chiken
Stables:
N/A
------
N/A
------
Evolution
- Triple H, Antonio Cesaro, & Cody Rhodes - Shiny,ADA 2, and The Voiceless
TCW World Heavyweight Championship:
1. Dean Ambrose, Roleplayed by Oxygen
2. The Bryan Kendrick, Roleplayed by Disenchanted
3. Derrick Bateman, Roleplayed by Bobbpugg5
TCW Television Championship:
1. CM Punk, Roleplayed by Jaffers
2. Jayson Anthony Paul, Roleplayed by STC
3. Damien Sandow, Roleplayed by Jord22
4. Drew McIntyre, Roleplayed by Cairnage
5. Ken Kennedy, Roleplayed by Smell The Chiken
6. Santino Marella, Roleplayed by Homicide
7. Wade Barrett, Roleplayed by Suzaku_Firebird
TCW Tag Team Championships:
1. Kane & Undertaker, Roleplayed by Jaffers & Disenchanted
Only the best storylines will be archived. The archive will be used at the end of the year to look back at potential nominees when doing the awards for the year. It will also serve as a reminder for other people, to see what they should be aspiring to with their own feuds.
Current Storylines:
Evolution:
In its incarnation, Evolution stood as Cody Rhodes, Randy Orton, Triple H, and Batista. Since then, both Orton and Batista have proven unworthy, and have been uncerimoniously dumped from the team. In the casting away of Batista, we saw Antonio Cesaro return to make short work of The Animal, which garnered a spot for Cesaro in the stable. Since then, Evolution has been on a rampage - rising through the ranks of the tag team division, destroying Finlay in his home country, and defeating the King of TCW - Santino Marella - in 6-Man-Tag-Team Competition. What's next for the trio?
Archived Storylines:
Ric Flair and Cody Rhodes:
When Cody Rhodes made his triumphant debut in Total Championship Wrestling, he did so in a huge fashion. For weeks, he targeted Alex Riley, after brutally assaulting Ric Flair backstage, and this targeting of Riley culminated in Rhodes possibly putting Alex Riley out of commission for the rest of his career. Upon Ric Flair's return, Mr. McMahon put him in charge. His sole purpose became to punish Cody Rhodes. But at the King of the Ring, Cody Rhodes got Flair to accept a challenge to a match that put both of their careers on the line. Cody Rhodes defeated Flair, and sent him away from TCW forever.
The Union:
After Brian Kendrick defeated Ryback at the Pay Per View to gain entry into the TCW Championship series, he was booked to face John Cena in his opening series match. Paul Heyman insisted that he needed something a little bit extra to defeat the multiple time World Champion, and agreed to help him out and organise some backup if he agreed to take on Heyman as his manager. Kendrick ultimately agreed, and the backup turned out to be none-other-than Ryback, who interfered in the Main Event match and allowed Kendrick to get a pinfall victory over John Cena, a momentous moment in his career. The following week, CM Punk was subjected to a vicious assault by the newly named 'Union', and offered a place in the stable. He made it quite clear that he wasn't interested in joining, but is this just the beginning of a serious problem between the Union and CM Punk?
Dean Ambrose and Alex Riley:
The Most Dangerous Man in TWC is a man on a mission. He's bringing about a revolution to the wrestling industry, hoping to wipe certain types of wrestlers from the face of the business altogether. He has attacked Taz and Terry Funk with a railroad spike. Enter Alex Riley, a stereotypical "hero". Riley's ways deeply contrast Dean's, which sets them apart, and has brought about a few matches that have gone both ways. Dean Ambrose crossed the line when he kidnapped Alex Riley's girlfriend, Layla, which set A-Ry over the edge...
>>Credit to the TWE management for the layout.
[size=1]
This message was edited on 2013-06-05T22:39:08-07:00.
---
Author: The Voiceless
Date: Jan 22, 13 at 4:10pm (PST)
Subject: re: Total Championship Wrestling: Roleplay Thread II
-------------------------------------------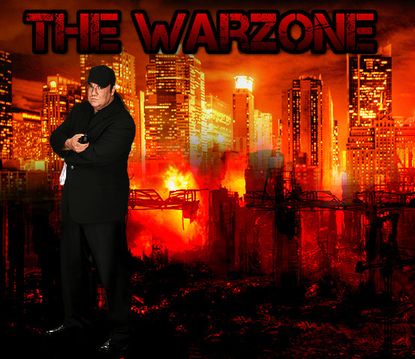 TBA


Warzone Archive
WarZone; Week One
WarZone; Week Two
WarZone; Week Three
WarZone; Week Four
WarZone; Week Five
WarZone; Week Six
WarZone; Week Seven
WarZone; Week Eight
WarZone; Week Nine
WarZone; Week Ten
WarZone; Week Eleven
WarZone; Week Twelve
WarZone; Week Thirteen
WarZone; Week Fourteen
WarZone; Week Fifteen
WarZone; Week Sixteen
WarZone; Week Seventeen
WarZone; Week Eighteen
Warzone; Week Nineteen
Warzone; Week Twenty
Warzone; Week Twenty One
Warzone; Week Twenty Two
Warzone; Week Twenty Three
Warzone; Week Twenty Four
Warzone; Week Twenty Five
Warzone; Week Twenty Six
Warzone; Week Twenty Seven
Pay Per View Archive
Path To Glory
Zero Tolerance
Desolation
Apocalypse
King of the Ring
No Mercy
TCW WarZone Schedule
8/27/2012-MSG, New York City, New York9/3/2012-Boston Garden, Boston, Mass9/10/2012-Wells Fargo Center, Philadelphia, PA9/17/2012 Civic Arena, Pittsburgh, PA9/25/2012 Quicken Loans Arena, Cleveland, OH10/1/2012 Thompson Bolling Arena, Knoxville, TN
[strike]10/8/2012 Phillips Arena, Atlanta, GA
10/15/2012 Adolf Rupp Arena, Lexington, Kentucky
10/22/2012 American Airlines Center, Miami, FL
10/29/2012 Amway Center, Orlando, FL
11/5/2012 New Orleans Arena, New Orleans, LA
11/12/2012 Bud Walton Arena, Fayettville, AK
11/19/2012 AT&T Center, San Antonio, TX
11/26/2012 Toyota Center, Houston TX
12/3/2012 Chesepeak Energy Arena, Oklahoma City, OK
12/10/2012 Sprint Center, Kansas City, MO
12/17/2012 Edward Jones Dome, St. Louis, MO
12/24/2012-Off, Christmas Eve
12/31/2012-Off, New Years Eve
1/7/2013 Hilton Colloseum, Ames, IA
1/14/2013 Bankers Life Fieldhouse, Indianappolis, IN
1/21/2013 The Palace of Auburn Hills, Detroit, MI
1/28/2013 Kohl Center, Madison, WI
2/4/2013 Target Center, Minneappolis, MN
2/11/2013 Century Link Center, Omaha, NE
2/18/2013 Allen Fieldhouse, Lawrence, KS
2/25/2013 Pepsi Center, Denver, CO
3/4/2013 The Pit, Alberquerque, NM
3/11/2013 McKale Center, Tucson, AZ
3/26/2013 Staples Center, LA, California
4/2/2013 Power Ballance Pavillion, Sacramento, CA
4/9/2013 Thomas&Mack Center, Las Vegas, Nevada
4/23/2013 Arena-Auditorium, Laramie, WY
4/30/2013 Dahlberg Arena, Missoula, MT
5/7/2013 Taco Bell Arena, Boise, ID
TBA Rose Garden Arena, Portland, OR
5/28/2013 Belfast Arena, Belfast, Northern Ireland
TBA Motorpoint Arena, Sheffield, ENG
TBA Manchester Arena, Manchester, ENG
TBA o2 Arena, London, ENG
TCW PPV Schedule
9/30/2012 Neyland Stadium, Knoxville, TN
11/4/2012 Amway Center, Orlando, FL
1/27/2013 Cowboys Stadium, Dallas, TX
3/3/2013 Edward Jones Dome, St. Louis, MO
4/7/2013 Kohl Center, Madison, WI
TBA Pepsi Center, Denver, CO
TBA Tomas&Mack Center, Las Vegas, NV
TBA Rose Garden Arena, Portland, OR
TBA Wembley Stadium, London, ENG
---
Author: The Voiceless
Date: Jan 22, 13 at 10:14pm (PST)
Subject: re: Total Championship Wrestling: Roleplay Thread II
-------------------------------------------
Live Tuesday 22nd January 2013 from the Palace of Auburn Hills, Detroit, MI.
Michael Cole: Hello everybody! And welcome the the Warzone!
Booker T: Awwww yeah! We got all kinds of good matches here tonight!
Taz: Oh, and on top of that, Mr. McMahon is on his way to the ring for a huge Blockbuster announcement! I can't wait!
No Chance! No Chance in Hell!
Mr. McMahon struts down to the ring in his patented fashion, stepping into the ring with confidence. His music bellows into the audience, as he marches around the ring, characteristically. He cusses at one of the stage hands for taking so long getting him a mic, and pauses to wait for silence to hit the arena.
Mr. McMahon: Now, as you all must have realized, I don't much like tyrannical stables such as the nWo and the Union. They take away every sense of order. So when I hired in Kevin Nash, I had no idea he would be a part of the nWo! And that's something I just won't stand for! Nash always unreliable, and I have no idea why I thought he would be any difference this time around. So, for what I have to say, I'd like to have Mr. Nash come to the ring. Kevin, please come down here.
Nash came down without any music. Mr. McMahon had already planned such. As soon as Nash enters the ring, Mr. McMahon begins talking again.
Mr. McMahon: You might as well just turn right back around and get of my damn ring! Nash! Get out of my ring, and out of my arena! Because YOOOOOU'RE FIIIIIRRRED!!!"
Nash takes a fierce step towards McMahon, but the security is already in the ring! They're dragging him out, and towards the back, while Nash is kicking and screaming insults at the Chairman. Things have certainly been shaken up!
The Miz vs. Edge
Singles Match
The Miz seems to have no interest in fighting Edge. Every time Edge encroaches to his half of the ring, the Miz rolls out of the ring. Edge chases him in and out of the ring a few times, before Miz spins around with lightning quickness and lays him out with a major clothesline on the arena floor! Miz lifts Edge to his feet and tosses him hard into the stairs! The referee is at a five-count, as the Miz gets in the ring and tells him to count Edge out. Six! Edge is still rustling around on the arena floor! Seven! Edge presses himself against the barricade. Eight! Edge is climbing up the wall to get to his feet. The audience is chanting for Edge, begging him to get into the ring! Nine! Edge slips into the ring! Miz is on him, stomping away at his adversary, but the Ultimate Opportunist gets to his knees and gives Miz a thumb to the eye! And he hits a running bulldog! Miz fires to his feet and is hit with a clothesline! He's back up, and throws a punch that Edge ducks under! Now behind him, Edge hits the Edge-cution! He hooks the leg and goes for the pin! One-Two-Kickout! Edge is in the corner now, waiting for the Miz to get to his feet for the Spear! The crowd chants, "Spear! Spear! Spear!" and Edge hits it! One-Two-Three!
Taz: Well, that there was a quick one!
Booker T: But one hell of a match it was! Y'all know that Edge is in my Fave Five!

The camera cuts backstage to the leader of The Union, The Brian Kendrick, tending to his injuries after being on the receiving end of a Stone Cold Stunner earlier on tonight. He slowly rubs his forehead, before being startled by the sound of his locker room door opening and Shawn Michaels stepping though the door with a forlorn look on his face. Before Kendrick can speak, Michaels holds his hand up and prevents the youngster from saying a word.
Shawn Michaels: Look, I'm not here to have a long-winded conversation with you. I'm sure news has gotten to you that Stone Cold has been relieved of his duties here in TCW, and that's fair game in my book. However, the lack of respect you showed for him and his generation also includes me, and so if you want to win the Championship on Sunday, you're gonna be doing it without me as well. Nobody disrespects my friends and my generation of wrestlers and still gets to keep me in their corner. I'm done here.
With that, before Kendrick can respond, Michaels about turns and strolls out of the room. Kendrick glances up at Heyman who looks on in bemusement, before letting out a deep sigh and cursing under his breath in frustration...
Alex Riley vs. Austin Aries vs. Bobby Roode vs. Bray Wyatt
Fatal-Four-Way Match
The match begins as the competitors eye each other, not sure who they're going to be fighting first. Alex Riley makes the first lunge towards Bray Wyatt, but the larger man isn't as slow as he looks. Wyatt dodges under Riley's tackle, and lifts him onto his shoulders for a massive flapjack! He quickly rolls over onto the head of A-Ry and grips tightly with a guillotine neck lock. Aries and Roode are engaged in a heated fist fight, with Double-A getting fierce lefts and rights and Roode hitting one massive haymaker in between every few jabs of Aries. Roode finally knocks Aries back onto the ropes, but The (Self-Proclaimed) Greatest Man Alive shoots back with a fierce dropkick to the abdomen of Roode, before nailing him with a hard roundhouse to the head! The crowd begins to clap slowly, quickening their pace and Aries basks in the audience's approval, but he is shocked to see that they're actually clapping for Riley! Riley is breaking out of Wyatt's neck hold! His head finally squeezes from between the massive arms of the Congregation leader! Riley is matching the crowd's clapping with lefts and rights to the mid-section of Wyatt! And a vicious clothesline from Riley! Austin Aries, upset by the lack of attention heads outside the ropes on the apron and leaps to the top rope and springboards onto Riley and Wyatt both with a spinning elbow! The crowd stands to their feet for Double A's grand feat! He's struck with a massive big boot from Roode as he's basking in the adoration, and the crowd comes alive again. Roode lifts Riley to his feet and hits a massive suplex. Now, Roode gets to taunt to the crowd. But Wyatt is suddenly to his feet! He hits Roode with a series of blows! The big man is on fire. He lays Roode into a corner and hits him with a monstrous body splash. And Wyatt hits him with a huge T-Bone suplex, but right after, Riley flies into the ring and hits Wyatt with the Ry-Plex! Wyatt's out cold, and Riley goes for the pin! One-Two-Three!
Michael Cole: And A-Ry has won it! He's overcome the odds once again! I can't believe it!
Taz: You know, A-Ry is in MY Fave Five!
Booker T: Hey! That's my phrase, sucka!
The fatal-fourway match was concluded. The victor stood in the center of the ring, his hand held to the sky. Once the ring finally cleared out, Alex Riley was at ringside while the cameras were off. He was shaking hands, signing autographs, taking pictures, when the lights went off. The TitanTron lit up, and everyone in the audience had their eyes glued to it. The image displayed was a hidden camera in a locker room. That's when Ric Flair walked in, showing that this must have happened before his attack. Flair checked his hair in the mirror, and gave a half-hearted "Woo!", inciting a small laugh from the audience.

The laughs in the audience turned to gasps, as a mask man flew into view. He slammed Flair's face right into the mirror, shattering it! The masked man laid heavy boots into the head and spine of the fallen legend. And the assault didn't stop there. He punched the glass, shattering it even more so, before taking a piece of shattered glass in hand. He then leaned over and drove the shard into the chest of the Nature Boy! The bloodied Ric Flair remained on the floor, and the masked man drove even more kicks into the skull of Flair. When the beating had subsided, the mask man walked in the direction of the hidden camera. He stood facing the camera, only his bottom half showing. Then, the man seemed to remove his mask, and dropped it onto the ground, before leaning over and shutting the camera off. The arena was dark again.

When the lights came back on, Alex Riley stood dumbfounded, staring at the blank TitanTron, eyes welling up. The assailant had, again, taunted him. He stormed off to the back, presumably to find out who had played the video.

The shot cuts to backstage as the Chairman of TCW watches the winner of the match celebrate their victory. He turns around and is met by Mr. Kennedy. The fans are rather split as whether to cheer or boo the man from Green Bay. Rather than being furious with McMahon, Kennedy gives an awkward and creepy smile which in turn startles McMahon. This leads to an uncomfortable silence that Vince breaks.
"Mr. Kennedy. Don't you have a match now?"
"No. Well, yes, but not right now. i...I saw that you let Kevin Nash go and that there is now a vacancy for the General Manager position. And I have the perfect candidate."
Kennedy talks nervously. All the anger he had before is now hidden behind this drone appearance for his boss.
"Now Kennedy, I would never allow my GM to compete as a superstar."
"I know. Oh...it's not me. No. This is my, and hopefully your, ideal General Manager of TCW."
Both men look to the right as Maria, dressed in a long grey pantsuit and pink glasses with obviously fake lenses. Kennedy wraps his hand around her waist while the camera zooms in on McMahon's shocked expression. It then zooms back out to capture all three people in the shot.
"Well, Maria. I'll certainly consider you for the position. But I have a quick question. Do you have any experience booking?"
Maria puts her index finger onto her chin as she delves into her thick skull looking for an answer.
"Umm, nope. I'm not much of a reader, really."

"That's to be expected. Kennedy, you should hurry now or you'll miss your match."
"Oh, yeah. It was good seeing you Mr. McMahon. Bye honey."
Kennedy embraces Maria before dashing off-screen. The unpleasantness continues as Maria stares at Vince, smiling wildly, as he does double take to find her still standing next to him.
Michael Cole: Can you imagine!? Maria as General Manager? That would be an utter joke!
Booker T: Sucka, you do realize we've all been in a business where the GM was a laptop, right?
Taz: He's got a point. And Mike Adamle! I mean, come on!

John Cena & Mr. Kennedy vs. The Ministry (Tyler Black & Paul Burchill)
Tag Team Match
Cena and Burchill start off the match, locking up in a test of strength. The experienced Cena wins and puts Burchill in a headlock. Tyler Black looks incredibly frustrated as the leader of the Cenation pummels his tag-team partner in the head. Quite bored of the punches, Cena whips Burchill into the ropes and delivers a mean shoulder block as he comes back. A quick scoop slam later and Cena already has Burchill in position for the AA! He totes Burchill around the ring for all to see, but Mr. Kennedy tags himself in! Puzzled but obliging, Cena sets Burchill onto his feet. Kennedy manages to get in some quick strikes and sets up for the Mic Check! However, right before he brings Burchill to the ground, he stops. With a gleam of cockiness in his eye he lets go of Burchill and motions for him to tag in his partner. Burchill stumbles over to Black who drapes himself over the ropes to reach for the tag as Cena throws his arms up in disgust. Black comes in and and throws punches at Kennedy, who dodges all of them. Kennedy then sends Black into the turnbuckle. As he runs in for a splash, Black jumps out of the way and delivers a stunning hurricanrana! He then grabs Kennedy's head and throws it into his knee a few times before Kennedy collapses. Black goes for the armbar, but Kennedy manages to grab the ropes with his feet. Black waits until the count of 4 before letting go. Hoping to end the match before Cena gets tagged back in, Black sets up for the Paroxysm! Kennedy manages to regain some strength and slips out of Black's grasp, diving for the tag to Cena! Cena jumps in the ring, ready to take down Black. Completely scared to face the leader of the Cenation, Black runs to his own corner and tags Burchill. Also visibly frightened, Burchill tags Black back. Finally, the two of them just hop off the apron! The ref begins the count, as Kennedy and Cena eye each other! The ref counts to ten, and Cena and Kennedy pick up the win!
Taz: Well that was straight up cowardice right there!
Booker T: Awww yeah! Bunch of chicken-dogs!
Michael Cole: What are you guys talking about? They left because Cena was harassing them!
Taz: Man, that's a lie and you know it!
Booker T: Alright guys, it's time for our next match-up! The tournament to crown a new TCW Champion!

Kendrick Vs. CM Punk
Championship Tournament Match
The two opponents lock up, one the leader of the NWO and the other The Union. Punk wins the power struggle and whips Kendrick into the turnbuckle. Punk charges at him and delivers ad decent splash on The Brian Kendrick. With Kendrick now sitting at the corner Punk ravages his knee into his opponents torso. As Kendrick tries to get back up, Punk struts around the ring and poses for the fans, much to their disapproval. Kendrick uses the ropes to help himself back up, and Punk runs for him. Delivering hefty strikes to the head, Punk manages to flip Kendrick outside the ring and chases him. The ref counts to one as Punk helps his opponent up, only to whip him over the steel steps. Kendrick gets tripped up and lands face first onto the floor. He grabs his wrist in pain while Punk tosses him back in the ring. Punk covers. 1...2.kick out. Kendrick isn't out of it yet. Punk picks him up and whips him against the ropes. Kendrick rebounds and dropkicks Punk on his return, his first bit of offense in the match. Kendrick grabs Punk and slams his head against the turnbuckle, twice, three times, then wraps Punks arm with the ropes to wear it down. The ref counts to 3 before he lets it go. Kendrick grabs Punk and positions himself in the middle of the ring to give Punk a devastating tornado DDT! He then grabs Punk in a camel clutch hold. Punk grunts at the strenuous hold as he tries to break free. He breaks the hold and grabs Kendrick by the arm before flipping Kendrick on his back. With Kendrick on the ground, Punk smiles as he steps down on his opponent's neck, making sure the move lasts a few seconds. Punk then calls for the GTS as Kendrick manages to stand back up. Punk picks Kendrick up on his shoulders, in position for the finisher. Kendrick swings his body off Punk's shoulders and touches his feet on the ground before giving Punk a German suplex. Kendrick crawls over to Punk and lifts up his leg for the pin. 1...2...kick out! Punk stays on the ground as Kendrick gets back up. His eyes light up as he climbs the corner turnbuckle. Kendrick jumps and performs what he calls Left Turn At Albuquerque! Rather than going for another pin, Kendrick waits for Punk to stand back up... and he labels him with a lightning quick Superkick! And he goes for the pin! One-Two-Three! Kendrick picks up the win!
Tazz: And Kendrick advances into the Championship match!
Michael Cole: So is CM Punk really going to leave, like he said?
Booker T: I hope not! CM Punk's got a lot of talent! It'd be silly to let a few losses bring him down like that.

The next segment is of former GM Kevin Nash coming out in street clothes to the boos of fans. Nash barges down to the ring, grabbing a random fan's sign and ripping it to pieces. Nash motions for a mic from the ring announcer and snatches it out of her hands. 'YOU SUCK' chants start up as Nash tries to find the right words to begin his speech.
Kevin Nash:
Shut up! ['WHAT!?!'] I said shut up! ['WHAT!?!'] As you have all seen earlier tonight, I have been relieved from my duties for reasons that are truly unjust. If I lost my job because of bad booking or TCW fell in the ratings, then I would understand. But to be fired for, I don't even know, that is complete crap. However, there is still one match for tonight, and I will make sure it goes down in history books. Your champion, Derrick Bateman, will defend his championship this Sunday, if all goes according to plan for Vince McMahon. I say different! As my last action as GM of TCW, tonight's main event match will be between Derrick Bateman and myself for the World Heavyweight Championship. If McMahon wants to fire me, then I will walk away as the Champion. This match starts now. Derrick, get your ass out here right now!
Those in attendance voice their disapproval yet still turn their heads to the entrance ramp. Waiting to see their champ, they start chanting Bateman's name. However, it is Vince McMahon who comes out instead.
Vince McMahon:
Now, Nash, just to confirm it, you are no longer an employee of TCW and therefore, anything you say or order has no bearing on the company. Even if it did, I'm the Chairman and it is ultimately my word that is final. You will not be wrestling for the World Heavyweight Championship. However, if you want a match, I've got a guy right here that is itching to get in the ring.
Nash throws the mic out of the rings and motions for McMahon to bring it. With fiery eyes Nash yells for McMahon to call on his wrestler. The Chairman just turns to the backstage entrance for the wrestler to come out.
¡Olé, olé olé olé!
El Generico runs out in a full sprint and slides under the ropes and into the ring as the bell rings.
Impromptu Match
Kevin Nash Vs. El Generico
Singles
El Generico makes his debut and delivers several punches to the stomach of Kevin Nash. He then whips Nash into the corner turnbuckle, though the effort causes him to fall to the ground for a second. He gets back up, runs at Nash, and gives the veteran an
Olé Kick
! Nash stumbles out of the corner as his opponent climbs to the top rope. Crossbody Slam! With Nash on the ground, El Generico climbs the turnbuckle again and delivers a split-legged moonsault. He covers. 1...2...kick out! Nash tosses Generico into the air as he breaks the pin. Generico runs at Nash again, but he just picks up his leg and gives his opponent a big boot. Generico gets up again, but the same thing happens. With Generico on the ground, Nash literally walks over Generico, his 328 pound body crushing El Generico's luchador frame. Nash, feeling ready to end it, picks up Generico and positions him for a
Jackknife
. El Generico reverses and delivers a stunnning
Brainbuster
onto the nearly 7 foot giant! El Generico covers. 1...2...3! El Generico wins the match.
He climbs to the middle rope as the audience cheers him on. Nash remains on the ground stunned as Generico is handed a mic and begins to speak.
El Generico:
Amigo, I only have dos things to say to you. Adiós and get the hell out of my ring!
Tazz: Siyanora sucker! Good riddance!
Michael Cole: Who is this El Generico guy?
Booker T: He's a member of my Fave Five! That's who!
The camera cuts backstage where we are once again met by the face of The Brian Kendrick, this time however he is smirking, as he stands beside TCW interviewer Todd Grisham. Paul Heyman and Ryback both stand behind him, staring at Grisham as he introduces the group in preparation of an interview about his upcoming Championship match at the Pay Per View, his victory moments ago fresh on everybody's memory.
Todd Grisham: Ladies and Gentleman at this time I'm joined by the first qualifier for this Sundays World Championship match, The Brian Kendrick, and his close allies in the Union, Paul Heyman and Ryback. Now, Brian, you must be delighted at qualifying for your second chance in as many months at the TCW Championship, and must be hoping that this time it all goes according to plan?
Kendrick stares at Grisham for a few moments, before smirking once again.
The Brian Kendrick: Of course I'm delighted. Last month in the TCW Championship match I was screwed by the ownership of this company, I was cheated out of my fairly earned opportunity, and therefore I lost. There's no way in hell that I should have lost that match, and this month I plan on righting all of the wrongs that have been comitted against me in the past couple of months. In beating CM Punk fair and square in the middle of the ring just now, I showed everybody, not least Antonio Cesaro and Wade Barrett, that I deserve to be the Champion. I deserve to be the Champion a hell of a lot more than the man who claims to be the Champion right now, and is so much the Champion that he no longer shows up to shows. On Sunday it's going to be one on one for the title, and I'm going to win no matter who I end up against. I will be the next TCW Champion, and there's not a damn thing anybody can do about i-
Kendrick stops mid sentence as he stares ahead of Grisham, and his face quickly transforms into a scowl. He lets out a deep exhalation of breath, before rolling his tongue around inside his mouth. We soon find out why, as a couple of moments later the TCW Champion himself steps into the camera-shot, title slung confidently over his shoulder.
Derrick Bateman: I haven't lost this thing yet, kiddo. This Sunday night you can be damn sure I'll be there, and you can be damn sure I'm gonna be retaining this thing. I don't care who I have to fight, I will be leaving as Champion.
Kendrick scowls for a few moments, before signalling to his allies that he's had quite enough of this, and the three of them leave. The camera slowly zooms in on the smiling face of the TCW Champ, before fading to black.
---
Main Event
Wade Barrett vs. Antonio Cesaro
Championship Tournament Match
The crowd would be foolish to not be on their feet for this match. Whether the two of them despise each and every man, woman, and child in the audience, they were going to give one hell of a show. Barrett immediately lunged in, looking to catch Cesaro off guard and doing so by getting behind the Swiss Superman and locking his wrists around the front of him. Cesaro wrenched away at the wrist of Barrett, but the grip was far too tight. He is drug of of his feet, spun around, and planted into the ground with Barrett still holding tight. Then, Barrett drives his elbow fierely into Cesaro's skull! Barrett gets to his feet and methodically stomps away to the back and face of Cesaro, who keeps trying to get to his feet, but is stomped down every time. Barrett picks Cesaro up in a gutwrench and hits him with a gutwrence suplex. Barrett is on a roll, and taunts at the audience. He lifts Cesaro back up, and tosses him at the ropes standing twisted in the ropes, while pulling his head over the top rope. He lifted his right knee into his face, then his left, then his right, before leaving Cesaro groggy on the ropes. Barrett backed a few steps back, lifting his fist into the air, before running at Cesaro and lifting his leg to deliver a boot to the face… No! Cesaro has broken free and ducked! Barrett's leg is caught up over the top rope, and Cesaro takes this opportunity to give him a fierce European Uppercut to the back of the skull! Barrett topples to the mat, and Cesaro is on him in seconds, locking in a Camel Clutch. Barrett is helplessly trying to crawl across the mat, but he's too far away. He appears to be pushing out of the move, but Cesaro jumps up and falls back, driving his body weight back down onto Barrett's spine. He clubs his forearm time and time again into Barrett's skull! In one swift move, Cesaro has spun around and has Barrett gripped for a Neutralizer! But Barrett weasels out of it! After a punch, he twists Cesaro around, preparing for the Souvenir Elbow! As he's pulling Cesaro towards him, Cesaro ducks! And he hits him with a ferocious European Uppercut! Barrett is out cold! And Cesaro pins! One-Two- NO! Barrett just barely kicks out! Cesaro taunts again for the Neutralizer, and he grips it, but Wade Barrett, in a show of strength, stands up with Cesaro on his shoulders, and transitions it into a Wasteland! And the pin! One-Two-Three! Barrett wins the match! He's going through to the match with Kendrick!
Taz: Wow, what a match! And it looks like Barrett is heading towards what appears to be a Triple Threat match for the TCW Championship!
Booker T: Man, what a hot prospect this Wade Barrett is! I gotta say...
Michael Cole: Don't even say it, your Fave Five? Or should I say Fave Fifteen?
Booker T: What is that supposed to mean?
The announcer's bickering is halted by one certain voice over the loudspeaker...
The largest pop of the night belongs to the great one; as the building comes unglued the instant his iconic voice hits the loudspeaker. From behind the curtain emerges The Great One, his trademark shades adorning face. He stands at the top of the ramp as the cameras pan in, and he raises an eyebrow for the camera before power walking to the ring.
Cole:
It's the Rock! He's back!
Tazz:
What da hell is the Rock doing here? He wasn't scheduled to be here tonight!
Booker:
Awww yeaah. Buidness has officially, picked up. Listen to these fans, they are so excited about the return of the Rock!
The red five-hundred dollar shirt he has on is open, his Brahma Bull beltbuckle sticking out against the black of his pants. The electricity in the crowd reaches a fever pitch when he ascends the turnbuckle and slowly raises his fist in the air as the camera pans to a wide shot of the crowd. The lights are dimmed a deep blue throughout the concourse.
Cole:
What an ovation for the Rock! We haven't seen him in months!
Booker:
Nobody, and I mean Nobody, can electrify the fans, like the Rock!
He performs his signature taunt at the other three turnbuckles and then is handed a microphone. The lights return to normal as this capacity crowd performs a deafening "Rocky" chant. The Great One slowly paces the ring and stops as the chant crescendos to its maximum. He stops to take it all in. He breathes in, and then exhales before bringing the microphone to his lips and pausing. He stands there with his head tilted back, waiting for what seems like forever. Seconds become tantalizing hours as he stands there in silence as this packed crowd cheers for him. When at last he breaks his silence and and utters those famous words…
"Finally…THE ROCK…HAS-COME-BACK…to Deeetroit!"
The crowd hangs on every last one of his words, echoing each syllable in unison, before erupting into another chorus of loud cheers. As they do so, The Rock slowly lowers his arm, brushes himself off and then looks at the camera, his left arm outstretched as his right arm holds the mic.
"Which means that FINALLY, the Rock has come back to TCW! And-"
The Rock is unable to continue because of a deafening "Rocky" chant. He acknowledges it by breaking his speech, and raising an eyebrow.
Tazz:
These fans are loving this. This is great!
"Now seeing as we are in Detroit, the Home of the Detroit Redwings-
,"getting a cheap pop because of the return of the NHL,
"The Rock is going to get right down to the point. Tonight, the world has seen the return of the Great One. The Brahma Bull. The Jebroni Beating, Pie Eating, layeth-the smacketh-down on your candy ass, people's champ the Rock!
"
The huge pop that his famous list of nicknames incites continues the atmosphere of electricity.
"But all anyone has been asking the Rock today, is one simple question:…Why? Rocky? Why? Why here, and why now?
" he stops and then raises his left hand, his index and middle finger raised.
"Well the Rock says he's come back now for two reasons, and two reasons only. Reason number one. The Rock has come back…for the PEOPLE!
"
The Rock's facial expression remains unchanged despite the fact that everything he says sends this place into rapture.
"And reason number two? The Rock has come back to TCW to layeth the smackethdown on everyone's Candy Ass in TCW, and get back his World Heavyweight…championship!
" He lets the crowd cheer again as he walks toward the center.
"So the Rock just wants everyone…AND THE ROCK MEANS…everyone in the back to listen up. The Rock wants everyone in the back to know, that where ever you go, tonight, EVERYNIGHT, that the Rock LITERALLY has millions…
"
Crowd:
AND MILLIONS!
"Of Rock's fans chanting his name: Rock-y! Rock-y!"
The crowd responds right on cue with the loudest Rocky chant of the segment. And when it dies down, the People's Champ continues.
"So to everyone in the back, the Rock wants you to do three things! Number one: your role? Know it. Number two? Your mouth: shut it! Number three? Your Candy ass: Bring it! Because the Rock says, that no matter who gets in his way: The Undertaker? Cm Punk? Derrick FAKEman? A parade of Gaymen? AWW IT DOESN'T MATTER who the Rock has to go through! Because when the time comes, and the Dust Settles, and all the electricity from the Rock's fans and the smoke has cleared….The Rock will prove without a SHADOW OF A DOUBT that he IS the People's Champion! HE IS the MOST Electrifying Man in Sports Entertainment!...
"
He shifts his weight and then smiles, before continuing, the crowd still 100% behind him.
"And that The Rock is without a doubt, the best damn TCW World Heavyweight Champion, the world has ever seen!
Another loud pop erupts as the rock spreads his legs, arches his back, and raises the microphone to his lips and looks straight up to the sky.
"IF YA SMELLLLLALALALALALOW! What the ROCK-IS-COOKIN!
The fans chant his catch phrase with him in unison again, right out of the palm of his hand. He drops the mic. and raises his eyebrow for the camera before exiting the ring.
Michael Cole: And that's all the time we have! Tune in Sunday for our Pay Per View! Thank you and good night!
---
Author: the_REAL_zwarrior
Date: Jan 23, 13 at 9:28am (PST)
Subject: re: Total Championship Wrestling: Roleplay Thread II
-------------------------------------------


---
"Prologue: The Death of Dwayne"
Thoughts raced through Dwayne Johnson's mind as he looked over the program notes for War Zone. He didn't get butterflies anymore, he'd put that behind him long ago. Yet as he sat in the luxurious first class of the United Airlines 757, he was overcome with nervousness.

Why? Because as his flight drew ever closer to the Detroit Airport, the full weight of the mistake he had made long ago finally hit him; So much so that the gravity of it felt like it was going to crush his lungs. Beads of perspiration formed on his brow and began to drip down his neck and back.



"This is really it…I'm coming back full time…"



Since he left WWE forever ago to become a movie star, he's treated professional wrestling as nothing more than a hobby. He had relegated its impact in his life to that of an old friend: the kind that you went to high school with and interacted with at reunions but didn't interact with otherwise.

Which begged the question: just how would the fans perceive him?

The kids and the long time fans would remember him, of course. But the die hard wrestling fans, the fans that made him so popular during the fabled "Attitude Era," they were the first to turn on him when he had left for Hollywood. This was a fact that did not weigh lightly on his mind.

As the stewardess passed him, he asked for a hot towel to remove the sweat from his face. Just why was he coming back to the business he had left for bigger and better things? As he looked down at the folder containing his program notes, he found his answer. Looking over to the right, he saw two pictures: one of his father Rocky Johnson, and of his grandfather Peter Maivia.

He took the photos and examined them closely, taking in the eyes of his grandfather. It was as if the late High Chief's spirit was communicating directly with Dwayne's through the eyes in the photo.

This was who he was. This is where he belonged. This was his purpose: his destiny.

But it was not the destiny of Dwayne Johnson. Dwayne Johnson was a movie star. Dwayne Johnson was a celebrity. Dwayne Johnson was someone who patronized the business of professional wrestling. This was not who he was.

He was the Rock. And he belonged in professional wrestling. Dwayne Johnson, did not.

As his flight prepared for its final approach to Detroit, the Rock took his folder and set it aside, before lowering the passenger mirror in front of him. As he observed his face, he found that there were a few more wrinkles as he approached 40. He smiled, and then his face turned to a neutral smirk. Reaching down into his pocked, he pulled out a pair of jet black aviators, and put them on slowly before shutting the mirror.

The man known as Dwayne Johnson was gone. The man known as The Rock had returned!
---
Author: The Voiceless
Date: Jan 23, 13 at 5:02pm (PST)
Subject: re: Total Championship Wrestling: Roleplay Thread II
-------------------------------------------
The marquee read:
Total Championship Wrestling presents Desolation
in large black lettering. A huge line had formed, full of screaming fans, eager to purchase tickets for this Sunday's event. A certain fan stood in the front of the line. He had been there for hours on end, dressed in a San Francisco 49ers Ball Cap, with wraparound sunglasses on, wearing a plain black T-shirt and Jeans. If anything, this man was inconspicuous. When the time came, the metal gate rose at the ticket booth, and an attractive young blonde stood gleaming out. The fan, even through his glasses, could tell that her beauty was glistening. He let out a smile, and rested his elbow on the counter, smiling in at her.
"Alright, gorgeous, I'd like a front row seat."

She blushed at him calling her gorgeous. This man was quite a looker himself. She quickly composed herself. She had no time to swoon over good looking men, there were over three hundred people in her line alone! Still, she stared into his glasses, feeling that he was looking back at her.
The man showed her his I.D. card, and removed his glasses. She recognized him, he was a sport star of some kind. Which sport exactly? He wasn't quite sure. She finished the transaction, and thanked him, wishing him a nice day. The man didn't move.
"So, what time do you get off here?"
She blushed again, but this time she felt a pang of fear as well. This man was shady in what he was wearing, alone. Let alone how he was acting. She nervously eyed behind him, and he turned and looked at the line of people.
These ignorant pigs can wait! You give me your damn number! You already gave me that look. I know that you want to drop what you're doing and come with me, you little bitch.
The man's voice was echoing off of his skull, begging to escape through his mouth. He quickly grabbed his ticket, and marched away.
That bitch got lucky that time.
Ric Flair's assailant looked at his ticket, and smiled. So what if the girl blew him off. He would never be blown off again. He was ready to begin the final act of his plan. This Sunday. Desolation was a fit name for the day.
---
Author: Moneyman23
Date: Jan 24, 13 at 1:15am (PST)
Subject: re: Total Championship Wrestling: Roleplay Thread II
-------------------------------------------
Daniel Bryan

Daniel Bryan has been on an absolute roller coaster in the last two months. It all started when he debuted in a triple threat match against Seth Rollins and Chris Jericho. The crowd was electric for his debut but he sadly disappointed many. After that, he was booked to compete in a battle royal in which he was again, beat and eliminated. From then on he competed in various matches. Bryan also dressed up as he superhero in an attempt to distract The Hurricane........and look how that turned out. After weeks of suffering disappointing losses, he picked up his first win in a Fatal 4 Way match of all sorts. Now Daniel Bryan has embraced the TCW fans, things in his career may be looking up.

The weather was warm and sunny. The perfect day for a pay per view. The arena looked magnificent while people lined up trying to get there tickets to the huge event. Suddenly, a taxi pulled up in front of the arena. Some of the fans glance over but they soon lose focus and turn there attention to getting there tickets. A man steps out of the taxi and walks to the back of the arena. He takes off his hoodie and its none other than Daniel Bryan. The wind blew on his beard as he walked up to the security guard standing at the door. Daniel Bryan pulled out his ID and the security guard allowed him into the building.

The atmosphere was nerve racking as all the superstars were excited for the pay per view. And who wasn't. It was going to be one of the biggest pay per views in history. Daniel Bryan opened up the door to the locker room and plunked his bag down at an empty locker. He walked out of the locker room and out into the hallway. Suddenly, he heard someone sprinting down the hallway. It was Todd Grisham! Todd Grisham ran up to Daniel Bryan. He waited a minute to catch his breath before shoving the microphone in Daniel's face.

Todd Grisham: Daniel, you mind if I ask you a few questions before the PPV.

Daniel Bryan: No, not at all. Ask away.

Todd Grisham: Thank you Daniel. Are you somewhat nervous for the special prize battle royal later tonight? Do you have some sort of strategy going into the battle royal.

Daniel Bryan: Obviously I have a strategy for the match. Basically I'm going to try stay out of the way and let the other guys go at it a bit. I'm not really nervous about the match it self. I'm more nervous about the though of that special prize. Look what happened to Santino, he became Eve's assistant and NOBODY thinks that a "special prize".

Todd Grisham: One more question, whose your pick for the main event tonight?

Daniel Bryan: I respect all these guys enormously but I have a feeling Wade Barrett is going to pull out the victory. Winning that would make him the first superstar to hav been Television and TCW Champion.

Todd Grisham: Thank you Daniel.
---
Author: ADA 2
Date: Jan 24, 13 at 2:47am (PST)
Subject: re: Total Championship Wrestling: Roleplay Thread II
-------------------------------------------
Antonio Cesaro Vs. Edge
Singles
Desolation comes back from commercial break to see Todd Grisham, our resident interviewer standing in the interview space with a microphone handy. He seems happy and quirky as he begins to speak into the microphone introducing the segment at hand.
Todd Grisham: Here with me at this time is the international sensation Antonio Cesaro.
The cameras would then nudge to the side a little bit to show both Antonio Cesaro and Todd Grisham standing side by side. Antonio Cesaro stands beside him and is wearing a black casual suit as he has a smirk on his face as he looks into the camera. The fans in the arena boo loudly at Antonio Cesaros appearance.
Todd Grisham: Welcome to Desolation, Antonio. Tonight you finally get your match against Edge; we are all wondering what…
Antonio Cesaro would then cut off Todd Grisham midsentence as he begins to speak, speaking in a different tongue which is one of many languages of Antonio Cesaro. It appears Antonio Cesaro is speaking in German, one of many languages he knows as he speaks very fluently and confidently at this time. It has been a long time since he has done this, but it seems that he is sick and tired of only using English to express himself.
Antonio Cesaro: Jetzt für alle von den Idioten in Beteiligung heute Abend weiß nicht wer wer ich bin noch? Mein Name ist Antonio Cesaro und ich bin hier in TCW aus einem Grund und ein Grund nur, Ihr Meister zu werden.
Todd Grisham would look confused, because just like nearly everyone else in the arena he had no idea what he had just said. But by the reaction from the crowd it seemed that it was not pleasant. The crowd boos as Antonio Cesaro merely speaks on
Antonio Cesaro: The pleasure of the TCW Universe is not my concern. I did not come to this country to entertain these people. For too long I have lost who I really am here. I have not been performing to my full skills and I have suffered, I have become just as pathetic as all of you Americans here tonight, but enough is enough and it is now finally time for a long overdue change. I have title opportunities handed to me here and each time I have not made the most of them and now look at me. Once again I am down on my luck, facing Edge. He may not be an American, but he is a Canadian and that is just as pathetic.
Antonio Cesaro lowers the microphone for a moment and just smiles as a very small
"Edge"
chant would build up, these fans where so predictable.
Antonio Cesaro: Tonight I have to settle for Edge, I should be in the main event, I should be competing for the world championship, but instead I am handed mere table scraps. The sad thing is that these people here are being deprived of a worthy championship match, these people are being deprived of Antonio Cesaro! It's a known fact that I am better fit to main event this show over those three losers. I am the definition of a champion. Derrick Bateman doesn't define a champion; he doesn't define anything besides FAILURE. And just like Edge that is all that he can expect tonight. I may not be in the main event, I may not be in the running for a championship match, but I swear after I deal with Edge I will make sure that whoever is the world champion will be having a very short championship reign.
The fans in the arena would then boo loudly as Antonio Cesaro finishes his sentence. He looks focused and very serious at this time as he continues speaking down into the microphone not allowing these fans the chance to cut him off.
Antonio Cesaro: This little company preaches about being the best, about having the best wrestlers and the best champions that this sport has to offer but when you look at the people competing for championships here you begin to rethink some things about this company. It is a joke that I am forced to face Edge, a man that is long overdue to retire. A man that has made things very difficult for me here for no reason other than the fact that I am from Europe. Since I am not in the main event tonight I will just take the proclaimed Rated R Superstar and pick him apart. This shall act as a warning for Derrick Bateman; a warning for every single champion and every single person competing for a championship that I'm here to redefine and rebuild this company. No longer will we have main events with no honour; no respect such as tonight's main event. Once I make defeat Edge; I will once again have the whole entire world watching me. I will once again become man to be feared; a man to be afraid of and that will be clear soon enough. Edge you and everyone else is on a warning, Antonio Cesaro is finally ready for success and nobody shall stop me from having it.
With the warning that Antonio Cesaro issued now out on the surface, Todd Grisham scurries away from Antonio Cesaro leaving the European superstar standing alone in the interview space with a smirk on his face. He brushes off any fragments of dirt on his suit as he then turns his back to the camera and walks away as TCW goes to a commercial break.
---
Author: the_REAL_zwarrior
Date: Jan 24, 13 at 8:09am (PST)
Subject: re: Total Championship Wrestling: Roleplay Thread II
-------------------------------------------


---
"1-1 With The Great One"
The scene at Desolation switches to the backstage area the instant the previous segment ends. More than 100,000 fans in Cowboys Stadium erupt with cheers as the image of The Rock appears on screen. His expression is neutral, faced straight forward. The camera is set just below his chest, conveniently placed to capture the bright blue Brahma Bull on his black shirt.

Standing next to him is Jonathan Coachman, who in contrast to the Rock, is anything but a crowd favorite. The immense cheers heard over the TV feed are for the People's Champion.
Coach:
Rock, you're set to take part in the TCW Battle Royal tonight, can we get your thoughts on your oppo-
The Rock merely presents his right hand to Coach's face while looking at the camera; the Great One refusing to acknowledge the presence of this Roody Poo. Instantly, this crowd gives another huge pop at what is certainly the first of many humiliations Jonathan Coachman is about to receive.
Tazz:
Uh oh.
Instead of speaking, the Rock merely lifts his head skyward as the camera pans in. The crowd, right on cue, responds with a slow building "Rocky" chant that dies down only as the Rock begins to speak.
"Finally…The Rock. HAS COME BACK TO Dallllassss!
The way the crowd responds again shows just how much control the Great One has over them. They hang off every word that he says like no one else.
Cole:
This capacity crowd very pro Rock, tonight.
Booker:
Awww yeaaaah.
The Rock suddenly turns to Coach and speaks directly into the microphone, his dark shades piercing right through the eyes of his interviewer.
"Jonathan Coachman! Just as sure as the Rock stands here and calls you a Roody Poo Candy Ass!Is just as sure as the Rock is going to ONE DAY get back his TCW…title,"
he says letting this crowd cheer for him again.
"But that can wait, because you see Jabroni, the Rock finds out that he's in a match, tonight! And not just any match, The Rock finds out he's in a match with…uh…uh…What was his name?
Coach:
Ro-
"IT DOESN'T MATTER WHAT HIS NAME IS!"
The Rock takes a step towards Coach, and the power of his catch phrase and his voice causes him to flinch. The result of this action sends the crowd into a frenzy of cheers. Tazz can be heard audibly laughing in the background.
"The reason it doesn't matter Jabroni, is because the Rock is not just in any match. He's in a battle royal! And while the Rock has his sights on the TCW Title, make no mistake about it, the Rock IS The People's champion! He IS the Most Electrifying Man in Sports Entertainment, and at the end of the Night, HE WILL walk out of Dallas the winner. And Jonathan Coachman, if you just shut your mouth. SHUT YOUR MOUTH…and Listen…You will hear the sound of the Rock's fans ALREADY…chanting his name…
He lifts his head skyward again, breathing in and taking in the roar.
Crowd:
ROCKY! ROCKY! ROCKY! ROCKY! ROCKY! ROCKY!
"Tonight, everyone in this Battle Royal better be ready. Because The Rock? He's going to do something very special. Oh yeah, something no one has ever seen before! TONIGHT! The Rock…is gonna whip the ass of 10 other Jabronies. And afterwards he's going to line them up, one by one. And then The Rock-what's he gonna do? The Rock is gonna take his size 13 boot, shine it up reaaaall nice. Turn that sumbitch sideways, AND STICK IT STRAIGHT UP ALLLL THEIR CANDY ASSSES!"
This Dallas crowd continues to hang off of every word the Great one says. After facing the Coach , who has now been pushed off screen by his presence, he returns to face the camera. His demeanor and facial expression remains unchanged. Another Rocky chant starts and quickly dies down as he begins to speak again.
"Make no mistake about it, Coach. The Rock is going to be the TCW Champion. But not before he electrifies Dallas the only way the Rock can. And that is by kicking everyone's monkey ass all over GODS GREEN EARTH! IF YA SMELLLLLLLLLL! What the Rock! IS! Cookin!"
His music hits as everyone echoes his finishing line in unison, before lowering his glasses and raising his eyebrow at the camera. He then walks off leaving a shaken Jonathan Coachman looking like an idiot as the cameras return to ring side. The environment inside of Cowboys Stadium is nothing like it was at the start of the promo.
Cole:
Wow, its tonight! The return of the Rock to action!
Tazz:
It's been too long. So great to have him back here in TCW!
The three of them talk and banter some more as the next segment begins…
---
Author: Smell The Chiken
Date: Jan 25, 13 at 9:08pm (PST)
Subject: re: Total Championship Wrestling: Roleplay Thread II
-------------------------------------------
Mr. Kennedy
Tweener
2/0/0
in
Mr. Kennedy Goes to Arlington
In Arlington, Texas, twenty miles west of Dallas, stands the recently-constructed Cowboys Stadium. Inside one can find at least a hundred thousand sports fans, many of them donning jerseys and apparel of the Dallas Cowboys or another countless Texas-based sports team. Tonight, however, they came to see the most exhilarating sports-entertainment show on the planet. They came to see TCW's Desolation. While they could have stayed at home and watched it for $45.59 on their 40-inch flatscreen TV's, they instead chose to pay on average $85 a pop to watch the momentous event live.
With the crowd settled in their seats, some of them just now arriving and some who have been at their spot for hours now, the time has come for them to be witnesses of one of the top performers in the company and the industry in modern times. With the announcement of one surname, many of those in the crowd groan at the torment they predict. Others leap for excitement, while still others do not know how to react to the wrestler who bemuses their morality. Tonight the woman who he currently dates accompanies him to the ring. He climbs in first before chivalrously creating an opening between the ropes for his sweetheart. `Once in the ring, she stands off to the side while he takes the center to adress the crowd.
"Before I say anything, let me just express my excitement to be in COWBOOOOOOYS STAAADIUUUUM!"
Casual fans and many of the young children wearing shirts and caps of the NFL team cheer at the cheap pop, while those who are true fans of Mr. Kennedy wait to see what he will say next.
"One of my favorite football memories occurred in this arena. The date was February 6th, the day that Super Bowl XLV was won by the GREEEEN! BAAAAAY! PAAAACKERRRRS! Yeah, how does that feel? The greatest moment of football this place will ever see, and your team wasn't even part of the action. But cheer up. Dallas has some whimpy, noodle-armed, Colt Cabana look-alike as their team leader. The Packers have the greatest player in the game right now, The Aaron Rodgers.Yeah Kendrick. From now on, you are only Brian Kendrick, because I'm taking that article you put in front of your name and giving to someone who deserves it. I'm giving it to the man who can destroy the Cowboys blindfolded. And allow me to applaud Jerry Jones for being smart enough to build this new stadium outside of the trashy town like Dallas. That place is crawling with crack-heads and debutantes, and half of them play for the Cowboys."
Singling himself out as the most hated man in a two-mile radius, Kennedy snickers at the amount of heat that has been created. With the faces of many in attendance turning a violent red, Mr. Kennedy whispers something into Maria's ear that causes her to softly chuckle. Within seconds, the chant of 'KILL KILL KENNEDY!' fills the building.
"Oh come on now. You people already did that 50 years ago. Now, let me refocus on tonight's entertainment. Last week, I complained about how I was not getting the opportunities I deserved and the title shots that should have been coming to me. Not even a week later and I'm proud to say I'm seeing changes. Nothing nearly as what it should be, but a shot at the Television Championship against that hack Santino is a start. And I only say shot to be technical. Really, it is a guarantee that I will strut out of this state, ridding myself of that pigs-and-barbecue-sauce stench, with some gold wrapped around my waist. Not the gold that I deserve, but gold I will accept nonetheless. I mean, I'm fighting Santino. While he was solving Scooby-Doo style mysteries or solving crime as a poor excuse of a caped-crusader, I was in the gym becoming stronger, training to become the best man alive in the ring. And I can safely say that I am the best. I am the best wrestler in TCW and tonight Santino will witness first-hand how dominating I truly am. Still, it is Santino. I could have spent the last month on the couch, gained the weight of Matt Hardy and Carlito combined, and I would still be able to drive my electric scooter that I'm positive most of you in the crowd own and operate into the ring, smack him around for about a minute, and collapse on him in exhausting for the 3-count. A match between Santino's 'completely legit sister' Santina and Maria would be a closer match and even that would still be a blowout loss for Santino. So when all of you out there that hate me right now hate me even more in a few hours when I win the TCW TV Championship, know that it is just as much Santino's fault for being the worst wrestler to come out of Italy as it is mine for being the best wrestler in existence and colossally kicking Santino's spray-tanned ass."
Instead of walking around to keep composure, Kennedy just stands their in the middle of the ring with his eyes closed as the crowd show their displeasure for him. He raises his arms and smiles, as if trying to suck in the negativity, to absorb the hatred, to feed off the hostility. Full and satisfied, he continues.
"And once I have that belt around my waist, my eyes are set on the TCW World Heavyweight Championship. I don't care which of those drudges wins their match tonight. All they will do is make sure that title is still warm when it gets placed in my hands. It won't matter if it's that twit-Brit Barret, Brian 'I've-been-a-failure-in-every-promotion-I've-been-in' Kendrick, or that trailer trash of a champion Derrick Bateman. Hell, throw all three of them at me. Because I will come out on top not because of luck but simply because I am the best. When I have both titles in my grip as the undisputed, undefeated champion of TCW, don't act like I didn't predict it and don't be surprised. I have my goals set and my path in TCW already figured out while some of these people have butterflies in their stomachs because of the battle royal. I am the best on the roster, and you people will witness my power tonight. Save your ticket stubs, because they'll be worth a nice amount of cash on eBay. They'll signify the night that the title reign and complete domination of the world of wrestling began for MISTEEEEEER KEEENEDYYYY."
Kennedy closes his eyes and lifts his arms again, bathing in the hate of the TCW fans, all the time Maria standing in the ring to watch her significant other make history. Content with his shower of hatred, Mr. Kennedy slides through the bottom ropes first to allow Maria to escape the ring effortlessly. Holding her hand as she gets out, like a true gentleman, Kennedy waves to the crowd, who boo and spit in their path as they make their way back up the ramp and off the stage.
---
Author: Shiny
Date: Jan 26, 13 at 7:30am (PST)
Subject: re: Total Championship Wrestling: Roleplay Thread II
-------------------------------------------
_______________________________________
The One Man Band
Heath Slater
_______________________________________
We see ring announcer Lillian Garcia standing in the ring. The fans grow silent, patiently waiting to see whose name she is about to announce.
Lillian Garcia: Ladies and gentlemen, please welcome the newest member of the TCW roster...
The fans are silent as Lillian pauses and the suspense rises. Everyone is sitting on the edge of their seats, wondering who the new superstar could be. The entrance music of Heath Slater plays as the one man southern rock band jumps onto the ramp, receiving an apathetic response from the crowd. The fans, completely devoid of any enthusiasm, are disappointed and underwhelmed by this lacklustre revelation. Heath Slater erratically walks down to the ring, ignoring the sound of several fans getting off their seats and taking a short trip to the restroom. It seems that Heath Slater's first address to the crowd has been unofficially chosen as the designated bathroom break. Regardless, Slater steps between the ring ropes and grabs a microphone from a random staff member. The deafening silence is interrupted when Slater shouts into the microphone at the top of his lungs.
Heath Slater: Total Championship Wrestling, are you ready to rock!?
Most of the fans in the arena remain silent, although a few faint boos can be heard from the cheap seats. Very few fans are willing to spare Slater any of their attention. Slater, obviously expecting a louder reaction, frowns. He lifts the microphone up to his lips again and continues with his rock concert charade.
Heath Slater: I can't hear you! ARE YOU READY TO ROCK!?
The fans, having already grown tired of Slater's tedious voice, begin to boo the one man band more loudly. It is evident from Slater's facial expression that he is surprised by this reception. For some strange reason, he must have been expecting his cockamamie rock star act to be praised. The deluded superstar shrugs and returns to his usual, excitable self.
Heath Slater: Hmm... Tough crowd. Don't worry though. Don't you worry about a damn thing, because I will sure as hell win you over. Once you've seen me wrestle and heard me rock, each and every single one of you will be tuning into every last edition of Warzone for one reason and one reason only. To see the one man southern rock band in action baby! You won't remember how you ever lived without your weekly dose of Heath Slater. One day, you will all get down on your knees and thank me for making TCW worth watching. Now that Heath Slater has come to TCW, everything is going to change. My time in this company will be nothing short of epic. Mark the day people, because Heath Slater has arrived and from now on, this show is going to rock! I am TCW's own rock-star-slash-professional-wrestler and I am here to make each and every edition of Warzone unforgettable. I am here to blow your minds. I have here to show you action like you have never seen before in your entire lives. Prepare for the ride of your life.
Slater gets overexcited as he jumps up and down in the middle of the ring, waving his long, ginger hair behind him. He removes his sunglasses, throws them out of the ring and begins to speak again, this time with increased energy and excitement. The fans are mostly silent as they are unable to take TCW's newest superstar seriously. He performs a little dance in the ring that nobody knows how to react to. At this point, the fans are just waiting for this segment to end.
Heath Slater: Now I keep hearing about this battle royal that's happening tonight at Desolation. I heard about it and I started to think... Is there any better way to kick off my TCW career than to enter the battle royal, show off my skills and win the mystery prize? If there is, I don't see it. Heath Slater is going to rock the battle royal, baby! You can count on that. I don't know what the so-called mystery prize is, but whatever it may be, I cannot wait to sink my teeth into it. You heard right, people. Heath Slater is making his debut here at Desolation. Speaking of which, it's a very ironic name for this pay-per-view event, isn't it? Desolation? I mean, TCW was desolate. It was very desolate indeed, so desolate that I don't know how you folk managed to watch it without gauging your eyes out. The reason I think the name is ironic is because starting from the event called Desolation, this company will no longer be desolate, because it has what it was missing before. This company will no longer feel empty because its missing link has finally appeared, fashionably later of course. Obviously, I am talking about yours truly. I'm here and I'm here to stay.
There are still a few fans booing, not because they have any intense hatred for Heath Slater. Merely because they can't be bothered with him. As far as they are concerned, he is just a deluded fool who is trying to be both a professional wrestler and a rock star, despite the fact that he has no talent for either occupation. Slater does not listen though, because he is either ignoring the fans or simply becoming more determined to prove them wrong in the upcoming battle royal match at TCW Desolation.
Heath Slater: Remember this date because this will always be known as the beginning of Heath Slater's illustrious career in TCW. This is the beginning of my tour. The tour of the one... man... baaaaaaand, baby!
The fans in the arena breathe a sigh of relief when Slater drops his microphone. With his speech over and done with, Slater climbs one of the turnbuckles, raising his arms as if he had just won a match. His music hits, but the groans of the unimpressed fans can still be heard over it. However, Slater ignores them and continues with his ridiculous rock star act. He exits the ring and begins to walk back up the ramp. On his way, he stops several times to interact with the front row fans, who he deludes himself into thinking are his fans. He casually makes his way backstage and at last it seems that the fans can have a break from putting up with the overgrown child known as Heath Slater.
---
Author: The Voiceless
Date: Jan 26, 13 at 10:25pm (PST)
Subject: re: Total Championship Wrestling: Roleplay Thread II
-------------------------------------------
The cheap heat Mr. Kennedy and the confusion that Heath Slater had recently produced couldn't have made for a greater contrast than the enormous pop that occurred when Alex Riley's theme song played over the PA system. Those who were walking to the bathroom after the previous promos were now rushing back to their seats. There was a certain, underlying anxiety in the air as Alex Riley made his way to the ring, with no emotion on his face whatsoever. He cracked a half-smile, as he took a microphone to the center of the ring and began to talk.
Alex Riley:
"I like the Dallas Cowboys."
The crowd erupted into a frenzy at those simple words. The hooting and hollering didn't stop for a few minutes, as Alex Riley soaked in the adoration his cheap pop produced. But Alex Riley wasn't here for one-liners. Alex Riley was, again, here about Ric Flair. For weeks, he'd been tormented by Flair's assailant. Now, on the grandest stage so far, Alex Riley looked to do something about it. He took a few drawn out steps around the ring, looking into the crowd.
Alex Riley:
"Ladies and gentlemen, you'll have to excuse me. Tonight, I have nothing to say to you. I'm here to talk to one man. You can all feel free to listen, but nothing I say is for you. I'm talking to the man that assaulted Ric Flair. Ric Flair was put into a coma at your hands. He received over 70 stiches at your hands. Ric Flair will never be the same again because of you. Ric Flair is like a father to me, and you tried taking him from me. And what you don't understand, what you'll never understand, is that when you try to rip someone away from their father like that, you don't get off scot-free. So you mark my words – Tonight, you're going to come from whatever corner you're cowardly ass is hiding in, and you are going to step into this ring. You are going to stand in front of me, like a man. And then, I'm going to teach you the error of your ways. I'm going to make you beg for forgiveness, and then I'm going to ignore your pleas. Do you understand? You're going to pay for what you did. After tonight, you're never going to walk again."
Alex Riley's eyes were filled with tears. Ric Flair meant a lot to him, and this monster would pay for what he did. The crowd granted Riley solace, chanting the name "Flair" over and over again as he departed from the ring, and up the stage. Back to the dressing room to prepare to deliver the beating of a lifetime.
---
Author: The Voiceless
Date: Jan 26, 13 at 10:44pm (PST)
Subject: re: Total Championship Wrestling: Roleplay Thread II
-------------------------------------------
The man sat in the front row. He wore a 49ers baseball hat. This granted a facade that he was merely a sports fan who had cast his chips toward San Francisco. He wore a tight red T-Shirt, with no imagery. He wore jeans. This made me seem like no more than a casual fan. And, boy, did he feel like he was a casual fan. He was forced to sit next to some moronic little toddler that didn't understand any part of the storytelling of wrestling. He sat there and blindly called for Derrick Bateman to interrupt Mr. Kennedy's speech because Mr. Kennedy was boring. He told Heath Slater that John Cena could kick his butt. Of course, this small child's head was full of the presumptions that the good guy was always better, that he would always win. But where was the depth in his heroes? Where were the tactics? The good guy never cheated! The good guy always gave it his all! The good guy, no matter how much bigger John Cena was than Heath Slater, the good guy was the underdog! The God damn underdog! What a pretentious little shit the man had been forced to sit with.

But the Pretentious Little Shit was given a whole new treat when "Say It To My Face" played through the loudspeakers. Here it was, ladies and gentlemen. The "Main Event". With a record of something like four and seven, Mr. A-Ry! When the PLS sitting next to him stood up cheering for his hero, the man stood up too. He clapped just like every other fan did. Did he do it just to fit in? Hell no! He did it because he was genuinely a fan of this hero! The loser who would always come out on top! The ugly loser, who could pull a win right out of oblivion and stun the world!

As he listened to the Hero talk, he couldn't help but be astonished. The Hero was talking to him. The Hero directly addressed him. Did he think to look around the audience? Did he think that Ric Flair's assailant would simply wait in the back? That he would enter to some theme music that he'd already went over with the sound guys? How in the Hell would I get to the back? How in the Hell do you even assume I'm hearing you, you ugly, pathetic cretin? I'm right here! Come fight me right now! Make me pay! Avenge your "daddy!"

But the Hero was done now. The PLS chanted Flair with the rest of the ingrates. Hell, even Ric Flair's assailant let out a few "Woo's!" Because, he thought, it's not like you'll ever hear it from the old-timer's voicebox again.
---
Author: Smell The Chiken
Date: Jan 27, 13 at 12:02am (PST)
Subject: re: Total Championship Wrestling: Roleplay Thread II
-------------------------------------------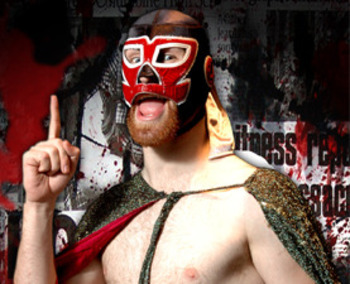 El Generico
1/0/0
youtube.com/user/ElGenericoTCW
Una Lección de Español

After a three minute ad most people skip over after five seconds, an opening to the newest TCW youtube series appears. Quick shots of people hitting a piñata, natives riding mules wearing ponchos and sombreros, and masked luchadores flash on the screen before the name of TCW's latest acquisition pops up in bright red letters.
El Generico.
The video then fades into the masked wrestler sitting in front of a desk. The shaking of the camera and the flashing colors of the window on the back wall make it obvious that this video was filmed on a tour bus. Generico, happy as usual, proudly speaks in his (supposedly) first language.
"Hola everybody! This is Una Lección de Español con me, El Generico. Today, we'll be learning some common words in the dictionary de Español and some words you can use when watching TCW, pronounced in Español as tay-say-doble-vay. First, I am on my new tour bus. Tour bus, autobús. Autobús. Next..."
El Generico grabs a picture from under his desk of former TCW GM Kevin Nash in a very unflattering pose taken when he was out of wrestling shape (about two weeks ago).
"This is Kevin Nash. Kevin Nash, Bastardo Estúpido. Bastardo Estúpido. El hombre thought he could defeat the TCW World Heavyweight Championship when he couldn't even win against yo. Muy estúpido. Muy muy estúpido."
The masked wrestler chuckles at his last comments as he rips the photograph in tiny pieces and throws it out the window behind him. Sitting back down, Generico places a glass of water and an apple on the table.
"As you can see here, we have an apple and water. Nos tenemos un manzana y agua. Un manzana y agua. When you throw water in the face of your enemy and toss an apple at him, you lanza agua y la manzana at the cara of your enemy. You could do this in a wrestling match, or even a battle royal. Like the one at Desolation this Sunday. At Desolation this domingo. I will be in that battle royal, along with some legends of wrestling. The Rock, John Cena, Randy Orton, Daniel Bryan. This is going to be the biggest match of my life and it is only my second in TCW. It is an honor to be in the same ring as those men. And just think, what if I win? What if I overcome the odds and win the match against all those great superstars? I'll win that special prize, that premio especial, and who knows what it could be. Hopefully something better than being an assistant. So, I hope to see as many of you in Arlington, Texas as Cowboy Stadium can fit and everyone else to watch Desolation on your television set. Who knows? It could be the biggest match of my life. Adiós amigos!"
The masked wrestler waves at the camera to say goodbye to his viewers.
---
Author: RatedRViper
Date: Jan 27, 13 at 9:51am (PST)
Subject: re: Total Championship Wrestling: Roleplay Thread II
-------------------------------------------
*The camera cuts to the interviewing are where Josh Mathews is standing by*
Josh: Ladies and Gentlemen. It's my pleasure to welcome my guest at this time.... The Show Off... Dolph Ziggler
*Dolph Ziggler walks next to Josh Mathews wearing his Blue show off shirt saying 'stealing the show... and your girlfriend*
Dolph: Hmph. Josh... it should be a pleasure to introduce me. I mean, who doesn't want to do that? I have girls wanna have me... guys wanna be me. I'm Dolph Ziggler. I'm the Show Off. Heck i'm TCW. its all about me. Now i'm in a match.. not just any match but a Battle Royal. Now the last one i was in i didn't win... but i did eliminate The Ultimate Oppotunist... Edge. So when i get in that ring, its all about strategy... thats why i have Big E here. He is one of the worlds strongest men and im sure he will have no problem being in my corner tonight. As for the other superstars.... its just a matter who is lucky enough to compete with me.
*Dolph Ziggler smiles a cocky smile as he looks in the air then back at Josh Mathews*
Josh: Uhmm well i was going to ask you on your thoughts of tonight but you basically answered that already... So who do you think your biggest threat in this match is?
*Dolph Zigglers smile turns into a serious face as he looks straight into Josh Mathews eyes again but this time scaring him*
Dolph: No one in this match is a threat to me. infact i'm the biggest threat in the match... no matter who i go up against i can and will be victorious. It's just a matter of time before i become TCW's next World Heavyweight Champion....
Josh: So Dolph... what do you think the special prize will be for the winner?
*Dolph sighs as he looks at his feet and shakes his head before he puts his hand on his forehead*
Dolph: Josh... It doesn't matter what the prize is. For all i care it could be a teddy bear. maybe a number 1 contender spot... but one thing is for certain. It's my prize because... Now... it's my time. It wont be long until we are all worshipping me! As new TCW World Heavyweight Champion.
*A long pause that lasts about 5 seconds starts then ends with Dolph leaning closer but not too close to Josh*
Dolph: Show........ Off.......
*Dolph Ziggler and Big E walk off leaving Josh Mathews on his own*
Josh: Uhh Thank you for your time Dolph.
*The camera then fades out*
---
Copyright Neo Era Media, Inc. 1999-2016.
All Rights Reserved.