Author: indiblue
Date: Oct 5, 12 at 3:47am (PST)
Subject: re: Career Mode Updates
-------------------------------------------
Chelsea FC: The Return of a Hero
The Chelsea board has appointed former player-manager and club hero Ruud Gullit as their first-team coach on a two-year deal. Following the capture of the European title by Roberto Di Matteo, many expected the former Chelsea midfielder to keep his top position. Chelsea's chief executive, Ron Gourlay, had this to say on the matter.
"Ruud Gullit has been named first team coach and manager of Chelsea Football Club with immediate effect. He will take over all first team duties including transfers, squad management and the youth policy. We'd like to thank Roberto Di Matteo for everything he's done, but mostly for bringing us the European title. A lot of thought went into this decision, and while we knew the fans wanted Robbie to keep the job, we feel that Ruud is the best man for the position. We're looking forward to working with him to continue winning trophies."
We caught up with Gullit following his unveiling at Stamford Bridge for a quick interview.
Ruud, congratulations on the job. How's it feel to be back here?

Thanks. Yeah, it's great to be back in familiar territory. I've been in London for a few months, and just a few weeks ago I was in the boardroom with Ron talking about taking over. Robbie's a great, great guy who absolutely deserves all the credit for what he's achieved. I hope he does well wherever he goes.

Have you met the boys yet?

I had a quick meeting with some of the first team the other day. Frank, JT and I headed out for a bite. We spoke mostly about non-football issues, though.

Any changes you're looking to make?

I can't talk about that mate, you know that.

Any word on Torres's injury?

He did tear his calf playing for Spain, so it's natural that a bit of recovery time is expected. He should be good to train in another week or so, but it'll be at least four before I even consider playing him. He's a valuable player and too important to risk losing for even longer.

Congratulations again. Good luck.

Cheers.
---
Author: indiblue
Date: Oct 5, 12 at 4:00am (PST)
Subject: re: Career Mode Updates
-------------------------------------------
Gullit Gets Down to Business
Chelsea FC announced a double swoop for Italian duo Daniele de Rossi from AS Roma and Ignazio Abate from AC Milan. Gullit has secured De Rossi, revealed to be his primary transfer target, in exchange for John Obi Mikel and a fee reported to be in the region of £11m. Abate comes to London for Branislav Ivanovic and a modest £1.5m fee.
"We enquired about Daniele and Roma's position was reluctant, so we knew we had a big-money move on our hands. As we prepared to make a bid, John asked me to secure a move away because he thought he'd have limited playing time with both Daniele and Oriol in the roster. Rather than make an outright cash bid, we asked Roma if they'd consider taking John plus a modest fee, to which they agreed. Roma's getting a great midfielder, and the fee we paid aligned with our own valuation of John, so it's all good. I met Daniele when he arrived at Cobham from Rome, and he's a top guy, very funny and all that. He'll fit in great with us."
"As for Bran, I told him he'd not be first-choice because he doesn't have the pace to match his endurance, and I needed full backs that had that. He was very understanding, and Milan wanted him for his solidity in defence. Again, a player-plus-cash deal worked out great for both sides. Ignazio is a great right back, speedy and really good stamina. I'm looking forward to working with the lad."
The Blues have also captured coveted winger Iker Muniain from Athletic Club in exchange for a £17m fee.
"Iker's a kid I've been watching for a while now. He's one of the best burgeoning talents in the game and I'm thrilled to have won his signature. It's also wonderful that our own valuation matched Athletic Club's."
Pre-Season
Friendly: Chelsea 2 - 2 Internazionale (D)
Hazard 5' 45'
Palacio 25', Milito 78 (pen)
Ruud Gullit took the reins of Chelsea with a 4-3-3 formation, with Daniel Sturridge stepping up for the injured Fernando Torres. Eden Hazard strikes spaced 40 minutes apart were enough to keep Inter at 2-1 until the 78th minute, when David Luiz conceded a penalty under pressure. Diego Milito dutifully put it back to end the game as a draw.
Friendly: Napoli 2 - 1 Chelsea (L)
Inler 11', Cavani 81'
Muniain 22'
Chelsea continued their possession dominance game with a loss to Napoli. Despite keeping the ball, defensive errors at the death once more cost them a draw. New boy Iker Muniain was the only Blues name on the score sheet courtesy a beautiful curled shot from 30 yards out.
Friendly: Chelsea 3 - 1 RCD Mallorca (W)
De Rossi 11' 18', Hazard 38'
Victor 29'
Chelsea showed their versatility and utility in midfield with a thumping win over Mallorca. Defensive-oriented Daniele De Rossi scored his first Chelsea goals in quick succession, both from mere yards away from the Mallorca keeper.
"I'm thrilled with the way our preseason has shaped up. The fans will be wanting all wins but as a coach, you want to see your boys improve in fitness and start gelling well. I have a couple more signings to make, but the chemistry between these guys is already so great, especially in the midfield triangle."
---
Author: indiblue
Date: Oct 5, 12 at 4:04am (PST)
Subject: re: Career Mode Updates
-------------------------------------------
'Stroot'ing Their Stuff
Raul Meireles has made a switch to PSV Eindhoven, and in exchange Chelsea have signed Kevin Strootman. A transfer fee thought to be in the £4m region accompanies Meireles to PSV.
"This is an absolutely great signing for us. Kevin is an up-and-coming kid with some great ball control and dribbling skills, and a hell of an eye for a pass. I'm looking at him to back up Frank, Daniele and Ramires in midfield, and he knows he'll have to work to earn a major starting role. Raul was great for Chelsea but unfortunately didn't fit into my plans. We parted on a good note. We have one more lad's transfer being negotiated. He's going to be great here, but the full terms of his deal might not excite our fans. I just ask that everyone stick by the club. I have a plan, and I know what I'm doing."
Gullit's enigmatic statement has left pundits and fans alike wondering what this mystery transfer could be. Some speculate that given their financial muscle, Chelsea may be paying above the target for a player they don't need.
The Nail-Biting Curtain-Raiser
Community Shield: Chelsea 3 - 3 Manchester City (L)
Sturridge 4', Lampard 45' (pen) 84'
Aguero 8', Maicon 78', Balotelli 90' (pen)
Manchester City won on penalties 2-4
An early Sturridge strike off the first passage of play at Wembley was answered minutes later by Sergio Aguero. Chelsea led 2-1 going into the break thanks to a Lampard penalty drawn by Hazard, but a late Maicon header and a Balotelli penalty conceded seconds before the final whistle sent the match into spot kicks and City's way. Juan Mata will be ruing his open-net miss. A dreadful Blues performance in defence and a poor competitive start for Gullit means there is much work to do.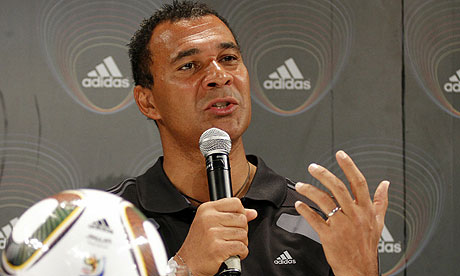 "It's never fun to lose on penalties and I expected us to go through with the win after Frank's second. It's just some things we have to work on I suppose, and doesn't help that we didn't take our chances in the shootout. After last year's Munich win I'm surprised we didn't bag this trophy, but there's plenty more silverware out there to snag."
---
Author: CosLamp
Date: Oct 5, 12 at 4:54am (PST)
Subject: re: Career Mode Updates
-------------------------------------------
SS. LAZIO 2012-13
---
€25M HERNANES SALE MET WITH OUTCRY FROM LAZIO FANS

Fans of L'Aquila were left distraught by the news that Atlético Madrid were prepared to meet Fabio Galletti's hefty price tag for their star man.
The Spanish club made an initial bid believed to be around the €18m mark, which was rebuffed by the new manager, who insisted that the sizeable €25m buy-out clause was the only sum for which he would permit Hernanes to leave. To Galletti's surprise, the Spanish club agreed to pay up, leaving Lazio without their key man in midfield.
The 27-year-old attacking midfielder from Brazil was key to Lazio's 4th place finish last season with 10 goals in all competitions as well as a multitude of assists. He attracted interest from PSG in January but Lazio managed to hold on to him as he helped the side narrowly miss out on Champions' League qualification.
With a large hole left in the central playmaker role, here is a quick look at the players who could well be Galletti's choice to replace his lost talisman:
Christian Eriksen
, age 20, Ajax.
Galletti has had his eye on the Danish midfielder for a while, and the cash injection from Hernanes' sale could help Lazio meet the €20m asking price for the young starlet. Eriksen is a talented player with an incredibly bright future, and could well eclipse Hernanes in the long run.
Younés Belhanda
, age 22, Montpellier HSC.
Montpellier's surprise win in the French Ligue 1 last season was largely down to two men. Top goalscorer Olivier Giroud is believed to be off to Arsenal, while the man who created the goals and ran the midfield has attracted surprisingly less interest. Belhanda put in many sterling performances for Montpellier and at 22, has the time to adapt and improve into a new league, possibly at Lazio.
Ganso
, age 22, Santos.
Ganso was once billed as a future star of Brazilian football, so much so that Santos felt the need to slap a $50m (approx €38m) buy-out price on the attacking midfielder two years ago. Since then, a few solid, if uninspiring seasons in teammate Neymar's shadow has somewhat lowered his price tag. If Lazio can coax Ganso's best form out of him, he could prove a steal at a tidy €15m.
Maruo Zarate
, age 25, Lazio.
Of course, Lazio don't need to spend to replace Hernanes. More traditionally employed as a CF, Zarate would play a role higher up the field, just behind the primary striker, a role in which he's very accomplished. It would save Galletti anywhere up to €25m to spend elsewhere and could prove a smart financial move if it pulls off.
---
MICHELE CAMPORESE MAKES DARING RIVAL SWITCH

20 year old FIorentina defender Michele Camporese was in hot water with the fans over an iminent move to bitter rivals Lazio.
The imposing centre-back, who has represented Italy up to U-21 level, revealed yesterday that a fee had been agreed between the two clubs and that he "could not wait" to make the switch to the capital club.
Camporese is a typical signing of Fabio Galletti's style, young and ambitious as well as versatile along the back four. At just 20 years of age he will no doubt have time to improve from a talented young player into an international star. Lazio's manager had this to say when asked about Camporese, following the side's 2-0 friendly win over Wolfsburg;
"He's immensely talented, of that there's no question. You can look at young players and see who will make it big and who will not. Everyone saw Lionel Messi playing at 19 and knew he would be great one day, and I'm not saying Michele will be the same but he's got that same bright future."
---
TRANSFER ROUNDABOUT AT OLIMPICO CONTINUES

Lazio confirmed the departures of more senior players this week as well as two new signings.
Galletti insisted on building a dynamic young side and the departures came as no surprise to anyone with Tomaso Rocchi (35), Giuseppe Biava (35) and Andre Dias (33) all leaving the Olimpico, to Udinese, Atalanta and Bilbao respectively.
Owing to a bad injury to Stefan Radu, picked up in pre-season, Bolivian intenational Marvin Bejarano was bought in on a free transfer as back-up, while Brescia also announced the departure of 18 year-old Goalkeeper Alessio Cragno to Lazio for a believed €600,000 fee.
Former Académia Olimpico youth products, Danilo Cataldi, Ogenyi Onazi, Antonio Rozzi and the immensely talented Luca Romanó all found themselves season-long loan moves.
To top off the hectic first month of Galletti's time in charge, Sampdoria's Andrea Poli appears to be on his way to the Olimpico, with an €11.5m transfer fee believed to have been agreed between the two clubs, but Poli is rumoured to be stalling the deal over personal terms.
---
Author: indiblue
Date: Oct 5, 12 at 5:09am (PST)
Subject: re: Career Mode Updates
-------------------------------------------
Ramires Moves to Valencia CF
Ramires has been sold to Valencia CF after putting in a transfer request. Despite enjoying his time at Chelsea, he feels unsettled in England and wants a move to a Latin nation. The Spaniards secured the speedster's services for a fee thought to be £14m. Josh McEachran's loan to Middlesbrough has been terminated to provide Gullit and Chelsea with midfield cover.
"I'm terribly upset to see Ramires leave. The lad was great for us last season but he spoke to me about how he was always more comfortable playing the away games in the European league. These things happen from time to time, so we've brought Josh back from loan. I'm sure he'll step up and fill the gap."
Premier League: Chelsea 1 - 0 Reading (W)
Mata 3'
As expected, Gullit unveiled his competitive formation for the season, a holding 4-3-3 with Juan Mata filling in at centre-forward. Mata's 40-yard screamer in the third minute was the only goal in what turned out to be 86 minutes of possession practice for the Blues. They ended the match having kept the ball 87% of the time, but one can only hope that Fernando Torres soon returns from injury.
"I'm proud of the boys. I told them to go out there and focus on keeping the ball and take whatever chances we get, and that's just what they did. We'll look to build on this."
---
Author: indiblue
Date: Oct 5, 12 at 5:20am (PST)
Subject: re: Career Mode Updates
-------------------------------------------
Shockwaves at Stamford Bridge
Chelsea have announced the blockbuster transfer story of the season thus far. Joao Moutinho comes to the Bridge from FC Porto, but in exchange goes Fernando Torres! The striker was said to have been devastated when Gullit brought the potential deal to his notice, asking whether the £50m fee paid for him was a sham. In the end, Torres agreed to a deal with Porto, looking to leave his weary days with Chelsea behind for the familiar green of the Iberian peninsula. A modest £5m fee is believed to accompany the former Liverpool front man as compensation for his injured status.
The confirmation of this deal has also led Gullit to confirm rumours that he will implement a false nine system at Chelsea, with Juan Mata set to play the title role. Pundits have claimed that while Hazard would be equally adept in the role, Mata's best work comes from the middle and is the most viable candidate. It is also widely speculated that Daniel Sturridge could play a much more prominent role.
"Yes, it's true. We will be having a false nine system at Chelsea, something we Dutch are no strangers to. It's not ideal when you let such a big name go, and I felt very bad having to tell Nando he wasn't going to figure into my plans. I can understand why he was upset, and I don't blame the lad but this is all part of the game, ups and downs and all that you know. We wish him the very best at Porto. The player we are getting in exchange is a vital cog in midfield. Joao can hold up the ball, he can recycle possession and he can chip in with a goal when required. He'll make sure that Fernando's transfer is not in vain."
However, Mata is said to be distraught over the unexpected move, fuelling rumours of his unhappiness at Stamford Bridge. Manchester City, Internazionale, Atletico Madrid, and Real Madrid are all expected to vie for his signature.
---
Author: indiblue
Date: Oct 5, 12 at 5:29am (PST)
Subject: re: Career Mode Updates
-------------------------------------------
Pundits Chime In On Chelsea Change
As expected, the past 24 hours have taken the football world by storm. With Chelsea set to abandon their bus for a false nine system, this opposite-side-of-the-spectrum change has football experts in a tizzy.
"I think it's a very gutsy move, but the question is whether the defenders, especially John Terry who is used to playing so deep, will be able to adapt to this level and style of play. However, if the midfield triangle holds the ball well, the defence will not need to be called into duty as frequently. It's a move that can either catapult Gullit to new heights or bring him crashing down." - Frank Leboeuf, former Chelsea defender
"You have to admit, it's a brilliant move, one I would have never expected from Chelsea. In fact, I'm just shocked Roman Abramovich sanctioned such a drastic change. Torres was always his favourite, and to let him go so easily for Moutinho is a bit strange. No offense to Joao, he's a tremendous talent, but with Torres and Drogba gone I just wonder who will score the goals." - Gary Lineker, former Barcelona and Everton striker
---
Author: indiblue
Date: Oct 5, 12 at 5:57am (PST)
Subject: re: Career Mode Updates
-------------------------------------------
Return to Footie
Premier League: Wigan 2 - 3 Chelsea (W)
Beausejour 43', Boselli 72'
Mata 9' 56', Sturridge 20'
Chelsea almost lost this match at the death yet again, but John Terry marshaled his defence to see the last 20 minutes after a Boselli header took Wigan to within a goal of a draw. Joao Moutinho impressed on debut, helping Chelsea maintain possession by recycling the ball between himself, Lampard and De Rossi.
Premier League: Chelsea 0 - 1 Newcastle United (L)
Cabaye 45'
The first loss of the season came courtesy of a Yohan Cabaye chip just before the break. Chelsea never recovered from the mental blow and conceded far too much possession in the first 20 minutes of the second half. Only a trademark performance from the skipper prevented the Magpies from scoring half a dozen more.
Capital One Cup: Chelsea 5 - 0 Exeter City (W)
Oscar 3' 14', McEachran 29', Hazard 31', Lampard 88'
A brilliant performance from Mata's understudy saw him net two and assist three to help a second-string Chelsea side breeze past the first league cup match. McEachran also scored his first competitive goal for Chelsea.
"It's been a good run, even with the loss to the Geordies because we take away lessons from every defeat. We'll do our best to avoid that, but you have to look at the two great performances against Wigan and Exeter to know that we'll do well this season."
Deadline Day
Chelsea and Juan Mata have sent a message to the football world, with both club and player rejecting deadline day bids from Manchester City and FC Barcelona worth in the £27-30m region. The midfielder told media that he was in love with his time at Chelsea.
"I won the Champions Cup in my first season here. I made great friends, and I am settled in London. Fernando is a great friend, and I am sad that he left, but that is life. I know he will do great at Porto, but I have no wish to leave Chelsea. The boss told me that a lot of his plans depend on me. I love this club and want to stay here for a long time."
Chelsea have further rejected bids for Daniel Sturridge (Liverpool, £9m), David Luiz (Atletico Madrid, £8m), and Gary Cahill (West Brom, £6m); while Florent Malouda and Yossi Benayoun have made switches to LOSC Lille and Newcastle United, respectively. Chelsea have further awarded loyalty bonuses to long-time veterans Paulo Ferreira and Hilario, who will retire after seeing the season through having agreed to no guarantee of playing time.
Youngsters Billy Clifford and Adam Coombes have been sold to Aldershot Town and Brighton & Hove Albion, respectively. Jamal Blackman, Patrick Bamford, Nathan Ake, Daniel Pappoe, Jhon Pirez, and Lucas Piazon have all been loaned out for first-team experience. According to Gullit, most of them have already appeared under his radar.
"Lucas is one guy I really like, and I loaned him out to Birmingham so he could get accustomed to the English game. He's going to be a goal-scoring machine when he's ready to break into the Chelsea senior team. Patrick and Jhon are both convential strikers now, but if they can mould themselves into the Messi type of forward, we will have a look at them for our main squad. Nathan and Daniel are both great defenders, but it's too early to speak on either of them; they both only joined us recently. I'd also like to see how Jamal develops over the season and then take a decision on his future."
Ashley Cole and Frank Lampard have signed year-long extensions to their contracts for no additional wages, and on-loan Gael Kakuta has received another three years to his contract for a further £8,000 per week. Daniel Sturridge has received a massive upgrade, however, with a new deal that reflects his importance in Gullit's plans. A four-year extension takes him from a modest £35k per week to a massive £80k, and Gullit spoke about the arrangements at a recent press conference.
"I have a strong draw to youth of course, but some of these boys are the glue that holds our club together. JT, Lamps, Ash and Petr are all very important and I want them around for the foreseeable future. Dan has impressed me a lot and his contract was near to expiry, so I made sure to sort things out there. Needless to say, he's pleased and we're thrilled to have him for four more years."
Chelsea FC 2012-13

Starting XI
GK 1 Petr Cech
RB 2 Ignazio Abate
RCB 4 David Luiz
LCB 26 John Terry (C)
LB 3 Ashley Cole
RCM 7 Joao Moutinho
CDM 16 Daniele De Rossi
LCM 8 Frank Lampard
RW 9 Daniel Sturridge
CF 10 Juan Mata
LW 17 Eden Hazard
Subs & Reserves
GK 22 Ross Turnbull
GK 40 Hilario
RB 28 Cesar Azpilicueta
RB 19 Paulo Ferreira
CB 24 Gary Cahill
LB 34 Ryan Bertrand
CDM 6 Oriol Romeu
CM 12 Kevin Strootman
CM 20 Josh McEachran
CAM 11 Oscar
RW 13 Victor Moses
LW 23 Iker Muniain
---
Author: indiblue
Date: Oct 5, 12 at 6:04am (PST)
Subject: re: Career Mode Updates
-------------------------------------------
Gullit Returns to Europe
Champions Cup: Chelsea 3 - 2 Juventus (W)
Moutinho 13', Lampard 43', Mata 50'
Matri 45', Barzagli 76'
Chelsea headed into Europe all guns blazing for Ruud Gullit's return to the Champions Cup, this time as a manager. Moutinho scored his first in a Blues shirt to put Chelsea ahead early on following a rare Bonucci error. Lampard thundered home from ten yards after a sublime through ball from Mata, who had tricked Buffon completely. Mata then netted shortly after the break to take Chelsea up 3-1 before they conceded a header via Barzagli. The Blues, and Petr Cech in particular, then held on against an offensive onslaught orchestrated by Pirlo and Marchisio to come away with three points in Europe.
"We still have to work on the habit of conceding in the final 20 minutes, but I am happy with the progress of our offensive game. We'll head into the derby with Queens Park Rangers high on form and confidence, and it will be ideal to make progress on the defensive side of the game."
Marin's Delusions of Grandeur
Rumours coming out of Stamford Bridge indicate that Marko Marin is not satisfied with his wages, despite having only signed for the Blues in the recent window, making just two competitive appearances off the bench, and facing an injury. Gullit and his staff will, no doubt, be fuming should this rumour prove true; more so if Marin or his agent approach the club regarding the matter. Already a fringe player signed by the previous manager and unwanted by Gullit, he seems the most likely candidate for a move in January.
"I don't know where you heard this," said Gullit, "but I can tell you that it's bogus. If the lad brings the topic up, we will see then. For now, he's working hard in the gym to get back so he can try to make a case to be included in the team sheet. He's also a Chelsea player, so I'll not have you talking this nonsense about him being unwanted. He's still Chelsea."
---
Author: indiblue
Date: Oct 5, 12 at 6:09am (PST)
Subject: re: Career Mode Updates
-------------------------------------------
Domestic Run Shows Gullit's Guile
Premier League: QPR 1 - 3 Chelsea (W)
Cisse 32'
Mata 20' 59', Strootman 87'
A much-improved defensive training regimen at Cobham has resulted in a drastic improvement in the performance of Chelsea's hitherto weak link, David Luiz. QPR's sole shot at goal was a driving Cisse effort from 20 yards that neither centre back nor Petr Cech could do anything to stop. New boy Kevin Strootman chipped in with a brilliant diving header at the death to seal the deal and ease the pressure on an under-attack Chelsea defence.
Capital One Cup: Norwich City 1 - 2 Chelsea (W)
Morison 74'
Oscar 50' 68'
What ought to have been a clean sheet for Petr Cech turned out for the worse as a rare blunder from the Czech keeper resulted in a walk-in goal for Norwich. Oscar, getting chances after making known his frustration at being kept on the bench, shined with promise. Gullit will find it difficult not to continue playing the young Brazilian.
Premier League: Chelsea 2 - 2 Stoke City (D)
Sturridge 32', De Rossi 57'
Crouch 60', Shawcross 85'
Another game that should have resulted in three points, the Stoke draw can be credited to the sheer will of the Staffordshire side. Coming on mere minutes before his poached effort, Crouch set up the Stoke counter before Shawcross smashed in a thundering header, shaking his marker to net from a late corner.
Champions Cup: Nordsjaelland 0 - 1 Chelsea (W)
Lampard 77'
Chelsea cemented the top spot in Group E with a powerful win over the Danish side. After controlling the ball and the tempo of the game, Moutinho threaded in a defence-splitting pass for Lampard to latch on to. Such was the space created that the 34-year-old had ample time to sprint into the box, come to a full stop, and send a sublime finesse shot curling away from the keeper and into the far top corner.
Premier League: Arsenal 3 - 3 Chelsea (D)
Giroud 20' 25', Wilshere 61'
Mata 34', Sturridge 83' 88'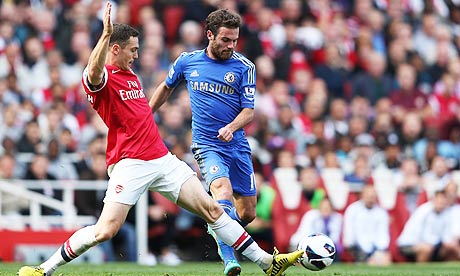 The shoe was on the other foot, as Chelsea snatched a point with a brilliant performance. The Blues simply did not show up for the first half until Mata's solo effort before the break gave them hope after a quick-fire Giroud brace. Soon after the break, Wilshere knocked one in to take Arsenal up 3-1. Sturridge showed the world why he has earned a starting berth and the Chelsea number 9 shirt with two very late solo efforts, both close-range shots after mazy runs past multiple defenders, to secure a draw.
Premier League: Chelsea 4 - 0 Norwich City (W)
Sturridge 15', Moutinho 20', De Rossi 26', Strootman 49'
The home side gave the Stamford Bridge faithful much to cheer about with their first clinical win of the season. Gullit must have made a hell of a speech after the Arsenal match, because every player was in fine form. Sturridge opened the scoring early on with a screamer from outside the box, with Moutinho and De Rossi firing in goals soon after, with both assists going to Muniain. The Spaniard showed his class as he threaded in one more after the break for Strootman to fire across the keeper and into the far bottom corner. Chelsea will want to continue this brilliant run of form as they face West Brom.
"This last run of games has been marvelous for us, and I have to commend Daniele and Frank for pulling the strings in midfield. Other than the Stoke game, which was a credit to Tony (Pulis) and his boys, we were in mostly fine form. The Arsenal encounter didn't start well but we showed our true colours, that we can come back from anything. I'm happy to have won again in Europe, and that clinical win over Norwich was icing on the cake. Plus Kevin's diving header has still got me thrilled - I watch it every time I review the rushes!"
---
Author: indiblue
Date: Oct 5, 12 at 6:30am (PST)
Subject: re: Career Mode Updates
-------------------------------------------
Sexy Football Is Back: Gullit
Ruud Gullit is thrilled with his Chelsea team, claiming that the "sexy football" he invented at the club in the 90s has returned with aplomb.
"If you were to ask me is sexy football back, I would say absolutely. The way my boys control the game, the tempo and the pace of play, it's very strong. But at the same time, they are so fun to watch. Whether it's the midfield playing short, slick passes to tire out the opposition; or David Luiz and Oscar's Brazilian flair; or those beautiful rainbows Juan and Eden keep using to confuse their markers... it's all beautiful. Even Daniele, whose job is very gritty and no-nonsense, finds time to make the beautiful tackle now and again. I'm very happy with my squad, and I hope they're all enjoying themselves as they win."
Don't Regret Moving: De Rossi
Former Roma vice-captain and heir-apparent to Francesco Totti's armband has stated that while he still loves Roma, he does not regret leaving behind the "Giallorossi legend" status he had secured.
"If I can be fair, the move to London was not easy. But I am happy I came. At Roma they loved me, they sing my name every time. Here also at Chelsea, they love me. But in Chelsea, they love me all the time, not only when I play well. They love me on the bench. They sing for me when I am not playing. They do not do this in Italy. It is very special.

"I will always love Roma. Roma is close to my heart. But now, Chelsea is also close to my heart. I hope the fans will forgive me for moving, but I could not say no to such a great opportunity. Signore Gullit is a legend in football. Everyone knows his name and what he did. It's great playing under him, and I am improving even more. I hope Roma does well and I will do my best for Chelsea."
---
Author: indiblue
Date: Oct 5, 12 at 6:48am (PST)
Subject: re: Career Mode Updates
-------------------------------------------
Old Boys Anew
It seems that Ruud Gullit's skills as a manager are not limited to the youth. Frank Lampard and John Terry, considered aging veterans in a young boat, have often been criticised for failing to maintain their old standards of performance. However, the former Netherlands international has brought sweeping changes across the board to Stamford Bridge, and while most of that revolution is directed toward the front line, he's also been devoting time to his more experienced players.
"The first day we met, Frank and I took Ruud out for a dinner,"
says Blues skipper Terry.
"We spoke about how things has changed and why he decided to come back, and we had a good catch-up as to how he were all these years he's been away from Chelsea. At our first team meeting, he took me off to one side and asked me how much longer I thought I could play if he kept a high line. I told him not beyond my current contract, which expires end of next season. But with my new training system and our tactics, we're able to have the best of both worlds, wherein we play a high line yet I still have the freedom to drop deep and make my tackles if need be. He's a brilliant guy and while I love Robbie, Ruud is really a wonderful pick by the board."
"I'd have to second that,"
chimes in Lampard.
"He done a lot of things over at Galaxy. Becks (David Beckham) told me over the phone that he's a really good chap and knows his football. I was worried my contract might not be extended and I'd have to find another club, but Ruud knows I want to end my playing career with this wonderful club. I can't picture it any other way, and in the meantime he's got me playing a different role but I still got my licence to attack like I enjoy. Like JT said, best of both worlds."
Gullit's Presence A Blessing: Sturridge
The outpouring of support and love for new Chelsea boss Ruud Gullit continues, this time coming from Daniel Sturridge, a man who's inherited Fernando Torres' number 9 shirt as well as his goalscoring responsibilities. But Sturridge believes that none of this would have happened had Gullit not taken the job.
"For sure, it's (my role) a massive improvement from what I was doing under the other managers before. I had some games in the early part last season but when Andre was sacked, Robbie kind of pushed me to one side. He was really after Drogba and Nando to score goals, and I love them both but I really wanted my chances too. I think if the boss had not shown up I would have asked to move clubs, because I'm at that time when I need to be playing week in and week out. I got my shots against Arsenal, I could see nobody was trying so I went at it myself and got my reward, but it's the team's benefit that matters most. I'm happy that I've earned my position and I want to keep scoring, so Juan should watch out. I'm taking over as the league's top scorer soon!"
---
Author: CosLamp
Date: Oct 5, 12 at 9:14am (PST)
Subject: re: Career Mode Updates
-------------------------------------------
SS. LAZIO 2012-13
---
GALLETTI GETS HIS MEN

Ajax's Christian Eriksen and Sampdoria's Andrea Poli both underwent medical exams at the Stadio Olimpico this week pending completion of their transfers.
Eriksen, 20, is a direct replacement for the departed Hernanes in the creative playmaker role, and is expected to inherit the Brazilian's number 8 shirt and slot straight into the first team. The Danish international could make his debut in Lazio's first Copa Nazionale fixture against Padua.
The €22.5m signing becomes the fourth of Galletti's time in charge, following fellow youngsters Alessio Cragno, Marvin Bejarano and Michele Camporese,
The €11m signing of 22 year-old Poli is expected to be confirmed tomorrow by the club. The Sampdoria midfielder has been the subject of a speculated move for over a month, with the saga finally coming to an end with an agreement over Poli's personal terms, which are believed to include a hefty wage rise.
---
ERIKSEN'S DEBUT DREAM

Debutant Christian Eriksen was awarded man of the match in Lazio's 5-0 Copa Nazionale thrashing of Padua.
The Danish attacking midfielder scored twice and assisted a further goal as the Serie A club romped to victory over their lower league opponents. Mauro Zarate opened the scoring with a strike after just 8 minutes before Eriksen netted his first, a superb solo effort.
The 20 year old then added a crossed assist for Libor Kozák, then a second goal just after half time to make it 4-0 to l'Aquila. Zarate's late free-kick rounded off the rout in style as Padua were left well beaten.
The game marked Fabio Galletti's first competitive match in charge of Lazio following his promotion from Youth Coach, and the stylish win was all he could have hoped for. After the match, the jubilant manager warned his team against complacency for their Serie A opener against Atalanta on Sunday.
"When you win like we did today it is easy to lose your heads and think you are invincible. We played superbly today but we must be as good on Sunday to get a win away to Atalanta, it's a much tougher fixture- with no disrespect to Padua.

"Naturally, Christian [Eriksen] was outstanding and so was Michele Camporese [who also made his competitive debut for the side] and I hope they continue to be key players for the team in the season to come."
---
ATALANTA 1-2 LAZIO

A serious injury to captain Stefano Mauro marred Lazio's season opener.
The 30 year old was stretchered off after just 6 minutes, handing Andrea Poli a debut in less than ideal circumstances.
Despite the costly loss of Mauri, Lazio pressed hard and a late winner for Miroslav Klose sent the away end into jubilation following a tense match.
---
Author: indiblue
Date: Oct 6, 12 at 11:20am (PST)
Subject: re: Career Mode Updates
-------------------------------------------
The Season Continues
Premier League: West Brom 0 - 4 Chelsea (W)
Moutinho 5', Mata 10', Hazard 13' 68'
Chelsea continued their Premier League form with a scintillating repeat of the Norwich scoreline, drubbing West Brom by four goals and keeping a clean sheet. The only worry for the team is the huge number of stories circulating in the press regarding keeper Petr Cech's unhappiness. Sources claim the Czech stopper feels unsettled at Chelsea and wants to return home. Only time will tell if the rumours are true.
Champions Cup: Chelsea 1 - 0 Feyenoord (W)
Muniain 32'
Iker Muniain came off the bench early on to replace an injured Eden Hazard to score the only goal and secure three more points for the Blues in Europe. Post-match tests confirm that the injury to Hazard is minor, and the Belgian will only miss two fixtures.
Premier League: Tottenham 2 - 1 Chelsea (L)
Bale 11', Lennon 71'
Lampard 78' (pen)
Chelsea suffered their second loss of the season to a fired-up Spurs side incensed at Gullit's comments that Tottenham coach Andre Villas-Boas failed in his summer signings. In a post-match press meet, Gullit admitted that his comments were "in poor taste" and likely "the reason we were outplayed". He issued a complete commendation to the Spurs players and staff and retracted his earlier statement.
Capital One Cup: Chelsea 1 - 2 Everton (L)
Sturridge 19'
Jelavic 25', Gibson 90'
The rumours of Cech's unhappiness at Chelsea seem even more accurate after a poor showing from the keeper allowed Everton two easy goals, one a last-second header to win the game and send Chelsea crashing out of Capital One Cup contention.
Champions Cup: Juventus 3 - 2 Chelsea (L)
Giaccherini 21', Matri 29', Vidal 75'
Mata 19', Hazard 90'
Chelsea continued a poor run of form with a loss to Juventus in Turin. Not much can be said of the outfield players, but Cech was once more far too lazy, failing to come off his line fast enough or challenge adequately during corners.
Cech Sent Home!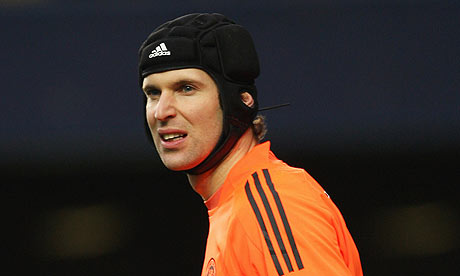 In a move that sent ripples throughout the Premier League and Europe, Chelsea's first-choice keeper Petr Cech has been sent to his native Czech Republic in an attempt to stave off his homesickness and prevent discord from spreading within the ranks at Cobham. The Blues gaffer refused to comment on the matter, but Chelsea Chief Executive Ron Gourlay claimed that Cech was "in need of time away from the group to recollect his thoughts". It will be interesting to see what developments take place regarding the matter, and whether substitute keeper Ross Turnbull can step up to the plate.
---
Author: indiblue
Date: Oct 6, 12 at 11:26am (PST)
Subject: re: Career Mode Updates
-------------------------------------------
Gullit Goes On
Premier League: Swansea 1 - 1 Chelsea (D)
Graham 84'
Strootman 52'
Chelsea held on against a brilliant and creative Swansea side devoid of Spanish talisman Michu to look like heading for a win, but a show of nerves from young Turnbull allowed Danny Graham to snatch a point for the Welsh club after thumping in a late header off an Angel Rangel cross.
Premier League: Chelsea 1 - 1 Liverpool (D)
Lampard 31'
Suarez 45'
Turnbull's nerves once again faltered, allowing Liverpool to gain breathing space before the break and batten down their defensive hatches after it, denying Chelsea any chance at stealing the win.
Gullit Grabs Netherlands Job
The Royal Dutch Football Association has announced the appointment of Chelsea manager and former Netherlands international Ruud Gullit as their coach on a part-time basis. It is understood that Gullit will work with Oranje during the international breaks for both friendlies and competitive fixtures. Gullit, who earned 66 caps and scored 17 goals for the national team, was extremely confident about managing both positions.
"My duties with Chelsea will remain a priority, but the Netherlands job is not one I could say no to. I got the offer a few weeks ago and had made up my mind on the spot, but my agent wanted to see if we got any other jobs before committing. I'm glad to say that my international path will once more cross roads with that of the KNVB. The only downside is that I don't see myself with too many holidays over the next few months!"
Cech Saga Reaches New Heights
Petr Cech's story has reached an unprecedented level. Further mood swings and poor form in training led those in charge at Chelsea to place the keeper in the reserve squad, ordering him to train alone. When the keeper reportedly did not show up for training for an entire week, he earned Gullit's wrath. If sources can be believed, Cech has allegedly been banned from Cobham and Stamford Bridge until further notice. Gullit kept a tight lip, refusing to elaborate on the matter.
"It's an internal issue and it will stay that way."
Courtois Recalled from Madrid
In a twist of fate nobody could have predicted, Chelsea have recalled on-loan keeper Thibaut Courtois from Atletico Madrid by paying a hefty £3m fee. Neither Gullit nor any of his assistants were available for comment, and Chelsea's official site stated nothing more than the facts. Turnbull has never impressed as a stopper capable of keeping up with the talents of Wayne Rooney or Carlos Tevez, and this move further reinforces the thought that Gullit and his men share that opinion.
---
Copyright Neo Era Media, Inc. 1999-2017.
All Rights Reserved.