Author: calloskii
Date: Oct 1, 12 at 2:31pm (PST)
Subject: re: Career Mode Updates
-------------------------------------------
quote Sigge


And thanks for not quoting my whole post
im learning:) currently in preseason 0-0 vs Fc Koln. Slight problem is that i renewed about 5 players contracts yet they left on a free? annoyed me as i only have 4-5 players now on my reserves and im having to get cheap players to fill it up.
EDIT: 1-0 up! Forbes scored a rebound from El Shaarawys shot. Kolarov is turning out to be a bargain for 5.8 million im telling you!
EDIT 2: 2-0 up FORBES IS AMAZING btw he's a youth player. 17 5 star skill 3 weak foot, left footed 6'1 and still fast.Finishing already a 73!
---
Author: D4N
Date: Oct 1, 12 at 11:50pm (PST)
Subject: re: Career Mode Updates
-------------------------------------------
Hate to be the one to say this but i thought this thread was for Updates only :/ still a lot of pointless posts in here
RuneRipper
________________________________________________________________________________________
Liverpool vs Arsenal
RESULTS UPDATE
Barclays Premier League
Liverpool 2-1 Arsenal
....
'David Villa, 'Suarez
Liverpool took there first 3 points of the season at home to Arsenal today, a relief for new manager D4N. This, the 3rd game of the season, after a draw here on the opening day against Man City and defeat away at the Hawthorns last week. It was heart in mouth time for Liverpool supporters in the first half though, as Arsenal went a goal ahead inside 5 minutes through, Theo Walcott. It was sloppy defending to say the least by the reds, as they tried to play the offside trap, Jose Enrique was not in tandem with his colleagues and played the England winger onside. Walcott's pace was too much for the full back and he calmly stroked past Pepe Reina to put Arsenal into the lead. Nuri Sahin went closest for Liverpool, with a curling effort denied by the post. The score was 1-0 going into the break with a sense of frustration going round Anfield. Liverpool though hit back in the second half, Joe Allen found Raheem Sterling after a Gerrard flick and the 17 year old hit a sublime cross and found the head of David Villa, who was never going to miss from that position. 1-1 and game on. D4N replaced Joe Allen with Jordan Henderson for some freshness in midfield with Martin Kelly replacing Glen Johnson who appeared to have picked up a knock. Liverpool wer pressing the ball well now and Arsene Wenger was yelling at his players from the side lines. Aaron Ramsey was robbed of the ball in midfield from Steven Gerrard who played it into the feet of Luis Suarez. The number 7 danced his way past, Vermalen and Mertesacker and with the outside of his right foot placed the ball into the bottom corner. Great finish, which was the winner. 2-1 and relief for Liverpool as they take the 3 points.
MAN OF THE MATCH: Gerrard
"Great result today. The lads showed a lot of character after going a goal down. I thought the first could have been prevented, the ball should never have got through to be honest we should be pressing the player in possession into making a mistake, but we can learn from that and be happy with the 3 points."
Capital One Cup 3rd Round
Liverpool 3-4 Newcastle
....
'Suarez, 'Coates, 'Shelvey
Another classic between to giants of the game today, but this time it ended in defeat for Liverpool. Disappointment for the reds as their bid to defend the League cup came to a premature end today with possibly the best game of the season so far. The game was end to end from start to finish and the home side went ahead after 12 minutes. Luis Suarez with his second in as many games with a goal from an acute angle to put the reds ahead. Sebastian Coates popped up with a header shortly after from a Shelvey corner and Liverpool wer firmly in the driving seat. Demba Ba and Papiss Cisse had a response for that though, The Sengal pair linked up well and had 2 goals in quick succession 1 a piece, with the first coming from Ba. A calm finish from the number 19, he almost broke the net! Cisse hit a header for himself after latching onto a Ben Arfa corner. 2-2 was the score and D4N was livid with his side for throwing away a two goal lead. At the break it was 2-2. New arrival Nico Gaitan was introduced at half time for his debut and he nearly found the net straight away, but for a magnificent save from Harper. Newcastle would go ahead though, Yohan Cabaye played in Guitierez who fired a low cross for Demba Ba to get his second. Liverpool wer behind now and they needed to react quickly so that Newcastle would not build in confidence. Around 5 minutes later Jonjo Shelvey hit back with a drive from the edge of the box. All square at 3-3. D4N replaced, Suso with David Villa to try and get the winner. Newcastle though wer on the attack until Henderson fouled Tiote and the stripes wer awarded a free kick 25 yards from goal. Yohan Cabaye stepped up to take and smashed it past Pepe Reina, the keeper stood no chance magnificent strike. It finished 4-3 to Newcastle and D4N's men wer out.
MAN OF THE MATCH: Ba
"Gutted to be out at the first hurdle. But we can't go 2 goals up and throw it away against anyone. Especially at home. I dunno what caused the lapse in concentration, maybe the lads thought they had already won, i don't know but we can't dwell on it we need to hit back starting with Basel on Thursday in Europe."
Europa League - Group Stage
Basel 1-5 Liverpool
....
'David Villa x2, 'Suarez, 'Yesil, 'Suso
Liverpool made an explosive return to European football after a 12 month absence with 5-1 victory in Basel. David Villa opened the scoring after 20 minutes with a curler from the left wing. Suarez added the second and his 3rd goal in 3 games after hitting past the keeper from a low Sterling cross. 2-0 it was and Liverpool wer all over there Swiss opponents. David Villa made it 3-0 shortly before the break after a 1-2 with Borini. 3-0 at half time and Liverpool had all but rapped up the points. 2 changes at the break by D4N, Yesil replaced Suarez and Connor Coady on for Lucas. Basel got a goal back after the break, Shaquiri with the strike but Liverpool wer still by far the better side. Samed Yesil added to Basel's woes around the hour mark, the ball broke to the young German near the penalty spot and he smashed it past the keeper for Liverpool's fourth. This kid has got tremendous potential he's scored in both games he's featured for the first team and D4N will no doubt be aware of that. Another young prospect put the game to bed shortly after wards. Spanish super kid, Suso with the left foot strike into the bottom corner. 5-1 on the night was the final score, Liverpool top Group A.
MAN OF THE MATCH: Suso
Suso was the best player on the pitch today for the reds.
"It's a comprehensive victory. It's good that we took our chances today. In the league so far this season we have not always taken our chances when they come round, but im pleased we did that today. We have some good young players here, who i can see becoming important parts of the clubs future sooner rather than later."
Barclays Premier League
Sunderland 2-1 Liverpool
....
'Assaidi
Defeat away from home again for the travelling Kop today. Second away game in the League and second defeat. Former Sunderland midfielder, Jordan Henderson played in midfield along side, Joe Allen and Nuri Sahin. Skipper Steven Gerrard was rested so the armband was given to Reina today. Sunderland took the lead after half an hour, Adam Johnson with the goal, his first for his new club. The former Man City winger hit a shot into the bottom corner from the corner of the box. Liverpool hit back shortly before the break in Assaidi getting his first for Liverpool. The Morrocan received the ball from David Villa and dinked it over Mingolet. 1-1 at half time. The second half saw Nico Gaitan introduced for Sterling, and the Argentine went close to taking the lead, but for a great block by Mingolet. Sunderland though, would go up the other end and get the goal that turned out to be the winner, Steven Fletcher with a header to win the points. D4N will be miffed with today's result.
MAN OF THE MATCH: Assaidi
"We lost the game, fair and square. There are no excuses, no bad decisions or anything like that it was down to us. We need to work on the set pieces i think, defensivley speaking we have conceded to many from corners, and free kick already this season."
_________________________________________________________________________________________
Biggest Game in Club Football
Barclays Premier League
Liverpool 1-1 Man United
....
'David Villa
Arguably the world's biggest game of football between the 2 most decorated clubs in English football history. It ended in stalemate as David Villa netted for Liverpool, Robin van Persie got the equaliser for United. There was a huge build up to this bitter rivalry and the Liverpool fans erupted when David Villa put the reds ahead just before half time. Steven Gerrard, a veteran of this fixture, picked out the Spaniard with an inch perfect through ball. The former Barcelona striker touched the ball past De Gea and tapped into an empty net. Liverpool would take a 1-0 lead into the second half. In a bid to defend the lead they had, D4N replaced Joe Allen with Lucas at the break for that extra bit of cover at the back 4. Liverpool wer cautious through out the second half not trying to commit many players forward. Wayne Ronney was hacked down by Skrtel, which appeared to be on the edge of the box but referee, Derek Millborrow pointed to the spot. Yet another controversial decision in this fixture. The Liverpool players surrounded the referee but it was too late the penalty was given. Up steps Robin van Persie. The Dutchman made no mistake and Reina guessed the right way but there was too much power on the kick, and it was 1-1. That was how it remained but D4N will feel hard done by today.
MAN OF THE MATCH: Gerrard
Pepe Reina cant prevent van Persie's penalty.
"I can't believe it, i'm speechless. No way was that a penalty, No way. It was a foul yes but the lad was clearly outside the box when the contact was made. The referee has to do better, or go to the opticians. Even i could see it was outside the box from where i was, ridiculous."
Europa League - Group Stage
Liverpool 1-1 AIK
....
'Yesil
After there convincing 5-1 demolishing of Basel, Liverpool could only manage a draw at home to AIK. German striker Yesil with the only goal for the reds after they went a goal behind. Liverpool still top of Group A with Bayer Leverkusen next for them in the competition. John Flanagan completed his first 90 minutes of the season and was in inspired form at right back the scouser can be proud of his performance tonight.
MAN OF THE MATCH: Flanagan
"The young lads did well today we wer perhaps a little disappointed to only come away with a draw but never the less we have earned a point today and we are in a good position going into the next game."
_________________________________________________________________________________________
D4N in Hot water with the F.A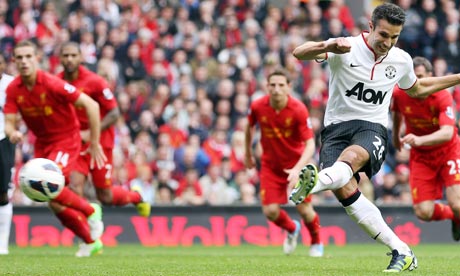 Liverpool Manager, D4N is in danger of receiving a hefty fine and a potential touch line ban after his comments after the previous draw against Manchester United last Sunday.
An FA investigation is under way as the Liverpool boss voiced his anger to Sky after the draw as referee, Derek Millborrow awarded a penalty after Martin Skrtel fouled Wayne Rooney. Since the game footage shows that the player was actually not in the penalty area, much to the annoyance of the Liverpool boss. D4N spoke to Geoff Shreeves in a post match interview where he said,
"I can't believe it, I'm speechless. No way was that a penalty, No way. It was a foul yes but the lad was clearly outside the box when the contact was made. The referee has to do better, or go to the opticians. Even i could see it was outside the box from where i was, ridiculous."
The penalty was dispatched by van Persie, but FA guide lines state that a manager cannot discuss the performance of a referee in any interview. D4N has breached this rule and could now face a touch line ban and a fine if found guilty by an independent jugging panel.
_________________________________________________________________________________________
---
Author: HFarnsworth
Date: Oct 2, 12 at 1:57am (PST)
Subject: re: Career Mode Updates
-------------------------------------------
Just got to the end of the (calendar) year on my first Career Mode season with Everton on Legendary difficulty. Had a shocking start to the season with just three wins in eight, including going out of the League Cup, but turned things around, winning eight of my last eleven, including thumping wins against Liverpool and Arsenal. Sitting in 5th place in the league at the turn of the year.
Last thee results
Everton
1 West Ham 4
A shocking result coming at the end of a period of really good form. 0-0 at half-time, then West Ham go 1-0 direct from the restart. A second follows quickly, then Everton pull a goal back on the 76th minute. Everton shift to a top-heavy 4-1-3-2 formation looking for the equaliser, but leave themselves too open and get hit with two goals in the last ten minutes.
Stoke 2
Everton
3
A ground out victory against a stubborn Stoke side. Jelavic puts Everton ahead midway through the first half before a fumble by Howard in goal allows Peter Crouch to tap home an equaliser. Shawcross' foul on Barkley leads to a penalty which Jelavic converts, before Crouch levels again from a corner five minutes from time. With the game stretched Everton throw on Mirallas who scores with a low drive in the dying seconds.
Everton
3 Arsenal 1
Everton outplay Arsenal with an intricate passing game. Mirallas gives Everton the lead with a top corner blast and Fellaini scores with a low drive from close range, before Walcott gives Arsenal hope with a close range header at the end of first half injury time. Mirallas secures the points midway through the second half following fine work from Henriksen and Pienaar.
Top scorer (s) so far: Mirallas, Forssell (6)
Players in
Mikael Forssell (ST, Free)
Markus Henriksen (CM, Rosenborg, £3.9m)
Isaac Cuenca (RW, Barcelona, season loan)
Mika Vayrynen (CDM, Free)
---
Author: Skamah56
Date: Oct 2, 12 at 2:30am (PST)
Subject: re: Career Mode Updates
-------------------------------------------
West Ham - World Class
Sold - Piquionne, Benayoun, Taylor, O'Brien, McCartney
Brought In - Jefferson (GK) , Agbonlahor, Assou Ekotto
Team
Gk - Jefferson
RB - Spence
CB - Tomkins & Collins
LB - BAE
RDM - Diarra
LDM - Noble
RM - Agbonlahor
LM - Jarvis
CAM - Nolan
ST - Carroll
Subs - Henderson,Reid,Potts,Diame,Collison,Maiga,Cole
Results -
WHU 4-0 Villa
WHU 0-3 Swansea
WHU 2-2 Fulham
---
Author: Sigge
Date: Oct 2, 12 at 4:23am (PST)
Subject: re: Career Mode Updates
-------------------------------------------
I've started as Dortmund and deleted my Man United career because I coulnd't get past 8th July 2013, feck off EA!

TRANSFERS IN

Choupo-Moting £4.2m from Mainz

Limbombe £1.5m from Genk

Ahamada £3.8m from Toulouse

TRANSFERS OUT

Ginczek £725k to Zürich

Günter LOAN to Sturm Graz

Ducksch LOAN to St. Pauli

Meibner LOAN to Yeovil

Amini LOAN to Frankfurt

Halstenberg LOAN to Bristol Rovers

Durm LOAN to 1860 München

Alomerovic LOAN to Neustadt

Hofmann LOAN to Barnet

Langerak £800k to Stade Brest
---
Author: calloskii
Date: Oct 2, 12 at 8:24am (PST)
Subject: re: Career Mode Updates
-------------------------------------------
quote Sigge

I see we have got Limbombe for a cheaper price now;)
---
Author: Splitr
Date: Oct 2, 12 at 9:43am (PST)
Subject: re: Career Mode Updates
-------------------------------------------
quote Sigge


Splitr

Never seen him play actually.

You support Genk or what?
nah but i follow belgian soccer

---
Author: Sigge
Date: Oct 2, 12 at 10:38am (PST)
Subject: re: Career Mode Updates
-------------------------------------------
calloskii
Oh yeees!

Splitr
Oh ok

Anderlecht!!

---
Author: calloskii
Date: Oct 2, 12 at 12:01pm (PST)
Subject: re: Career Mode Updates
-------------------------------------------
might have a 4 million +morgano gomis deal for christian benitez! quality player to say the least, a snatch if i get him:P
---
Author: Splitr
Date: Oct 2, 12 at 1:21pm (PST)
Subject: re: Career Mode Updates
-------------------------------------------
quote Sigge

CLUB BRUGGE!
---
Author: AliB23
Date: Oct 2, 12 at 1:31pm (PST)
Subject: re: Career Mode Updates
-------------------------------------------
Sigge
Splitr
calloskii
Just to remind you that this thread is for Career Mode Updates only.
Posts like yours in the last two pages would be much more appreciated in either the
Career Mode Discussion thread
or the
General Discussion thread
.
Please feel free to continue your conversation in the threads provided above.
---
Author: D4N
Date: Oct 3, 12 at 12:39am (PST)
Subject: re: Career Mode Updates
-------------------------------------------
D4N Calls on Reds to Step it up
Liverpool Manager, D4N has called on his players to up there game with the manager seemingly unimpressed with his sides recent form. Since D4N's appointment in the summer, the reds have won 2, drawn 3 and lost 3 of their competitive matches in all competitions.
"The boys no their own ability. Football is a results business, but as of yet i don't feel we have been getting the right results. We are playing well through out matches but here and there we have a slight lapse in concentration and our opponents punish us. It happens at this level, we always need to be aware and not get too comfortable when in the lead.

We have a great young squad, and i have every confidence in my players here. We are Liverpool Football Club and we wont lie down without a fight so in the coming weeks we all need to be at the top of our game to bring back the points and move up the league table."
Hopefully the manager's public motivational speech will be what the players need to kick on with the rest of the season. A tough game up next though in the shape of Stoke City at Anfield. Former Liverpool midfielder, Charlie Adam's first encounter with his old team.
_________________________________________________________________________________________
RESULTS UPDATE
Barclays Premier League
Liverpool 1-1 Stoke City
....
'Sahin
Liverpool wer held to a draw at Anfield today in a game in which they dominated for large parts. Nuri Sahin (on loan from Real Madrid) grabbed Liverpool's equaliser after the reds went a goal down from a Peter Crouch header in the first half. The 6ft 7inch striker did appear to be climbing over Jamie Carragher for his header but the linesman kept his flag down and the goal was given. Charlie Adam was not allowed to spray the ball around like he does today, Jordan Henderson and Nuri Sahin stifled the former Liverpool midfielder so he wasn't allowed time to breath. Oussama Assaidi was the danger man on the right for the visitors, his low cross was cleared by Ryan Shawcross, but only found Nuri Sahin on the edge of the box. The Turkish International took one touch and hit the ball on the half volley with his left foot, past the keeper. The score remained 1-1 till the final whistle, but the reds went closest when substitute, Dani Pacheco clipped the cross bar with a great effort.
MAN OF THE MATCH: Sahin
"Good performance today, id prefer not to comment on there goal. We wer unlucky again, as we wer the better side. I think we are just lacking that bit of luck though. But we will keep working hard and we will eventually get that important string of wins we desperately need to kick on and compete."
Norwich 1-2 Liverpool
....
'Sahin, 'Suarez
A win was on the cards for D4N's Liverpool and they got there first away win today at Norwich. Nuri Sahin hit his second in as many games, as he was tremendous in midfield once again today. Luis Suarez linked up brilliantly with Steven Gerrard to get his side's second. The only negative D4N will take from today will be the goal his side conceded as they can't beg a clean sheet at the moment. Norwich striker, Grant Holt with the consolation goal. Sahin picked up from where he left off last week. The number 4 linked up with, Nico Gaitan on the right and found himself with space in the penalty area. He opted for placement and managed to put the ball into the far corner to give Liverpool the lead before the break. Joe Allen replaced Jordan Henderson in midfield at half time and made an immediate impact. The Welsh international found Luis Suarez with a fantastic pass with the outside of his right foot. The Uraguyan maneuvered the ball past Ayala and opened his body up to stroke past Ruddy. Norwich's goal came in second half injury time but really Reina should have done better.
MAN OF THE MATCH: Agger
Suarez celebrates his winner against Norwich
"Take nothing away from the lads today they wer fantastic, we wer due a win and when the chances presented themselves today, we took them. It's good to see the boys getting used to my way of playing and using there own abilities to utilise my philosophy. Hopefully this can be a spring board for a run of wins."
Europa League - Group Stage
Bayer 04 1-2 Liverpool
....
'Suarez x2
Most of the senior players wer rested tonight with, Luis Suarez, Nico Gaitan and David Villa the only senior players in the line up, and they all played upfront. Suso, Shelvey & Coady wer in midfield with a back 4 of Flanagan, Wisdom, Willson & Robinson and Gulasci in goal. Bayer took the lead through captain, Bender. The German international got the better of Andre Wisdom and played a 1-2 with Andre Shurrle to free up space. Bender hit the ball first time and Gulasci got a finger to it but could not prevent the goal. Suso was the one making Liverpool tick in midfield and he created the equaliser. David Villa won the loose ball and played it square to Suso, the Spaniard chipped the ball towards the penalty spot, where Suarez was on the shoulder of the last defender. The number 7 took it on his chest and smashed it past the keeper on the half turn. 1-1 at the break. 2 changes at half time by D4N, Coates on for Willson and Lucas on for Coady. Suso played a part in the second goal as well picking up possession in midfield and running at defenders. On the 18 yard line he squared to David Villa who had a hit but the ball was deflected to Gaitan on the right. The Argentine got to the by line and fired a low cross for Suarez to tap in. 2-1 at the final whistle.
MAN OF THE MATCH: Suso
"Another great win. But they caused us problems. I thought Wisdom and Flanagan coped with, Shurrle well and the back 4 wer as organised as ive seen them this season. Going forward we are always a threat and we took our chances again today."
_________________________________________________________________________________________
D4N offered Australian Post
Liverpool Football Club can confirm that the Australian Football Assosiation have offered the national team manager's position to Liverpool boss, D4N. The terms of the contract offered mean that the Liverpool boss can still continue in his post as manager of Liverpool as well as taking over as head coach of Australia. At the moment the offer is still under consideration by D4N and his agent. The manager has gone public with the offer and has written the following message to Liverpool fans.
Dear Supporters,
"Liverpool Football Club is and always will be at the top of my thoughts and will always be my priority. I have personally made it my mission in life to take this magnificent football club back to the top of European football, where it belongs. You, the fans have always supported us through thick and thin and we all know we never walk alone. I would like to thank you all for your support and hope of your continued support for us and our future endeavours. On a side note you have all been made aware of the offer for the Australian head coach position. As you can appreciate as a football manager, international football is the peak of the game and as this is a serious offer it is only right for me to consider it. Simply this message is to reiterate to you my commitment to Liverpool Football Club and if i wer to take on the role as Head Coach of Australia, Liverpool would be my priority. Thank you for your support."
We will be the first to let you know on the decision the manager takes here at Liverpoolfc.com.

_________________________________________________________________________________________
RESULTS UPDATE
Barclays Premier League
Liverpool 2-0 Reading
....
'Suarez x2
A Luis Suarez double secured Liverpool the 3 points at Anfield today. The Uraguyan is in inspired form at the moment, and has scored in each of his sides last 3 games. While the Anfield crowd wer waiting for news on weather D4N would be taking an additional job on, the team on the field wer right on form and wer no match for newly promoted Reading today. 2-0 could be perceived to be a very flattering score line for Reading as the reds had 65% of the possession today. Luis Suarez opened the scoring on the 28th minute. The former Ajax striker picked up the ball in a wide position and darted in field. With only one thing on his mind, he knew exactly where the goals wer and fired into the bottom corner. Liverpool wer ahead and in contrast to the way the first half hour had been played, they deserved to be. The half time whistle blew and it couldn't come any quicker for the away side. D4N made one half time change in taking off David Villa for Raheem Sterling, the Spaniard appears to have took a slight knock on the knee. Precautious change by D4N with his side in the lead. The second goal came around the 73rd minute, Steven Gerrard with a ball through to Sterling, who fired in a low cross and Suarez guided it in with his left foot. Great move, great goal. Similar to the Uraguyan's second against Bayer Leverkusen last week in the Europa League. The game finished 2-0 and D4N gets back to back wins in the Premier League for the first time this season.
MAN OF THE MATCH: Suarez
"Good win today and at last a clean sheet. I thought we wer superb today going forward and very solid defensively. David Villa had a little collision with Pearce and was hobbling a little so we took him off and luckily it was only an impact injury so nothing to be concerned about. All in all a good day for us as a club."
_________________________________________________________________________________________
D4N charged by FA
Liverpool Manager, D4N has been charged with misconduct after criticising the referee's performance after the draw with Manchester United at Anfield last month. The Anfield boss has been ordered by the F.A to pay a £10,000 fine and has been warned of his future conduct.
A statement on the FA website read: "The charge was in relation to a breach of FA Rule E3 concerning media comments which implied that the match referee and/or match officials in general are motivated by bias and/or brought the game into disrepute.
_________________________________________________________________________________________
Merseyside Derby
RESULTS UPDATE
Barclays Premier League
Everton 0-0 Liverpool
Anti-climax is the only word that can describe this game today. The Merseyside derby was billed as the game of the weekend in the Barclays Premier League this weekend, but a goalless draw was all it produced. Not a lot happened in D4N's first ever all Liverpool derby and the crowd wer testament to that. Liverpool did probe Everton in the second half where at one point Suarez had the ball in the net but the linesman flagged for offside. Replays show it was a great decision as the Liverpool forward was just offside. Other than that both sides cancelled each other out in midfield and neither keeper had much to do at all.
MAN OF THE MATCH: Carragher
"It was a bit of a slow starter today and neither side created much but we wer compact and organised. Those are the foundations of a good side and i must admit the team have come on a long way since i came in."
Europa League - Group Stage
Liverpool 0-0 Basel
Another game which didn't leave much to the imagination tonight. After the goalless draw at Goddison park the weekend, we wonder if there is something in the air in Liverpool, as at Anfield tonight nobody even went close to scoring. D4N fielded a youthful line up again with Brad Jones in goal, Flanagan, Wisdom, Carragher and Robinson at the back with Shelvey, Suso & Henderson in midfield. Yesil, Morgan and Sterling led the line upfront. Young Adam Morgan was a positive upfront he was a breath of fresh air for D4N's side. We have already seen Yesil come through as a forward but, Morgan was man of the match tonight. He linked with the midfield well and never tried anything to clever. Good performance from the under 19 England international.
MAN OF THE MATCH: Morgan
"The youngsters should be proud today they came up against a really good Basel side and they more than held there own. It's a point on the board in terms of the group as well so hopefully in the next fixture we can take all 3."
_________________________________________________________________________________________
D4N Takes over as Australia Head Coach
Liverpool Manager, D4N has been confirmed as the new Head Coach of the Australian National Football team. D4N has signed a 1 year - rolling contract and will continue with no change in his duties to Liverpool Football Club. D4N will from now on take charge of the Austarila fixtures and training sessions.
"It's a great opportunity for my career. International management is something i have always dreamed of doing and to be able to do it as well as manage one of the greatest clubs in world football is exciting. My aim for this nation is to get it into the Asia cup and kick on from there. I do believe we have a very underrated squad. There are some great players who can lead this team to Glory."
D4N's first game as manager of Australia will be against South Africa at the ANZ Stadium in Sydney, two weeks from now.
_________________________________________________________________________________________
RESULTS UPDATE
Barclays Premier League
Liverpool 2-1 Newcastle
....
'David Villa, 'Suarez
Newly appointed, Australia Head Coach, D4N got back to normal today with his senior employers, Liverpool. The reds made it 3 wins on the bounce with a revenge win against Newcastle, after the magpies knocked them out of the Capital One cup 2 months ago. David Villa opened the scoring with a header inside the first 10 minutes. Raheem Sterling providing the assist for the Spaniard. Newcastle did hit back shortly before half time, Hatem Ben Arfa crept one in from an acute angle. The score was 1-1 at the break. Liverpool dominated the second half it was almost like attack vs defence at times. Suarez broke the deadlock just before the hour mark. The Uraguyan escaped the clutches of Colloccini and managed to nick the ball past Steve Harper at the last minute. The final score was 2-1 to Liverpool making it 3 wins from 3 in the Premier League.
MAN OF THE MATCH: Shelvey
"Great result. The second half was a flawless performance by the lads. Today we have shown what we are made of in dominating a very very good Newcastle side. More of the same and we should shoot up to the top end of the table."
_________________________________________________________________________________________
---
Author: CKO
Date: Oct 3, 12 at 5:27pm (PST)
Subject: re: Career Mode Updates
-------------------------------------------
Liverpool - Season 1 (Update)
League Cup
Arsenal - Liverpool : 3 - 3 (1-3 Penalty Shoot-Out)
A thrilling match at Emirates that saw Liverpool pull back 3 times and then win the penalty shoot out to advance to the next round. Arsenal scored first, 15 minutes into the game, after a beautiful pass from Cazorla landed in the box and new signing Nene dribbled past Reina and slotted it in.Liverpool had difficulty getting through Arsenal's defence in the first half and were lucky to only be behind by 1 goal. The second half kicked off with Liverpool attacking and scoring with a beautiful volley by Gerrard, after a cross by Neymar. The last 10 minutes were frantic, with Podolski scoring for Arsenal in 86th minute and Gerrard scoring again in 89th.
In extra time, Podolski scored again in the 96th minute, but Borini, who had only been on the pitch for 2 minutes scored a header after a Downing cross, to equalize in the 101st minute.
Pepe Reina was the hero after all was said and done, as he saved the first two penalties by Arsenal, leading Liverpool to success.
Gustavo Santos : This game was crazy. On one hand, I have to praise our offence, scoring three times here isn't as easy as it looked. On the other hand, you can't make mistakes like that in defence and expect to advance very far, we could have easily avoided every single goal Arsenal scored. In the ending, a penalty shoot out is like russian roulette and we were luckier. That and Reina decided to end this already...
Premier League
Everton - Liverpool : 0 - 1
The game that fans had been waiting for, Everton vs Liverpool! A hard fought battle on a rainy day that Liverpool escaped with a narrow 1-0 win, thanks to Loic Remy scoring a beautiful chip over Howard, in the 25th minute. Both teams were aggressive, which didn't allow much football to be played, as there were way too many fouls and even a couple of injuries! Mirallas got the worst of it, as he looks to be out for quite a few weeks.
Gustavo Santos : I guaranteed a victory against Everton and my players delivered. We knew this wouldn't be about who plays good free flowing football, but about who wants to win more! Who is willing to fight more! My players showed they have what it takes to win the hard fought games and that they too, can be aggressive if needed...
Europa League
AIK - Liverpool : 0 - 3
This was an easy victory for Liverpool. Remy continued his good form and scored twice for Liverpool in the first half. Ben Arfa scored early in the 2nd half to put this game away.
Premier League
Liverpool - Newcastle : 3 - 0
Everyone expected a tight match with Liverpool winning by 1 goal. That's what the experts predicted, anyway. Liverpool ended up dominating for 90 minutes and allowing only 2 shots by Newcastle. Former Newcastle players Ben Arfa had a great game, setting up 2 goals and scoring once himself. Neymar and Downing scored in the first half.
Hatem Ben Arfa : Obviously, this game was very special to me. I can't really describe what it's like to play against your former team-mates, especially since those are guys I am still friends with and wish only the best for them. Sadly for them, today was all about Liverpool. I had a good game, indeed, but this was a team effort and when you play alongside Gerrard, Neymar, Remy etc, it's easy to have a good game!
Liverpool - Wigan : 3 - 0
Unlike the match against Newcastle, an easy victory was expected and although the scoreline suggests just that, anyone who watched the game knows that's not the whole story. Wigan controlled most of the match, but failed to turn possession into goals. Liverpool had a total of 5 shots at the end of the game, yet ended up scoring three times. Borini scored after 25 minutes, a powerful shot on the edge of the box. Henderson scored in the 76th and Ben Arfa in the 79th.
Gustavo Santos : This is the difference between a good team and a world class team. A world class team wins these games, too. The ones where not everything goes according to plan and you have to fight your way to victory. You get few opportunities in these games, but you take advantage of them.
Chelsea - Liverpool : 2 - 3
This is it! The 12th fixture for both teams. League leaders Liverpool versus second-placed Chelsea. Both teams haven't lost yet. Chelsea with 25 points, 7 victories and 4 draws. Liverpool with 33 points, 11 victories and what seems to be an unstoppable run! Let's not forget, Luis Suarez faces his former team mates!

This one certainly lived up the hype! A thrilling encounter that Liverpool won thanks to a fantastic attacking display in the last 20 minutes! Both teams started off slowly, avoiding mistakes and trying to keep possession, until Neymar took advantage of a bad pass by Terry, crossed the ball into the box and found Remy, who slotted it past Cech to send Liverpool fans into a frenzy! Chelsea took control of the match, looking for a gap in Liverpool's defence but were unable to produce any real chances in the first half.
In the second half, things looked started looking up for Chelsea, as Suarez missed 2 sitters in the first 10 minutes. Mikel was the one to produce the equalizer, with a stunning long range shot in the 67th minute. All the celebrations at Stamforg Bridge lasted about 3 minutes, as it was, once again, Neymar who sprinted down the left flank, crossed the bank and found Gerrard who headed it past Cech!
Again, though, Liverpool tried defending this narrow lead instead of looking for a 3rd goal and were punished by none other than Luis Suarez in 86th minute, when he dribbled past both Agger and Skrtel and then smashed it past Reina, who didn't stand a chance.
Both teams wanted to win but Liverpool were the luckier side as the shortest player on the pitch, Joe Allen, scored a header in the 93rd minute which caused Liverpool fans, players and staff to celebrate as if the Championship had just been decided! Oh and who provided the assist you ask? Neymar, of course!
Neymar : Wow, what a game! I'm still kind of in shock, adrenaline high! Those last 10 minutes were almost too much to handle! Anyway, obviously I'm glad I provided 3 assists today, but it really doesn't matter who does, as long as someone does! We are a team and we showed that today as we all fought for one another and kept going for that victory!

Gustavo Santos : Fantastic! I don't know what else to say! To win this way, right before the the final whistle...I just need to go over there and congratulate every single one of players, because today, that's what football's all about!
Statistics
Premier League Table

1. Liverpool 36 Pts
2. Man U. 25 Pts
3. Chelsea 25 Pts
4. Man City 24 Pts
5. Spurs 23 Pts

Europa League Group D Table

1. Liverpool 12 Pts
2. Leverkusen 5 Pts
3. AIK 3 Pts
4. Lokeren 2 Pts

Gustavo Santos : Journalists, fans, people in general keep asking me if Liverpool will win the Premier League title this year. Look, yes we have had an unbelievable start to the season! 18 games, 18 victories! But, the reason we have managed this incredible run is that we give 100% every game, we don't underestimate anyone and in the end, we just try to play football the way we know we can! But, you can't expect to go through a season with 4 competitions and not lose any games, or have a run of games that don't go the way you want them to go. 12 games played in the league, 11 points ahead of 2nd place. But, that doesn't matter right now. What matters is who's at the top after 38 games and we still have a long way to go...
What's Next?
Next up, Liverpool face three very different teams in three different competitions! Swansea in the Premier League, QPR in the Capitol One Cup and Lokeren in the Europa League!
Stay Tuned!
---
Author: CosLamp
Date: Oct 4, 12 at 12:29pm (PST)
Subject: re: Career Mode Updates
-------------------------------------------
So Zenit weren't the fun, interesting challenge I'd hoped for. Just turns out the Russian League is a complete grind.
---
SS. LAZIO 2012-13
... and here we go again.
---
FABIO GALLETTI ANNOUNCED AS LAZIO MANAGER

Journalists were left with an odd sense of deja vu following Lazio's announcement of Eduardo Reja's successor at the Stadio Olimpico.
The 46 year-old, formerly Youth Manager at Lazio, takes the reins of one of Italy's biggest clubs with no professional managing experience to his name, but criticisms of Galletti seem hard to come by. His achievements in the Primavera, Italy's top youth league, are unmatched, and he has a keen eye for man management. With 8 years at the club already under his belt, Galletti will hope to hit the ground running at senior management level.
Manager ProfileName:
Fabio Luciano Galletti
Date of Birth:
14th October 1966 (age 46)
Playing Position:
Centre Back
Supported Club:
AC Milan

Playing Career

1980-84  AC Milan (youth)
1984-86  Varese
1986-90  Parma FC
1990-99  Modena FC

A natural centre-back, Galletti was snapped up by Milan's youth system in 1980, aged 14. For two years he was touted as the future of the Rossoneri's defence. However, another centre-back, two years his junior, was paired with him for the club's youth games. By the time Galletti turned 16 and was ready for a professional contract, he was eclipsed by the younger centre-back, future Milan and Italy captain Paolo Maldini. 

Forgotten in Maldini's shadow, Galletti spent 2 more years with Milan's youth team before leaving on a free transfer to third-tier side Varese. For two seasons Galletti impressed at the side before joining up-and-coming Serie B side Parma for a fee of 10 million Lire, approximately €50,000. For 4 years he played with the side, making 81 appearances, but as Parma gained promotion to Serie A, Galleti had been suffering from a severe injury and was released from his contract the following season. He spent 9 further years at Serie B club Modena, making 303 appearances and captaining the side 7 times, before retiring at the end of the 1998-99 season, aged 33. 


Club     : Apps : Goals : Honours

Varese   :  19  :   3   : N/A
Parma    :  81  :   4   : N/A
Modena   :  303 :   11  : Modena FC Fans' Player of the Year, 1993-94
Total    :  403 :   18  : 1


Managerial Career

2000-01  Modena FC (Youth Team)
2001-04  Modena FC (Asst. Manager) 
2004-12  SS Lazio (Youth Team) 
2012-    SS Lazio

Following his retirement, Galletti took a place as Assistant Youth Coach at Modena, being promoted to Head Youth Coach within a matter of weeks as he showed his ability to motivate and get the best out of the players. At the end of the season he started as the club's Assistant Manager, while also managing the Youth side, and stayed for 3 further seasons.

In 2004, Lazio offered Galletti the job of Youth Coach at the newly opened Académia Olimpico, the side's €20m youth facility in Rome. Galletti accepted and soon found success, winning back-to-back Campionato Primavera titles with the side. Galletti had a knack for spotting potential in players and will likely bring this skill into his debut year in top-flight managing.
---
One thing Galletti is not afraid of is making big changes to the squad, with his background in youth football, he will be looking at keeping a steady flow of talent from the Académia, while finding unearthed gems from other clubs to build a dynamic young side.
Believed to be first on Galletti's shopping list is Christian Eriksen, the 20 year-old midfielder from Ajax. Eriksen was crucial to Ajax's successful Eredivisie campaign last season with 7 goals and a fantastic 19 assists. He won't come cheap, and with talk of Atlético Madrid lining up a hefty bid for Hernanes, Galletti could find himself forced to make an unpopular decision to get his man.
Sampdoria's Andrea Poli caught the eyes of Galletti with his displays at Inter last season, and the 22 year old playmaker could prove another more affordable target.
---
Author: LegendOfNufc
Date: Oct 5, 12 at 3:18am (PST)
Subject: re: Career Mode Updates
-------------------------------------------
Blackpool newcomer Best impresses rival boss's!
Adriano Best, the new manager at the helm of Blackpool FC, will of definitely impressed rival managers with his transfer dealings and tactical nous. He has brought in a mix of experienced players and young, up and coming players to combine together in a short space of time. His team play a nice flowing 4-2-1-3 formation which with his sharp eye on available players to add depth to his team, he should not worry about injurys too much - unless they are big ones. Now lets look at the transfers he has made:
---
Mika Vayraynen - Free - CM

Adriano Best's first signing in his managerial career, the Finnish central midfielder never won over the Leeds United fans in his first stint at English football. When the news was first announced that he had joined Leeds United, most of the fans were really excited, but Vayraynen never produced the goods really. Adriano Best says 'He is a hard working central midfielder who has great tactical ability and he could help the youth players progress with all of his experience'.

Nick Powell - Loan - CAM

Another player that strengthens not much of a strong starting midfield. He has superb technical ability and the young central midfielder was amazing at Crewe last year before his move to Manchester United. Sir Alex Ferguson said that he wanted Powell to compete in the Championship for a bit to see if he is good enough there and straight after he said that Blackpool went straight in with a loan offer. The Blackpool fans are really excited about this transfer!

Vaclac Kadlec - 1.3m - ST

This striker was tipped to become a great prospect 2 or 3 years ago. However he has not achieved this potential but he still has more then 8 years of great development before he will start slowing down. He was brought in to increase Blackpool's firepower for the season ahead.

Marvell Wynne - 240k - CB

You should all know who he is. One of the world's fastest centre backs but to add to these quality's he does a lot of quality tackles and he has a really good dribbling ability. Best said of him 'From what I have seen he could break into a team like Tottenham's, Everton's, Newcastle's, even Liverpool's defence, without too much problems' however Wynne can make some silly challenges to get booked or even sent off, he is one to watch for all you Championship followers though!

Lewis McGugan - 800k - CAM

A cheap person's Beckham (in his prime), a really really good playmaker, rated by Adriano Best alot, he was extremely happy to join Blackpool. He has an amazing long shot, great passing, and is looked over by people wanting more popular players. Not Adriano Best though! "I am really happy to join such a wonderful club where I will fit in a lot, Best seems like a great coach, and I am sure to relish my time here, may it be just a short spell or a really long spell." McGugan said of his transfer to Blackpool.

Angelo Henriquez - Loan - ST

Best brought in Henriquez to add depth to his striking options, but he will have to fight Andrew Martin, Nathan Delfounso and Vaclav Kadlec all top quality options in the Blackpool ranks.

Sergio Roberto - Loan - CM

Brought in to add depth to a slightly weak CM position. Despite being rated as the new Xavi, Best is not going to get carried away and in an interview he said 'he will not be in the squad straight away, he will have to fight all the other midfielders to gain his spot in team.'

Peter Halmosi - Free - LM

The former Hull winger never cut it at Hull, so he was happy when he got chance to prove his worth in English soil again. A winger who isn't the greatest technically, is really looking forward to his time in Blackpool. 'I really like the Blackpool illuminations!' he was quoted to have said.

Raheem Stirling - 2.2m - LW

The promising winger was really looking forward to becoming a Liverpool legend, however a bust up with Brendan Rodgers over an open net missed in training earned himself a route out of Anfield, Blackpool were first to snap him up.

Luke Shaw - 275k - LB

Not many people had heard of this promising LB when he made his move to Blackpool from Southampton, however, he has decent pace, good defending skills and ages to develop. He has already made his mark in the first 11 in place of Bob Harris who was loaned out.
---
Out:
Gary Taylor-Fletcher = Overrated according to Adriano Best
Matt Phillips = Handed in transfer request
Angel Martinez = Same as Taylor-Fletcher
Bob Harris = Loaned out to York City.
---
The results:
Blackpool 4-0 Exeter City

This game was Best's first competetive game in charge, and he had an amazing time to it. Luke Shaw put Blackpool ahead with a nice finish after a good run cutting in from the left. Exeter looked terrible and never really got in the game as Shaw's cross was deflected in by an Exeter defender after 33 minutes and Raheem Stirling made it 3-0 with the last touch of the first half, getting on the end of Thomas Ince's cross. Exeter improved ever so slightly and came close when Raheem Stirling headed off the line but the ball hit the back of Marvell Wynne and went back out for a corner. Andrew Martin made it 4-0 in the 85th minute with a nice header from a corner. It was an amazing managerial debut for Best!

Burnley 1-2 Blackpool

Adriano Best's first game in charge of a league match went straight to plan despite having to wait until injury time to win. Andrew Martin put the Seasider's ahead after 7 minutes when his low strike from the edge of the area hit the inside of the post and went past the line but Burnley replied straight away when Chris McCann fired in from a corner after Charlie Austin had his header blocked by Marvell Wynne. Blackpool had chances plentiful, with Raheem Stirling finessing wide, Thomas Ince having his close range shot saved and Lewis McGugan had his backheel cleared off the line before half time. After half time Elliot Grandin and Vaclav Kadlec (who came on for Andrew Martin) missed good chances while Charlie Austin had a goal disallowed for offside. Blackpools winner came through Nathan Delfouneso however, with Delfounso sneaking into the box unnoticed from the Burnley defence to volley home Peter Halmosi's cross. Best was ecstatic on the touchline and started doing his celebratory dance along with all of his coaches.
Interview with Adriano Best:
Interviewer: What is your reaction after your first league match in charge?
Adriano Best: We missed chance after chance after chance, but I didn't want to be too harsh on our strikers because it was early in my managerial career, I prefer a calm stance really, I wasn't surprised when we did score in injury time because we did it a few times in our friendlys.
Interviewer: What did you think of Delfounso's goal?
Adriano Best: It was shocking defending by the other team really, they left him completely unmarked, and you know you are going to concede if you leave players like Delfounso, who have great attacking sense, unmarked. Nonetheless it was still an awesome goal.
Interviewer: What are your aims for 12-13?

Adriano Best: I think we can get promoted, we are up there with Leeds, Bolton, Cardiff, Wolves and all that lot. I will still settle for playoffs - if we win them!
Interviewer: Thanks for the interview Mr.Best.
Adriano Best: Thank you.
Next time on the Blackpool updates show: Stunning match at Elland Road, interview with Matt Gilks and the rest of the matches!
---
CosLamp
's Lazio updates are here!

Andrea Poli looks class from his stats, same with Christian Erikson, they both would be class signings if you did get them. KUTGW!
---
Copyright Neo Era Media, Inc. 1999-2016.
All Rights Reserved.