Author: berglufc
Date: Nov 7, 11 at 12:23pm (PST)
Subject: re: Story of Your Season & Career
-------------------------------------------
Will post my first season with southampton at the end of the season.

Currently in January sitting 3rd
---
Author: xpronic
Date: Nov 7, 11 at 1:58pm (PST)
Subject: re: Story of Your Season & Career
-------------------------------------------
I'll try and keep this brief....
Liverpool 2011/12
Transfers In & Out
Just pretend you don't see Cavani in that screenshot lol. Willian, Sissoko, and Vrsaljko turned in superb performances throughout the season. Damiao did the business when he arrived in January, even managing a goal on his debut! Felipe Anderson & Cica were also brought in during the January transfer window as hot prospects for the future.
League Cup
I had knocked out Arsenal and Man Utd to get to the final only to meet bloody Wolves! I knew it wouldn't be an easy game because they dumped Man City out in the other semi final lol. The 2-1 scoreline in the final was a joke, had a hat trick of goals disallowed, and Reina was having problems holding onto the ball, scoring a rather funny own goal.
Premeir League
First half of the season I was scoring for fun, and Reina was virtually unbeatable in goal, only conceding 2 goals up to December. Then I guess as a result of steaming through most games, the team started to get complacent and struggled against "easy" teams like Swansea (drew 2-2 and was 0-2 down at home!), before eventually losing the unbeaten record away to Arsenal at the end of January (Thank you Reina, 94th minute OG when the game was at 2-2 (ノಠ益ಠ)ノ彡┻━┻). I warned and fined a few players for sub par performances, even having to sell one (looking at you Kuyt), the team responded well and the league was won with 4 games to spare.
FA Cup
Pretty straight forward trip to the final if you excuse the 2 games I had to play against the gods, I mean Man Utd. De Gea was unbeatable when the game was played at Anfield (I mean wtf, 9.3 match rating for a keeper?!). After failing win at home, I thought that was it, no chance winning at Old Trafford lol. Fortunately for me De Gea had a bad day at the office (Only managed 8.6 match rating this time) and won the game with 2 goals from Damiao and Willian. The final was pretty straight forward, went 2-0 and was coasting to victory against a Nottingham Forrest side who looked like they had just come to park the bus. Red card magnet Vrsaljko got sent off for the third time in the season, and that seemed to give Nottingham Forrest a glimmer of hope. They started to lay siege to my goal, and managed to get one past Reina in the 92nd minute, but it was a little too late.
SUAREZ!
GOAL MACHINE!!!
...that is all.
So yeah, not a bad season by any means lol.
---
Author: berglufc
Date: Nov 7, 11 at 9:33pm (PST)
Subject: re: Story of Your Season & Career
-------------------------------------------
Southampton Season 11/12
Right guys, just gonna keep it simple as this is my first big post on this thread!

After a Fantastic season gaining promotion after coming 2nd behind reading a gained promotion to the barclays premiership



Wish the board asking me to finish in the top half i knew i had the squad to get the play offs at least!

So here is a few screenies of my season overall transfers etc

Ins & Outs
A few loans was needed to give my team abit of depth.

John Flanagan - Was My 1st choice right back great addition to the squad, hoping to get him again for the premiership.

Antunes - Decided i need another left back as harding was not playing well and dint realy fancy him in my starting line up, i had Fox but need another to put him under pressure and antunes ended up being my left back

Sean Davis - Well with the team having a few decent midfielders i decided to bring in an experienced player so play with cork and davis was the right man playing a a defending midfielder, him and cork made a good partnership.

Jon Daly - Had a big setback halfway through the season, Ricky Lambert got ruled out for 4 months with a serious injury, so i brought in Jon Daly from dundee and he coped well replacing lambert who was a scoring machine!

I needed a few moe striekrs so i got campbell and shola ameobi on loan but made a big mistake cos i signed them outside the registration window so they did not play one match for me!!

Ricky Lambert scored 20 goals in 34 games in all comps btw



[b]

League Table
Theres The Table

My team was not very good at the back so i brought Dawson in and it improved.
My team was not realy consistant at the start but then towards the back end of the season i went on a 14 match unbeaten run which saw me condem my place in the top 6.
I thought west ham, birmingham and leeds did have a bad season but you can see how tight the league was!
Cardiff Struggled all season which nearly seen them go down [/b]
Ratings Of The Squad:
So im looking forward on visiting the likes of the emirates, old trafford, anfield, ethiad & stamford bridge next season

My Aim is to avoid relagation and do it with ease hopefully a nice mid table place



gonna strenghen up my back 4 with abit of experience and maybe a new goalkeeper and see what else needs doing.
To Be Continued........
---
Author: Modiga
Date: Nov 11, 11 at 5:00pm (PST)
Subject: re: Story of Your Season & Career
-------------------------------------------
Fox
Slator
LA Galaxy
---
2011 season
---
Welcome to my first story of my season for FM12, I am doing exactly the same career challenge as I did last year, as discussed in the MLS thread. I took charge of LA once again and got rid of the dead wood (mainly through waivers and free transfers) and signed a few players to fill in the gaps.
---
US Cup

        3rd Round     v Minnesota S. Away  

4-2


        Qtr Final     v Seattle      Away  

5-3


        Semi Final    v Orlando City Home  

4-0


        Final         v Columbus     Home  

3-1



Not an important competition but winning it did confirm a CL place for next season early which is always good and there were some very good performances in the cup.

---
MLS


   1st) 

Los Angeles

 34     +53      78
   2nd) Seattle     34     +23      63
   3rd) Salt Lake   34     +14      58
   4th) Columbus    34     +16      54
   5th) Houston     34      +8      47
        

We really controlled the league this season dominating in most games with the exception being a blip towards the end of the season during my striker injury crisis, having already qualified for the playoffs but for the rest of the season we really looked like champions.
---
Playoffs

        W. Semi Final v Portland     Away:  

3-4

  Home:  

0-2

  

(3-6)



The playoffs were terrible mainly for the fact we were 0-3 up in the away leg, we just collapsed when we should have comfortably progressed from there. We did control the second leg at home but the two goals they got from set plays just killed us.

---
For next season:
Need to not crumble in the playoffs and hoping to build a strong force of a squad for the season coming.
---
---
Author: LeytonOrientForever
Date: Nov 11, 11 at 5:09pm (PST)
Subject: re: Story of Your Season & Career
-------------------------------------------
Modiga
Good update. How long does it take you to do a season?
---
Author: Modiga
Date: Nov 11, 11 at 5:12pm (PST)
Subject: re: Story of Your Season & Career
-------------------------------------------
quote LeytonOrientForever


Modiga

Good update. How long does it take you to do a season?
Really depends on my work load but would say two weeks probably, can do in one week if not doing much else but probably won't have one of those weeks for a while.
---
Author: LeytonOrientForever
Date: Nov 11, 11 at 5:13pm (PST)
Subject: re: Story of Your Season & Career
-------------------------------------------
Oh Okay. I thought you had done it in a day or somethign.

---
Author: Modiga
Date: Nov 11, 11 at 5:15pm (PST)
Subject: re: Story of Your Season & Career
-------------------------------------------
Hell no lol, third of uni doesn't let me do that. Thought I would wait until I had done most of the season before doing the MLS guide as then I know what's changed and stuff like that

---
Author: liverpooljohn88
Date: Nov 12, 11 at 7:14pm (PST)
Subject: re: Story of Your Season & Career
-------------------------------------------
LA GALAXY
2011 SEASON
So after not playing in the MLS last year I've decided to try a game similar to Modiga and start as an American manager and try to become the world's best.
I decided to start off with LA Galaxy as they are a favoured team of mine. Here's how my first season went:
Everyone played their parts in what was a great season. I was particularly impressed with the performances of Lenny as he was only signed for back-up.
---
MLS
Delighted to have finished top of the MLS, I was unbeaten until the 20th game and had a bit of a dip but held off.
This meant I went into the Western Playoff where I played Portland and FC Dallas.
Two great wins put me into the MLS Cup against New York who had beaten me both games in the regular season so I wasn't extremely confident.
Once again another great performance by Lenny gave me an excellent victory and secured the MLS title for me.
---
US Cup
Progress to final:
Beat Richmond 2-0 (A)(Lenny x2)
Beat Colombus 1-0 (H)(Gonzalez)
Beat Chivas USA 4-0 (A) (Lenny x3, OG)
A fairly straightforward win to complete the double. Not a bad time for Cardozo to score on his debut either.
---
NACL Group Stage
Simple progression through to the Quarter Finals despite a scare from Alajuelense in which I needed an injury time equaliser at home.
---
Anyone want anymore screenshots, just ask and i'll pop em up.
---
Author: FIFAleachy
Date: Nov 15, 11 at 3:20pm (PST)
Subject: re: Story of Your Season & Career
-------------------------------------------
FC Porto
2011/12 season
FC Porto is the starting club for the career of Portuguese manager José Leach who aims to follow the footsteps of his now role model, Jose Mourinho. He aspires to rule World football one day after managing a host of clubs and where better for him to start where Mourinho made his name?
The first season of the Liga ZON Sagres is always the hardest due to all 16th teams being more equal than they will be at any other point in the game. But it doesn't mean you'll struggle to get the results that you want. We managed to win the league first time of asking finishing with a total of 81 points (19 points clear of 2nd placed Benfica) with a +91GD. Some great results helped us to the title, although we lost 3 games (2 v Nacional, 1 v Benfica) with the former turning out to be a bit of a bogey team. Scored over 100 league goals aswell for the record.
The Bwin Cup didn't end that well for us this season. We easily qualified from our group of Feirense, Academica and Rio Ave, before beating Benfica 3-0 to reach the final. Then somehow we lost on pens to Sporting Lisbon. Disappointing as we had the chances to wrap the game up in the 90 minutes, before the shoot-out but it wasn't to be unfortunately.
Benfica Branco, Gil Vicente, Vitoria, Maritimo and Arouca was my run to the final where we were drawn against Benfica for the umteenth time this season. The game resulted in a 3-1 win for us thanks to goals from an own goal, Hulk & a Kléber strike.
A really mesmerizing year for us in the Champions League this season, saw us 100% our group consisting of Bayer Leverkusen, Marseille and Partizan Belgrade. The First Knockout Round saw us see off Villarreal 3-2 after a great comeback, then a 7-4 win over Inter in the Quarter Finals lead us to Arsenal in the Semi Finals. We lost 3-1 at The Emirates meaning we had it all to do on home soil, and what better way other than beating them 5-2 at home to go through 6-5 on aggregate?! Barcelona in the final and it was always going to be us trying to counter them from the off but we lost 4-3 AET, gutting.
Early in the season there were two other competitions that my FC Porto side participated in and they were the Supertaca (Portuguese Super Cup) and the European Super Cup. We beat Vitoria 4-0 in the Supertaca convincingly. But, best of all we played on the counter and beat Barcelona 2-1 AET in the Super Cup. It was a great result at the time, very proud we stepped it up that early on in the season to better them.
This year I had some really breathtaking players having storming seasons and FC Porto will be lucky to keep them all without me as manager once I resign in the next few days. Here are a few of certain players statistics...
PLAYER NAME       APPS    GOALS    ASSISTS    AVG. RATING
HULK               51      68        17          8.16
KLÉBER             50      45        19          7.78
JÁMES RODRÍGUEZ    49      13        42          7.75
JOAO MOUTINHO      45       5        23          7.50
YAYA SANOGO        20      15         6          7.50
NICOLAS OTAMENDI   55       0         2          7.41
FREDY GUARÍN       48      11        13          7.37
Any screenshots wanted just let me know.
---
Author: Star of Spurs
Date: Nov 15, 11 at 5:14pm (PST)
Subject: re: Story of Your Season & Career
-------------------------------------------
Bury FCSeason 2012/13
npower League 2
After a troubled period at
MVV Maastricht
in the Dutch second division (which ended with manager Rusky Morecambe unable to save his side from relegation), the young Englishmen found a job trying to turn around the troubles of recently relegated Bury.
A media prediction (and board expectation of 12th) was not a hinderance to the manager and his mish-mash squad. The team were not out of the promotion places all season, and despite being top for 25 rounds of matches, the Shakers couldn't hold their ground at the vital point of the season, but still finished a very respectable
3rd
. A trip straight back up to League 1 with no play-offs needed was very welcome indeed.
1st Round: Southend (A) W 2-1
2nd Round: Coventry (H) L 1-2
The competition wasn't a priority, and despite doing well during both games, we ultimately couldn't get past a superior Coventry side.
We were out of both the other competitions by Christmas. In the League Cup, Championship competition in Nottingham Forest had too much for us and a quarter final penalty loss to Stockport dashed our Johnstone's Paint Trophy chances.
---
FIRST TEAM:
GK   1: CHAD HARPUR
DR   2: PAUL BIGNOT
DL   3: JOE SKARZ
DC  17: MARK HUGHES
DC   4: ERIC AKOTO
MR   7: DAVID WORRALL
ML  14: MICHAEL JONES
MC  21: TOM CLARKE
MC   6: PETER SWEENEY
ST  19: CRAIG CURRAN 
ST  25: SHAUN HARRAD 
---
Aim for next season: Keep the Shakers steady, but as I've (again) not been given any transfer money, I'll have to keep a look out for freebies and loans. Shall be interesting.
---
Author: seanburns92
Date: Nov 17, 11 at 2:27pm (PST)
Subject: re: Story of Your Season & Career
-------------------------------------------
I know I said I would have this up "by the end of the night" about 2 weeks ago now, but I have had no internet, and was FM-deprived for a week of that. Also, after the acquisition of Skyrim I haven't been on FM as much. Anyhow, I have completed my 2nd season which wasn't great, and began my 3rd season.
---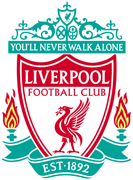 LIVERPOOL FOOTBALL CLUB
2013/14
---

OK, so 2012/123 wasn't a good season; Out in the Champions League group stages after underestimating my opposition, but a good run in the Europa League saw us go to the Semi's. We were also beaten in the League Cup Quarter Final and in the FA Cup Quarter Final, and finally finished 5th in the Premier League. So not great, we were on a brilliant run in fact and outsiders for the title, but an awful injury crisis towards the end crippled us and we went out of Europe to Leverkusen and finished 5th, so we began season 3 in the Europa League.


---
Transfers





Missing from that list of sales is a lot of loans and the sales of Peter Gulacsi (Swansea - £1.4m) and Conor Clifford (Burnley - £1.3m). As you can see, all youngsters, except Milan Baros who was bought purely because I like the guy. He played 1 game, was shit and never played again.

Expectations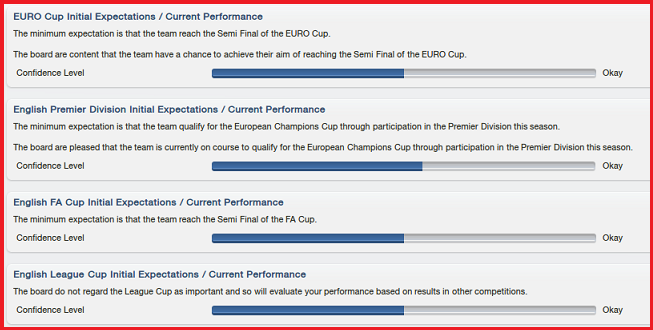 OK, so we were aiming for the semi finals of the Europa League, semi's of the FA Cup and a top 4 finish, like me they don't give a toss about the League Cup, it would just be nice to win something for a change.

---
League Cup





Very poor, but I couldn't care less. A nothing trophy, purely there to make numbers. Our youngsters done well against the enemy.

FA Cup


OK, more important than the League Cup, but an even younger side fielded but we still should've dicked these southern bastards. Very disappointed, could've been the turning point between being sacked and staying in a job.

Europa League


We absolutely rattled our group, losing our last match through a weakened side. We finished top and I expected a simple game to begin with, someone like Copenhagen or at worst Werder Bremen. No. Bayern *bleep*ing Munich. We done very well considering really, but still pissed we didn't get further.

Barclays Premier League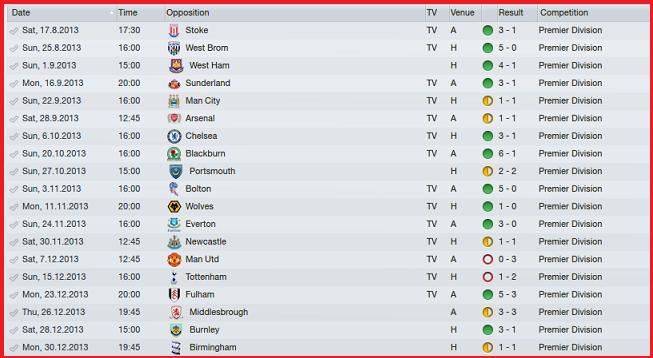 We started very well, playing like a team challenging. A few too many draws but only 2 defeats, both against top clubs. I was most pissed off with the draw to Boro though, threw away a 3 goal lead 





I didn't mean we'd look like challengers in the league though. The might of holders City far too great. At this stage it looked like they'd already won it. My aim returned to top 4, or finishing as close to City as possible.





You could argue we done better, certainly not drawing as many any more, but losing more. A poor run midway didn't help either. It meant that with 3 games left we were 7 points off Spurs in 4th, 8 from Chelsea in 3rd, but they both had tough run-ins, we had a stroll.





In the end that was enough. Spurs beat Chelsea on the last day to keep 3rd spot, much to my displeasure, I was hoping for a draw, but nevermind, Champions League football is back at Anfield! Again. This time we have to build on this though.

Final Expectations





In the end they still didn't give a shit about the League Cup, were just as unhappy as me with the FA Cup and a bit annoyed at being knocked out of the Europa League straight away, although thankfully they understand it WAS Bayern Munich. The league, happy with it and my status is Stable so I live for another season.


---
Individuals

Individual mentions are certainly in order, with 3 instantly coming to mind. Reina was once again amazing and a real stand out performer with 17 clean sheets. Sebastien Coates once again displayed exactly why he's our most important defender with a rating of 7.50 and 8 goals for the season. We did have to fight off Inter Milan and Spurs in January for him though and we have to keep him. Last but certainly not least was Luis Suarez, who finished our best performer on a 7.63, 10 assists and 32 goals in 37 games, taking his account under me to 72 goals in 116 games, not bad. Would also be unfair to not note Jordan Henderson who won Young Player of the Year, hitting 22 assists all season as well as 7 goals.

---
Next Season

We done alright again, but not good enough against the best. Next season I plan to sell the deadwood I have created and buy players who can actually help us in our trophy huny immediately. I think there's a lot of injury prone players around here, such as Vela, Enrique, Agger, Kelly, Gerrard and Adam who will need to be replaced. Also have Carra as Player, Assistant Manager too, hope to get Gerrard as a coach and the one and only Max Rushden as a coach  Already have Agger going and Shawcross, Eduardo and Matuidi coming in.

---
Author: Drachbo
Date: Nov 17, 11 at 3:02pm (PST)
Subject: re: Story of Your Season & Career
-------------------------------------------
Some recent post here that I've caught up with and would like to compliment, been a nice read!
berglufc
, a great first season with the side and congratulations to your promotion. Lets hope that you can perform in the EPL as well. Great signing in Dawson, he should really strengthen the side.
Was sorry to see you fall out in the semis
Modiga
after such a fantastic season but if you can keep the likes of Donovan (and keep him injury free), Keane and Beckham it still looks like you will have a bright future. Or did Beckham leave you? Congratulations to
liverpooljohn88
though who managed to bring home the MLS title!
So you went with Porto again eh
FIFAleachy
. Your domestic dominance is outstanding, despite the BWIN loss and the way you performed in Europe is definitely worth praise as well. Now that you're resigning, will you be looking for a new job or a whole new save?
Star of Spurs
, well done managing to reach promotion. Is this part of a Unemployment Challenge? (:
Finally,
seanburns92
. I really enjoyed your post, it feels very realistic and I love your layout and look forward to hearing more of your career. No luck in any of the cups really but in the end the most important thing that you finished top 4 again with Liverpool. I hope you can build onto it. Out of curiosity, how did you do the first season?
---
Author: seanburns92
Date: Nov 17, 11 at 3:33pm (PST)
Subject: re: Story of Your Season & Career
-------------------------------------------
Drachbo I finished 4th, but done awful in the Champions League. I think I was 3rd and 7 points off City who were top in my 2nd but then I ended up losing Vela, Suarez, Adam, Di Maria, Kelly, Enrique and Agger to big injuries which just screwed me up.

Also, didn't say this on my post because I had previously wrote it up on my PC, but some great work here by a lot of people, lots of great write-ups!
---
Author: Star of Spurs
Date: Nov 17, 11 at 9:20pm (PST)
Subject: re: Story of Your Season & Career
-------------------------------------------
quote Drachbo


Star of Spurs

, well done managing to reach promotion. Is this part of a Unemployment Challenge? (:
Am indeed, amazed I got a decent job after my absymal time at MVV. Aim is to get Bury as high up the table as I can (as well as help their financial problems) before looking for another job. Hoping to travel around a bit.

---
Copyright Neo Era Media, Inc. 1999-2016.
All Rights Reserved.