Author: ortiz44
Date: Jul 25, 12 at 6:31pm (PST)
Subject: re: Career Mode Discussion 29
-------------------------------------------
quote Mr-Predator


My Leeds United career mode is going well, I've managed to get Henry(14) and Beckham(7) on season loans which provides class aswell as cover to my new look team.

Im looking to ask which club you wish me to do after leeds

Wolves
Athletic Bilbao
Everton
Norwich
Santos
Sampdoria

Please suggest. I'm leaning towards Everton + Athletic Bilbao. Could anyone tell me if this is the best idea

Bilbao or Norwich sounds good! Two teams you can build into top squads!
Thanks for the suggestions guys but I'm gonna start one with 1899 Hoffenheim! I'll start it off tomorrow!

This message was merged with other messages by Pappi (moderator)


---
Author: D4N
Date: Jul 26, 12 at 1:41am (PST)
Subject: re: Career Mode Discussion 29
-------------------------------------------

Inter Milan, the half way point
As we are about to head into the final couple of weeks in Febuary, we take a look back at how our season has gone so far. Last summer the club went through a transitional period, in terms of personnel, with a lot of new faces being introduced and a couple of old ones departing the club. In particular Javier Zanetti who retired from professional football after 16 years at the club and 145 appearances for Argentina.

Inter manager, D4N has been very bold in introducing a couple of players from the youth academy, but had his critics at the time of introducing 16 year old, Arnold van Duin to the senior side in the Italian press. The young Dutch winger has proved why D4N has shown so much faith in him though, with a string of scintillating performances. Prompting D4N to point out, "If your good enough, your old enough." Inter though as a club lie 3rd in Serie A with their title dream all but over. They wer eliminated from the Coppa Nazionale by Fiorentina which many would agree was hard to stomach as Inter deserved to advance, but they are still competing in the Europa League at the Quater-Final stage and D4N's season would be considered a success should he deliver European silverware.
Serie A top 4 as it stands:
1. Juventus - Points = 69
2. AC. Milan - Points = 60
3. FC Internazioanle - Points = 58
4. Genoa - Points = 57
Inter are 11 points behind league leaders, Juventus with The Old lady still yet to travel to the San Siro this season. Many expect Juventus to stay at the top and win the title, with the 9 point gap between them and 2nd place not many would argue. Genoa are right next to Inter though with only 1 point being the difference between the two sides after they wer well beaten by Inter at the San Siro.

Key fixtures for Inter left include a derby with Milan which will be an important fixture as Inter wer on the receiving end of a 6-0 thumping in the previous fixture and Milan just two points in front of Inter. Juventus are yet to visit the San Siro that will be a vital game as D4N will not want to drop anymore points in order to stay in those Champions League places.
Santon after 6-0 thrashing by Milan.
New arrivals, Dzagoev, Hummels, Santon, M'Vila, Danny, Cisse, Lewandowski, Pirlo, Ruffier, Rinaudo and Neymar have all made an impact, but Neymar has been suffering with numerous injuries and he's only just starting to find his feet in the team. Neymar joined in the summer window from Santos on loan with the option to buy for an astonishing £62,000,000 but because of injury and lack of action for the 20 year old as well as the enormous transfer fee, D4N is said to be weighing up other options for next season with 23 year old striker, Christian Pasquato of Udinese said to be top of his summer shopping list.
Brazilian forward, Neymar could be heading home in the summer after a torrid time in Milan.
In an online pole we asked you a few questions and here are the results you chose:
Best result of the season so far:
4-0 win away to Roma with goals from, Welliton, Pirlo, van Duin and Neymar.
Worst result of the season so far:
6-0 defeat to AC Milan, the less said about that the better.
Stand out player:
Welliton
Goal of the season so far:
Alan Dzagoev against Brescia on the opening day of the season.
Most consistent:
Mats Hummels.
______________________________________________________________________________________
30 minutes with.... Javier Zanetti
As we are half way through the season, we thought we would catch up with Inter legend, Javier Zanetti who retired at the end of last season.
First of all, Javier how are you? and how are you enjoying your retirement?
"Im great, thank you and as for retirement its something i'm still getting used to. I miss going into training everyday and seeing my friends, but that's to be expected after 20 years of my life committed to professional football."
What are you doing with your time at the moment?
"Ive been spending a lot of time back home in Argentia with my family, but i am back here in Italy now as i want to do my coaching badges and one day go into management."
Could you see yourself 1 day as manager of Inter?
"That would be a dream come true, i would love to return to this magnificent club as a coach. We shall see what the future holds."
How do you think D4N has done with the team since you have left?
"He is a very good coach, i only worked with him for the 1 season but i can see he is taking the club in the right direction. He is tactically very good, he eats sleeps and breathes football and always knows what formation to use and which players are best suited to win each game."
The team has changed a lot in the 8 months you've been gone, what do you make of that?
"Obviously the manager and the board thought the team needed a shake up as we had a disappointing end to the season, last season. The manager has bought in some world class players and it seems to be working. I played with Welliton for the final 6 months of my career and he finishes like no one else Ive seen. By far the leagues best striker. I was a tad surprised at the sale of Xabi Alonso though, at the time i thought it was a mistake by D4N but with the money generated from Xabi's sale he's managed to bring in, Alan Dzagoev, Yann M'Vila and last month Andrea Pirlo. So the team looks a lot stronger now."
Andrea Romano and Arnold van Duin have also been drafted in from the academy. What have you made of them?
"Romano was training with us towards the end of last season, he looked a very confident player and hes proved that as the manager has given him his chance in the first team and he seems to have taken it. As for van Duin i was aware of him and had watched him play for the youth team, he is a very tricky player with bags of pace and an eye for goal, as we have already seen against Roma. He's only 16 so he has time on his hands but i predict a bright future for that lad."
Finally, what do you think the rest of the season will bring for Inter?
"I hope we win the Europa league and finish as high up in the table as possible with 1st place looking to be out of reach. Yeah so i think we will get to the final in the Europa League and i hope we win it. I think the club deserve it and hopefully 2nd in the league."
Thank you for speaking to us Javier, good look with your coaching endevours.
"Its a pleasure as always and thank you."
______________________________________________________________________________________
Not had chance to play FIFA yet so cant do a results update today

hope you enjoyed this update though

---
Author: Mr-Predator
Date: Jul 26, 12 at 6:10am (PST)
Subject: Leeds United - Battle for promotion
-------------------------------------------
My Leeds career is going well, I plan to do some good updates with transfers both in and out of the club, Also ill update very frequently from now on. I plan to play out one season with Leeds and then jump ship onto the next club depending on offers I get.
Feel free to suggest some players worth signing on a £5,500,000 budget?
---
Author: D3structor
Date: Jul 26, 12 at 6:15am (PST)
Subject: re: Career Mode Discussion 29
-------------------------------------------
This is Cheltenham Town FC, Football Club in the npower league 2. They have a mixed range of young and old talent, and a brand new manager namely Cameron El-Karatac. Well, not brand new. the 2011-12 season is almost over, just two more games to go. One away at Oxford, one at home to Swindon, game of the season, that'll be. Two teams scrapping for promotion. speaking of home, Us Cheltenham boys have made Whaddon Road a fortress. So excited for the new season, hopefully in the third tier of english footy. Gotta say that Luke Summerfield and Darryl Duffy have been immense for us this season, scoring an impundrable 34 goals between them!

I suppose I should introduce myself. My name is Kevin Simpson, a diehard Cheltenham fan. When I saw that Cameron El-Karatac bought a new house on my street, i was excited. I would know about all the transfer reports first, and I would know all the gossip. And I have been offered job of Cheltenham FC.co.uk editor! I get to put my humble opinion of duffy, summerfield, McGlashan etc. on the site and for people to read it and comment!

There were some key Matches this season that I went to myself, and here are my columnist reports on them!

Saturday September 3rd, Whaddon Road. 12:30PM


Cheltenham

2-2

Gillingham


Duffy x2--------Kedwell x2

A stunning game, when duffy doubled in 10 minutes, we thought we had it in the bag, but then Danny Kedwell scored on half-time, and again in the 67th minute to prove us wrong, Luke summerfield hit the bar twice to the annoyance of the fans and the relief of the gills.

Saturday November 5th, Home Park. 3PM


Plymouth

1-4

Cheltenham


Bhasera --- Duffy, Summerfield x2, McGlashan

We really Shocked Plymouth at their park this time! Bhasera infact scored first, so our spirits were really dampened when he did that, but Summerfield and Duffy proved their worth and McGlashan Tipped it off with a sweet volley!

Sunday January 15th, Broadfield Stadium. 1:30PM


Crawley Town

3-1

Cheltenham Town


Akpan, McFadzean, Lita-----Gradel (Pen)

A Very Good game, even though we got spanked. Akpan set them off on a high, and Gradel answered 2 minutes after when Darryl Duffy was taken out in the box. But Lita and McFadzean scored in the second half to earn them a well deserved win.
---
Author: hullfclegend
Date: Jul 26, 12 at 6:20am (PST)
Subject: re: Career Mode Discussion 29
-------------------------------------------
Great update D3!
I have a Villa career going (not so good) and i will get an update out for that

---
Author: D4N
Date: Jul 26, 12 at 7:03am (PST)
Subject: re: Career Mode Discussion 29
-------------------------------------------
POTENTIAL SUMMER INS AND OUTS
My Shopping list:
Christan Pasquato - age, 24 - position, striker
With Neymar having not featured much since his summer loan move from Santos due to a number of injuries. I dont think i will be taking up the option to permanently sign him once his loan expires. Another downside to Neymar is how quickly he is fatigued he cant seem 2 string to games together and for £62,000,000 its not very good value for money. As a replacement ive been hearing a lot of good things about Pasquato and will be most likely to be trying to sign him when the window re opens.
Lucas Moura - age,19 - position, Attacking midfielder/winger
I tried to sign this player when i first started with Inter but couldn't agree a fee with Sao Paulo. At only 19 years of age and an over all of 84-85 i will have to pay a premium to get him. Danny has been out injured for the last 5 months and although he has an overall of 85 time is not on his side so i think ill be looking to offload Danny in the summer and Lucas could be a perfect replacement.
Marc-André ter Stegen - age 20 - position, goal keeper
I had a look at this lad when i sold John Smith but he was a little out of my price range at the time and i ended up getting Ruffier, who im more than happy with. Julio Cesar is also getting on a bit and hopefully with Champions league football next season i want to have that extra bit of youth in the squad and ter Stegen looks to be a great keeper and at his age can become my number 1.
Adryan Oliveira Tavares - age,18 - position, attacking midfielder
Adryan is yet another Brazilian whizz kid that interests me hes 18 years old and Flamengo would be willing to listen to offers of around £15m for the teenager. Again with it looking as though Danny will be transfer listed, Adryan will be an ideal replacement. Ill definitely be looking at him when the window opens in July but it will be either him or Lucas depending on who's the better value for money.
Cheick Tioté - age,27 - position, defensive midfielder
I have Yann M'Vila on loan until the end of the season with the option to buy if i wish to take that up. He could prove to be a little to pricey for me and Cheick Tioté could be the answer as he is a player in a similar mould as M'Vila but would be cheaper to buy.
Players that could be on their way out:
Neymar Jr. - age,21 - position, striker
Neymar was signed form Santos on a season long loan deal last summer with the option to buy for £62,000,000 should we want to. He's been unlucky with injuries and after he broke is ankle immediately after coming back from 4 months out with lateral collateral damage he's not really set the world a light and will return to his parent club when his loan expires.
Danny - age, 29 - position, attacking midfielder
Danny was signed from Zenit last summer for £25,000,000 and has done well up until his injury. He's been out for the last 5 months injured and when the summer window opens i will be looking to stregthen in his position so it may be best he moves on.
Julio Cesar - age,33 - position, goal keeper
Cesar has been my number 1 since i joined Inter and has been fantastic all the way through. I would like to keep more clean sheets than what i have done this season and think maybe its time for a change. At the age of 33 Cesar is'nt getting any younger so a younger keeper may be the option.
Yann M'Vila - age,23 - position, Defensive midfielder
Signed from Rennes on a season long loan with the option to buy should we want to take it up, last summer M'Vila has been solid in the whole for me but after re evaluating the agreed price i think it may be a little too much to pay so i may need to look elsewhere.
______________________________________________________________________________________
Feel free to put forward any suggestions to improve my team for next season.

---
Author: Mr-Predator
Date: Jul 26, 12 at 8:08am (PST)
Subject: Leeds United - Battle for promotion
-------------------------------------------
These are my transfers that have come into the club and gone out..
Transfers In:
De Vrij - Season Loan
Hanley - Season Loan
J.Dos Santos - Season Loan
Koke - Season Loan
Sordell - £1,500,000
Zaha - £2,040,000
Transfers Out:
Becchio - £3,900,000
Howson - £2,200,000
Clayton - £1,800,000
Kisnorbo - £1,000,000
Bromby - £350,000
Lees - £1,100,000
Hatfield - £190,000
Sam - £850,000
Not a bad bit of business if you ask me,
---
Author: hullfclegend
Date: Jul 26, 12 at 8:22am (PST)
Subject: re: Career Mode Discussion 29
-------------------------------------------
D3structor
sUpErGiNi77
robzda
stanDRFC
KillaAshley
D4N
Mr-Predator
---
Author: Mr-Predator
Date: Jul 26, 12 at 11:14am (PST)
Subject: re: Career Mode Discussion 29
-------------------------------------------
quote hullfclegend

Good Update
---
Author: magicfox12
Date: Jul 26, 12 at 1:55pm (PST)
Subject: re: Career Mode Discussion 29
-------------------------------------------
D4N
If Ter Stegen is too expensive try De Gea or Rui Patricio for GK
---
Author: FAIZEY13
Date: Jul 26, 12 at 6:27pm (PST)
Subject: re: Career Mode Discussion 29
-------------------------------------------

Mourinho to leave?
| 27th June
Real Madrid fans have been worrying all morning after reports in Spain were rumored to involve Jose Mourinho's long term future at the club. Real have not won the La Liga for 3 years after Pep Guardiola's Barcelona have been terrorising the Spanish giants since his appointment. Jose is rumored to be contemplating a move back to England with Man United, Chelsea and Tottenham all rumored to be interested in making the Portuguese their new manager.
Mourinho dismisses rumors
| 29th June
Jose Mourinho has told fans not to worry as he plans a long-term stay at Madrid, insisting he hasn't been this happy since his days at Chelsea. "I don't know where these rumors have come from... I am determined to win the the league... I have not been this happy at a club since my time at Chelsea. I love life in Spain, and the only thing that could make life better here is a league title."
FR:Real Madrid 3-0 Newcastle
    Ozil x2, Kaka | None

FR:Palermo 0-2 Real Madrid
    None | Ronaldo x2

FR:Real Madrid 2-1 Vasco da Gama
    Pepe, Higuain | Rhodolfo

TRANSFER NEWS
| 19th July
Alot of Real Madrid transfer news today there are 2 rumored departures and 3 rumored arrivals. 
The first being that of Brazilian superstar Kaka. The playmaker, formerly of AC Milan, has been linked with a move to the Premiership and a return to the Serie A, with former club AC Milan and Inter Milan. But Liverpool are the ones who have made the first enquiry over the player, after having a £17m bid rejected by Madrid.
Secondly, Lassana, or Lass, Diarra has made steps towards a move away from the club after Madrid accepted a bid of £7.5m for the French tough-tackling midfielder, from German giants Bayern Munich, as they look for additional cover for Bastien Schweinsteiger.
Diarra has been a bench warmer since his move from Tottenham, and has been trying to engineer a move away from the Santiago Bernabéu for quite some time, but it looks as if he will soon get what he wants as a move to Bayern edges closer to being completed.
Now on to the rumored arrivals, Exciting, young, Brazilian prospect Neymar is top of Mourinho's shooping list this Summer after successful talks with the Brazilian got the player dreaming if a move to Spain, and more specifically, Real Madrid. Although the talks were deemed a "success" by Mourinho and Neymar, Santos president will not budge on the players price, which is thought to be £65m, after having rejected a bid of £50m already for the player.
Another player rumored to be coming in if Madrid fail in their attempts for Neymar is Edinson Cavani.
Cavani has been reported to be one of the main targets for many big clubs this Summer, but Jose Mourinho insists they will only move for Cavani if their plans for Neymar fail. "He (Cavani) is a great player! I would not rule out a move for him, but that move only exists if we do not sign Neymar. Neymar is our top target this summer, and we will try to pull out all the stops to get him, and until the player (Neymar) says no, that is when we will turn our attention to Cavani."
The last piece of news today is the expected arrival of Maicon.
Mourinho knows Maicon from his time at Inter Milan, and is rumored to have made a £13m bid for the fullback. Maicon has also welcomed the idea of working with Mourinho, and would be open to a move to Spain. "I would love the chance to work with Jose (Mourinho) again! I think I would enjoy it in Spain and a deal could be very possible. I think I would fit into Madrid's playing style and think they are a great club."
---
Author: D4N
Date: Jul 27, 12 at 12:48am (PST)
Subject: re: Career Mode Discussion 29
-------------------------------------------

Inter in for Pasquato
Sky sports news understands that Inter Milan manager, D4N has enquired about the availability of Udinese forward, Christian Pasquato when the summer transfer window re-opens. D4N will need to strengthen in the summer as contracts for Loanee's, Neymar and Pappis Demba Cisse are rumoured not to be of interest for Inter. It seems Pasquato fits the bill for D4N, hes young with bags of ability and is also Italian so will understand the traditions and philosophy of FC Internazionale.

The players agent, Davide Torchia claims there has been contact between Udinese and Inter regarding the availability of Pasquato who is currently on loan at Bologna but that is all it was. Udinese are thought to be keen to listen to what Inter has to offer for the player with the club ready to cash in if a deal can be reached.
Inter are said to have a deal in place with Neymar's parent club, Santos which was struck last summer. Neymar would spend this season on loan, and Inter would have the option to sign him permanently at the end of the season for an estimated £62,000,000. It is thought that the price set is to steep for the Nerazzuri especially with Neymar only managing 5 appearances this season after a string of injuries.
This story has been reproduced from today's media. It does not necessarily represent the position of FC Internazionle.
______________________________________________________________________________________
RESULTS UPDATE
Europa League - Quater-Final First leg
Inter 2-1 Rennes
.....
'Pirlo, 'Welliton
Inter look to have 1 foot in the semis after defeating Stade Rennais by 2 goals to 1 at the San Siro. But will need to be wary when they travel to the Route de Lorient, with the French side managing to grab an away goal in the dying seconds. The game had a slow start with both sides really testing the water, trying to figure out what approach each side would take. Antonetti's Rennes wer very well organised but Inter wer the side with most of the possession as to be expected being the home side. The game didn't really get going until around half an hour in when Welliton was denied a goal only by the post, Inter soon picked up the pace and before you new it, Rennes wer penned back way in their own half. Just before the break Inter had won a corner after Dzagoev's shot was deflected wide. Ben Arfa ran across to take, he put in a perfect cross right on the penalty spot only for it to be headed away by Chris Mavinga, straight to the feet of Andrea Pirlo who was on the edge of the box, Pirlo took one touch, opened up his body and placed the ball into the far corner, Benoît Costil didn't stand a chance. Pirlo put his side a goal up going into the break. Alan Dzagoev was taken off at half time for Andrea Romano. The Italian came on to sit in front of the back four, allowing Pirlo to get further forward. In the second half Inter looked a lot more balanced and seemed the more confident of the two sides, confidently stroking the ball about the pitch. Neymar looked tired, prompting D4N to replace him with, Lewandowski who immediately got involved a neat little exchange with Welliton who received the ball around 20 yards out and pulled it onto his right foot then curled the ball into the top corner 2-0 now it was a healthy position to be in. 16 year old, Arnold van Duin replaced Ben Arfa for the final 15 minutes and seems to be getting more and more confident each time he takes to the field. Inter looked comfortable until with 2 minutes remaining on the clock, Johnathan played a pass right into the feet of Diallo who made no mistake and slotted the ball past Ruffier, a life line for the French side leaving them needing a 1-0 win at home to advance to the semis. But if Inter play like they did tonight Inter will be the side that advance.
MAN OF THE MATCH: Pirlo
Johnathan payed the price for a sloppy pass and Diallo took advantage.
Serie A
Lazio 0-1 Inter
....
'Cisse
Inter could not afford to slip up again and today against Lazio they wer hanging on by the skin of their teeth. The Nerazzuri look to be fighting for 2nd, 3rd and 4th now with 1st pretty much out of reach with Juventus running away with it. Although it is still mathematically possible the teams around Juve will need the Old lady to go on a huge loosing streak and with the way they are playing at the moment it doesn't look likely. Lazio bossed the first half, Djibril Cissé will be disappointed he didn't score having lost Rinaudo on a number of occasions. D4N looked worried on the sideline and he knew his side wer up against it today. Lazio continued with high pressure but Inter wer resilient and Leandro Rinaudo got a lot tighter to Djibril Cissé not letting him get any space at all. Both sides went in at half time with D4N the manager with the more talking to do. The second half kicked off with Inter trying their best to keep the ball away from Lazio but whenever Inter got the ball forward especially to Milito, the defenders seemed to quick for him. D4N must of realised this himself and made a change, bringing on Papiss Cisse. 88 minutes had past and it was still goalless, Lazio had a corner punched clear by Cesar straight to the feet of Welliton. The Brazilian, went past his marker and spotted Cisse's run. He played a sublime ball over the top into the Senegalese path, who was one on one with the keeper and finished superbly. What a time to score and what a substitution. Inter win the 3 points completely against the run of play.
MAN OF THE MATCH: Rocchi
Djibril Cissé will rue missed chances against Inter.
Bologna 1-3 Inter
....
'Dzagoev x2, 'Neymar
Former Inter keeper John Smith started in goal today against his former club with Inter target, Christian Pasquato (on loan from Udinese) leading the line. Inter set up in a 4-2-2-2 formation with the partnership of Welliton and Neymar back up top for the visitors. We are at the business end of the season now and both these sides wer playing to finish as high as they could so neither manager will of wanted to drop points today. Inter showed their class in the first half with intricate passing and the movement by the front 6 amazing. Pirlo and M'Vila wer in midfield with Silva and Dzagoev just in front of them. Di Viao went down injured and needed to come off for the home side but as soon as the ball was back in play, Neymar was deemed to have been fouled in the box and the referee awarded a penalty. A very controversial decision there as there seemed to be minimal contact. Dzagoev spotted the ball and Smith would know all about the Russian's penalty credentials so if anyone had chance to save it, it would be him. Dzagoev rifled the ball into the roof of the net and keeps his 100% record from the spot unstoppable penalty, 1-0 Inter. Straight form the restart Inter wer again on the front foot this time Neymar found half a yard after skinning the defender and smashed it past Smith 2 goals in quick succession and Inter wer cruising at half time it was 2-0. The second half started with Martinez putting himself about for the home side and won the ball from Pirlo. He played it to Pasquato who cleverly flicked it round Hummels into the path of Alessandro Diamanti who slotted past Cesar to get his side back in it 2-1 now. Bologna got a goal back but Inter wer still in complete control. Dzagoev, Silva, Welliton and Neymar wer pretty much playing as a front 4 passing and moving. a 1-2 between Silva and Neymar freed in Dzagoev behind the last man who hit it with his laces first time into the bottom corner. 3-1 to Inter and game over another 3 points for D4N's side.
MAN OF THE MATCH: Dzagoev
Alan Dzagoev is back to his best for Inter
______________________________________________________________________________________
---
Author: D3structor
Date: Jul 27, 12 at 4:33am (PST)
Subject: re: Career Mode Discussion 29
-------------------------------------------
There are some very good updates now



I'll update when i find a decent swindon badge
CHELTENHAM TOWN FC




So, It's me, Kevin Simpson again, AND I GOT TICKETS TO SWINDON V CHELTENHAM!!!! Of course, it'll be a very hard game, because Swindon are a very good team. The kick off is 3PM, and its only 1 now, so I should do some sightseeing haha. There are a few pics which i'll put at the end of this footy journal. The excitement gushing through me is immense, Promotion is on the line!! I have a pepsi and 5Gum, do you think it will last? Meh, i don't care if it doesnt. The game against Oxford finished 2-2. Duffy and Penn got goals. Will we win? I think yes.

The editorial job starts in the new season, which is fair enough, 2:15PM now, making my way through the turnstiles, and into my seat, got a very good view. my gum and drink has lasted me. I am on of the first in. And I savour this experience. My wife is pregnant with a baby meant to come in November, so These are my last couple of games before I have to stop. I realise i'm behind an old mate, Jake Stanfield, we chat for a while about El-Karatac, Duffy, Swindon, The Baby, My new job etc.The stadium is packed, and there is a tense aura in the ground as the players make their way out of the tunnel and on to the knackered pitch worn out from a season's playing. Go on Cheltenham!!

The game started very strangely, with Eliott sent off after 27 seconds for a bad tackle on Swindon playmaker Vincent De Ridder, The stand erupted into offensive yelling and screaming at The ref. They were awarded a free kick and De Ridder almost scored, but Brown was able to parry it out of the goal.

Then on the 33rd Minute, Duffy slipped through an opening cast by two Swindon Defenders, and hit the bar, Then he volleyed it to Summerfield, who punted it into the net. The stand erupted again but in rejoice and amazement! Summerfield had scored!!! He ran over and high-fived the front row fans before screaming 'PROMOTION WILL BE OURS!!!' to the excitement of the audience.

They almost broke our hearts near half time, when Matt Ritchie struck the ball against the bar, but it wasn't to be. We Silently rejoiced.

They did get a goal through Ritchie later on, when a perfectly timed chip-volley soared over Michael Brown and rippled the net, And it was like Elvis had appeared, Swindon Jumped up and EXLODED into noise. There was still work to do for both sides.

It was approaching the 90th minute when Swindons claims for a penalty had been dramatically hushed down by Mike Atkinson, we got on the counter attack and BAM! Duffy smacked the ball from 15 yards into the net, the players came galloping into the stand, an 89th Minute goal!!!

There were nerves and annoyance when six minutes were added on, but when the ref blew his whistle, EVERY fan ran on the pitch, WE WERE UP, was what you kept having to tell yourself, We, were up!
---
Author: FAIZEY13
Date: Jul 27, 12 at 5:29am (PST)
Subject: re: Career Mode Discussion 29
-------------------------------------------
D3structor
---
Author: D4N
Date: Jul 27, 12 at 7:00am (PST)
Subject: re: Career Mode Discussion 29
-------------------------------------------

Mauro Zárate is on D4N's shopping list
Former Lazio forward, Mauro Zárate is the subject of interest at Inter Milan. The Argentine forward spent the 2011/2012 season on loan at Inter under D4N and the Inter boss is said to be keen on a reunion. Zárate returned to the Stadio Olyimpico in the summer and played the first half of the season there before being sold to Genoa last month for an undisclosed fee.

For any deal to go ahead Inter would have to pay Genoa a substantial fee, but it is believed Zárate, would be interested in returning to the San Siro where he says he enjoyed his best football of his career. Zárate scored 22 goals in all competitions last season at Inter and with Neymar and possibly Cisse looking set to be on their way out of the club reports suggest Mauro Zárate and Christian Pasquato may be the missing parts of the puzzle.
This story has been reproduced from today's media. It does not necessarily represent the position of FC Internazionle.
______________________________________________________________________________________
Stade Rennais

vs

FC Internazionale
Europa League - Quater - Final, Second Leg (1-2 agg score)
Route de Lorient
MATCH PREVIEW
Inter travel to France safe in the knowledge that a 0-0 draw would see them advance to the semi-finals. And that anything less than a 1-0 victory for the home side will see Rennes go out, so its set up to be a very tight, cautious game. Make no mistake, it wont be a walk in the park for Inter, at the Route de Lorient who at times in Ligue 1 have made the stadium a fortress.
Diallo gave the French side a life line at the San Siro with seconds to spare. Rennes would have had a mountain to climb if not for that goal so the away goal could prove important in this tie if Rennes win the game 1-0 then they will advance thanks to that goal so Inter need to remain compact and don't play risky football.
Likley line ups:
Stade Rennais
3-5-2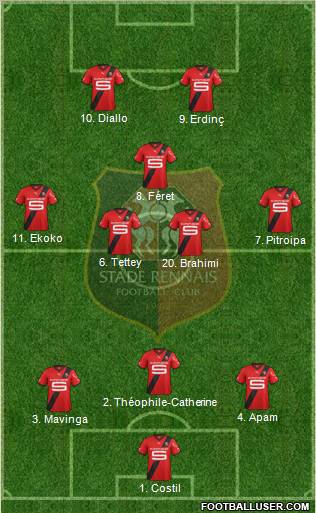 Antonetti will opt to stick as oppose to twist at home tonight. I don't expect any changes from the personel and the same formation is very attaacking but at the same time when under pressure can be very defensive. Antonetti has proved this system works in the domestic league so he has no reason to change it to chase a game. His side need to win by 1 goal to progress to the semis.
FC Internazionale
4-1-2-1-2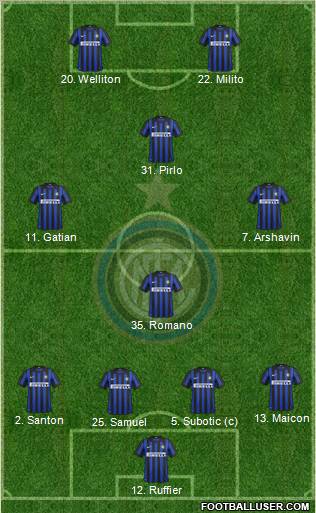 D4N will take his side to the Route de Lorient confident of progression but at the same time with caution. I expect him to revert back to what he knows and that's the safe option of a midfield sweeper and an attacking midfielder. Due to M'Vila's ineligibility, Andrea Romano is almost certain to get the nod in front of the back four with Pirlo pushed further forward and Alan Dzagoev on the bench. Gatain will offer pace and trickery down the left, as will Arshavin on the opposite flank. Welliton is a machine and by far Inter's best player so the Brazilian will start from the off tomorrow night.
______________________________________________________________________________________
NExt update will be definatley monday morning hope u enjoyed todays updates see u all monday

magicfox12
i should have the funds come the summer for ter Stegen hopefully

thanks for the suggestions though, De Gea is a no go as im Liverpool through and through and refuse to sign anyone associated with the mancs lol
---
Copyright Neo Era Media, Inc. 1999-2013.
All Rights Reserved.