Author: nubswithtalent
Date: Jan 10, 12 at 5:18pm (PST)
Subject: re: Clan Discussion & Organization Thread
-------------------------------------------
Clan Name: Nubs with Talent
System: PS3
Country USA
Bio: Are you at least 18 years old? Have a Mic? And wish you would find the perfect clan to play with? Well, we might have what you're looking for. We are new and upcoming. We have two divisions, a casual side and a competitive side. So whether you are just looking for some mature players to play with or a hardcore kill everything that moves kind of player, we have something for you.
We only require that you be at least 18 years old and have a Mic. Our website has a forum and chat, which allows you to chat with like-minded gamers even when you're not in the game! If this sounds like something you might be interested in, head on over to Nubs with Talent and start having fun!
come join us at www.nubswithtalent.com
---
Author: death3051G
Date: Jan 17, 12 at 3:28pm (PST)
Subject: re: Clan Discussion & Organization Thread
-------------------------------------------
Black List Gaming is looking for YOU!
Black List is a growing online clan supporting Xbox 360, PC and PS3 players focusing primarily in the US and Canadian regions. We require members to be at least 13 years of age, allowing exceptions upon vouchers by officers and admins. We have formed to make a home for anyone looking for a tightly knit clan that works and plays well together. BLG is focused primarily on FPS games, with a few other game genres thrown in for good measure. There are 60+ members as of right now and rapidly growing as you read this.
Dedication
In BLG we try to focus on dedication toward not only the clan but it's members. We are member based and member oriented. All of our staff were members before and know what it's like to be on the bottom of the totem pole. We promote from within the clan depending on the level of expertise shown as a member.
Unity
A member of BLG has access to all of our teams. Whatever game you wish to play, there should be a team waiting for you to participate in. If you are interested in going further, we have competitive teams that play against other teams on sites such as Gamebattles and paybackgames. Currently we support Battlefield 3, MW3, Gears 3 and League of Legends, with expansion to other games depending on the desire of the members.
Respect
The final tenet of Black List Gaming is Respect. We will not condone racial slurs, disrespect or harassment of any sort. We respect each other and expect the same in return. If you cannot abide by this rule, do not even apply. We understand people like to sling playful insults back and forth but harmful comments for the sake of being harmful will not be allowed.
BLG has SEVERAL things that make this the PERFECT home for your gaming!
- FaceBook, Twitter and YouTube accounts!
-Our own private and public Minecraft servers!
-An on-site chat box to talk LIVE with all your new friends!
-Mobile website designed for Android, iPhone and Blackberry!
-The chance to not only be a part of a gaming clan and community, but be part of a family!
Come check us out!!!
http://www.blacklistgaming.org
If you have any questions, please fel free to contact the head of our recruitment department MikePaceRocks
Thank you, F150Lariat05 aka death3051g
---
Author: Dub P
Date: Jan 29, 12 at 8:58pm (PST)
Subject: re: Clan Discussion & Organization Thread
-------------------------------------------
Clan name: Natural Born Killers
System: PS3
Country: NA/EU
Clan Bio/Rules:
Natural Born Killers is an established PS3 clan for ages 15+. Founded in December of 2011 this clan is ready to grow by many leaps and bounds! We play many games such as Call of Duty Black Ops, Modern Warfare 2, Modern Warfare 3 and Battlefield 3. We're a friendly clan that accepts NA and EU members that are always willing to party up and have some fun. We don't just consider ourselves gaming friends, but more of a family. We have a strong high ranking base that is always willing to help out our newer members.
With our member base just starting to grow we plan on hosting weekly and monthly tournaments with prizes. So join up now and don't miss out on the opportunity to be apart of our growing clan.
Clan NBK
---
Author: neji 9889
Date: Feb 5, 12 at 6:03am (PST)
Subject: re: Clan Discussion & Organization Thread
-------------------------------------------
I recently started a gamebattles team on ps3. Were trying to figure out names, but we came up with a few
Burning rain
Primordial Dawn
Shattered rain
Deafening rain
Dawn of rain
Idk, even if youre not interested in joining, tell me what name you like the best (or suggest one).
Right now, we have five people, they are as follows
Primordial Rain (me)- kd: 1.7 role: objective/ cut off
Thefinaldude- kd:2.22 role: slayer/ guardian
Perumadhatter-kd:2.40 role: slayer/ objective
Kevin2212- kd:2.10 role: mixed/ versatile
Majormajor- kd: 1.4 role: defense/ guardian
We play 4 v 4 but we will select people based on whos on and what role we need. Inbox me in you're interested. Tell me your play style and a rough kd (this is just to judge a general skill level, but makes no difference if you actually play or not). We do scrims (4v4 3v3 and 2v2) based on how many people are online, so even if you arent on the main team, you can participate in those to help the main team practice.
This is mainly a CTF gamebattles team.
---
Author: Mousearmy01209
Date: Feb 8, 12 at 4:04pm (PST)
Subject: re: Clan Discussion & Organization Thread
-------------------------------------------
Join my clan i need premium members and i am only level 1 needing experience ( the Pr0digies is my clan )
Mia::
Please read the first post. I need certain information to be able to put your information up on the first post.
---
Author: Knify
Date: Feb 9, 12 at 8:44pm (PST)
Subject: re: Clan Discussion & Organization Thread
-------------------------------------------
Khaos Krew PC Gaming Clan Na/Eu(Recruiting)
Clantag:
KK| (Khaos Krew)
Website:
http://www.khaoskrew.com/index.php
What is Khaos Krew Looking for:
Khaos Krew is primarily an FPS (First Person Shooter)PC gaming clan so if that is your first choice when it comes to gaming great! If you aren't primarily a FPS player it doesn't mean you can't join, but we would ask you to consider playing FPS game types with us. We want everyone to be involved in our gaming/clan activities and FPS gaming is at the top of our list. We are not pro players, but we do highly believe in the idea that growth should always be occurring whether it's slow growth or fast paced, but our aim is to keep improving in all aspects of the clan, not only gaming. If you feel you can make a difference in our gaming community we are definitely looking for you! We welcome players that are strictly into gaming and nothing more, but those looking to contribute to the community in a variety of ways are always welcomed with a greater gratitude for their interest in helping us constantly keep executing our mission of growth.
Hacking/Glitching/Boosting
We have a 'Zero Tolerance Policy' for anyone caught hacking, using game exploits for any sort of advantage, or boosting on a match, whether it is for your own personal gain or to cheat in a match. Immediate bans are carried out for anyone deciding to use any of the above mentioned.
Requirements:
15 years of age or older
Must have a working Headset / Mic / Teamspeak3
Friendly and willing to learn
Be active in clan / forums
Mature Behavior
No Hacking
General Rules:
1. Everyone is to be treated as an equal
2. Respect Everyone
3. If you think you can help with something, offer your services!
4. No Hacking (ie, Walls/AIMBOT/etc.)If You Hack You Will Be Banned *Zero Tolerance Policy*
5. No Drama * If you have a problem with other clan members or an administrator, please take it to PM (private message) and contact another administrator to help assist with any disputes.*
6. No glitching. Do not use any game exploits to cheat in any way. Zero Tolerance Policy
Establishment:
Founded on April 11, 2010, Khaos Krew KK| is a multi-gaming PC clan for all 15 and over active gamers. We don't want BS, we just want to hang out and have fun. We are dedicated to keeping the servers clean and enjoyable for all. No hackers or cheaters are tolerated.
We enjoy playing a wide variety of First Person Shooters (FPS), such as Battlefield: Bad Company 2, Left 4 Dead 2, the Call of Duty Series, and we're always looking ahead at the next generation shooter to bring the clan together for hours of fun, jokes, and laughs.
We like competition and are currently, and/or have been involved with, GameBattles/Team Warfare League and the ESL for EU Members. We have an active forum filled with discussions about topics we love such as gaming, gaming news, hardware, software, tech support, music, and much more.
If you would like to know more, join us in the forums or find us in-game and we'll be happy to share.
also if you do decide to join dont forget to enter on your application who you was refered by ( KK| Knify )
Contact:
Steam Group:
http://steamcommunity.com/groups/KhaosKrew
Thanks for taking your time to read this post
---
Author: Sir_Dan72
Date: Feb 12, 12 at 7:15pm (PST)
Subject: re: Clan Discussion & Organization Thread
-------------------------------------------
Clan Name:Mature Gamerz
System(s): PS3
Country:USA/EU
Clan Bio/Rules:
Mature Gamerz
Mature Gamerz is a PS3 clan for ages 18+ and with a mic. We are an up and coming clan. We are a multi-gaming clan. Any multiplayer games can/will get their own area. Right now, we have a BF3, MW3 and NHL12 section. Looking for a clan that plays a little bit of everything? Then we are for you! We are well organized and we play in a mature atmosphere.
Positives of our Clan
1. Mature Members
2. No Drama
3. Will be hosting fun events within the clan (with prizes soon)
4. Cater to both the casual player and the competitive player
5. Knowledge of the leader, so that you know who is actually in charge and what kind of person they are
6. A live chat box on our forums
7. People to help you improve
We will be hosting a lot of fun events for those who enjoy that type of things. As we get larger we will be hosting events that will have a prizes that will go to the winners.
Our clan is based on maturity and bringing back gaming to what it is supposed to be, which is fun.
If you want all of this come join us at
Mature Gamerz
and fill out an application!
-Mature Gamerz
---
Author: diehllane1
Date: Feb 15, 12 at 6:06am (PST)
Subject: re: Clan Discussion & Organization Thread
-------------------------------------------
Clan Name: Tactical Gaming (TG)
System(s): PS3, Xbox 360, PC
Country: NA, EU
Clan Bio/Rules:
Tactical Gaming - More than "just a clan"
TG was created in 2004 to bring together like-minded and mature games from around the world and platforms (Xbox, PS3, PC) and provide them with HeadQuarters (website) to play as a team, work on tactics, andshare their interests. Within our website we have over 2000 active members spread across a variety of games.
If you wish to become a member simply visit our website and register at tacticalgaming.net.
Our clan is heavily based upon the military. This gives us a high level of organisation, commitment and a fully-functioning squad-system, similar to how the military works.
What does Tactical Gaming have to offer?
As we are based upon the military, we are highly organised and efficient, something which we are proud of.
Our members have a great morale and attitude giving TG a great atmosphere to be a part of. Our Squad System means that no member is forgotten or left behind, every member is taken care of and valued.
For players wishing to increase their skills or play competitively we can also provide training session, tactics and competitive matches (gamebattles, etc). Some of our squads have come in the very top standings of their respective ladders!
Whether you wish to play for fun or competitively, Tactical Gaming can offer all of that and much more.
What do I need to be able to join?
Joining is very simple and nearly everyone can join. We require you to have a platform to play on (XBOX, PS3, PC) as well as a computer to access our website. You also need to be 16 years of age or older and possess a working mic to use in-game.
When you first join up you'll need to fill out a 'Boot-Camp Document' and once you have succeeded in this you'll be assigned to one of our squads and your TG Career will be up-and-running! So go for it, sign up today and let's see what you've got!
Headquarters (Website): www.tacticalgaming.net
About Us: www.tghq.org/tghq/homepage.php
Why Join Us? www.tghq.org/tghq/jointg.php
If you register or need more information please PM me.
When registering please take the time to fill out the "Referred" Field by copy and pasting this:
I was referred by diehllane
---
Author: Erebos Static
Date: Feb 19, 12 at 4:41am (PST)
Subject: re: Clan Discussion & Organization Thread
-------------------------------------------
Clan: Battlefield Bastards
System: XBox 360
Country: Everywhere
Bio:
The Battlefield Bastards are now recruiting!
http://www.bfbclan.com
Do you want to be part of a new clan that is ready to take on all comers?
Would you like to get in on the ground floor and help with administration?
Are you interested in helping coordinate the structure of squads and teams?
All ages of gamers are welcome, but maturity is a must.
A strong push to form a competition Capture the Flag team is ongoing!
Clantag: BFB - the BattleField Bastards
Playstyle: Mostly hardcore. We do not camp, but rather hold down strategic locations based on defensive style of play. We also play plenty of run and gun when needed.
Rules: Just ask for members to be active on website and in games.
Requirements: Maturity is a must, but we take all ages if they prove themselves to be mature. Dedication is a must as well. You MUST have a MIC, and this does not mean Kinect, but a real MIC to communicate.
Contact: Xbox Live - BFB jsbrando, BFB Caesar, BFB South, or BFB Kowan
We're looking for active gamers who want to use good communication!
We're looking for active gamers who want to use strategy to win matches!
We're looking for the rare gamers who can excel in competitions!
We're looking for the proud, the strong, and the courageous!
We're looking for some good Bastards!
If you think you fit this profile, or even if you don't, check us out at
http://www.bfbclan.com
---
Author: Mr honeyoil421
Date: Feb 23, 12 at 8:59am (PST)
Subject: Lookin for a clan with more than 10members
-------------------------------------------
Add me to any clan with mor than 6 members please...my gamer tag is mr honeyoil421
---
Author: hawkeye2525
Date: Feb 25, 12 at 4:42pm (PST)
Subject: re: Clan Discussion & Organization Thread
-------------------------------------------
Hey there Erebos Static. I've been looking for a clan and people who actually work together. I occasionally complain about campers, but thats it. I've got a mic and I try to help my team as much as possible by talking to them. Apparently though, mics are just insult tools for a majority of online gamers. I'd enjoy being in a clan without campers. Thanks, hawkeye2525. (gamertag = name used)
---
Author: BigDirt7
Date: Feb 29, 12 at 10:15pm (PST)
Subject: re: Clan Discussion & Organization Thread
-------------------------------------------
Clan Name:
Carbon Tactics
System:
PS3 and XBOX360
Country:
ANY
Clan Bio/Rules:
Here at Carbon Tactics gaming we focus strongly on team play. We are looking for members who are mature (no raging over the mic to opponents), who are willing to attempt to work together as a team and who are looking to join a clan who wants to build more than just your gaming skills, we want to build friendships amongst people across the world.
- Age Limit: 14yrs old and on up in age.
- Continent: Will take players from all over the Globe
- Times we play: all hours of the day/ night
- Microphone: Not required to join, but it can help
- Stat Requirements: None just enjoy yourself
- Preferred Game Mode: Any
- Who referred you: [BigDirt7]
- clan website: www.carbontacticsgaming.com
- Great advancement opportunities
- inter clan battles and competitions.
- gamebattles
Goto website and fill out an application!
Questions message me on xbox at BigDirt7.
Check out your vid:
http://www.youtube.com/watch?v=6vd4AslDacA&context=C30fc954ADOEgsToPDskJAADD6oSwlNTEwt10yOwRv
---
Author: PLDGMMMBOPP
Date: Mar 4, 12 at 10:59pm (PST)
Subject: re: Clan Discussion & Organization Thread
-------------------------------------------
Clan Name
: OMC Old Man Clan
System
: PS3
Country
: Worldwide
Clan Bio/Rules
The OMC stands for OldManClan. We are a PS3 group of 30 year old + male gamers worldwide. We are a non-competitive clan; which means we don't care about your kill/death ratio. The OMC provides a place to play where you don't have to worry about constantly getting noob tubed or screaming little 12 year olds. There are over 100 members who are active in this clan worldwide. This means at any given time of the day there is someone to play with.
These are a group of guys that I have got to know and enjoy playing online with almost every night. If you are interested in joining the OMC, please visit
http://omconline.net
to learn more about our clan.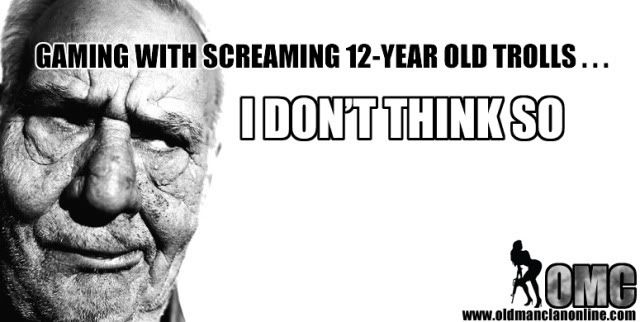 [b][/b]
---
Author: OMC-ARMBAR
Date: Mar 9, 12 at 11:16pm (PST)
Subject: re: Clan Discussion & Organization Thread
-------------------------------------------
Not only are we a gaming clan but we are a band of brothers that help each other out in time of need. My kids Wife and OMC are the best things that have happened to me in my life.
---
Author: the_FAMAS_pro
Date: Mar 14, 12 at 3:07am (PST)
Subject: re: Clan Discussion & Organization Thread
-------------------------------------------
Clan Name:PNOY
System(s): PS3
Country:Philippines
Clan Bio/Rules: A non-competitive clan for Filipino gamers of any level,skill(newbie , intermediate ,or pro)and location. (we don't care if you're playing from your house in the U.S. or any other country outside the Philippines, as long as you are pinoy, you are welcome to join!)
---
Copyright Neo Era Media, Inc. 1999-2016.
All Rights Reserved.