Author: malted milk
Date: Oct 28, 09 at 2:37am (PST)
Subject: Arsenal Team Guide [demo]
-------------------------------------------
Arsenal Team Guide 2009-2010
Background
Budgets
Squad
Goalkeepers
Defenders
Midfielders
Forwards
Recommended signings and sales
Formations
Other
Background:
Arsenal Football Club are nicknames as The Gunners and based in Holloway, North London. play in the Premier League and are one of the most successful clubs in English football, having won thirteen First Division and Premier League titles and ten FA Cups. They hold the record for the longest uninterrupted period in the English top flight and are the only Premier League side to have completed a season unbeaten. The club was founded in 1886 and won their first major trophies during the 1930's. The club's colours consist of Red and white , and they currently play their home matches at The Emirates Stadium, having moved from Highbury in 2006. The current Arsenal manager, Arsène Wenger was appointed in 1996. In the Premier League in the 2003–04 season, the 'Gunners' managed to complete a whole domestic season without losing a single match, which earned the side the nickname "The Invincibles" in all, the club went 49 league matches unbeaten, a national record.
Arsenal's home ground (Emirates Stadium):
Arsenal's kits:
Home :
Away:
---
Budgets:
There are three possible options to pick from when selecting your season's expectations, these are the following:
Continental Qaulification through league position:
Budget
Title Challenge:
Budget
Winner:
Budget
I would suggest choosing
Continental Qaulification through league position
, as it gives you a reasonable transfer budget whilst also allowing a slip up in the league if it should unfortunately occur. Better safe than sorry! If you want the extra funds, then go for
title challenge
, although this is more risky, as the board will fire you if u stray too far from the top 3.
In my personal experience, the board will not grant extra transfer funds, but they are willing to increase the wage budget, should you ask.
---
Squad
:
Here is the Arsenal (1st team), although I have also included promising youngsters from the U18's.
Goalkeepers:
Almunia
is one of the best Keepers in the top flight of English football and should be your first choice Keeper for at least the first season and maybe another two after that.
Fabianski
is decent cover for Almunia should he fall injured during the first season.
Mannone
is not of Arsenal quality, and although he has performed for this this season in real life, his stats do not warrant a place in the first team of Arsenal's squad. You can either keep him as extra backup for Almunia or sell him off, bringing in as much £1 million for him.
---
Defenders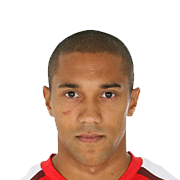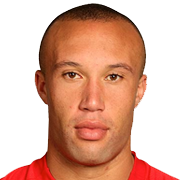 The left side of the back four is strong with
Gael Clichy
being one of the best wing backs in the world, and at only a young age, he will be around for many more years. His backup,
Kieran Gibbs
(reserve team), is a capable cover option, although he is better played further up the pitch in the role of a winger. The two centre back options are in heavy supply with both
Gallas
and new signing,
Vermaelen
being of a good quality mould.
Senderos
,
Djourou
and
Silvestre
are all suitable to provide back up, with both
Djourou
and
Senderos
able to force themselves into the first XI.
Eboue
and
Sagna
are fine right backs, and provide great attacking flair from the back, this position does not need strengthening, as both players are capable of playing in the first team, week in, week out.
---
Midfielders: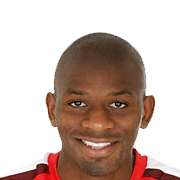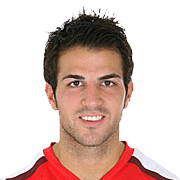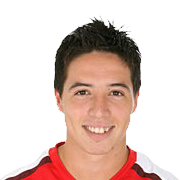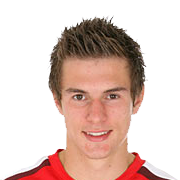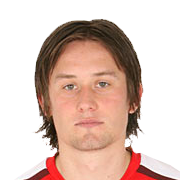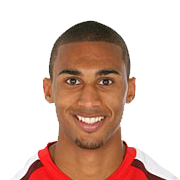 Arsenal's midfield are a group of world beaters (on their day). They are all very young and have a lot of experiences to go through before they will be at the top of their game. Defensively,
Song
and
Denilson
are two quality players who will break up play and rob the ball off any imposing attackers. These two allow
Fabregas
(captain and suitable play-maker of the team) and other central midfielders (
Ramsey
,
Diaby
) to roam forward into the opposition box, providing their team with many assists and chipping in with vital goals too.
Rosisky
and
Nasri
are two players who love to get forward and attack the opposition, whether that be from wide, or straight down the middle, they provide the team with a little extra creative force, teaming up to provide bucket loads of assists for their team. The only real week area of midfield is on the right hand side, although
Theo Walcott
can fill in and use his pace to round wing backs and deliver balls along the by-line. Arsenal also have several promising youngsters in midfield such as
J. Wiltshire
(under 18's) and should be used against easier opposition or in cup games. One player not pictures is
Arsharvin
, who can either play out wide on the wing, or even in a striker's position, as he is very capable to play in both positions.
---
Forwards: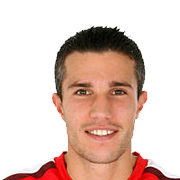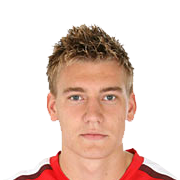 Arsenal lost their most dangerous forward to the heavy spending Man City in the summer, so they are now without a tall, strong target man, one who can set up plays by holding the ball up and knocking it down to oncoming midfielders. They do posses technically gifted players such as
Eduardo
,
Van Persie
who are more than capable of pulling off sublime finishes. They also posses a good number of younger players who are performing at a very high level considering their age,
Bendtner
is in the Adebayor mould, strong and tall, although still with quick feet.
Carlos Vela
, a pacey Mexican wonderkid has all the attributes to become a top class striker given sufficient game experience.
Theo Walcott
, England's most promising young player is vital for Arsenal's future as he has the pace and ability to play both up front for the team, or dropping back out wide to play from the wing. Although due to his poor stats in this years addition, I tend to play him on the right wing instead of upfront.
---
Recommended signings and sales
:
Signings:
GK
:
Alphonse Aréola
, A young promising keeper at PSG who in 5-6 years can take over from Fabianski when he has developed more and had years of U18 experience and the correct training. -10 potential, meaning he will become one of the best Gks on the game, given time.
MR
: The only real section in midfield that needs strengthening is the right midfield. I would suggest looking into
Steven Jovetic
from Fiorentina who can be purchased for around £13-15million, becoming one of the best wingers in the game after a few years. If you are feeling nostalgic and feel the need for an experienced midfielder who has done it all before then take a look at
David Beckham
, he will only cost £1million and still has the ability to chip in with vital assists from the wing and of course numerous goals from set pieces.
ST
: I suggest taking a look at
Edin Dzeko
, who is in the same sort of mould as Adebayor. He has fantastic heading ability and decent finishing, and is the perfect player to play alongside Eduardo or Van Persie, as his Heading and their pace compliment each other brilliantly.
Sales:
Many of the reserve team players have no where near the quality to be able to play for Arsenal for several years, and possibly not at all. I would look to flog as many of them as you can without upsetting the squad Harmoney. When it comes to the first team, the only player I would look to sell would be
Mannone
, as mentioned previously. I would also suggest sending several players out on load from both the first team and the reserve team, these include:
Ramsey
Merida
Bendtner
Pedro
Traore
---
Formations:
Home: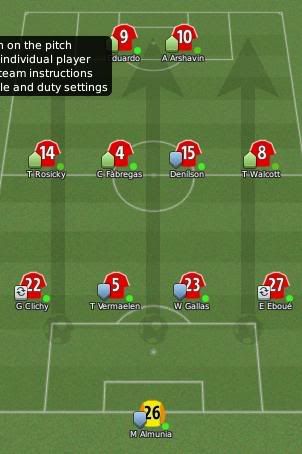 Away/difficult opposition:
---
Other:
Tugs Training
Holy Training
---
Any comments/criticisms or questions welcomed.
---
Author: dfreshtais
Date: Oct 28, 09 at 3:21am (PST)
Subject: re: Arsenal Team Guide [demo]
-------------------------------------------
great layout, and great amount of detail...couple of things though
1) there are a lot of grammatical mistakes, i would proofread. it's still easy to follow, but making those changes would make it look better.
2) Isn't Jovetic a left winger? Unless you have had a good experience with him on the right, I would look elsewhere.
---
Author: malted milk
Date: Oct 28, 09 at 3:26am (PST)
Subject: re: Arsenal Team Guide [demo]
-------------------------------------------
Thanks for the comment, I'll have another look through in the morning, as it's probably tired eyes and fingers that have caused the mistakes.
quote dfreshtais


Isn't Jovetic a left winger?
I think primarily he is, but I always like my wingers to switch positions, and he's done a brilliant job so far
.
---
Author: dfreshtais
Date: Oct 28, 09 at 3:43am (PST)
Subject: re: Arsenal Team Guide [demo]
-------------------------------------------
interesting strategy...i have jovetic on my barca team, ill try having him and messi swapping, could be interesting
---
Author: Underated
Date: Oct 28, 09 at 7:35am (PST)
Subject: re: Arsenal Team Guide [demo]
-------------------------------------------
hmmm, you'd sell Bendtner? Isn't he the only one offering some big target man dimension now you don't have Adebayor? I'd personally hold onto him. Also, I wouldn't play Walcott up front, much more suited to the wing with his pace as the majority of his stats are woeful again. I know you mentioned him in midfield, but I just don't rate him as a striker at all really.
Great guide though, nice one.
---
Author: Euphoric
Date: Oct 28, 09 at 7:46am (PST)
Subject: re: Arsenal Team Guide [demo]
-------------------------------------------
SI have never made Walcott a striker. His stats have always been indicative of the high-up-field right wing role he plays in real life.
Nice guide but I'm a stickler for grammar so that detracted from it a fair bit for me. The layout is nice though. Seeing the players' faces is simple but a nice touch.
---
Author: alung2k3
Date: Oct 28, 09 at 9:58am (PST)
Subject: re: Arsenal Team Guide [demo]
-------------------------------------------
Good guide overall. I think the most important areas to improve are:
CM/DM - Arsenal dont have a world class player to partner Fabregas. This is the key area for me. Ideally he should have a high work rate.
CB - Vermaelen is under-rated on this game and Gallas is going to decline sharpish so a new CB is quite important. You could risk it by going a season without buying but I wouldn't recommend it if your serious about winning the league. (half season ahem)
GK - Having a great goalkeeper between the posts can net you an extra 10-15 points a season. Almunia is OK but there are plenty better out there.
This is my current team:
.................RVP.................
..............Arshavin...............
Vargas...Fabregas..Moutinho...Walcott
Cliechy...Zapata....Vermaelen...Sagna
..............Enyeama................
My team tend to score ALOT but concede a few more than our rivals. Arshavin seems to be the key to winning as he has 8 goals in 6 games for me. RVP is used for physically weaker teams, Bendtner is used for physically stronger teams and Eduardo is my Euro/sub striker.
---
Author: lukelovesLFC
Date: Oct 28, 09 at 10:26am (PST)
Subject: re: Arsenal Team Guide [demo]
-------------------------------------------
Great guide there mate. Maybe talk a tiny bit more about youngsters but apart from that I find it great. Good job.
---
Author: TommyOS
Date: Oct 28, 09 at 11:38am (PST)
Subject: re: Arsenal Team Guide [demo]
-------------------------------------------
Thanks for the guide mate , good job
---
Author: luke225
Date: Oct 28, 09 at 1:14pm (PST)
Subject: re: Arsenal Team Guide [demo]
-------------------------------------------
You dont play RVP?
---
Copyright Neo Era Media, Inc. 1999-2013.
All Rights Reserved.