Author: Akira_EX
Date: Jul 24, 08 at 1:33am (PST)
Subject: MLB Power Pros 2008 Thread of Super Deformed Baseball Goodness
-------------------------------------------
Game Details:
Developed by:
Konami
Published by:
2K Sports
Genre: Sports/Simulation
Players: 1-2
Release Dates: July 29, 2008 (NA)
MSRP: $39.99
Control Methods: Wiimote, Wiimote+Nunchuk, Classic Controller
Wifi? No
Official Site:
Here
Neoseeker Profile:
Here
Neoseeker Forums:
Here
The game features a deep baseball sim interior beneath a cute exterior, building upon the original MLB Power Pros game last year, which was one of the best baseball games of the year, if not the generation. This is a spinoff the
Jikyyou Powerful Pro Yakyuu
series that is wicked popular over in Japan, and last year's MLB Power Pros was the first game in the series to be released in America. This year's version looks to improve and expand upon last year's game to bring back a core, deep experience. This isn't your little kid's baseball game.
The Power Pros series sports many different modes; there is your traditional Exhibition and Home Run Derby modes, and the Wii version includes a Wii Remove Mode so you have some motion-based baseball fun. At the core of the game, however, you'll be using a Classic Controller or a Wiimote hooked up to a Nunchuk to dive at the meat of the game.
Gameplay
I know what you're thinking: cute, kiddy graphics.. OMG NO WAY IS THIS A GOOD GAME THE GRAPHX SUX LOOK AT MLB 2K OR MLB THE SHOW RAWR!!!11! Well, think again, because this is some of the best gameplay ever.
When batting, you control that yellow oval shape there with the Control Stick. The size of it is determined by the player's Contact stat. If the ball is somewhere in that yellow outline when you swing, you'll make contact with the ball. However, see the small gray circle? That's the bat's sweet spot, which if you can connect with the ball at that spot, you'll ultimately get a better crack at the ball. At the press of a button, you can switch into Power Swing mode, which will shrink that yellow outline to the size of the sweet spot. You'll have to be on target, but you get a much more powerful swing out of it.
When pitching, you select pitches with the control stick and a button. Pitches have slots for 12 different pitches: 2 each in six directions of the control stick. Most pitches will only have five or six different pitches tops, though. After selecting your pitch you can begin your wind up, and as you wind up you can pick your location, accounting for spin and the like. Generally, the direction that the pitch was assigned to on the control stick is the general direction of where it'll spin.
Both of these systems are incredibly simple, and the same goes for fielding and baserunning. Not too much frustrating there.
One of the things about MLB Power Pros is how in-depth the game is in regards to stats and attributes. Sure, you have your Contact, Power, Speed, Fielding ability, etc. for your position players, and Control, Top Speed, etc. stats for your pitchers. However, players are much more than that, with multiple other stats and different traits available. There can be a pitcher who is ridiculous good against lefty batters: it'll show up in his attributes. There can be a batter who is a really aggressive base stealer: it'll show up in his attributes. There can be a pitcher who doesn't do to well with runners in scoring position: it'll show up in his attributes. The sheer amount of things that the game tracks is insane. Check out the full list
here
Day to day, players will also have their own condition, represented by a face, on how their feeling that day. This dynamically changes, and is a good indicator of a player's morale.
What MLB Power Pros 2008 brings to the equation in regards to gameplay is the following:
- Batter zones: each player now has different hot and cold zones over the plate
- Bullpen: Pitchers need to be warmed up before putting them into a game
- More defense adjustments: More options for shifting players in the field
- 40 man rosters: Get more flexibility with dealing with injured players and your minor league players
- Game options: More UI elements can be hidden away now, adjust the overall pitch speed (i.e. speed it up to make the game more of a challenge or vice-versa)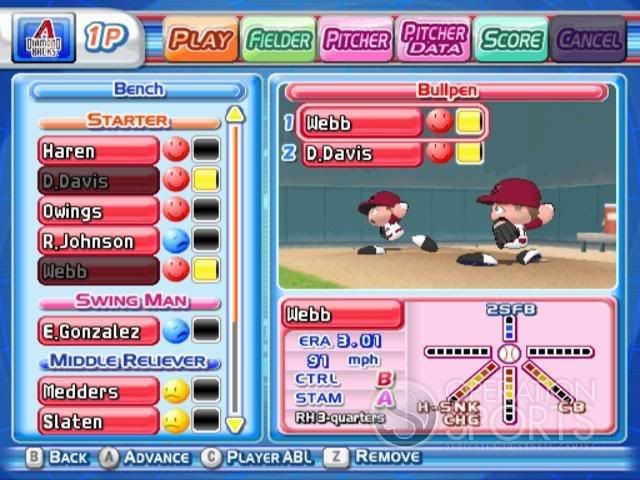 The bread and butter of MLB Power Pros 2008, however, is in these three modes: Season Mode, Success Mode, and MLB Life Mode.
Season Mode
Season Mode puts you as the GM of an existing or newly created expansion franchise for a maximum of ten years. You have to manage salaries, player contracts, practices, trades, etc. You're in full control of the team. and you are responsible for both developing and improving team chemistry for players, but at the same time, your goal is to win the World Series. Increasing relationships between players will help players learn certain attributes or help improve their stats outside of normal practices. Say you want to improve Dustin Pedroia's power? Have him practice with David Ortiz or Manny Ramirez. You want to help teach Jon Lester a Knuckleball? Have him practice with Tim Wakefield. There are many things you can do to develop players, and ultimately help customize them in a ten year span.
Success Mode
One of the signature modes of MLB Power Pros 2008 is the Success Mode, which brings RPG-type gameplay interspersed with baseball to create your own characters that you can import into Season Mode or MLB Life mode. The first MLB Power Pros had you play a character to the trials and errors of college life. This year, you'll play your way through the minor leagues, with the ultimate goal of reaching the majors.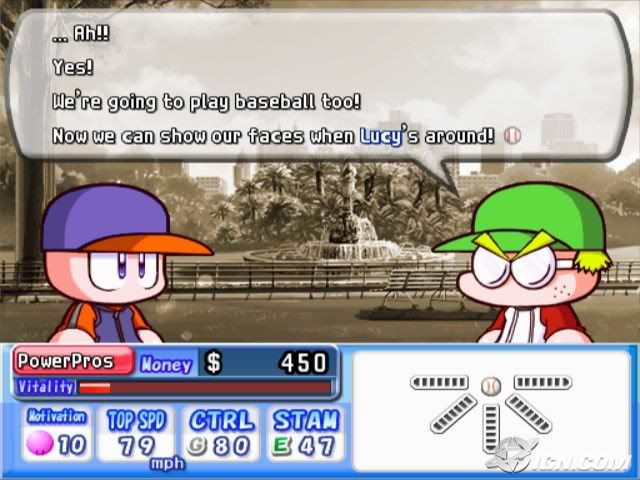 You'll have to manage practices, relationships, life, work, money, and lots more to get the most out of Success Mode, where your choices are largely defined by the Fate Card System, which is used to generate the outcome of various sequences that may arise during the game.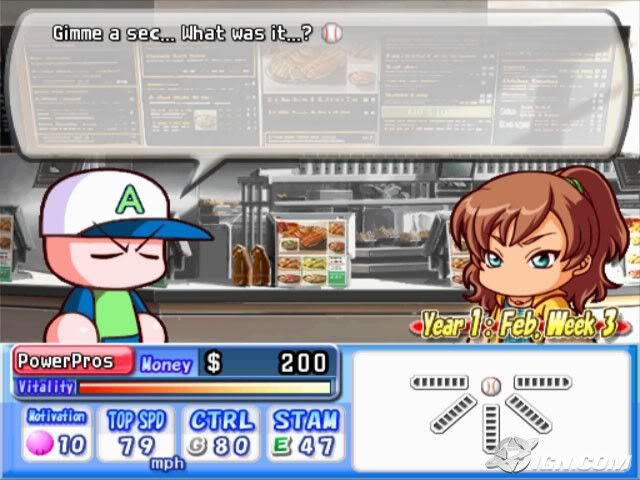 There is some baseball to be played in this mode, but you'll largely only control yourself. It is one of the most enriching modes ever in a sports game.
MLB Life Mode
An old stalwart of the Power Pros game, the My Life mode in the Japanese versions has been a fan-favorite, and has become one of the signature modes of the series. The MLB Life mode in MLB Power Pros 2008 is the first time gamers in the West can experience this mode.
You take a player, either imported from Success Mode, an existing MLB player, or a player created entirely from scratch, and you live his life for the next twenty years of his career. You will play baseball games, but only as the player; so you'll only play if you're in the game. However, the kicker is that you control every other aspect of his life; what he does in his free time, how he'll train, go into relationships, get married, have kids, etc. The relationships you forge with other characters are important as you live out your career.
Of course, as you are the player, you have to deal with contracts, the prospect of being traded, etc. As you do only play yourself, you do not have a large, direct influence on how well the team is doing. You might very well be traded to another team if the team deems you expendable. You'll also solicit offers in free agency, and have the ability to negotiate and sign contracts.
The amount of depth in this mode is immense. How do you spend your time after a game? You can go buy items, or can even hang out with your teammates, or go out on a date. The calendar is important, how your training regiment is set up is important, and so much more. It will be one of the most unique experiences ever.
----
Reviews:
Nintendo Power - 7.0
----
My Take:
BUY THIS GAME. It will be one of the best baseball sims ever. Deep, engrossing gameplay. Awesome artstyle. Great humor. There's a lot to like in this game.
Credit to the
two
GAF
MLB Power Pros threads for extra information, structure, and being good resources.
---
Author: KirbyHyrule
Date: Jul 24, 08 at 1:41am (PST)
Subject: re: MLB Power Pros 2008 Thread of Super Deformed Baseball Goodness
-------------------------------------------
1. Mario Sluggers seems more promising

2. Why not just stick with Wii sports: Baseball?
---
Author: Dragon ZERO
Date: Jul 24, 08 at 1:42am (PST)
Subject: re: MLB Power Pros 2008 Thread of Super Deformed Baseball Goodness
-------------------------------------------
quote Akira_EX


OMG NO WAY IS THIS A GOOD GAME THE GRAPHX SUX LOOK AT MLB 2K OR MLB THE SHOW RAWR!!!11!
I'm sure that's what everyone thought when they saw this and the Zelda WW.
But actually it looks good, the best baseball game I've seen. Too bad Mario baseball is gonna sell more because it has Mario's grill slapped on it.
---
Author: Akira_EX
Date: Jul 24, 08 at 1:48am (PST)
Subject: re: MLB Power Pros 2008 Thread of Super Deformed Baseball Goodness
-------------------------------------------
quote kirbyhyrule


1. Mario Sluggers seems more promising

2. Why not just stick with Wii sports: Baseball?
Mario Super Sluggers is a hollow shell of what this game will be. This game will be much better than Sluggers, guaranteed.
This is game is so much deeper than both Sluggers and Wii Sports Baseball.
---
Copyright Neo Era Media, Inc. 1999-2016.
All Rights Reserved.