---
---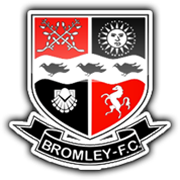 Bromley 2013/4 End Of Season Review
It was a very good year for Bromley Football Club in the debut season for new manager, Ravi Parmar as the Lilywhites secured their highest ever league finish in their history by topping the SkyBet Championship by a record total in the new 18 team format.
Bromley were well ahead of their opponents in both attack and defence as they scored a massive 37 goals more than next highest scorers, Blackburn Rovers, and conceded 20 goals less than the next best defences of Blackburn Rovers and Leicester City. Bromley's dominating performances will surely give them confidence next year to establish themselves as a force in the Barclays Premier League.
As expected, Roy Griffiths tops the goalscoring charts by 13 goals, ahead of team-mate Paul Curtis who scored 20 from the wing, a very good total. Griffiths scored more goals individually than six teams did in the league which is a testament to not only his goalscoring ability but the performance of Bromley as a whole to assist his efforts.
With Bromley scoring an obscene amount of goals this year, there's no surprise to see them dominating the chart. Paul Curtis claimed one more assist than team-mates, Lewis Collins and Roy Griffiths as well as Bolton midfielder, Alexandru Bourceanu. Dean Page was the highest defender on the list with six assists in a very solid season at right back.
All in all, Bromley were dominant everywhere in every department and secured 6 out of 11 spots in the Team of the Year award. Unsurprisingly, Roy Griffiths, Paul Curtis and Ian Morris were all included but notable omissions like Eric Ford and Martin Robertson raised questions regarding the selection.
---
---
Well, that's it for Season One of ETL but Season Two should be starting sometime soon, I've got a busy weekend ahead of me so it's likely that it'll begin next week or so. There's going to be a new kit for the season (thank you Bluestillidie00 for the new kit and Kaharius for the old kit) and let's see how the new season goes!