TCW proudly presents,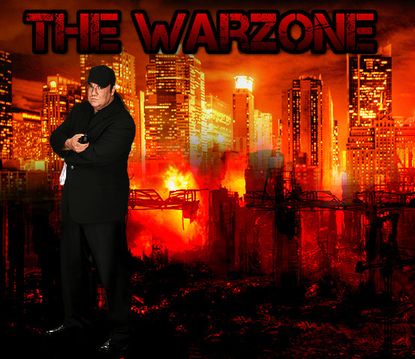 Manchester Arena, Manchester, England
Cole: Welcome ladies and gentleman, to TCW Warzone! I'm Michael Cole, here with my broadcast partners Taz and Booker T.
Taz: We've got a night here Cole that I can only sum up in three words: Pick. Your. Poison.
Booker T: Aw yeah. This Sunday, Alex Shelley and CM Punk face off, but before that....they get to pick each other's opponents here tonight.
Cole: But let's not wait any time, as we get into our TCW Television Champion Chase matches, with our first Fatal-4-Way of the night!
Fatal Four Way
Christian Cage vs Ken Kennedy vs John Cena vs Alberto Del Rio
TCW Television Chase Match
The bell sounds and immediately Del Rio and Christian attack John Cena. The two men manage to take the wrestling superman down to the canvas with a flurry of punches and kicks. Kennedy, not sure if to join the onslaught or to save Cena backs off from the action and waits for the others to decide. Cena starts to fight back by shoving Del Rio away then pounding Christian in the skull a few times. As Christian falls back, Del Rio grabs ahold of Cena and applies the
Cross Armbreaker
. Christian sprints back and breaks up the hold, disgruntled with the alliance between himself and Del Rio disintegrating. Kennedy chooses his time to act and grabs Christian in order to hit him with a suplex. He runs at Del Rio and receives a dropkick to the face. Del Rio turns back to Cena and is met with more strikes to the face before the leader of the Cenation bounces of the ropes and hits a shoulder block. Cena hovers over Del Rio, informs him that Alberto cannot see John, and hits the
Five-Knuckle Shuffle
! He then places Del Rio over his shoulders for the
Attitude Adjustment
, but out of nowhere Christian hits a
Spear
on Cena. Kennedy rises back to his feet and receives his own
Spear
.
Christian sees Del Rio struggling to get up, so he grabs him and hits the
Killswitch
! He covers. 1...2...3! Christian Cage wins the first TCW Title Chase of the night!
Cole: What a win by Christian!
Booker T: I tell you man, I think Christian may have found his step here in TCW.
Taz: He's been impressive in the past couple weeks, but so have the other four men in the TCW Title Chase. We see them up next.
Fatal Four Way
Carlito vs Wade Barrett vs Kyle O'Reilly vs Bray Wyatt
The match begins with all four competitors in their respective corners. The bell rings, and we're underway! O'Reilly goes right after Bray Wyatt. Not a wise decision, as the Eater of Worlds drives a fist into the jaw of O'Reilly! Barrett grabs Carlito around the neck and locks him in a massive headlock before taking him down with a hip toss! Barrett gets on Carlito and begins driving fists into the face of Carlito! Wyatt, meanwhile, flips O'Reilly across the ring with a huge belly-to-belly Suplex! O'Reilly quickly rolls out of the ring. Wyatt makes a split decision to take on Barrett next, taking him down with a running crossbody right over the top of Carlito! O'Reilly slips into the ring and picks off the downed Carlito! Dropping hit after hit on the left ankle of Carlito! Meanwhile, Wyatt lifts Barrett up and goes for a massive punch - No! Barrett ducks and turns to hit Wyatt with a massive boot to the thigh! And he follows it with a punch to the face! On the other side of the ring, Carlito hits massive kick after kick with the healthy ankle! A final kick sends O'Reilly across the ring and between the ropes!
Barrett is, meanwhile, warming up for the Bull Hammer on Wyatt... But Carlito goes for a Back Stabber on Barrett! But Barrett doesn't go down! Instead, he catches Carlito on his back, pulling him upwards onto his shoulders! Wasteland! Barrett makes the cover! One-Two- no! Wyatt breaks the count! He lifts Barrett up and hits the STO! One-Two-Three!
Booker T: And Bray Wyatt shows people how to get it done!
Cole: He may keep winning matches, but he also keeps giving me the creeps.
Taz: Hey, sometimes you just gotta get in the heads of your opponents, and that's what Wyatt keeps doing.
Tag Team Match
Evolution(Antonio Cesaro & Triple H) vs Curt Hawkins & Ted DiBiase
The Game is first out for his team, facing down an old rival in Ted DiBiase. The two lock-up in the middle of the ring, with DiBiase being pushed back. Forced into the corner, the referee breaks the two up with DiBiase trying to figure out a plan. Ted soon rushes out of the corner, swinging wildly, trying to catch The Game off guard. Instead, Triple H ducks the clothesline and starts throwing right hands into DiBiase, forcing him into his corner. The Game tags in Cesaro before holding DiBiase in place so Cesaro can throw a solid shot to the kidneys are Ted. Ted staggers out of the corner before Cesaro grabs him and snaps off a suplex. Cesaro covers; one, tw-kickout.
Cesaro locks in the side headlock on DiBiase as Ted tries to get momentum back on his side. Ted manages to fight his way to his feet, but Cesaro clubs him in the back of his head to send DiBiase back to the ground. Cesaro grunts before pulling Ted up, looking for the Neutralizer. He tries to lift Ted, but DiBiase blocks it, before countering with a back body drop! Cesaro arcs his back in pain as Ted finds a bit of reprieve and crawls over to his corner. Cesaro manages to tag in Triple H, but DiBiase tags in Hawkins! Curt has been itching to get in the match and explodes once in the ring with a clothesline to Triple H. The Game scrambles to his feet and Curt is quick to hit him with a dropkick, sending Triple H into the corner. Hawkins quickly follows through with a splash in the corner before hitting Triple H with his own suplex! Curt covers, but Cesaro is in to break it up! Cesaro stomps away at Hawkins before Ted is charging in at Cesaro, but Antonio pulls the top rope down, causing Ted to spill to the outside! Antonio gets back to his feet but Hawkins dropkicks him in the back, up and over the top rope as well! Curt then turns around to focus on Triple H, but The Game meets him with the Spinebuster!
Triple H sees the end is near as he stalks Hawkins to his feet. He kicks Curt in the gut, hooking the arms….Pedigree! Curt is planted into the mat and his teammate isn't able to make the save as The Game hooks the leg; one, two, three!
Cole: Another dominant win by Evolution here tonight!
Booker T: I've always respected Triple H for his work in the ring, but Antonio Cesaro is really showing me something ever since he teamed up with Cody Rhodes and The Game. I think this could be just what Antonio needs to get his career rolling.
Taz: I gotta agree with you there Book.
We pick up with the TCW Television Champion CM Punk, who is stood in the office of TCW general manager, Paul Heyman. A few moments pass until Heyman himself enters the room, and looks slightly startled at the presence of Punk. He appears to take it in his stride though, as he makes his way across the room and takes up his seat behind the desk. Punk stands stoic, staring a hole through Heyman as he waits for some kind of acknowledgement. Heyman keeps the straight edge superstar waiting though, as he clears a few files off his desk before looking up at him.
Heyman: Punk, what can I do for you?
Punk takes a step towards Heyman, and slightly leans in towards him.
CM Punk: Paul, I'm here to find out who I'm facing tonight.
Heyman smirks, as he too leans forward a touch.
Heyman: Punk, you will find that out in the ring tonight. That's the whole point of the pick your poison concept, you're not supposed to be aware who you're facing.
Punk doesn't seem too happy with this, as he tentatively shakes his head in disapproval.
Punk: Why, so we can make excuses if we don't win? No, that's not how tonight's going to go. I don't care if you don't tell me who I'm going to face, because lets face it I'm going to win regardless. I'm not letting Alex off the hook though, he's not getting any excuses tonight. I'll openly tell the World right now that the person I've picked for Alex Shelley to face is… The Undertaker!
Punk smirks as he backs away from Heyman, who appears to be content with Punk's choice. The cameras then return to ringside.
Cole: How about that?! Alex Shelley vs The Undertaker!
Booker T: Awwww man, two of the best in this industry going head to head tonight!
Singles Match
John Morrison vs Dolph Ziggler
The former tag team partners stare down in the center of the ring. We don't know what happened to break them up (something about someone stealing stuff), but what matters tonight is they face off. Right as the referee rings the bell, Morrison tackles Dolph to the ground, beating into the face of the Show Off. He throws rights and lefts before the referee finally has to pull Morrison off of Ziggler. John argues with the referee, but the ref threatens to disqualify him before John sighs and just goes back to the match. He walks over to Dolph, but Ziggler kicks his knee out from under him, sending Morrison to the mat. John clutches his knee as he starts to get to his feet, but Dolph comes off the ropes, Fame Asser! Morrison is driven into the mat as Dolph makes the cover; one, two, th-kickout.
Dolph begins stomping away at Morrison, trying to put the match away quickly. He begins dropping multiple elbows before stopping and flicking his hair at the crowd before jumping for another, but Morrison rolls out of the way! The showing off by Ziggler may have cost him as Dolph holds his elbow in pain as Morrison pulls himself up in the corner. Ziggler charges for the splash, but Morrison moves out of the way and Dolph crashes face first into the top turnbuckle! He staggers backwards and Morrison springboards, Flying Chuck! Morrison's foot collides with the side of Ziggler's head and Dolph falls into position. John steadies himself in the corner, looking down at Ziggler before leaping, going for Starship Pain…
And he hits it! Morrison's patented splash connects with Ziggler as John hooks the leg; one, two, three!
Taz: And Morrison gets some payback here tonight!
Cole: Payback for what?
Taz: Ziggler putting himself first in the big picture!
Booker T: Both of them couldn't put their egos aside to keep an impressive tag team together....but they're both gonna be great singles competitors, I can tell you that.
Pick Your Poison-Singles Competition
CM Punk vs Alex Shelley's Chosen Opponent
CM Punk stands in the center of the ring, waiting for Alex Shelley's choice to be revealed.
BOOM!
Fire explodes as Kane makes his way to the ring! Kane vs. CM Punk!
Kane and Punk circle each other in the ring, neither one wanting to make a misstep. Kane quickly breaks the tension, and pushes Punk hard into the corner before driving hard punches to the chest and face of CM Punk! Left-Right-Left-Right! A clothesline into the corner! Punk stumbles out of the corner and Kane lifts him up for a sidewalk slam! The crowd goes wild as Kane makes the early cover! One-Two- Kickout! Kane lifts Punk back to his feet, and Irish Whips him across the ring - And Punk returns to a Big Boot! Kane raises his arms to the ceiling and slams them both down with fury! The crowd is on their feet, loving this one-sided bout! Kane chokes Punk on the mat, lifting him to his feet - But a thumb to the eye from Punk! He continues with an onslaught - Chop! Chop! Chop! And a spinning chop! And a fierce roundhouse to the side of the head! Kane drops to his knees and Punk rebounds off the ropes to hit a massive dropkick to the kneeling Kane! Punk hits the top rope, stalking Kane.. And a diving Crossbody.. But Kane catches him! He drops him on his knee and then hits a Fallaway Slam! Punk grabs his back in pain before trying to roll out of the ring - But Kane catches him!
Kane pulls Punk in, grabbing him by the throat, looking for retribution. Punk claws away at the arm of Kane, trying to escape before kicking Kane in the groin! Kane stumbles backwards a bit as Punk believes he has gotten some breathing room, rolling out of the ring. Punk decides to take his leave, but he runs right into Kane on the outside, recovered already from the cheap shot! Punk backs away slowly before Kane swings, and Punk ducks it, running to the back as Kane follows! The Television Champion is on the run and the referee has lost both his competitors! He has no choice but to rule this a no contest!
Cole: And Punk manages to slither away from Kane!
Taz: That's Punk using his noggin. He doesn't have to beat Kane, not when he has such a big match on Sunday.
Booker T: While I agree with not wanting to risk getting hurt, I can't agree with Punk taking the low road out in that case.
The cameras cut backstage, showing Santino Marella, just moments before his match with Cody. Rather than his usual focused self, Santino has quite a grin on his face. TCW reporter Josh Matthews is stood beside him.
Josh Matthews: Santino, have you been putting in any extra preparation knowing that Dean Ambrose is acting as special guest referee for your match with Cody Rhodes?
Santino laughs to himself.
Santino: Actually, Josh, Cody Rhodes and this match hasn't been on mind too much this week. I've been a little...busy.
Josh Matthews: Busy? Don't you think Cody Rhodes deserves a little more respect than that?
Santino: Oh, I mean no disrespect to Cody Rhodes. But I have been in many important meetings this week you see, I have not had much time to prepare.
Josh: Meetings? Couldn't you have rescheduled considering how difficult this match is sure to be?
Santino: Ah, Josh, rescheduling...that would have been great, but it is difficult to get a meeting with the TCW Board of Directors, nevermind trying to get it rescheduled!
Josh Matthews: Board of directors? Why were you -
Santino holds his hand to the mouth of Josh, silencing him. He takes the microphone from Josh and looks to the camera.
Santino: This week, I went straight to the board of directors. I pleaded my case, I pleaded how unjust it was that Brock Lesnar ruined the King versus Champion match at No Mercy, and unsurprisingly they did not disagree. I told them that Dean Ambrose had Brock Lesnar save him at King of The Ring, and that Dean Ambrose had Brock Lesnar save him at No Mercy. And they agreed. I told them that I do not think Dean Ambrose is a worthy champion because of this, that Dean Ambrose hasn't proved yet that he is the best wrestler in this company. And they agreed with me about just unfair his whole title reign has been. And while Dean Ambrose may not want to face me again...they would love to see it, Josh. And what the board of directors want, the board of directors get. So the reason I have not prepared for my matchup with Cody Rhodes, is that I have been busy arranging a different a matchup. I have arranged that next week at Wembley Stadium, infront of 90,000 passionate Brits - Dean Ambrose will defend his World Heavyweight Championship against me, Santino Marella!
Santino hands the microphone back to Josh, and leaves before the interviewer can get another word in! We cut to ringside.
Taz: Oh god, give it a rest Santino! You'll never be better than our champ!
Booker T: Taz man, you gotta just let it go man.
Singles Match
w/ Special Referee Dean Ambrose
Santino Marella vs Cody Rhodes
Dean calls for the bell to ring as Santino is hesitant to make any moves, eyeing Ambrose. Dean just smirks and points to the referee shirt he's currently wearing before telling Santino to get to it. Marella slowly takes his eyes off of Ambrose to focus on the match, but Rhodes is on him. Cody wasted no time taking advantage of Santino's distraction and is quickly forcing Marella into the corner, beating him down. Dean lets this go on longer than he should before forcing Rhodes out of the corner, telling him to back off. Rhodes heads back to the corner, but Santino ducks the right hand and forces Rhodes into the corner with knife edge chops. The crowd chants "Woo" to each and every one of them before Santino whips Rhodes into the opposite corner with authority, causing Cody to crash to the mat. Santino heads over, but Triple H pulls Rhodes out of the ring, giving The Future some time to recover. Marella argues with Ambrose to begin counting, but Dean just nonchalantly smiles before finally obliging to Santino's demands and counting Rhodes out. His back turned, Cesaro slides into the ring and takes out Santino with a clothesline before quickly exiting and heading back over towards Triple H as Rhodes is back in the ring. He stomps away at the now downed Santino before running off the ropes and dropping his knee across the face of Marella. Rhodes covers and Dean is down to count; one, tw-kickout by Santino. Ambrose shrugs his shoulders before Rhodes stomps away at Santino, trying to his best to put away the Italian. He screams at Santino that his time is done before running off the ropes for another knee drop, but this time Marella moves out of the way! Cody's knee collides into the mat, and remember folks, Cody doesn't wear kneepads. Rhodes clutches his knee in pain as Santino is up to his feet, hitting Rhodes hard with a clothesline! Cody scrambles to the corner to try and get away from Marella, but Santino is on him, throwing right hands. He isn't even halfway done before Ambrose decides to do his job "properly" and forces Marella out of the corner. Santino begins arguing with Ambrose, as Dean merely states he was doing his job. Marella doesn't take that answer and continues screaming at Rhodes, his focus on the match lost.
Rhodes takes advantage of the distracted Santino and grabs him from behind…..Cross Rhodes! Santino is planted into the mat all while Dean smirks before dropping to the mat for the count; one, two, three!
Cody Rhodes heads to the back with his Evoloution team-mates, celebrating this high profile victory...but Dean Ambrose stays in the ring. With his grin on his face, Ambrose stands over his fallen number one contender. The World Champion pulls the referee shirt off of himself and tosses it to the side, and demands a microphone from the time-keeper. Circling Santino, he snarls into the microphone.
Dean Ambrose: Number one contender, huh? You go to the board of directors, and you tell them that, that I haven't retained my title properly? That I haven't proven I'm a, I'm a 'worthy' champion? I'll show you, I'll show you WORTHY!
Ambrose dives right at Santino and cracks him in the skull with the microphone! The World Champion lays into Santino, throwing a wild flurry of shots and screaming at him! Dean Ambrose has lost it! He stands up and takes several paces backwards, letting a dazed Santino try to find his feet. The number one contender gets on one knee, and Ambrose charges at him: Shining Wizar-NO! Santino dives out of the way! Ambrose quickly gets back to his feet and charges at Santino again, but Marella ducks! And lands a right hand! And another! Ambrose is reeling! Santino whips Ambrose off of the ropes and nails a clothesline! The roles have reversed and Ambrose is on the mat, trying to find his senses, with Santino the one doing the stalking, watching as The World Champion uses the ropes to get to his feet ... OW! Brock Lesnar and CM Punk! Ambrose's colleagues have come from the crowd, and are lack a pack of wolves as they assault Santino! Punk helps Ambrose to his feet, while Brock stalks Santino. Ambrose calls the order and everyone knows what's coming, as a snarling Superbeast bounces side to side, waiting for Ambrose to turn around...
KEEP ROLLIN' ROLLIN' ROLLIN'!
Brothers of Destruction! The team screwed by Ambrose, Lesnar and Punk last week are making a beeline for the ring! The trio all stop in shock at this run-in, but they don't have time to stand around because 'Taker and Kane both slide in to the ring! Punk and Kane go at, 'Taker lands a big boot to Ambrose and then begins to lay right hands into Lesnar! Lesnar rams Undertaker into the corner and lands a series of shoulder thrusts, while Kane throws uppercuts and Punk throws a variation of knees and kicks. Lesnar charges at Taker - but the Deadman lands a big boot instead! Lesnar drops and rolls out of the ring, and Kane tosses Punk over the top rope! Both men turn their attention to the last of the trio...Dean Ambrose. The Champ backs off, trying to make peace with the BoD...but he backs right into Santino Marella! The number one contender tosses Ambrose over the top rope - BoD and Santino have cleared house!
???: Gentlemen! Gentlemen!
The crowd and all six combatants turn to the titantron - to see the face of Warzone General Manager, Paul Heyman.
Heyman: Enough is enough! Now, I'm all for extreme, as you all well know - but this really has gone on long enough. I'm sick of Brock Lesnar, I'm sick of CM Punk, I'm sick of Edge, and now I'm damn well sick of the Brothers of Destruction too! Santino, Dean - the reason for your rematch is Brock Lesnar unfairly interfered in your last meeting, but I damn sure I won't let anyone get in the way of this one. And so I thought to myself, a steel cage couldn't keep these tough TCW superstars out of the ring, so what could? And then I realised, exactly that...tough TCW superstars. So Brock, Punk, Undertaker, Kane, Edge wherever the hell you are, if you want to get involved in the World Title match this Sunday, you'll have to tear your way through each other first - because this Sunday, Dean Ambrose and Santino Marella will go at for the World Heavyweight Championship, surrounded by lumberjacks!
TCW then cuts to a commercial break with a grimace on the face of Dean Ambrose and his cronies, a smile on the number one contender's face, and the Manchester crowd cheering in delight.
Taz: Oh come on Paul! Stop rewarding that piece of trash! He's lost his last two matches and so he gets rewarded?!
Cole: He just lost this one because of an impartial referee Taz, that isn't Santino's fault!
Taz: That isn't my problem! But a loss is a loss and Santino keeps on losing!
Booker T: Sometimes Taz, sometimes....
Pick Your Poison Singles Competition
Alex Shelley vs The Undertaker
Shelley bounces on his feet back and forth, waiting for his opponent to come out from behind the curtain. The lights in the arena turn off in preparation for the man's appearance.
Chills fill the air as smoke fills the arena and The Deadman makes his way out from behind the curtain. Shelley knew it was coming, but no one can truly prepare for The Undertaker. But up next, we see if Shelley has managed to find the plan to stay alive.....
Shelley tries to get on the offensive by grappling Taker around the waist, but the Deadman just shoves off the noticeably smaller man. The Undertaker uses his strength to pick up Shelley and slam him on down on his own leg for a backbreaker. His opponent takes a few seconds before hopping back on his feet and running towards him. He lifts his leg for a big boot, but Shelley stops his momentum just in time and hits Taker with a standing dropkick. The Sultan of Sleaze strategically kicks his opponent as he lays on the ground, preventing him from taking his natural advantage over Shelley. His opponent's tenacity causes the Deadman to roll out of the ring and finally get back to his feet. Refusing to let his opponent rest, Shelley goes to the opposite side of the ring, then takes off for a suicide dive. Like an arrow, he hits his opponent right in the chest for a bullseye. Both men are slow to get up as the fans just inches away cheer them on. The Undertaker rises first and stomps down on his opponent. He then grabs Shelley and throws him into the barricade, where he proceeds to give him a big boot to the face. The neck connecting the Sultan of Sleaze's head to his body snaps back violently as he falls to his knees. Taker grabs him again and tosses him into the corner post before bringing him back into the ring. Shelley slowly rises to his knees as The Undertaker gets in position for the Chokeslam. The Money in the Bank holder stands up and turns to his opponent. He immediately dodges the claw of the Deadman, bounces off the ropes, and performs a hurricanrana on his opponent. Before his opponent can get back up again, Shelley jumps off the middle rope and tuns back to hit a senton. He then applies the chicken-wing on The Undertaker, wrenching the arm into his opponent's back more and more with each passing second. Taker crawls with one hand and finally reaches the ropes, which causes Shelley to immediately release the hold. Shelley tries a kick to the head, but the Deadman catches and throws it down. Uncharacteristically, Taker tackles Shelley to the ground and unleashes a series of strikes to his opponent's skull. With a face full of rage, Undertaker picks up Shelley, holds him in front of himself with both arms, and hits the Tombstone Piledriver! Taker smiles as he covers Shelley. 1...2...kick! Shocking everyone in attendance, including The Undertaker, Shelley kicks out. Still in control nonetheless, Taker picks up Shelley again. This time, however, Shelley is more elusive and wrestles out of the Deadman's clutches. He climbs over his opponent and hits him with a sunset flip! Could Shelley steal one away? 1...2...kick! Shelley gets to his feet before Taker and stomps his entire body, including digging his heel into his opponent's chest. Looking to personally end the match, Alex Shelley climbs the corner turnbuckle.
He steadies himself on the top rope, looking for the Frog Splash, but Undertaker sits up! Shelley is in disbelief as Taker makes his way over to the corner and grabs Alex by the throat! Not a chokeslam, not from up there....but Shelley fights it! Alex punches away at the head of the Undertaker before grabbing the head and dropping to the outside! Undertaker gets caught on the top rope and has to break his grip as Alex tries to get air back in his lungs on the outside.
Alex shakes his head, getting blood flowing again before climbing onto the apron, awaiting The Deadman to turn around. He springboards, but Undertaker punches him as his feet touch the top rope, causing Shelley to fall to the outside! Alex crashes into the padded floor as The Phenom looks to the outside. He slowly nods his head before running off the ropes....oh god no, NO! Undertaker just dove over the top rope to the outside onto Shelley! Both men are down! The referee climbs out of the ring, checking both men....he calls for the bell! Neither man is responding! It's a no contest!
Booker T: Oh my goodness....
Taz: You said it Book. I don't know the last time I saw Undertaker do that....and I think I may have just seen the last time he ever will.
Cole: Neither of the two can make it to their feet. We gotta get somebody out here.
Booker T: You know, when you're in that ring, you'll do alot of things to win. You'll break your own body in half if you got to. I think we just saw that here tonight...
Cole: I'm sorry folks, but we're out of time. We have to end the show here tonight, but stay posted on TCW.com throughout the week as we update you all on the condition of both Alex Shelley and The Undertaker as well as on Alex Shelley's match with CM Punk. Thank you and goodnight