Rangers Football Club – Team Discussion.




"No matter the days of anxiety that come our way,
we shall emerge stronger because of the trials to be overcome." - Bill Struth."




So, finally it's back to the football. After months of torment this great club finally seems to have a direction, a fresh start. Are you the man too lead us too new heights? Can you be the man to write a new chapter in this fallen giants history, help it rise up from the ashes? Due to reasons I'm sure you are aware of, Rangers now find themselves in the IRN-BRU Scottish Division Three. The fourth tier of Scottish football. Rangers have arguably the most illustrious history of any Scottish club, It has been crowned champions of Scotland 54 times and even had success in the European cup winners cup in 1972, the 100 year anniversary of the clubs founding. Have a look HERE for a look an in depth look at the clubs history. However, lets talk about the future. As you might expect success and perhaps dominance of Scottish football is the minimum expectation of you. The challenge that has not been met by many Rangers managers however is too crack European football, something the worldwide fanbase would long to see, maybe when the rebuilding is done you can be one of the few.

Infrastructure

Before we talk about what you have on the park, its important too look at the infrastructure of the club – its foundations if you will. By this I mean facilities; training, youth and recruitment, and of course the stadium.

Ibrox stadium – The stadium will hold a 51'000 capacity crowd, it interestingly is rated five-stars by UEFA, it is one of Europes finest footballing arenas. Every second week, the highest attendance in Scotland for the said week will come from the fourth tier, this will be a significant help too you , especially since paying close attention too finances and maintaining a healthy bank balance will be imperative for the club in the next few years. Although unfortunately FM doesnt quite replicate the attendances and underestimates the amount of people who actually have been turning up to home games.





Training facilities - The training and youth facilities available too you are of the highest quality and undoubtedly a serious asset too you. After a shake up of your coaches you should be able too not only improve your current squad but nurture your own , home-grown talent. Emphasis on youth is something which I would say should be very high, use this fresh start too breed your own next generation, maybe even revolutionize the club from the bottom, introduce a Swansea like style or whatever, you can make the club your own – put your stamp on it due to this fresh start. Youth Development can and should be a part of this.


The Squad

The class of 2012/13 is not at all similar to the squad that opened the 2011/12 season, many have came and gone, many jumped ship immediately when the club entered administration, some refused to sign up in the summer. Though they are not of importance. Here are the men who stayed, the ones who were still standing, loyal and proud when the smoke cleared and the dust settled.



You have your first choice who was Allan McGregor's number two for several years before Scotlands #1 departed in the summer. Neil is a very solid goalkeeper who should hold down the spot no problem. Signing a goalkeeper or two may be a good idea just incase Alexander suffers an injury and you feel Gallacher and Currie arent adequate enough.

Your first choice left back should be Lee Wallace. Very talented Scottish left back who can do a solid job on the left side of midfield. Solid defensively but in the lower divisions of Scotland I would suggest you see too it he spends more time going forward than defending as he has a good range of attacking talents. He is very effective playing at wing back and pitches in with tons of assists. Back-up is required though. I personally signed Barry Douglas from Dundee Utd for a just £60k.
Your Centre backs do lack any real pace but this is an area of the pitch that doesn't need attention straight away. There is also one or two youngsters who have good stas that can do a job if really needed. Cribari, a solid Brazilian defender, again experienced and has had many years in the Seria A is a good option at centre back. ANd you will likely partner him with Ross Perry, one of Rangers own, a massive player in my squad in FM12 and hopefully the same in 13, has the credentials to be so, another great option and at a good age.


Right back isn't one of your strongest positions but you do have Anestis Argyriou, who although doesn't have outstanding stats, plays very well for me in a similar role to Lee Wallace.


Centre Midfield is a very strong area with lots of potential. Firstly you have Ian Black SPL quality holding midfielder. Another Scotland international recently signed on a free after departing Hearts in the summer. Strong in the tackle, experienced and solid on the ball. Key part of your midfield. McCulloch can also play there, but you may choose to play him upfront. Same can be said for Sheils, although you may with to play him further up the pitch, in behind the striker. In there there is also two homegrown players in Hutton and MacLeod who can be very effective if they are to be needed.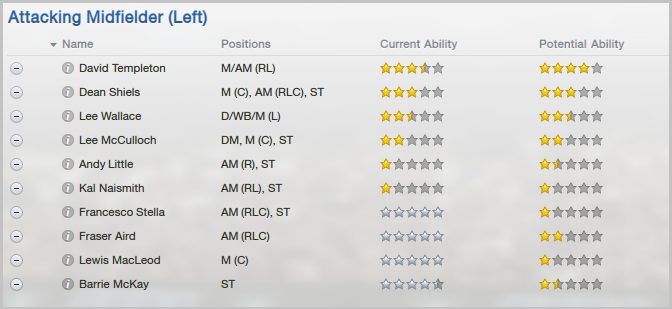 David Templeton is the main creative force in your team. Dribbling skills and pace in abundance and will rip up the wings and behind the striker for years to come. Aird is a pacey wee player aswell who can do a good job. Also if you do sign Douglas, you could field him or Wallace further up the pitch if its needed.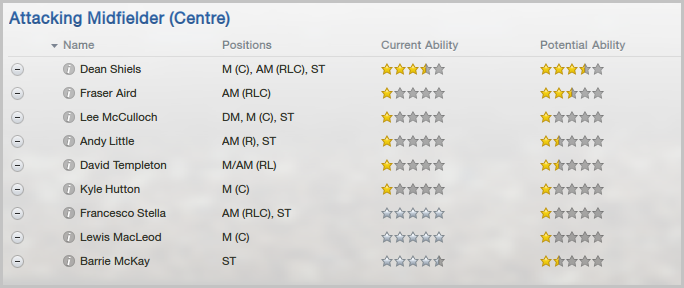 Dean Shiels looks to be a quality player in this position and should provide and score some a good amount of goals. Depth however doesnt seem too good. Fraser Aird has potential but predominantly as a winger. Inspite of it being Barrie McKay's natural position in real life, he is apparently an out and out striker in fm so his potential is in the striker position. If possible (and if you want too play with an AMC,) i'd suggest a signing in this area.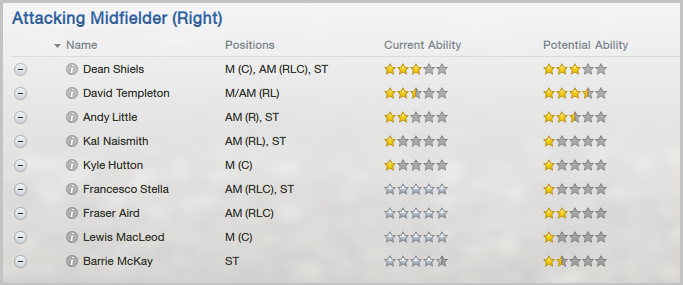 Shiels and Templeton are well capable out wide however some depth wouldn't go a miss. A young signing is probably all thats needed here for now.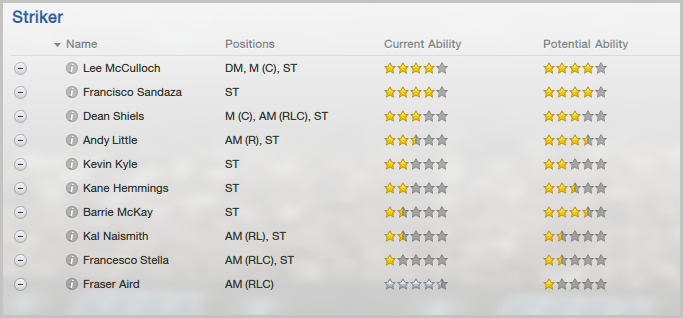 Inspite of a lack of pace, given the right service the likes of McCulloch, Sandaza and Little will score bucketloads in the lower divisions. Mckay should get loads of game time.



KEY PLAYERS:
Lee Wallace:- Very talented Scottish left back who can do a solid job on the left side of midfield. Solid defensively but in the lower divisions of Scotland I would suggest you see too it he spends more time going forward than defending as he has a good range of attacking talents.
Ian Black:- spl quality holding midfielder. Another Scotland international recently signed on a free after departing Hearts in the summer. Strong in the tackle, experienced and solid on the ball. Key part of your midfield.

David Templeton:- the main creative force in your team. Dribbling skills and pace in abundance and will rip up the wings and behind the striker for years to come.


So that's what we are working with. Enough quality is there for a couple of seasons, however some more depth is needed and quality in one or two positions. Reducing the squad age is also necessary .

Upon first glance I'd suggest back up in both full back areas, an AMC as well as a pacey striker and if you feel necessary one more CB wouldn't go a miss. Wide areas also need improvement , the quality you feel is needed is up to you as is the allocation of your budget you will set aside for wingers but you do need one or two. Central midfield is perfectly fine and I would only recommend a youth prospect if you insist on a purchase in this area.


Tactics And Formations *I'll add to this soon after i have a play around and hear other peoples suggestions*


Who to Buy?

Barry Douglas:- Cultured left back who i had great experiences with im FM12,( i had him in my team all through a 12 in a row save) and he looks too be a good addition to the left hand side this year as well , especially when he can be attained for £60k.

Omar Kossoko:- Probably the most popular across the board on here. Talented wide man who tears up the left hand side in most peoples saves. A quality AML available on a Free

Thomas Piermeyr (sp) :- Another well rounded full back and can cover LB as well as his natural RB. A must sign Free.

Mathias Bossaerts:- Belgian teenage CB , done a terrific job over a two year loan for me along side Gassparoto from the 2nd through to end of the 3rd season.

Callum Patterson:- More too this lad than meets the eye. So much potential and scores for fun in my side. Works well as an Advanced Forward and i picked him up for £100k second season.

Ryan Gauld:- So much potential. Operates superbly in the AMC and CM positions inspite of being a Natural LM ( he could be a good wide player if he improves on his pace). Im Not sure about a price as i got him for 98k first season but a friend of mine said Dundee United weren't interested in his save.

Thomas Lemar:- Again im unsure about this guy and his situation will be different on other peoples games. However on mine i got him on a Pre-Contract in January 2013. A star in the making at CM or AMC. Do youre best to try get him but i cant promise he'll be available.
(Also when buying players , dont be afraid to buy more than you think you need in terms of numbers, as the club faces a 12 month transfer ban commencing September 1st.)

And here we go, time for the revival. Hope we can get good interest on this years game! (also any comments or constructive criticisms are welcome on this as its my first guide, cheers for reading.)

Also, big thanks to Macleod77 for helping out on this