Hi all,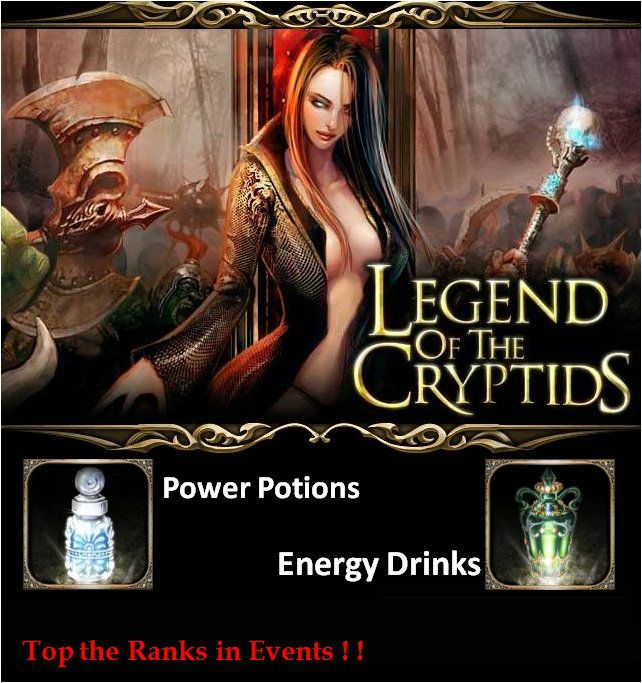 Selling Legend of Cryptids potions!!
1) Power Potions
2) Energy Potions

Prices

Promotion!!!
: $0.10 USD per PP/ED

Promo extended!!
(Minimum purchase of 100pcs)

Contacts
Email : kaiser_teoh@hotmail.sg
Kakao: KaiserTeoh
KIK: kaiserteoh1987
LINE: kaiserteoh

Please include your LOC ID and quantity for transfer of goods to take place.

Operating Hours
I am available from 7am to 11.50pm GMT+8
Emails will be replied very fast when within time range but please feel free to email me anytime I will reply in the morning 7 am

Payment Methods
For Singaporeans I accept bank transfers, other countries PayPal is acceptable.(Paypal verified)


Please note potions can only be released once payment is recieved.




Please note that this is only for iphone version of LOC. Android LOC is of another server and is not applicable for this purchase.

Testimonials


quote FeiHime009


Here is an awesome, quick and trustworthy seller!! I will only buy from him!! Thanks so much for our numerous successful transactions, and I'm looking forward to many more.
quote wildcatmiah


In regards to Holiday4ever I am 100% satisfied with my recent purchases. I will continue to use him for any future needs I may have.

quote Wilney


I can Vouch for this guy, right when i sent payment i receieved my purchases in a matter of seconds

quote MrElliott


Very fast trade, thanks bro

quote tnounsy


I must vouch for this dude, bought from him for 4-5 times already. he sends trades even faster than i can open the game

quote siemenp


trust worthy and fast trade...highly recommend this seller

quote exodustpa


Can vouch for him, bought from him quite a few times already and usually the transaction is fast and smooth.

quote ThanksHoliday4ever


Fast response and Fast delivery!

quote elix


So as other customers who have ever bought the items here, I truly recommended this seller, Holiday4ever. More than satisfied and impressive on fast response and delivery services. Don't believe any rumors or you will miss something cool !!

quote Rokstar808


Holiday4ever delivers as agreed. I have no problems buying from this seller. Over 5 pruchases and no problems yet. Thanks.
quote SunshineAndLollipops


Thank you! Very fast service, I highly recommend!
quote bbraunian


Excellent service. Items delivered quickly as promised! Highly recommended!

quote iOSGamer


Honest trader! Transaction done in minutes! Will buy again!
quote hillmar78


Great Seller, Quick service, Great discounts, and Very honest. You just made my go to person for PP/ED! Going to be your permanent customer and will refer you to all my guildies!
Thanks again!

quote draggnoth


very fast , very reliable ,easy transaction. highly recomm
end

quote redman4ever


Very fast and pleasant to deal with. Highly recommended!

quote tyleron14


Holiday4ever is a reliable and honest seller. Able to send items within minutes. Will definitely buy from him again! Thanks a lot!

quote Lemming


Very trustworthy seller!!!!!! Great communications. Super fast with trade. Will definitely buy from Holiday4ever again!!

quote johnfatfat


excellent seller with fast reply and delivery

quote RyoKenny


Fast response and Fast delivery! strongly recomand to trade with him
quote Geronimoe


Very fast very reliable have bought from him multiple times

quote FenO12


Really a reliable and honest seller. Fast delivery, would buy from him again!

quote platypus_s13


Excellent Seller. Straight forward and easy transaction. Thanks!

quote kukukazoo


Most dedicated seller I've ever come across. You can't beat the prices he offers and you'd be very hard pressed to find a better deal

quote Chuong72


Terrific Seller, have used many times and have had no issues. Highly recommended
quote Ilovemywife


Great transaction! Fast ,clean.....Perfect.

quote Evilryu


awesome seller and trustworthy A+++

quote DotHaze


I did 2 transactions and they went super quick. I don't think he sleeps because he answers in a minute and sends the items crazy quick.