hideOriginal Post
Jun 3, 12 at 6:46am
Anime
---
RuneScape Achievements



With this thread we hope to re-ignite that community spirit and it gives you a chance to show off your latest level(s), without people having to trawl through several threads in the Runescape Characters sub-forum. We would like you to continue using your goal threads and you are more than welcome to post your latest achievements in both here and your character thread. Please be aware that this thread is for Runescape achievements only, and not for your characters goals. Please do not post treasure trail or barrows rewards here.



Allowed screenshots

Level ups

Quest rewards

Mini-game rewards

Misc achievements (e.g. max killcount at God Wars)

German/French screenshots are allowed, but make sure we know what we are meant to look at by posting a rough translation.



Level-up rules


Level 30 in any skill is the minimum level.

Levels that grant new significant abilities are allowed.

Levels above 80 are allowed for any skill.

Any level that is a multiple of 5 (60, 65, 70, 75) is allowed.



Thread Recap
(last 10 posts from newest to oldest)
Jan 12, 16 at 3:03pm
Misato
---
Jan 8, 16 at 2:17pm
Ash Blue
---
4th and 5th 200m:
200m Magic:
200m Constitution:
Apr 9, 15 at 6:26am
younglinkgcn
---
Wow so many high xp skills here. I'm getting closer to max cape, 96 agility then i have 6 more 99s til max.
Apr 7, 15 at 5:59pm
Wyan1234
---
Wow people still post on here lol, gratz Ash. While I'm here, I got 120 Prayer last week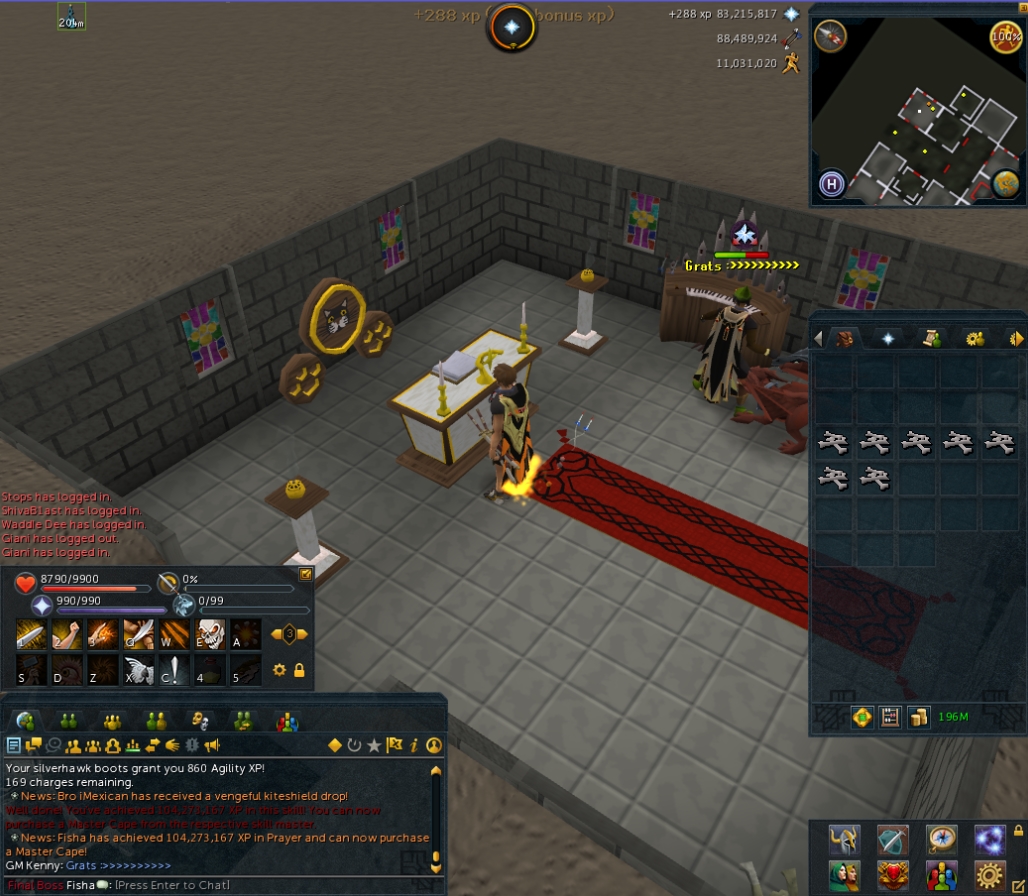 Apr 5, 15 at 8:33pm
Ash Blue
---
Third 200m. Took 11 months from level 99. 1.5 billion profit from rocktails.
Oct 23, 14 at 6:19pm
Zazomy
---
Half way there.
Jun 21, 14 at 8:49am
teamde78
---
Achieved 90 Agility today.
Jun 18, 14 at 7:28pm
Zazomy
---
Hit 90 strength, 85 ranged, and 80 slayer yesterday.
On a rooooooooll.
Jun 16, 14 at 4:54pm
teamde78
---
Hey everyone,
Been browsing these forums for a while now and figured I would actually sign up.
Got 85 agility the other day. On my way to 90.
May 4, 14 at 2:03am
Stainless
---
Damn Ash! That's dedication, congratulations.
Powered by neoforums v3.0.0b
Copyright Neo Era Media, Inc. 1999-2017