quote Bio


Claire Boucher (born March 17, 1988), also known as Grimes, is a Canadian Montreal-based musician, artist and music video director who sings and plays keyboards.

Boucher was born and raised in Vancouver, British Columbia. She graduated from Lord Byng Secondary School and moved to Montreal, Quebec where she began to record and perform under the name Grimes. She attended Montreal's McGill University but was expelled for missing over a year's worth of classes.

Grimes debut album, Geidi Primes, was released on cassette in 2010 through Arbutus Records. Later in 2010, Grimes released her second album, Halfaxa, also through Arbutus. In 2011, Grimes released a split 12" with D'eon titled Darkbloom. In May 2011 she opened for Lykke Li on her North American Tour and the following August, her debut album was re-released through No Pain in Pop Records, in CD and vinyl format for the first time. Also in 2011, she made an appearance on Majical Cloudz's single "Dream World" and collaborated with DJ/producer Blood Diamonds.

Grimes announced on her Twitter, in January 2012 that she had signed with record label 4AD. The label released her third full-length LP, Visions, in February 2012 in the United States and March 2012 in other countries with Arbutus releasing in Canada. Upon release, Pitchfork Media listed her 2012 album, Visions, under their Best New Music category.
---
Geidi Primes
(2010);
Halfaxa
(2011)
Visions
(2012)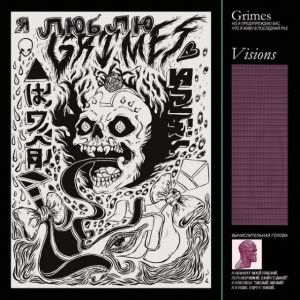 ---
---


Grimes is one of the strongest singular musical visionists to emerge from Canada in quite some time, and her third album Visions, arguably her most accomplished work to date, is a real treat. Reminiscent of the soft and glitchy melodies of Kraftwerk while mixing in the saccharine pop sensibilities and vocals of Cocteau Twins, Grimes gives us an album full of dreamy hooks and boundless energy. And who doesn't love the Dune references from her first album?

She's definitely one to watch for this year; highly recommended!