Tower of God
quote

"What do you desire? Money? Glory? Power? Revenge? Or something that surpasses all other? Whatever you desire - "
"That is here."

Twenty-Fifth Baam is in a strange place. He has just lost his only friend, and he is staring at a monster.

He is on the lowest floor of the Tower of God.

His best friend, Lahel, sought the door to the Tower in order to escape the dark world where they lived. Baam simply got dragged along for the ride. But inside the Tower, everyone must make their own way to the top, and Baam quickly learns that the Tower's inhabitants have a low opinion of "Irregulars" - those who enter the Tower without invitation. Faced with the prospect of a new test on every floor and many, many, MANY intrigues and colliding stories and wills in this alien, magical realm, his determination to reunite with Lahel is the only thing keeping him going.

Written and illustrated by Slave.In.Utero, Tower of God is a new Manhwa with only 48 chapters at the time of this writing. And it is awesome.

This is currently my favorite running manga aside from Air Gear. It is fantastic. It's weekly, every chapter is in glorious

full color

, the art is excellent, and the plot is unlike any other. Really, it's a great read. It's Korean, so you do read it from left to right like you would in English, and instead of a chapter, you get one reaaaaaaaaally long page that you scroll to the bottom of. Anyway, I highly recommend you check it out.

Especially for Rak (depicted as an alligator with a lance in the image above). Rak is <3. His goal in the tower is to hunt turtles. He calls everyone a turtle. Frankly, he's hilarious. His chibi image: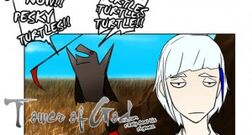 I think there were some of you I told to get into this. It really is worth reading. It probably won't ever get an anime, but I really hope it does.