hideOriginal Post
Oct 21, 11 at 1:26pm
bbb7002004
---




NA: http://www.nintendo.com/nintendo-direct
EU: http://www.nintendo.co.uk/NOE/en_GB/news/nintendo_direct_47764.html
JAPAN: http://www.nintendo.co.jp/n10/nintendo_direct/index.html


A new feature of Nintendo of America's website, Nintendo Direct will contain videos discussing new announcements and upcoming games, straight from Nintendo. We don't know how often this will update, but I'll try and update the thread when a new announcement hits.
Thread Recap (last 10 posts from newest to oldest)
Mar 31, 15 at 10:23am
Gradivus
---
Personally I'm not really looking forward to Yoshi's Wolly World, nor will I be buying it. Certainly would be nice if we get some information about the SMT x FE title though, since it's been so long.

Forgot to mention how much I'm looking forward to more information on the MK 8 DLC as well.
Mar 31, 15 at 10:07am
bbb7002004
---
SMT X FE was still in their financial briefing, for what that's worth, and I too am hopeful for some Woolly World news.
Mar 31, 15 at 9:32am
canderson
---
Top 3 things that will obviously be covered are Splatoon, MK8 DLC, and Super Smash Bros Mewtwo DLC.
I give up on SMT X FE and Yoshi Wooly World(not that I or anyone give a damn about this game)
Mar 31, 15 at 8:22am
bbb7002004
---
I saw a "rumored leak" that said the big news would be a new Pokemon Rumble game and a new Paper Mario game for Wii U, so I guess we'll see. My biggest hope is for Fire Emblem info, I imagine we'll get some out of Japan but I don't know that the West will see any of that.
Mar 31, 15 at 8:21am
Gotenks
---
And I will be at work tomorrow so I will miss it. I'll have to catch it on my break.
Mar 31, 15 at 7:19am
Gradivus
---
6 PM is typically around the time that I'm busy but whatever, I'll definitely be catching this. Hopefully we'll get some information about Star Fox Wii U and also perhaps the new Fire Emblem for the 3DS. Looking forward to it.
Mar 31, 15 at 6:32am
Eiche
---
Nice! Will try to catch this. Probably getting Splatoon, Mewtwo, and Mario Kart 8 pack 2 info, all of which I'm pretty excited for. Yoshi's Wooly World as well, maybe? Maybe a small teaser for Starfox or Zelda? Last two I would imagine will be a big part of E3 instead but I can hope.



"Remember when we told you Zelda was delayed? April Fools!"

Mar 31, 15 at 6:11am
bbb7002004
---
Nintendo Direct incoming tomorrow! This is no April Fool's joke either, totally happening!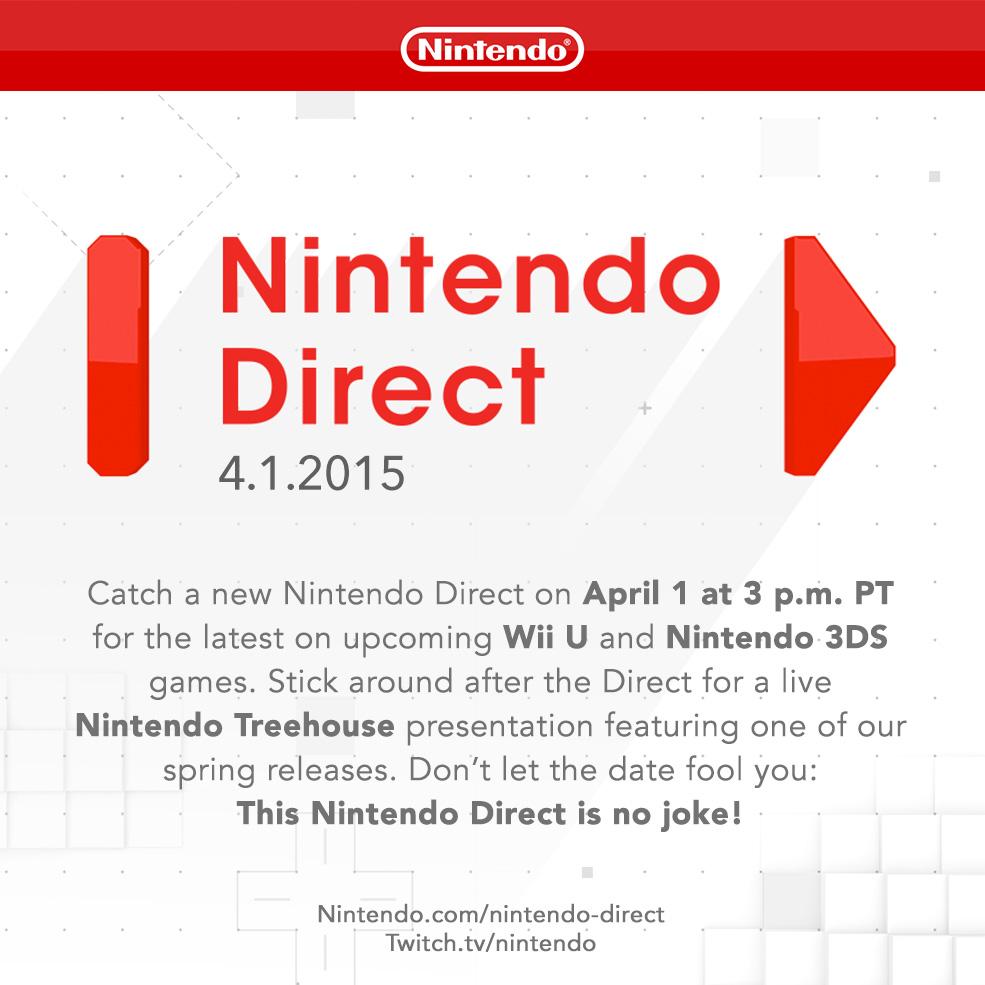 Aug 29, 14 at 6:42am
bbb7002004
---
For those interested in seeing all the news in video form.
Aug 28, 14 at 6:31am
bbb7002004
---
Nintendo Japan is holding a Nintendo Direct focused on the 3DS on . No word on NA, EU, or AU yet, so I wouldn't get my hopes up for a major announcement.
Powered by neoforums v2.3.3c (Bolieve)
Copyright Neo Era Media, Inc. 1999-2015