hideOriginal Post
Jan 26, 11 at 8:40am
BrokenKnights
---
Season 8 Premiere: Sept. 22nd on NBC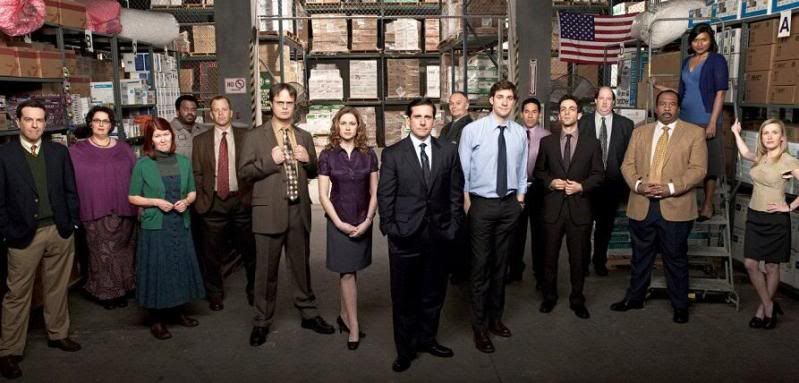 MAIN CAST
Steve Carell, Michael Scott (Season 1-7)
William Spader, Robert California (Season 7-)
Rainn Wilson, Dwight Schrute (Season 1-)
John Krasinski, Jim Halpert (Season 1-)
Jenna Fischer, Pam Halpert (Season 1-)
B.J. Novack, Ryan Howard (Season 1-)
Ed Helms, Andy Bernard (Season 3-)
Leslie David Baker, Stanley Hudson (Season 1-)
Brian Baumgartner, Kevin Malone (Season 1-)
Angela Kinsey, Angela Martin (Season 1-)
Phyllis Smith, Phyllis Lapin-Vance (Season 1-)
Kate Flannery, Meredith Palmer (Season 1-)
Mindy Kaling, Kelly Kapur (Season 1-)
Creed Bratton, Creed Bratton (Season 1-)
Oscar Nuñez, Oscar Martinez (Season 1-)
Paul Lieberstein, Toby Flenderson (Season 1-)
Craig Robinson, Darryl Philbin (Season 1-)
Ellie Kemper, Kelly Erin Hannon (Season 5-)
Zach Woods, Gabe Lewis (Season 6-)

RECURRING
Melora Hardin, Jan Levinson (Season 1-)
Andy Buckley, David Wallace (Season 2-)
Robert R. Shafer, Bob Vance (Season 1-)
Hugh Dane, Hank (Season 1-)
Amy Ryan, Holly Flax (Season 4-7)
Michael Schur, Mose (Season 4-)
Mark Proksch, Nate (Season 7-)
Kathy Bates, Jo Bennett (Season 6-7)

So, the previous thread reached it cap and with all the big events coming up for The Office, I thought a new thread (that wasn't created back in Season 1) might be appropriate.

For those of you who want to know nothing about the coming events avoid the spoiler tag below:




Old Thread
Thread Recap
(last 10 posts from newest to oldest)
Jun 17, 13 at 3:12pm
Chrono
---
I'm really hoping we see all seasons released on Blu-ray, preferably in box set form. Anyone hear any rumors about this or anything? I'm gonna' do some searching.
Jun 13, 13 at 9:29am
Lazzara
---
just watched season 1 - 9 again. it's just... magical

May 19, 13 at 8:11pm
Golden Miru warrior
---
This finale was damn worth the wait. I didn't recognize a lot of the threads in play from ssns 8-9, but it was easy to pick up considering what a gap there was between the previous episode and this one. The panel was great. Every character got their big moment, and that last little afterparty bit was incredibly poignant. I watched on in hopes of a tag... guess when it's over it's over. Classic comedy.
May 18, 13 at 2:59am
Shinobi_razor
---
Really really good finale.
quote Andy Bernard


I wish there was a way to know you were in the good old days before you actually left them.
Andy finally said something smart!
May 17, 13 at 7:25pm
Lazzara
---
i think it was just toby who didn't get what he wanted? lol
May 17, 13 at 3:36pm
RizzyJay
---
Pretty much perfect end to the show. *bleep*ing mark'd for Michael's appearance.
That's it. I'm gonna miss it so much. No more Kevin's shenanigans

May 17, 13 at 2:29pm
Sweeney
---

May 17, 13 at 7:57am
windowlicker
---
"I can't believe you came!" "That's what she said!" - One of my favourite moments on TV. I wasn't actually expecting him to make an appearance but when he did I went crazy. Great TV moment and a great episode. The farewell it needed.
May 17, 13 at 7:04am
BrokenKnights
---
Michael has so many pictures of his kids that he has two phones, with two numbers, and he pays for two plans.

May 17, 13 at 5:28am
Lavitz
---
I thought it was outstanding.
Powered by neoforums v2.3.7 (Bolieve)
Copyright Neo Era Media, Inc. 1999-2015