hideOriginal Post
Oct 15, 10 at 12:27am
SexyDjango
---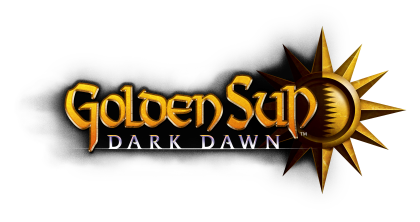 Golden Sun: Dark Dawn site

What's this game about?

It's been 30 years since the Golden Sun rose above Weyard. Since then, the power of alchemy has dramatically changed the world. Continents have shifted, and as a result new countries have emerged, as well as new species of monster life. But the world is now imperiled by a new threat. Psynergy Vortexes, which suck the elemental energy from both the land and Adepts, are spreading across the world. After a mysterious encounter with two strangers, Matthew and his friends set out to uncover the truth behind the vortexes.

When is it coming out?

North America: Nov 29, 10; Europe: Dec 10, 10; Japan: Oct 28, 10

How will battles be conducted this time around?

Battles are random encounters, just like in the previous games.

Will Dark Dawn play like Golden Sun/TLA?

Exploration appears the same as the GBA games, and combat will return to its turn-based roots. Both the touchscreen and D-Pad can be used to navigate menu screens and solve puzzles.

Will I be able to transfer my saved data from The Lost Age over to Dark Dawn?

This game doesn't support file transferring or passwords.

Is there multiplayer/WiFi?

Nope.

Tell me they at least included an arena mode...

Sorry.


Characters

Matthew - Isaac and Jenna's son, and a skilled Venus Adept. Matthew is described as a person of few words with strong convictions.

Tyrell - Tyrell is a Mars Adept as well as Matthew's best friend. Tyrell shares some distinct physical features with his father, Garet.

Karis - Karis is a Jupiter Adept, and also Ivan's daughter. She is friends with Matthew and Tyrell and visits them often.

Rief - Rief is a Mercury Adept and also Mia son. He is described as being highly intelligent, and travels with Kraden who acts as his mentor.

Isaac - The leader of the Warriors of Vale who caused the Golden Sun to rise 30 years ago. He watches Weyard for any strange occurrences from his cabin on Goma Hill where he trains with his son.

Kraden - A renowned scholar of alchemy and ancient cultures who has close ties to the Warriors of Vale. He acts as a mentor to Rief, who he travels with researching alchemy.

Sveta - Sveta is a Manbeast, a race that mutated as a result of the Golden Sun phenomenon. Excelling in the 5 senses, she has the ability to read thoughts and detect odors others cannot sense.

Eoleo - Son of the famous pirate Briggs and Chaucha from Champa. Eoleo is a Mars Adept and is described as a free spirit with a strong sense of justice.

Amiti - A Mercury Adept born into a royal family. Because his own birth is wrapped in mystery, he bears a complicated destiny.

Himi - Himi is a Venus Adept priestess from Yamatai. She inherited mysterious powers from the bloodlines of her priestess mother, Kushinada, which seem to have given her the ability to hear divine messages.

Chalis - Together with Blados, she acts on behalf of Tuaparang to push Matthew to accomplish his goals. Chalis is described as an individual that uses her radiant beauty as means to get close to enemies.

Blados - Blados works as a commander for Tuaparang. The accomplished swordsman works closely with Chalis to manipulate Matthew into completing his goals.

Arcanus - A masked man who works closely with Tuaparang. The Warriors of Vale seem to know his face, yet his true nature is shrouded in mystery.

Videos



Screenshots & Large Images


Thread Recap
(last 10 posts from newest to oldest)
Sep 5, 11 at 2:36pm
Nix
---
You know, I never really experimented with different Djinn on different Characters. I always thought they'd get the best boost when grouped on the correct Adept.
Nov 2, 10 at 12:50am
SexyDjango
---
Bows and knuckles certainly look interesting. I read that some weapons will unleash different attacks depending on how proficient the character is with that particular weapon type.
Oct 27, 10 at 7:30pm
the_REAL_zwarrior
---
Avalith casts Ban Hammer!

Avalith and Co. Win!
Oct 27, 10 at 7:05am
Cashis
---
I hate characters with next to no HP and Ivan and Sheba were those characters
Oct 27, 10 at 4:16am
SexyDjango
---
Part of what makes GS great is being able to diversify your party using Djinn. It adds a strategic element to the game.
quote Zero_is_just_cool


So, Ivan isn't good as a conjurer, because he's not supposed to be one in the first place ò.ó
Ivan's high agility comes in handy when you need to buff the party
before
the enemy has a chance to react.
Oct 27, 10 at 3:31am
Zero_is_just_cool
---
Fact: I never cared enough to use anything other than the starting classes. Anyhting other than that made summoning awkwardly inconvenient, and what I liked most about GS was always djinni and summons.
So, Ivan isn't good as a conjurer, because he's not supposed to be one in the first place ò.ó
Wimpy, wimpy...
Oct 25, 10 at 6:45pm
SexyDjango
---
quote

カリスはイワンの子供, クラウンはメアリィの子供です.
which basically says: Karis is Ivan's child, Rief is the child of Mia.
Oct 25, 10 at 6:21pm
Cloud Me
---
I knew it.
But, I don't see anything about Mia being Rief's mother.
Oct 25, 10 at 5:31pm
SexyDjango
---
http://i1111.photobucket.com/albums/h477/SexyDjango/gsddscan.jpg?t=1288026612
http://i1111.photobucket.com/albums/h477/SexyDjango/gsddscan2.jpg?t=1288026671
Matthew is Jenna's son... Rief is Mia's son.
Expect to see Takeru also.
Oct 25, 10 at 12:42am
Avalith
---
Fact: The only good Mars Adept was Jenna. I
never
used Garet for anything but raw damage.
Powered by neoforums v3.0.0b
Copyright Neo Era Media, Inc. 1999-2017