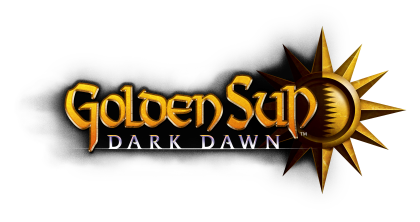 Release Dates: North America: Nov 29, 10; Europe: Dec 10, 10; Japan: Oct 28, 10[/div]


The third installment in Camelot's acclaimed portable RPG series, Golden Sun: Dark Dawn was formally announced during Nintendo's Keynote Speech at the 2009 Electronic Entertainment Expo on June 2nd, 2009. A small trailer for the game (see below) was also shown, along with a very brief demo on the show floor.


General Information
---


I'm gonna have to sit down. I can't believe it. They're actually making a new Golden Sun game!

Go ahead and take a moment to catch your breath. I'll wait. ;]

Now, it has been confirmed that Dark Dawn takes place 30 years after the events concluding Golden Sun: The Lost Age, but I'm still confused as to where exactly things pick up. Mind clearing things up for me?

Little bits and pieces of the story have been shared, although not enough substantial details have been given for me to give you a definite answer. This press release provides some insight on the game's story:


quote Nintendo PR


What begins as a simple journey to rescue a lost friend turns into a dramatic quest to save the land from catastrophe as players are drawn into a world full of magical energy.
It's not much, but I found this screenshot from the trailer that shows a bit of the prologue. Take it for what you will, judging from the previous games and their prologues, this is only the tip of the iceberg.


quote

The heavens stormed. The lands quaked. The seas raged. Across the land, people prepared for the end of the world. The tale spread that this great calamity was caused by some unknown soul who had released a forbidden power upon the world.
The trailer also says that "The Golden Sun was supposed to bring life back to the world, but something went wrong..." So what exactly can we attest from this? Well, we can assume the Golden Sun's rising, along with the new alchemical age did not bode as well for Weyard, much to the dismay of Isaac and his friends.

Rough translation from the updated Japanese website:
http://www.nintendo.co.jp/ds/bo5j/world/index.html


quote

At the end of Golden Sun: The Lost Age, Isaac & Co succeeded in bringing the world-healing power of the Golden Sun back to the world of Weyard. In the years since, the immense power of the Golden Sun has changed nearly everything. Continents have shifted. New countries have emerged, along with new species of monsters. However, the world is far from peaceful. Now imperiled by a new threat, Psynergy Vortexes, which suck the elemental Psynergy from both the land and power-wielding Adepts alike, are spreading across the world. The new generation of heroes are drawn into the mystery behind the vortexes, as they cross a chaotic world that is quickly succumbing to a great evil.
What about the battles? How will they be conducted this time around?
Battles are random encounters, just like in the previous games.

Will Dark Dawn play out like the originals, or will it make the transition to real-time combat?

Exploration appears the same as the GBA games, and combat will return to its turn-based roots. The touchscreen will play a large role in puzzle solving and menu navigation, and will allow more Psynergy shortcuts to be set than in the past. No word as to whether or not other DS features, such as the microphone, or the DSi's cameras, will be implemented, however it is unlikely support will be included.

Will I be able to transfer my saved data from The Lost Age over to Dark Dawn?

As of now, nothing about data being transferred between games has been mentioned by Nintendo or Camelot. There's always the possibility, given the dual-slot support.


Meet the Heroes...
---


Matthew
The son of Isaac, hero from the first two games, and also a Venus Adept. Matthew not only inherited his father's strong sense of justice, but also his sense of fashion (it is pointed out in-game that the scarf he wears once belonged to his father, Isaac).

Known Psynergy: Ragnarok, Earthquake, Quake, Spire, Cure, Cure Well, and Growth

Tyrell
Budding Mars Adept, as well as Garett's son and childhood friend of Matthew, Tyrell shares some distinct physical features with his father, namely the spiky red hair.

Known Psynergy: Heat Wave, Flare, Flare Wall, Starburst, Nova, Volcano, and Fireball

Karis
A Jupiter Adept, like Ivan and Sheba before her, Karis is another childhood friend of Matthew and Tyrell, as well as the only female character revealed so far.

Known Psynergy: Plasma, Bolt, Whirlwind, Impact, Sleep, Fresh Breeze, and Healthy Wind

Crown
Crown is a Mercury Adept who is described as being highly intelligent as well as a very knowledgeable researcher. He travels with a scholar of Alchemy who acts as his mentor.

Known Psynergy: ???

"Harmony"

No further information has been revealed.

Eoleo
The son of the pirate Briggs and Chaucha from Champa. Unlike his parents, he is an adept, and practices Psynergy typical of Mars adepts. Eoleo is described as free spirit, who is filled with a strong sense of justice, and is also identified as the prince of Champa (now a pirate kingdom).

Known Psynergy: ???

...and the villains

Heart
She is one of the commanders of the military nation Tsaparang, and travels with Spade for unknown reasons. Heart is described as an individual that uses her beauty as means to get close to enemies, though it is still unknown what her and Spade's intentions are with Matthew and his friends.

Known Psynergy: ???

Spade
Together with Heart, he is one of the commanders of a secretive military nation covertly named Tsaparang. It is currently unknown whether he is an adept, though much can be assumed. Spade is described as being an accomplished swordsman by Heart. What could his goal be now that the Golden Sun has risen? And what does his intentions mean for Matthew and Co?

Known Psynergy: ???


Gameplay Videos
---


Battle Preview



The battle sequence takes place mainly on the touchscreen. Battling is still the tried-and-true Golden Sun formula you guys know and love. Weapon Unleashes are back <3.
Top screen displays the Djinn on standby or recovery mode.
Some Djinn have unique appearances. The one seen in the screenshot is Flower.
Djinn names so far have been ones from the previous game.
After being summoned, the Djinn displayed on the top screen turn into the little elemental icons (signifying them being in recovery mode).
Exploring the world of Weyard



This video shows off an obstacle course of sorts that gets you familiar with the game controls. A new Psynergy called "Fireball" (appears to be used to ignite fuses and light objects on fire) was revealed. It looks like you can climb trees naturally now, too. What's more, movement can be either handled with either the D-Pad or stylus.


More new Psynergy, Fresh Breeze Jupiter Psynergy.
The Knight class returns for Matthew, Karis dons the Magician Class, and Tyrell sporting the Soldier class.
The last video also shows the maximum number of characters you can have traveling with you at a given time, 5. Note: This number may change later on during the course of the adventure when more characters become available.


Screenshots
---
---