K-ON!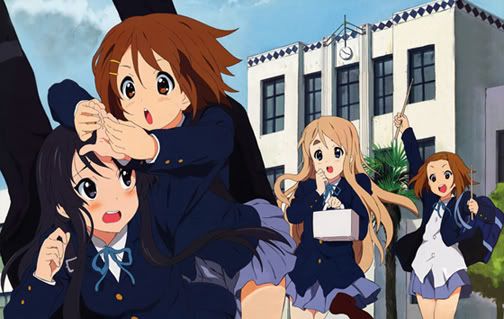 quote Anime News Network


It's Yui Hirasawa's first year in high school, and she's eagerly searching for a club to join. At the same time, Ritsu Tainaka, a drummer, and her friend Mio Akiyama, a bass player, are desperately trying to save the school's light music club, which is about to be disbanded due to lack of members. They manage to recruit Tsumugi Kotobuki to play the keyboard, meaning they only need one more member to get the club running again. Yui joins, thinking it will be an easy experience for her to play the castanets, the only instrument she knows. However, the other members think their new addition is actually a guitar prodigy...
---
I didn't know this series was so over-hyped, until I read the large amount of blog posts covering this anime. Well, it's Kyo-Ani, and they do have a reputation for their other shows. I'm personally interested in this due to the music theme, although this will probably be Lucky Star 2 more than anything else. First episode was pretty good all around. The comedy is quite good too (I laughed so badly at the Ji-ji-ji-Jimmy Page/Jimi Hendrix/Jeff Beck part). I won't expect too much depth out of this show so I'll just have fun and enjoy the ride.

On a small note, wow. The blogosphere is so messed up. Some of them are already rating the show and judging it by the first episode only.

And on a smaller note, Mio and Yui are win.

And on an even smaller note, what the *bleep* man. How do they get such expensive instruments. Yui's Gibson Les Paul costs like $2,500 irl. Jesus.
Update

: Season 2 is out as of apr/07/10!


[color=#666666]This message was edited by Animalover(40163) on 2012-07-09T18:06:38-07:00.