hideOriginal Post
Sep 30, 02 at 1:35am
Angel Eyes
---
Thread Recap
(last 10 posts from newest to oldest)
Jun 21, 15 at 2:05pm
YellowComet
---
The yellow one has always been my favourite, although I don't like its green shoes. I think the colour doesn't go that well with yellow. I used to play as the black and white Yoshi a lot, though, since they were secret Yoshis.
May 30, 12 at 10:44am
yoshi expert
---
I love the rainbow yoshi its so colorful!
Sep 6, 09 at 5:18am
PichuRules
---
I like all of them though I think I like the green one best. He's so cute.
Aug 30, 09 at 6:45pm
Judgment8
---
<3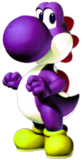 Jul 11, 09 at 10:27pm
Scourge94
---
The epic awesome rare White Yoshi FTW!
-Scourge
Jul 5, 09 at 1:26pm
179 mario yoshi 971
---
quote leovaladares


i like the tan yoshi IT

ROCKS
The tan Yoshi? How do you get the tan Yoshi?
Dec 5, 08 at 11:54pm
Dee
---
I love the red one, it's such a col color, it's weird though because my favorite color is blue, not red!
Aug 13, 08 at 7:00am
Gray Shadow
---
I played this game at my friends so I don't really remember much, long time ago.. But I love red yoshi
Aug 13, 08 at 6:47am
Spiritual
---
I think that I like the regular old green Yoshi. Man, I haven't played this game in a long time..



Jul 20, 08 at 10:11am
leovaladares
---
i like the tan yoshi IT
ROCKS
Powered by neoforums v3.0.0b
Copyright Neo Era Media, Inc. 1999-2017