hideOriginal Post
Jan 10, 09 at 4:54pm
SUPREM_KITE
---
A lot of People have been asking about what models of the ps3 do what. So I got this chart from Wikipedia and edited it a little bit.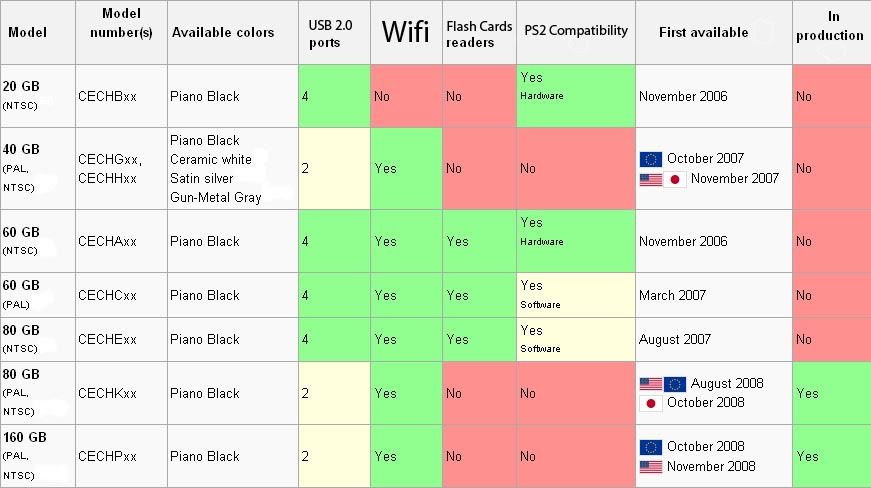 Hope this helps
Thread Recap
(last 10 posts from newest to oldest)
Dec 27, 09 at 10:15am
ChiroVette
---
I agree. I paid the original $600.00 each for my PS3's because I bought them at launch. Also, the launch 20GB (cheaper) model was BC as well. I can't see people getting pissed off if all PS3's were BC, because I think that all models should be BC and SONY originally said they would be.
Oh, and I know this is an old thread I am respopnding to, but I think it is important enough to bump up.
Sep 21, 09 at 11:31pm
Ameer
---
quote SUPREM_KITE


3. it would also make a large customer base that did pay for BC extremely unhappy.

Uhhhh, no it wouldn't. That would be akin to getting upset because the price of a console you bought is less than when you first bought it.
Sep 21, 09 at 10:17pm
SUPREM_KITE
---
As cheap as ps2's are I would just buy a seperate ps2. Also with the ps3 slim and price drop I would just pick up the 120 GB slim for $299.
Sep 21, 09 at 9:11am
Misty
---
Honestly, would it be smarter to get a 40 or 80 gig PS3 and just get a used PS2 for my PS2 games (old PS2 fried) or would would it be smarter to get one of the 60 gig PS3's that backward compatible? When I have money I want to get a PS3 but I need to get something to play my PS2 games on as well. Also is there any way to hook up a wifi adapter to the 20 gig PS3's?
Sep 20, 09 at 10:29pm
SUPREM_KITE
---
It is theoretically possible but I highly doubt it. There are many reasons discussed on hundereds of threads in this forum so search for those I won't go into to detail here, just don't hold your breath.
Sep 20, 09 at 9:51pm
antwerpen
---
Will it be possible for PS3 to play PS2 games at some point? Let's say, if Sony is nice enough to give us some firmware update which includes the capability of playing ps2 games?
May 19, 09 at 6:18pm
Mnmfan
---
I'm gonna unfloat this for a bit to let some other threads get the spotlight for a while. I'll add this to the index and perhaps re-sticky it again in the future if needed.
Apr 8, 09 at 2:30pm
SUPREM_KITE
---
Technically yes it could come out in a firmware update. But don't expect it to. Because
1. you never paid for the feature
2. they took it out because to save money which means doing that would make them loss money
3. it would also make a large customer base that did pay for BC extremely unhappy.
Apr 8, 09 at 12:01pm
ChronicX
---
So by, yes software for bc, its possible for it to come out for every console?
Jan 29, 09 at 12:42pm
Arikardo
---
quote Oncethegunsmokesettl


Well, I strongly believe that the PS3 will last for a long time, and perhaps the 360 will as well. However, in four or five years if Microsoft comes out with a more powerful game system, I hope that the company doesn't abandon the 360 just like they did the XBox. Sony, although they have removed the feature in the latest PS3 models to play PS2 games, they're still dishing out games for the PS2. The corporation responsible for manufacturing the memory card adaptors for the PS3 must be really pissed. It did upset me that I couldn't play my PS2 games off of my PS3; I guess that was Sony's idea of a trade-off. Sony lowers the price of the PS3, and in return they exclude the ability of consumers to play PS2 games off of their new PS3. As for the Wii, you cannot classify it under the same category as the 360 and PS3. The Wii is meant for general gamers; it is not selling on a hardcore gamer basis.


Ok i guess? Maybe the wrong place to post this as this is a thread regarding the PS3's compatibility etc.
Anyways that chart is very useful, should hopefully stop some of the more idiotic questions on this board.
Arikardo
Powered by neoforums v3.0.0b
Copyright Neo Era Media, Inc. 1999-2017