I. Introduction
a. About Captain Falcon
b. Brief Discussion
c. Pros/Cons

II. Moveset
a. Ground/Tilts
b. Aerials
c. Smashes
d. Specials
e. Throws

III. Techniques
a. Auto cancelled Aerials
b. Reverse Falcon Punch
c. Reverse Raptor Boost
d. Falcon Kick Cancel
e. Grab Release

IV. Matchups
a.Good
b.Equal
c.Bad

V. Videos





I. Introduction





A) About Captain Falcon

Captain Douglas Jay Falcon is a bounty hunter and famous F-Zero pilot in the F-Zero series. He drives the Blue Falcon in his races and commands the Falcon Flyer during bounty missions.

In F-Zero X, some of Captain Falcon's DNA was stolen after being hospitalized due to an accident in the F-Zero Grand Prix. The thieves used the DNA to create a clone of Captain Falcon, Blood Falcon. In F-Zero GX, Captain Falcon is 37 years old and the sitting champion of the F-Zero Grand Prix, boosting his already high popularity even higher. In the games' story mode, after winning a number of races and saving Jody Summer, he goes on to defeat Black Shadow and Deathborn. Most of this information came off Wikipedia.com.


B) Brief Discussion

Making guides has gotten popular recently, so I decided to make my own. At first I wasn't going to because I really don't care, but I didn't want to end up correcting the guy that would have made it, because we all know that's what would have happened. If you think you can handle his manliness then continue reading. So here it is: Sephiroth25's Captain Falcon Guide.

C) Pros/Cons

Pros
- 2nd Fastest character in the game
- Can auto cancel his nair and uair (and can reduce all lag from dair and fair)
- Decent aerials
- He's badass

Cons
- Bad hitboxes
- Bad range
- Bad priority
- Bad matchups

II. Moveset

A) Ground/Tilts

Neutral A – Damage: 3%

A quick jab. Despite its lack of damage and knockback, it has its uses. You're going to want to throw out a jab when you whiff an attack right next to your opponent. This is an attempt to stop them from punishing you. Basically, the main purpose of the jab is to disrupt the opponent. Usually it's followed up by a grab, but some people like to mix it up depending on how much damage the opponent has.

AA-Gentleman-Fists of Fury – Damage: 5-11%+

A double neutral A is basically a double jab. It then proceeds to an AAA, commonly known as "The Gentleman." In Melee "The Gentleman" was performed exactly how it is in Brawl, but it actually had knockback, therefore making it useful. In Brawl it just acts as a third jab, with as much knockback as the two previous jabs. If A is held (or pressed) beyond "The Gentleman" you will perform the "Fists of Fury." It's great up against a wall, but if you hold it too long the opponent can DI away and get in a free attack (depending on the character). If you're going to use it make sure not to spam it too long.

Dash Attack – Damage: 6-8%

Falcon lowers his shoulder and runs into the opponent. A non-sweetspotted hit will send the opponent backwards at a slight angle. A sweetspotted hit will pop the opponent upwards at a very slight angle. What I like about this move is that it hits the opponent upwards even at 0%. The move executes very fast with little ending lag, making it a good approach and followup move.

Ftilt – Damage: 9-11%

Falcon swiftly kicks the opponent. This move is good for keeping your opponent at a safe distance, as well as stringing moves together. (ex. dthrow > ftilt)

Dtilt – Damage: 10%

Falcon crouches and sweeps both legs at the opponent. There isn't much knockback from this move at lower percents, so you can try and perform a few in a row. If they start shielding you can just keep spamming this on their shield until they finally roll away. At higher percents it will pop them up in the air and you can attempt to follow that up with something, but remember, this is Brawl.

Utilt – Damage: 13%

Probably one of Falcon's most underrated/underappreciated moves. Falcon lifts his leg above his head and slams it down(essentially a heel drop). This move has a lot of knockback and it hits from the tip of his foot all the way down. It's good for edgeguarding and has the ability to KO. Also, because of its reach, it can hit people on platforms above you. The only real problem with it is a little ending lag.

B) Aerials

Fair – Damage: 3-19%

This is Falcon's fair. That's right, the Knee. Let me start off by saying that getting a sweetspotted knee is not about its hitbox so much as it is about its timing. A weak knee is just that: weak. It does little damage and has little knockback. Something interesting about a weak Knee is that it can force the opponent to fall down. That can lead you to numerous options. An ideal situation to use the Knee is when your opponent is at higher percents and is trapped on a platform above you. If they're laying down, even better. Also, while edgeguarding, you can perform a weak Knee > upair or attempt another knee. I don't recommend going for double Knees too often at all. A sweetspotted Knee has considerable knockback and can kill very early. Make sure not to spam it, otherwise you'll be getting punished a lot.

Uair – Damage: 10-13%

Falcon does a flip in the air, hitting the opponent with his legs/feet. This is Falcon's most common follow up move. This move comes out fast and has decent knockback. Stringing these together is sexy and it can KO at reasonable percentages. You can short hop uair and immediately double jump and do another aerial. A video will be posted in the "Videos" section. Reverse uairs off platforms and for edgeguarding are also very sexy.

Nair – Damage: 4-10%

A double kick. The hitbox on this move sucks something severe. You can literally perform a point blank short-hopped Nair and not hit with it. Unless the opponent's character model is rather tall, don't try and perform a Nair when they're on the ground. You can force only 1 of the 2 hits to hit the opponent and then go in for a grab, which actually works even on shorter characters. This move is only noticeably...somewhat useful on big characters that have horrible aerial options (Ganondorf, Bowser, etc).

Bair – Damage: 8-14%

Falcon extends his arm behind him. Aside from Uair, this is Falcon's other main aerial. If you've been using alot of uairs througout the match (which you most likely have) then you're going to want a strong, fresh KO move like bair. There's not much more to say about this move...you can short hop bair > double jump bair, and do another bair on the way down and you have...a wall of bairs.

Dair – Damage: 14%

Falcon thrusts both of his feet downwards on the opponent (essentially a stomp). This is a move that has a horrible hitbox as well as a *bleep* one. The opponent needs to be almost directly underneath you for it to spike, but if it hits at Falcon's nipples down to his thighs it will send them flying off to the side. Up on the joystick then immediately down on the C-stick = lagless Stomp. This allows you to Stomp spam if you wish, although you can easily be punished for doing so. I find this move more useful off stage for the spike, although I still love to tech/roll chase with it and try to follow up with something. <3 Melee

C) Smashes

Up smash – Damage: 8-29%

Falcon performs two consecutive kicks at an upwards angle. This smash attack is pretty solid. You can get tricky because of how far Falcon slides when you perform a running up smash, or to decrease the distance you can Pivot-Smash. It doesn't have the KO potential that I would want it to, but it's a good move to chase with after a dthrow, uair etc. It's also good to use when the opponent is above you on a platform, or for when you're reading an airdodge.

Down Smash – Damage: 16-47%

Falcon does a forward kick in one direction, then immediately performs a kick behind him. Either hit on this attack has more than enough power to KO someone, especially the first initial hit. It's also really good for when you're trying to read which way an opponent will roll.

Forward Smash – Damage: 19-26%

Falcon lunges his elbow forward. This move definitely has the power to KO, but it is easily punishable. The range isn't bad and you can slightly increase the distance Falcon lunges with his elbow by dashing in the opposite direction you want to hit then slamming on the c-stick in the direction you want the smash attack to go.

D) Specials







Neutral Special(Falcon Punch)

– Damage: 23-28%

This is a fun but not completely practical move. Falcon charges up a massive punch and releases with flames around his fist and arm in the image of a falcon. This move has pretty good range and a ton of knockback, but unfortunately you can see it coming and act accordingly 97% of the time (not an actual statistic). Jigglypuff users should be aware that if they attempt a Rest and miss, this will be their fate. More information about the Falcon Punch will be provided in the Techniques section.







Up Special(Falcon Dive)

– Damage: 12%

Falcon's basic recovery move. The Captain latches on to an opponent and pushes off with an explosive force. No lie. If the opponent is edgehogging you and their invincibility frames are gone then this move will latch onto the opponent and launch them into the stage, resulting in a stage spike. That usually doesn't happen to most knowledgeable players, but it does force the opponent to either try and reset their invincibility frames or get back on the stage. That is new to us Melee Falcon mains. Also, if you're hanging on the ledge and your opponent is trying to edgeguard you, you can drop from the ledge and try and attack them with this instead of a different move that would normally be shield-grabbed. It should also be noted that this move reaches characters that are higher than Falcon's own frame. This is a move of Falcon's that actually got… better.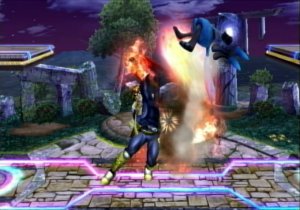 Side Special(Raptor Boost)

– Damage: 7%

Falcon moves back a little bit and lunges forward hitting the opponent with a fiery uppercut. The effect should be obvious. It sends the opponent upwards in flames. That allows you to follow up with another move. This move really shines when you use it off the stage. You are now able to grab the ledge after using this move (unlike Melee), thus giving you a second option for recovery. If an opponent happens to be hit by this move while in the air they will be spiked down. Afterwards, Falcon is pushed upwards, almost as if he pushed himself off the opponent. This means that even if you hit an opponent with this move it won't completely devastate your recovery. More information regarding this move will be provided in the Techniques section.







Down Special(Falcon Kick)

– Damage: 9-22%

Falcon does a fiery sliding kick at the opponent. The biggest downfall about this move is that Falcon does not regain a 2nd jump after using it. While on the ground, hitting the opponent with this move has minimal knockback. A point blank attack has more knockback, although either way this move has minimal knockback at lower percents. If you're in the air coming in from an angle you'll see an increase in knockback. Also, at lower percents, this move has the ability to hit twice. This move can KO at higher percents. It has a tiny bit of start up lag and a lot of ending lag. You can, however, cancel the ending lag by kicking towards the edge of the stage and dropping off during the last part of its animation. You'll be able to immediately perform any move. Further discussion will be provided in the Techniques section.

E) Grab/Throws

Grab Attack - Damage: 1-2%

Falcon knees the opponent. This is NOT referred to as "The Knee."

Down Throw – Damage: 7%

Falcon slams the opponent into the ground, thus popping them up into the air. Falcon can quickly follow up with another move. This is Falcon's most commonly used throw.

Forward Throw – Damage: 9%

Falcon hits the opponent and pushes them forward. At lower percents the opponent will not fall to the ground, so Falcon can follow it up with another grab if he so chooses. If you're towards the edge of the stage the opponent will fall off, giving Falcon an opportunity to attempt a drop zone Knee (or any other move Falcon wishes to attempt).

Up Throw – Damage: 7%

Falcon hits the opponent and throws them upwards. It sends them relatively high, so following it up is difficult. This is Falcon's least used throw.

Back Throw – Damage: 9%

Falcon puts the opponent behind him and kicks them away. If you're facing towards the stage and you're near the edge, use it. Otherwise this throw doesn't do much for Falcon.

III. Techniques

A) Auto Cancelled Aerials

This is a term that is misused. When you short hop with Falcon and you execute a fair or dair immediately after leaving the ground, Falcon will land in the upright position with no lag. This is NOT auto cancelling. "Autocancelling is when an aerial's animation is cancelled at a certain point in its duration by touching the ground. This puts the character into their neutral standing position out of which any move can be done." – Tyr 03. Basically, if you execute a move fast enough to the point where you land with no lag nothing was actually cancelled.

B) Reverse Falcon Punch(B-Reversal)

This is done simply by executing a Falcon punch in one direction and immediately pressing the opposite direction. The result will show Falcon turning around during the animation of the move. It's good for mind games, and actually does 1% more than a regular Falcon Punch (Falcon for top tier?).

C) Reverse Raptor Boost(B-Reversal)

This is done by performing a Raptor Boost in one direction but IMMEDIATELY slamming the opposite direction. Falcon will not move back slightly before doing is Raptor Boost like he normally does. This results in him traveling further and faster. Ground breaking advantages have yet to be reported.

D) Falcon Kick Cancel

While standing on the ground, perform a Falcon Kick so that you go off the stage during the ending animation. This will cancel out any ending lag and allows you to perform any move immediately.

E) Grab Release

I can't believe that Falcon can actually do something good.

http://www.smashboards.com/showthread.php?t=224748



IV. Matchups

A) Good Matchups

I honestly cannot think of one good match-up that Falcon has.

B) Equal

Ganondorf: Stomps and Uairs work so well for Falcon in this match-up. SH'd stomps work well against a Flame Choke happy Ganondorf and Uairs end up being a little more useful for Falcon than they are for Ganondorf. Ganondorf is also the perfect size for Nairs. On the other hand, Ganondorf is awesome at closing the gap. Flame Choke beats Raptor Boost (among other things) and his Uairs can eat through Falcon's aerials. If Ganondorf wasn't as big and/or slow this would not be in my "Equal" section.

C) Bad

Donkey Kong: Holy shit this matchup is hard for Falcon! Let me start off by saying that DK's ground game is so incredibly better than Falcon's. Utilt will beat any aerial Falcon attempts and bair/ftilt are excellent for spacing. Falcon is forced to be extremely patient and find openings. The only real positive for Falcon is that DK is a bigger target, therefore landing moves is much easier. That's normally the case for any character, but you should know by now that that's especially important for Falcon. Shield and grab ALOT. Also, wait for the airdodges. DK players will end up airdodging often because of their lack of a safe move when falling(with the exception of Bair if you're behind them). Make sure to notice these openings and punish accordingly.

Metaknight: This guy is fast and attacks faster. He's short which makes him very hard to hit (which is perfect for Falcon's shitty hitboxes), and almost every move beats Falcons both on the ground and in the air. If you thought you had to be patient with the DK matchup, well you're in for a treat with this one. If you have trouble finding openings and punishing immediately then I don't see much hope for you in this match. Dash attacks and Falcon Kicks(at higher %)are nice because they're low to the ground and they're fast. Dsmash also plays an important role for the same reasons. Usmashes and Uairs are effective since Metaknight spends alot of time above you. I'm almost listing off the major moves that Falcon uses anyway, but the difference is the strategy behind them. Most of the match you want to get a quick hit in and then back off. There is no safety in trying crazy strings on Metaknight. Do not go for anything off stage. Metaknights gimping/off stage tricks + your bad recovery = death.

Honestly, this list could go on. I'll put more up if requested, but I don't feel like adding almost the rest of the roster just to complete the match-ups section.


V. Now for some random videos:


1. Falcon is the WORST character in this game

http://www.youtube.com/watch?v=M-CYzWl2E-Q

2. Combo Video (Although I'm sure you've seen it)

http://www.youtube.com/watch?v=UX1tytsfzEM

3. ISJR (Infinite Second Jump Recovery)

http://www.youtube.com/watch?v=QqHSBgkb4qQ

4. Short-hopped Uair > Double jumped Uair (to a Knee)

http://www.youtube.com/watch?v=Ew-tL18x0kc

5. And by special request a Falcon Punch video (in-game footage)

http://www.youtube.com/watch?v=FFtw7qW7Vcw



I hope you enjoyed reading my Captain Falcon guide, although I'm sure you'll end up playing high/top tier anyways.

...wusses.