---
---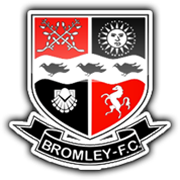 ---
---
TEAM NEWS:
Bromley change their formation today after their shocking loss to Burnley last time out. The attacking midfield trio of Keevil, Davenport and Da Luz is an interesting choice.
Kidd captains the home side.
Derby will play long balls up to their forwards and Sapara will try and find space in behind Bates and Fehmi to exploit.
Buxton captains the visitors.
---
---
MATCH REPORT:KICK OFF:
Bromley are in their home kit of white shirts, black shorts and white socks with the visitors in their away strip of all red.
7' - Bromley have began well but they're trying to find their feet in this formation. Da Luz gets the ball out wide and tries to play Davenport though and the forward takes a touch to come out wide and shoots on the turn but hits the side netting from a tight angle.
13' -
GOAL!
Deeney's goal kick is headed up by Morris and Bates picks it up and drives it wide to Da Luz. The winger sticks a nice through ball to Keiran Fehmi and the midfielder plays it up to
Roy Griffiths
who turns past Reginuissen and is through on goal. From there, you know what will happen, Griffiths unleashes a powerful shot to the top corner of the near post and Deeney is beaten before he can react.
21' -
GOAL!
And there is the second. Bromley have been very fluid today and they attack in numbers as Fehmi chips a great through ball to Curbishley on the wing and Bromley's attacking players flood the box before Curbishley picks out
Roy Griffiths
at the near post and the forward gets to the ball before Buxton and then places the shot in the near post with composure. Excellent finish.
29' -
GOAL!
Bromley have a new look about them. And it is scary. Davenport moves the ball out wide to Curbishley and the full back plays it up to Keevil before running down the wing. Keevil dribbles past three players before a nice little pass to Davenport. Buxton gets to the ball first but
Luke Davenport
dispossesses him and is through on goal, the forward cuts onto his right foot and picks out the far corner with precision.
35' - Derby create their first chance of the game as a sloppy pass from Da Luz is intercepted and Hughes is played down the left. The young winger passes it inside to Gadzev and the midfielder tries to curl it in from range but it goes wide of the far post.
42' -
GOAL!
And they are well and truly ahead now. Page passes inside to Fehmi before making a driving run down the right. Fehmi picks out Da Luz who turns and plays Page through down on the right wing and the full back takes a touch before playing a nice low ball to
Roy Griffiths
and the forward feints a shot to takes a touch on the six yard line and put it in the back of the net for his hattrick. Deeney thought that Griffiths would shoot first time and dived for the shot.
HALF TIME: Bromley 4 - 0 Derby County
- Bromley have been utterly world class today. 55% of the ball and scored all four of their shots on target today. Clinical display of finishing today and although it took a while to get accustomed to this new formation, they've done it to devastating effect. Derby have only had one shot this game which was no where close of beating Nicholls.
54' - Davenport has been at the heart of everything today as he has linked up the centre midfielders to the wingers and Griffiths. Excellent display from him here today and you can expect him to create more and probably get a few more himself.
59' -
GOAL!
Deeney throws the ball out to Sapara but Griffiths tackles him and turns to goal. He picks out
Luke Davenport
and the forward turns past Keogh and is one on one with Deeney and the forward easily smashes the ball past him for his second and Bromley's fifth.
66' -
GOAL!
Clinical. Absolutely clinical. Hughes loses the ball on the half way line to Benjamin Keevil and the winger pings a perfect lofted through ball to
Roy Griffiths
and the striker holds off Reginiussen and slots it past a helpless keeper. Bromley are on a warpath here and there is nothing stopping them.
68' Bromley substitution, Kamyuka > Bates.
77' - Derby cannot string a few passes together before Bromley win the ball back, Kamyuka wins it back and drives a ball up to Griffiths, the forward chips the ball over to Da Luz on the right and the winger brings it down and picks out Davenport in the box, the forward tries to poke it beyond Deeney but the keeper saves and the rebound comes off Davenport and goes over the bar.
90' -
GOAL!
He has deserved his hattrick and there it is. Page takes a throw in to Julian Da Luz and the winger takes a touch inside and runs into the box before playing a lovely through ball into
Luke Davenport
. The forward casually slots it into the near post with a deft touch to claim his third goal.
FULL TIME: Bromley 7 - 0 Derby County
- Wow. Just wow. Bromley blew everyone away with that and thoroughly deserved everything. Seven goals from sixteen shots (of which, thirteen were on target) and 56% of the ball. Bromley created so much space with Griffiths and three supporting players that Derby were helpless today.
MAN OF THE MATCH:
Roy Griffiths got four today in a remarkable display of finishing and he was absolutely superb in his link up play as he also claimed an assist. Clinical display and his rest again Burnley did him a lot of good as he dominated Derby here today.
NOTABLE MENTIONS:
Everything today went through
Luke Davenport
and he claimed a hattrick and an assist. He never had the best game last time out against Burnley but he was a completely different player today.
Kieran Fehmi
and
Ken Bates
kept the team ticking for the most part of the game while both
Julian Da Luz
and
Benjamin Keevil
claimed an assist each and were creating so much space today for each other and the two forwards.
---
---
MANAGER ANALYSIS:
Superb, excellent game today. We went out there and we wanted that right from the start, Our passing, movement, finishing, absolutely everything was on point today and we need to use that as our benchmark to get better than that performance. If we do that then we won't just have a better chance of cementing our status in the Premier League, we can make a statement that we are a team capable of playing in Europe. We have a lot to do but with two more games to go, we can easily finish this with another six points.