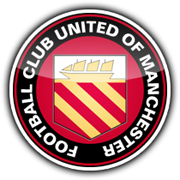 FC United of Manchester - The Ascent to Glory
---
---
Chapter 13 - They say FC United of Manchester wasn't built in a day, but I wasn't on that particular job.
---
We head into January on a sour note. And by 'we', I mean Steve and me. And by 'sour note', I think you already know what I mean. We had a whole lot planned for this transfer season and for it to just blow up in our faces like that, really knocks the wind off our sails. I swear I am going to bring the best players in the summer to make up for this. I don't care if it entails releasing half our current players. I'll release all the ones who aren't performing.
So for our first match this calendar year, we play hosts to Italian side, Ganzoraccio. I just hope none of mine or Steve's bad mood has spilled on to the training ground. Oh well, the way they play in the match will show us if it has.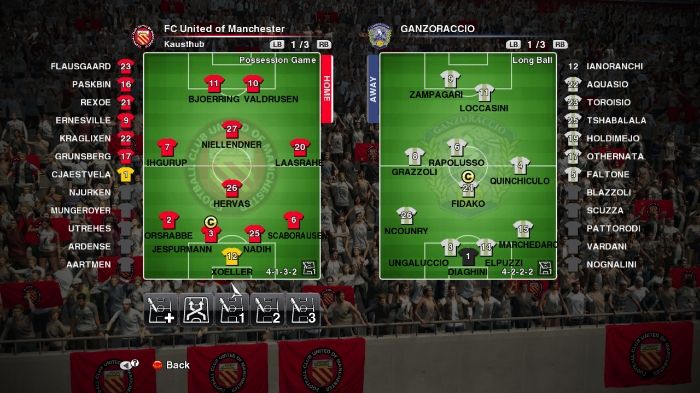 Match Report
Bjoerring's brace helps the Red Rebels gain another 3 points, in what was an otherwise drab performance from their side.
Ganzoraccio, after a slow start, began to get a foothold in the match, and they were seeing plenty of the ball. Both defences, however, were standing firm and goalscoring opportunities at either end were proving hard to come by, but as the half-hour mark approached the pace of the game went up a notch. Loccasini split our defense with a through ball for
Zampagari
to run on to and give them the lead, shooting over the diving Xoeller. We didn't give up, though. Twice in quick succession we went close to equalizing, first from a delightful Scabbby cross headed over by Valdrusen and soon after when
Bjoerring
fired over the bar from close range, the best chance of the game up until that point. The Danish was growing in stature, and in the 43rd minute he lit up Gigg Lane with a wonderful run, accelerating away from Elpuzzi on the right-hand side, and slotted home the equalizer.
We carried on this momentum to the second half, coming close to taking the lead numerous times. Niellendner fed Valdrusen deep inside their half; the Danish striker looked up and slipped it into the path of Hervas who was making his run forward, but while there appeared no imminent danger, the midfielder crashed an unstoppable effort, from 24 yards out, past Diaghini and into the roof of the post. Minutes later Valdrusen was presented with a glorious opportunity to put us in front but, rather than taking the shot on, opted to pass, allowing the Italian side to clear the danger. As the contest entered its final 15 minutes it was flowing from end to end, and as Ganzoraccio pressed forward it required a superb tackle from Scabbby, who had been outstanding for much of the game, to dispossess Zampagari on the edge of our box. Neither side appeared content to settle for a point, and as we went in search of a potentially decisive strike Hervas fizzed another one just over the keeper's bar from 25 yards. There was still time for more drama, though, and in the 90th minute we scored a priceless winner. Grunsberg took the ball from a defender with ease, leaving
Bjoerring
one on one with the keeper. Apparently the striker was too tired to give power to his shot so he just pushed the ball in to give us the lead, minutes before the referee called time.
Match Stats
FC United of Manchester 2 – 1 Ganzoraccio
43'-  Bjoerring	    21'-  Zampagari
90'-  Bjoerring

 - Bjoerring

Bjoerring's first goal
Bjoerring's second goal
---
A decent come back, but I'm still not happy with that performance. It was too close to call. We could have and should have done much better. But the lads did step up their game in the second half, I'll give them that.
Next up is another home match for us, this time against Joachnaard. Not many changes to the squad. Flausgaard replaces Bjoerring, whilst Valdrusen is shifted to his natural position LMF, taking Aartmen's place so that Rexoe can play as the Second Striker.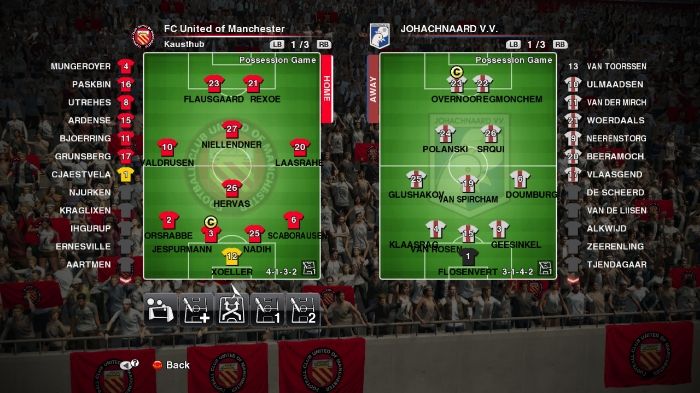 Match Report
FC United went twelve points clear at the top of the PDII League following a comprehensive 3-0 win at Gigg Lane
The first moment of quality in the game came from Valdrusen, who picked out the run of Flausgaard with a delightful pass. The striker's cross was turned behind for a corner, and though Niellendner's delivery was a decent one, Johachnaard managed to clear their lines. Soon after, Valdrusen, again, picked out the run of Rexoe just inside the penalty area, but as the striker looked to check back inside Van Rosen to get his shot away, the defender was able to get a touch on the ball to nullify the threat. A sloppy back-pass off the knee of Van Spircham presented an opening for us, as the players quickly passed around the ball on first touch, allowing
Flausgaard
to get a double shot, the second of which went in off the post. We were
1-0
up. The goal sparked the Rebels into life and we began to take control of proceedings. Rexoe went close twice in quick succession; first with a right-footed strike which rolled just wide and then with a header from an excellent Scabby cross. As the opening 45 minutes drew to a close Rexoe forced another brilliant stop from Flosenvert with a stunning effort from just inside the box.
The second period was much like the first, in that we had a lot of opportunities going front, and fizzling out most of their counters. Inside of twenty minutes, we extended our lead. A long ball from Jespurmann was headed on by Valdrusen for Flusgaard to take it through. Although the Belgian forward reacted slowly, he freed the ball from the clutches of Geesinkel, allowing
Rexoe
to capitalize and curl home a shot with the inside of his left foot. Ten minutes later, as a rare Johachnard attack broke down, Orsrabbe carried the ball out from the back and, looking at Valdrusen making the run ahead of him, lobbed a pass for the versatile Danish player to collect. However, Valdrusen lost the ball when Geesinkel and Doumburg pounced on him, and the former tried to switch the play to the other side of the field. But his pass lacked power, and fell neatly into the legs of
Rexoe
, who dribbled past his man, and powered the ball in from outside the box. 3-0. A great match all round, one to remember our ability to dominate.
Match Stats
FC United of Manchester 3 – 0 Johachnaard VV
34'-  Flausgaard
62'-  Rexoe
79'-  Rexoe

 - Rexoe

Flausgaard's goal
Rexoe's first goal
Rexoe's second goal
---
I can't really complain about that performance. Every manager would love a dominating 3-0 victory. It was a tale of two halves for Valdrusen. The first; he was a bit of a peripheral figure, playing in his old position after a long time, and the second; he came to life. He was an absolute beast down the left flank, making crucial plays and interceptions. He would have been MOTM, if not for Rexoe. An absolutely stunning performance from the lad.
Tomorrow, we face Raltonvegua. If you remember, we had a very tough time against them in home fixture, due to their positioning and disruptive passing. I had also asked Steve to take down notes of their plays, so we could further better it, and implement it in our squad. Well, I haven't done that. But before you start judging me, I'm actually waiting for the season to get over. No point in forcing a new way to play, on the team in the middle of the season.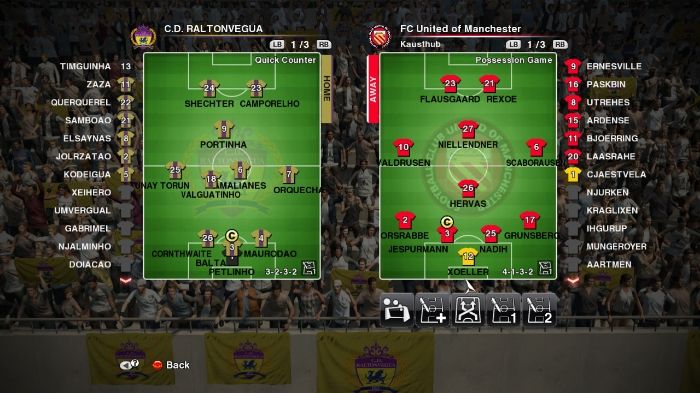 Match Report
Julien Flausgaard struck late as FCUM beat Raltonvegua in a 7-goal thriller
We started on an average note, keeping the ball well but not creating many opportunities. However, we had the first sight of goal, Rexoe blasting over the bar after being teed up by Scabby. Five minutes later the Swedish striker who forced Petlinho into action again, with one of his low shots. Flausgaard took the rebound, which came off the keeper's quick hands, but
Rexoe
easily tapped it in to give us the lead. Our joy was shortlived, however, when
Shechter
leveled the scales with a curling effort after going one on one with Xoeller. 1-1. After a slow start the game was developing into a decent contest, with players on both sides prepared to take risks they perhaps wouldn't otherwise. Just before the half-hour mark Xoeller pulled off a magnificent save to keep us in the contest. Portinha evaded Nadih with some neat footwork before sending his cross into the path of Camporelho. The Italian swivelled and shot, and with the ball destined for the bottom corner, Xoeller somehow clawed it away. Six minutes before the break, Grunsberg played an amazing through ball down the right for Rexoe to cross in, which was volleyed in with some power by
Flausgaard
, giving us the lead, and some momentum going into half time.
The second half saw us have much more control over the match than the first. Flausgaard challenged Baltao inside the Raltonvegua penalty area, and as the loose ball ran into the path of Rexoe, the Swedish striker showed great feet to round and curl the burl with his left foot to the far post, but the shot was inches wide. We gave them no chance as once again, we showed some great movement and passing, and Rexoe split the defence with an amazing through ball for
Flausgaard
to collect and easily nick it home. 3-1. Fancying an easy win, I took out Niellendner for Ernesville and brought in Grunsberg for Valdrusen, shifting Scabby to the other flank. But this proved costly, as in the span of 5 minutes, Raltonvegua scored two goals. First a through ball from Portinha saw
Shechter
outrun his mark, and finish the job to bring them within one. Next, a mistake from Grunsberg allowed Tunay Torun to run up the left and deliver a cross that was converted by
Camporelho
. For the last 15 minutes, I was on the edge of my seat, nervous. Then the unthinkable happened. Rexoe ran down the penalty box, evaded his man, whipped in a cross and
Flausgaard
completed his hat-trick by an unbelievable header. What had been a exciting second half display was compounded in the 90th minute, by that header, and rightfully so, as we scraped a hard-fought win away from home.
Match Stats
CD Raltonvegua 3 – 4 FC United of Manchester
28'-  Shechter   23'-  Rexoe
67'-  Shechter   39'-  Flausgaard
72'-  Camporelho 52'-  Flausgaard
	           90'-  Flausgaard

	            - Rexoe

Rexoe's goal
Flausgaard's first goal
Flausgaard's second goal
Flasugaard's third goal
---
What a nailbiter that was! I absolutely loved the effort we put in, in the final third. But on the other hand, I'm becoming increasingly wary of our slowly deteriorating defence. Ardense cannot be counted upon every single time, or at any given time for that matter. Mungeroyer, while better than Ardense, lacks the stamina and tenacity to last an entire ninety minutes. And while Jespurmann is doing well this season, I'm not entirely sure if he can lead us consistently next season, as his years are also catching up with him. I have some ideas for replacements, but I'm also looking at what alternative formations I can use, as we require creativity in the midfield.
So tomorrow we face Cantlesir Spor, at home. We had a really tough time against this team also in the first fixture, what with their fluid passing and movement. But I think we've improved from then on, and we can play better than we did the last time around.
Match Report
Flausgaard strives to prove his worth at FCUM as his man of the match performance helps the Red rebels bag another three points
It was an auspicious start for us, our first play almost leading to a goal at their end. But our second chance at goal proved to be fruitful as Niellendner dished the ball out wide to Rexoe, who played a free cross in for
Flausgaard
to nod in. We were up by one, and it hadn't even been ten minutes in. Then an attacking Aartmen was fouled when he was cutting in from the wing. Laasrahe took the corner, but the keeper got to it in time to push it away. After around twenty minutes, there was a good link up between Rexoe and Scabby, followed by the latter doing well to get a cross over, but Flausgaard hooked a difficult shot well wide. There were some good combinations starting to appear from our boys in the red and after a spell of sustained pressure, the ball came out to Hervas who balanced himself before unleashing a crisp 25-yard drive. Olkavan had to spring high to push it over the bar. Then in stoppage time, a mistake from Mungeroyer in our penalty box ended with
Akusren
capitalizing on the loose ball and leveling the score just before the whistle was blown.
'Come on Rebels' sang Gigg Lane in the opening minutes of the second period. No-one wanted the stress again of the closing minutes of the previous game against Raltonvegua. A goal was now well overdue. And the players responded well. Aartmen again cut in, this time evading the defenders' challenges, and tried a very good curling effort but Olkavan got his gloves to it in time. On the 54th minute we witnessed something truly spectacular from the players. An amazing cross in from Laasrahe, saw
Flausgaard
literally flying through the air to head the ball home. 2-1, after an acrobatic header from the Belgian striker. Xoeller had to then stop two long-range attempts from the visitors, the second after Jespurmann and Ihgurup had both been turned while challenging for the ball. There was also a shout for a penalty as Mungeroyer's arm appeared to prevent Gizdil getting his head to a cross. But the referee continued play. The rest of the half witnessed a quiet game from both sides, with us keeping possession of the ball and creating lesser chances, and Cantlesir trying their best to equalize, but they lacked the spirit and domination they had when we first faced them this season.
Match Stats
FC United of Manchester 2 – 1 Cantlesir Spor
6'-  Flausgaard	    45'-  Akusren
54'-  Flausgaard

 - Flausgaard

Flausgaard's first goal
Flausgaard's second goal
---
That header was brilliant! I reckon it could be goal of the season, or a top contender at the very least! Now I've got to keep Julien's performances in mind too. At the start of the season, I deemed him deadwood, and was planning to offload him next summer, but he's been determined to prove me wrong and he's succeeded. He's stepped into Bjoerring's shoes when we needed him to. I really don't know what to do now.
Our next game is against the dreaded PES United. Let me be honest here. I expect us to receive a thrashing, even if we are playing at home. They are one of the two best sides in the League, with WE United being the other. They've got quality in every department. I told much the same to the lads yesterday at practice. But I also told them, that even if we do go down, we should go down fighting, fighting with that rebellious spirit we are so often quoted as having. The boys looked fired-up and motivated by the sound of that. Hopefully, it will show today in the match.
Match Report
A stalemate at Gigg Lane awarded a point a piece to both FC United of Manchester, as well as PES United
The chances were there on a warm spring Stamford Bridge night, increasingly so for both teams as the game drew to a close. It culminated in Flausgaard hitting the bar in the closing moments but on the whole both sides looked a little drained of ideas and inspiration after recent events. The first on-target attempt in this 8pm kick-off was PES United's - from Beckhold, the striker who had been cup-tied for their semi-final in the PDII Cup. A downward header from a Carinho cross was stopped by Xoeller, and the rebound to an open goal, unbelievably, went wide. We started to advance, after that wake-up call. The slippery Rexoe found a small gap between centre-backs Blowed and Zariano but lost his footing as he attempted to find Flausgaard. Then the visitors escaped again and Beckhold could have done better than drill a shot straight at Xoeller when one-on-one with our keeper. Thirteen minutes in the visitors' captain Ndoner received a telling off for a lunge in on back-to-goal Aartmen midway inside their half. From the free-kick, Niellendner rose well to meet Flausgaard's ball but his radar was off and the header dropped well wide. From the next attack, fifteen minutes later, Hervas had a go, his 30-yard-plus drive dipping not too far away. It would have been unfair describe the first-half action as dull, but accurate to say the football lacked the intensity and concentration seen in the momentous matches that had preceded this.
We began to up the tempo of our passing a little in the second half and started to find more red shirts in the box. Before any of the subs I made could make an impact, Nadih, who had been enjoying an imperious game in defence and possession strode into a gap in the middle and let fly with his left foot from 35 yards out. It took a diving save from Quintaca to prevent what would have been one of the goals of the season from the skipper. Flausgaard blasted over with 17 minutes left on the clock after intercepting a good PES United move across the ground. Beckhold headed powerfully over after Zortequa chipped a ball in as the two tiring sides began to allow more chances. On 78 minutes Rexoe, dribbled wonderfully past a number of defenders, faked one inside their penalty box, and aimed a curler for the far post, but it went just wide of the mark. In stoppage time came a moment of deep concern for us when Xoeller bravely won a race with Beckhold to head clear outside his area and take a big blow. He staggered on to his knees and needed treatment but the impact had been face more than head and he could continue what personally had been a good game, till the end.
Match Stats
FC United of Manchester 0 – 0 PES United

                            - Blowed

---
I'm pretty happy with this month. I reckon we've still got a lot of work to do if we want to hit the ground running in the Premier League. And I'm definitely looking at a change in our formation.
---


Trying out a new thing here, adding captions to my pictures. Not sure I like it, but I'd love to hear your thoughts.

Just let me know if any of you guys wanna be tagged.

AbirHT Master-Sacker Scyzee Johnny Pizza Man 78 Bluestillidie00 Adinio