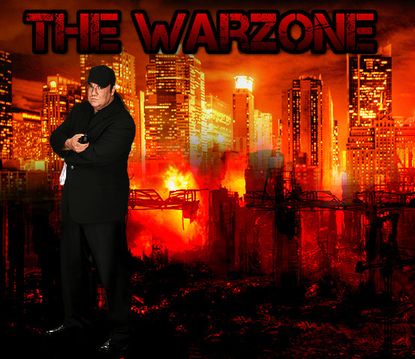 - - - - - - -
War Zone opens up without any of its usual fanfare. In place of the usual pomp and circumstance, is the Superbeast standing shirtless in the middle of the ring in full UFC garb. He has a microphone in his left hand, and a Steel Chair in his right. As "Superbeast" by Rob Zombie continues to boom throughout the arena, the Animal brings it to a halt.
Lesnar:
CUT THE MUSIC!
His theme abruptly ends, which allows the chorus of boos he is recieving to become audible. Brock has done a tremendous job of terrorizing the company lately. These boos are justified.
Lesnar:
If I were you people, I would SHUT THE *BEEP* UP and listen to every damn word I have to say! Cause depending on how this goes, this could involve every last single one of you pukes!
The commentary team has had no time to analyze or gather their thoughts. Its clear this was not a planned part of the show.
Lesnar:
HEYMAN! I know your fat ass is back there! I'm going to make this perfectly...crystal...clear. I want Edge! I want a match, with Edge! I don't care if he isn't employed, you do whatever THE *BEEP* you have to do to make it happen, RIGHT *BEEPING* NOW! Cause if you don't...
The camera zooms in on Brock as he holds the steel chair up.
Lesnar:
I'm going to start introducing everyone in the audience to Mr. Chair here! And I'm gonna start, with the circus freaks right behind the announce team. Yes I'm ta-Michael Cole if I were you I would get that stupid look off your face before I come down and wipe it off for you!
The camera zooms in on a noticably somber Michael Cole, none of the commentators have made a peep.
Lesnar:
That's what I thought...NOW I'M DONE DICKING AROUND! [slams chair into mat] Either Edge is in TCW in 5 seconds, or I'm sending people to the hospital. Remember Paul, you got me this contract, I can't be held accountable for my actions. Their blood is on your hands!...you have 5 seconds starting-
???:
WHO IN THE HELL DO YOU THINK YOU ARRRRE?
There is a tremendous pop from the crowd as the Chairman of the Board himself, Mr. McMahon appears on the titantron from the back. He's none too pleased with Brock.
Vince:
So this is the big Bad Brock Lesnar, huh? You walk around here like you're some big shot, with your invincibility clause threatening fans to get what you want? You're no tough guy, Brock. Quite frankly what you are, is a COWARD!
In addition to causing a huge pop, Lesnar's face grows visibly red and his teeth begin to grit from rage.
Lesnar:
Is that so? Well why don't you come down here and say that to my face you old piece of *beep!*
Vince:
Oh trust me, Brock. I would love nothing more than to come down there and tell you exactly what I think of you. DAMMIT! I'm Vincent Kennedy McMahon, and while you might kick my ass, I'm going to remind you of two things, Brock! First of all, you arrogant son of a bitch, you need to be careful of what you wish for. Second of all, there's a reason everyone around here says "Don't cross, the boss." Oh yeah.
Lesnar stares coldly at Vince as he looks down on him. He's hanging off his every word, as is this crowd.
Vince:
You see, Brock, earlier today I had a meeting with the board of directors, your name came up quite frequently with regards to your actions as of late. We all came to the conclusion that you really are the Superbeast, as you claim you are. There's nothing I can do to stop you from hurting innocent people. Hell, some of the people you've taken out needed the beating! But we can't have you holding this company hostage week in and week out, Brock. You see, I might not be able to suspend or fire you, but no one, AND DAMMIT I MEAN NO ONE is above this business. And lately, it seems someone has done a pretty good job of putting you in your place... I think you know who I'm talking about. Effective immediately, Edge is now a full time TCW Superstar!
This elicits a huge reaction from the crowd, as well as an evil smile from Lesnar.
Lesnar:
Well isn't that something! Vince, I knew there had to be at least one capable-
Vince:
I'm not finished dammit! You remember what I said about not Crossing the Boss, and being careful what you wish for? Well, I don't know about you, but if I were in your position, I would be watching my back...
Lesnar:
What do you m-
An enormous pop from this crowd erupts as Edge comes from no where and plants Brock from behind with a back face drop. Edge is on Lesnar in a flash and begins pummeling him with hard lefts and rights to the face. Using his tremendous strength, Brock throws Edge off of him and quickly tries to get to his feet, the Animal dazed from the blindside. He gets up, and almost walks right into a SPEAR! but he dodges it and gets the hell out of the ring. Edge gets on the rope and taunts at Lesnar, his cowardice showing as he makes a hasty retreat to the back.

War Zone opens as Edge Taunts for the fans as the intro video begins to play...
Cole: Ladies and gentleman, welcome to TCW War Zone!
Taz: That's right Cole, and we are just off the presses of No Mercy, where luckily, that joke Santino Marella failed to win the World Title.
Booker T: Now, now, Santino gave it one hell of a fight and very well could've been our World Champion.
Taz: Could've, should've, would've, but he ain't! Taz laughs
Cole: That's enough Taz. Though he is correct, Dean Ambrose is still undefeated and he still is TCW World Heavyweight Champion. But that could change, as tonight, he runs the Gauntlet against Kyle O'Reilly, Drew McIntyre, and Ken Kennedy.
Booker T Man, I am looking forward to that! But first, let's see the TCW debut of one John Cena.
John Cena vs Christian Cage
Singles
There's not much of a history between these two. Cena and Cage have, for the best parts of their careers, avoided one another's paths. Until now, of course. Cage springs from the corner at the sound of the bell and rather dim wittingly tries to defeat Cena in a struggle of power in the centre of the ring. A contest he, inevitably loses as Cena throws him against the ropes; Christian rebounds, ducks under a swinging right hook from Cena and hits John in the back of the leg with a drop kick! Cena falls to one knee and Christian uses the rope again, accelerating into a bull dog! Cover; one, two – but John Cena will not go down so easily! Christian thinks better about asking the referee about the count and goes straight back to work on Cena, kicking him into the corner and stoming him against the turnbuckle. It was going well until Cena get a grip of his leg and, in another show of superior strength, powers his way back to his feet, still holding Cage's leg, and throws him to the canvas. Cage bounces straight back up, only to get a jumping shoulder block as he does! This continues for a few turns until Cena spins Christian into a spinning-sit out powerbomb! "You can't see me," he tell Christian as he catapults off the ropes and nails him with it!
Christian rolls over to his knees, holding his face as Cena pulls him back to his feet and hoists him onto his shoulders! Time for an Attitude Adjustment – but Christian slips off and pulls Cena into a roll up! Referee is on it like a car bonnet; one, two, three! Christian Cage has won it! He slips from the rings and enjoys his victory on the ramp before Cena has time to work out what just happened! What an upset!
Taz: Would you look at that!
Booker T: I tell you, I think Christian may be onto something here.
Cole: The guy's insane Booker!
Booker T: Maybe so, but he's fast approaching my fav five. Much like a man in our next match, Wade Barrett.
Wade Barrett vs Alberto Del Rio
Singles
It's been a long time in the making; finally Alberot Del Rio and Wade Barrett are standing in the ring with only a referee to keep them apart. The bell rings and it's on! Both men disregard entertainment value and get straight into an exchange of blows; an are where Wade comes out on top! After a few expert shots to the mid section all but cripple the Pride of Mexico he breaks off, doubled over and looking vulnerable. Sensing a chance to end this here and now, Wade closes in – only to realise to late it was a feign. Alberto lashes out with a stiff kick to the outside of his left leg, sending him to his knee, and then follows up with a big boot to the face. And another. And another. Until he gets up one more time and walks straight into a tilt-a-whirl back breaker! Wade rolls onto his front, nursing the small of his back, as the referee does a quick check if he can continue. Giving Alberto the perfect chance to baseball kick out of the ring and out to ringside! The referee doesn't like that one bit, and ticks off Alberto for excessive force; oblivious to the fact that Ricardo Rodriquez has just given Wade a running kick to the ribs! The crowd shouts foul, but the referee is too preoccupied as Ricardo feeds Wade back into the ring. Alberto collects him and drags him to centre ring, giving him a slap tot he head for good measure as he coaxes him back to his feet. There, Alberto gives him an insulting slap across the face – and wade replies with a tooth right hook! He follows up with a series of surgical punches in key sections of Alberto's body, slowly cutting him down to size as Ricardo looks on helplessly from ringside. He pounds Alberto into a corner, gives him a hard shove into the turn buckle and hoists him up for the Wasteland on the rebound! This could have been all over, had Del Rio not slipped free and nailed him with a backstabber on the way down! Both men lay on the canvas, motionless, as the referee slowly counts towards 10. He reaches 6 and Alberto is on his feet, 8 and Wade joins him. The Brit looks up just in time to see and incoming Alberto with his knee raised.
He dives under him, catapults off the ropes and nails him with the Bull Hammer! Alberto is out of it but Wade, exhausted, collapses with his back against the ropes before he can go for the pin. A chance he would never get, as Ricardo steps up and nooses Alberto's prized scarf around his neck and starts to choke him out! The referee calls for the bell, giving Wade the win by disqualification! It takes a few painful moments for Wade to struggle free of the scarf, but when he does he turns on Ricardo and swears revenge on him – unaware that Alberto has found his way back to his feet behind him! Wade turns; Alberto kicks him in the gut and throws on the Cross Armbreaker! The ring attendant rings the bell to remind him that the match has already been lost but it matters nothing to Alberto, who keeps the hold on until he's satisfied that significant damage has been done. Pleased with his work, he takes his leave. No music, no fanfare, just a very annoyed crowd and a possibly injured Wade Barrett left in his wake.
Taz: That's teaching him some Alberto!
Cole: What the hell do you mean Taz?! That was completely uncalled for Del Rio!
Taz: Maybe so, but he's teaching Wade not to mess with him, and I agree with how you teaching someone a lesson. Just like I'm sure Batista and Orton are going to for Cody Rhodes and Triple H having screwed them this past Sunday.
Batista/Orton vs Triple H/Cody Rhodes
Tag Team
"Evolution" plays over the loudspeakers, and HHH and Rhodes step out of the curtain. It certainly is odd seeing half of Evolution, and knowing that they are the only half remaining of the super group. Dashing Cody Rhodes hops onto the turnbuckle and egotistically smooths his hands down his face, cockily, and HHH performs his own signature taunt..
"I HEAR VOICES IN MY HEAD!"
Both Dashing Cody Rhodes and Triple H gaze up the ramp to Randy Orton, who steps onto the ramp and stops to wait for his partner… No, Randy Orton is holding a microphone. What will the Viper have to say?
Randy Orton:
Rhodes! Hunter! At No Mercy, I was left wondering why you would cost me my rightful shot at holding gold! But then I remembered something. Evolution isn't a gold-hungry team, we're a process. We stand for Evolution! And, despite looking like the prime example of Evolution, something has been holding us back, and I now see that that was Batista! You see, you didn't lay a finger on me, and I took that as only shunning the one who has stunted our growth! Batista! I'm not the weak link in the chain, and I know that you see that I..
And Orton's taken down! A massive clothesline to the back of the head from the Animal Batista! What is going on?! Batista scoops Orton back up from the steel ramp, and lifts him up for a massive Batista Bomb! Orton's head cracks against the ramp! Now Dashing Cody Rhodes is up the ramp in an effort to save Randy Orton – apparently showing that they intended to retain Orton all along - but he's caught by Batista with a massive Spinebuster! His spine has been cemented into the ramp, and Batista's eyes fly to the eldest of Evolution, Triple H, who was just about to step out of the ring to help his protégé, but he freezes between the ropes as Batista begins making his way to the ring to confront Triple H. As he slides into the ring, Batista catches HHH off guard with a spear! Orton still hasn't moved, and Rhodes is having trouble getting to his feet, as Batista pummels HHH with punches! And he pulls him to his feet and puts him into position for a Batista Bomb! Thumbs up! Thumbs down! But wait…
Suddenly, there's a blur and Batista is on the mat following a fierce blow form a quickly moving attacker! Batista struggles to his feet, as the imposing figure of none other than Antonio Cesaro stands across the ring! Batista turns and he's met with a running European Uppercut from Cesaro! Triple H is now to his feet, and he… tells Cesaro to pick him up off the mat, to which he obliges! Were these two in cahoots the whole time? Cesaro puts Batista in position for the Pedigree, and HHH slams Batista's face into the mat! Dashing Cody Rhodes is at ringside, and is ripping up the padding on the arena floor! Cesaro lifts Batista back to his feet and whips him out of the ring, manhandling the humongous Batista from the ring and onto the arena floor, where Rhodes lies in wait. He lifts The Animal to his feet, before twisting him to the mat with a devastating Cross Rhodes to the exposed concrete!
The Animal isn't moving! Rhodes slides into the ring with Cesaro and Triple H, and the three hold their hands together and up above their heads, as "Evolution" plays until the broadcast fades to commercial.
Carlito vs Fandango w/The Funk
Singles
The formerly Caribbean Cool Carlito and the new on the scene Fandango, escorted by The Funk himself, take positions and wait for the bell in front of a rather subdued crowd. Nobody is really sure about either of these two performers, or who to side with as the bell rings and Fandango dances across the ring – into the path of a leaping clothesline from Carlito who is having none of it! The Funk slaps the canvas to encourage his partner but Carlito its focused, dragging Fandango to his feet before whipping him into the turnbuckle – them hitting him with a springboard bulldog as he staggers back out! Carlito covers; one, two – but it's not ever that easy! Fandango survives, if only just, and Funk tries to rally public favour at ringside. Carlito lures Fandango back to his feet before giving him a stiff right hand slap to the face. All it did however was shake off the cobwebs, because Fandango replies with a thunder clap of a round house kick! Carlito falls to his knees, holding his head, and Fandango moves in behind him for a Russian Leg Sweep! Neither man gets up immediately, and it's a slow race to their feet as the referee starts counting. He makes it to 7 and Fandango is first to his feet, only to get sent back down by a kick to the gut and a swimming neck breaker! Carlito is back on his feet, taking a moment to taunt Fandango in a manner more familiar to his older self when all of a sudden he's struck by a missile from ringside; an apple! Funk just pelted Carlito with an apple. More stunned than anything, Carlito turns around and looks at the Funk; presenting Fandango with the opportunity to hit a Swinging Reverse STO – but Carlito blocks it and reverses it into the Backstabber! Carlito covers; one, two, three! Funk's tactic proves fruitless (See what I did there?) and Carlito takes the win!
Booker T: Wow, dawg! Despite the interference, Carlito picks up the win!
Cole:Let me guess, Fave Five? Go on! SAY IT BOOK!
Booker T Y'know, I just can't be too certain. You don't want to make too hasty of a decision when you talk about something like the Fave Five! Hahaha!
Kane w/The Undertaker vs Dolph Ziggler w/John Morrison
Singles
Ziggler is slow to get into the ring following the pyrotechnics from Kane's entrance as the referee rings the bell. He ducks the initial lunge by Kane and begins kicking away at the knee of the Big Red Monster. He tries to chip away at his much larger foe before running off the ropes but receives an uppercut to the throat on the rebound! Ziggler bounces to the ground clutching his throat as he scrambles for the ropes, his offense stopped. Kane doesn't let him get away as instead, he starts pulling Ziggler by the leg. Dolph clings to the rope for dear life before the referee is forced to get Kane off of him. Kane lets go and heads in to pull Ziggler off the ropes another way, but Dolph takes advantage and trips Kane into the ropes! This time it's Kane who is struck in the throat as Dolph checks Kane….Fame-Asser! Kane is driven face first into the mat and Dolph rolls over the 300 pound frame; one, tw-kickout! Dolph pounds the mat in frustration before sliding away, stalking Kane as he pulls himself up in the corner. Kane is up and Dolph charges for the splash, but Kane steps out of the way! Dolph crashes into the turnbuckle and turns around…side slam by Kane! Kane hooks the leg; one, two, kickout by Ziggler! Kane doesn't get frustrated and instead ascends the top rope. It isn't often the big man goes up top, but he's dangerous when he does….Morrison's on the apron! Morrison tries to pull Kane off the top rope while the referee yells at him, but Undertaker is there to help his brother! He pulls The Shaman of Sexy down and drives him spine first into the steel ring post as Kane tries to steady himself back on the top turnbuckle for the clothesline.
Dropkick by Ziggler! Ziggler was given time to recover by Morrison and just dropkicked Kane off the top rope! The Big Red Monster crashes to the mat while Dolph stalks the tag team champion. Kane reaches his feet, Zig Zag! Ziggler hits the Zig Zag with authority before covering Kane, forearm in the face; one, two, three! Dolph has just upset one half of the tag team champions with help from his partner!
Cole: Oh what the hell!
Taz: That's how the Show Off gets it done!
Booker T: I was impressed with Ziggler in that match, hanging in there with the tag team champ.
Taz: "Hanging in there?" He beat him! Dolph Ziggler just beat Kane!
Cole: More like Dolph Ziggler and John Morrison beat Kane. But speaking of champions, up next, CM Punk defends his TCW Television Championship for the first time, against the newest member of Evolution.
CM Punk(c) vs Antonio Cesaro
Singles
TCW Television Championship

The two don't waste any time and instead lock-up in the center the moment the ref rings the bell. Cesaro manages to slip around the current champion with a rear waist lock and keeps the hold locked in, soon wearing Punk down to a knee. Punk begins to try to elbow his way out of the grip before the challenger showcases his immense strength and hoists Punk in the air above him before planting abdomen first into the mat! Cesaro quickly shoots the half and hooks the leg; one, t-kickout by Punk. Cesaro doesn't get frustrated, instead pulling Punk up off the mat and locking in a side headlock, trying to win a war of attrition against the champion. The champion tries to fight out of the hold, throwing elbows again before finally forcing Antonio to break his grip. Punk then runs off the ropes and ducks the clothesline by Cesaro, rolling him up with a school-boy! One, two, th-kickout by Cesaro! Antonio scrambles to his feet after the roll-up to try to and mount some offense, roundhouse by Punk! Cesaro has to be out cold as Punk covers; one, two, thr-kickout! Almost by instinct, Cesaro kicks out! Punk backs off as Cesaro is slow to recover in the corner. Punk charges for the high knee, and he hits it! Knee right into the jaw of Antonio before Punk goes for the bulldog, but Cesaro shoves him into the turnbuckle! Punk is forced into the turnbuckle as Antonio tries to steady himself after the knee and kick. Punk is up in the corner and Cesaro charges in for a big boot, but Punk ducks out of the way onto the apron! Cesaro runs his boot into the turnbuckle and hobbles away clutching his leg as Punk stalks Cesaro. Springboard by Punk, right into the uppercut by Cesaro! Punk has to be out cold now! Cesaro looks up to the lights as he feels himself closing in on the championship.
Cesaro is on the vulnerable Punk, trying to raise the champion inbetween his legs. He tries to lift Punk up for the Neutralizer, but Punk blocks it! Cesaro tries again, but Punk blocks it again before countering and hoisting Antonio up on his shoulders! Go To Sleep! Punk hits the GTS and falls into the cover, hooking both legs; one, two, three! Punk retains!
Cole: What a comeback by Punk!
Taz: What we have here is a worthy champion.
Booker T: I think Cesaro could've had it there if he just went for that cover.
Taz: Maybe so, but he made a mistake and paid for it.
Cole: That he did, but finally ladies and gentleman, it is our main event. World Heavyweight Champion Dean Ambrose has been undefeated for months now, but can he keep it up....while running the Gauntlet?
Dean Ambrose vs Kyle O'Reilly, Drew McIntyre, & Ken Kennedy
Gauntlet Match
Handicap Match
Dean Ambrose vs Kyle O'Reilly, Drew McIntyre, & Ken Kennedy
Kyle O'Reilly
The referee rings the bell and the self-proclaimed "dragon" is on the attack, trying to make a statement tonight. He begins throwing bombs into Ambrose, forcing the champion on the defensive in the corner. O'Reilly keeps beating away at the skull of Dean before the referee forces him away as Dean stumbles out of the corner. Kyle is quickly back on the offensive, quickly heading back to the downed Ambrose, kicking away at the ankle of the champ. He grabs the ankle and drags Dean to the ropes, twisting it around the bottom rope before yanking back. The referee begins his count as O'Reilly refuses to stop until right before five. Kyle is scolded away from Ambrose as Dean tries to recover, clutching his ankle as he gets to his feet. Reilly goes back to set up an attack again, but this time Dean kicks him in the gut with the good leg and plants him with a DDT! Dean rolls into the cover, barely hooking the leg; one, tw-kickout! Dean rolls off the cover and mounts O'Reilly, beating into his skull with closed fists. The referee begins to count before forcing Ambrose away, but Dean may have tweaked his leg getting off. Ambrose staggers away gently as Reilly recovers in the corner and sees his opportunity.
O'Reilly lunges, but Ambrose catches him with a small package! The champion was playing possum as O'Reilly struggles; one, two, three! Kyle O'Reilly is eliminated!
O'Reily rolls out of the ring in frustration as the music of Drew McIntyre hits and the Sinister Scotsman runs down to the ring. He wastes no time in unleashing his assault on the champion, stomping away at Ambrose. He pulls Dean to his feet and throws him over his shoulder for a powerslam, but Dean slides off and counters with a neckbreaker! Dean needs to make quick work of McIntyre and rushes to the cover; one, tw-kickout by McIntyre. Dean slides off the cover as he steadies himself up, stalking McIntyre. Drew reaches his feet and Dean charges, clotheslining himself and McIntyre over the top rope! Dean is slow to his feet on the outside, as he may have tweaked his knee on the fall. McIntyre sees this and takes advantage as he chop blocks him from behind before stomping away at the downed champion. Like a predator on the hunt, McIntyre stalks the downed Ambrose all while the referee is counting.
Drew charges at Dean as he reaches his feet, but Ambrose sidesteps and Drew runs face first into the steel ringpost! Drew has to be unconscious as Ambrose staggers into the ring and the referee continues his count. Drew is just to his knees when the referee hits 10 and McIntyre is eliminated by countout!
Kennedy rushes down to the ring after the elimination of McIntyre, stomping away at the champion. Dean fights back best as he can, after already having fought two opponents by throwing shots to the stomach of Ken. Ken staggers backwards after the unexpected offense of Ambrose before ducking a punch and hoisting Ambrose up on his shoulders. He goes for the Green Bay Plunge, but Dean slides off the back and shoves Kennedy into the corner. He waits for Kennedy to come out of the corner before trying for a suplex, but Ken lands on his feet and turns Ambrose around, going for the Mic Check. Dean elbows his way out of it and whips Kenndy off the ropes.
Kennedy rebounds off the ropes into the waiting Ambrose who hoists him up for the Midnight Special! He drives Kennedy into the mat before sliding away and waiting for Ken to recover. Ken gets to his knees and Ambrose hits the Shining Wizard! Kennedy is out as Dean slides into the cover; one, two, three! The Champion remains dominant over three opponents tonight!
Cole: Still undefeated!
Taz: THAT is why he's the World Champion. Not because of some rash decision or because of some muscle. Performances like that!
Booker T: I gotta agree with you there, I mean, he just beat three of the best TCW has to offer, one right after the other.
Taz: Dean Ambrose has successfully run the gauntlet here tonigh-
Tazz is cut off as the PA System turns on and begins to play. Ambrose is left confused until audible words are heard.



RUN RUN WITH HER


Oh my god! Just as the bell rings on Ambrose's third and final pinfall for this evening, the Sultan of Sleaze's music hit - and the crowd erupt! Is he cashing in right now!? A sweating, battered and visibly exhausted Ambrose turns his attention to the the stage straight away, not even going near his World Title. The crowd erupt, all waiting for the man himself to emerge, and a few moments he does...but not dressed in ring gear. Alex Shelley comes through the curtain in jeans and his glitter studded sleeveless jacket. The crowd are audibly disappointed that he isn't cashing in tonight, but the World Champion's reaction is the total opposite, sneaking a sigh of relief to himself. He holds the back of his head in pain after that gauntlet match, staring at Shelley. The Sultan looks down from the stage at Ambrose, Money In The Bank briefcase in his right hand. He raises it up in the air with a trademark smirk, and winks at Ambrose. The cameras fade to black with fans cheering at the image of Shelley holding the briefcase aloft, clearly getting inside the head of the Champion already.