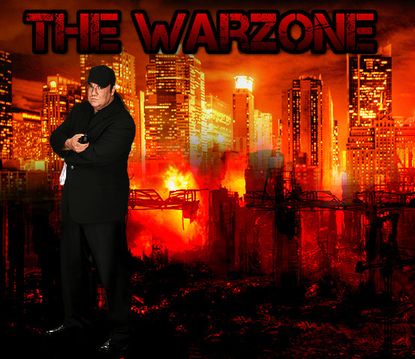 The pyrotechnics for Warzone come to a halt and the camera turns it's attention to the centre of the ring, which Justin Roberts is currently in the centre of. It's time for the first match of the night!
Justin Roberts:
Ladies and Gentlemen this matchup is a five way dance sche--
IT'S ALRIGHT, I'M JUST A LITTLE CRAZY!
What the - ? The sold out crowd erupt into jeers as the music of Dean Ambrose plays out around the arena, and after a few moments, the man himself appears! Ambrose, not scheduled to compete tonight, makes his way down to the ring, rolls in and takes the microphone from Josh Matthews. The crowd boo as he looks all around them. He grins ever so slightly at the reception, and then brings the microphone to his mouth.
Dean Ambrose: As those of you have checked TCW.Com or the TCW App or whatever you use nowdays will be aware, I am not scheduled to compete tonight.
Despite the hatred of Ambrose, there is mostly boos radiating from the crowd at the statement - he's the World Heavyweight Champion, and they paid to see him compete.
Dean Ambrose: And if you've been watching the show lately, you'll know why - because I've decimated just about everybody there is!
The crowd boo at the arrogance shown by Ambrose, far from happy that the man they detest most has yet to get his comeuppance.
Dean Ambrose: When I walked in this building tonight, when I walk into any arena on any tour we do, the seas part - I'm like Moses.
Again, the crowd boo further at the audacity of Ambrose's comparison.
Dean Ambrose: I'm like a dog with rabies, I'm like a leper, nobody wants to get within ten feet of me.
[Ambrose shrugs his shoulders, as if unsure as to why this is, but the slight grin on his face shows that he is fully aware]
I was told today, on the phone, I was told - 'Dean, we..we can't find anybody who will get in the ring with you tonight.'
Ambrose steps forward and peers right into the camera, so that is face takes up the televisions of everyone at home and the titantron for those in attendance, and basically whispers with a chuckle.
Dean Ambrose: Nobody.
Ambrose takes a stop back and suddenly proclaims as loudly as he can.
Dean Ambrose: I'M THE KING OF MY OWN UNIVERSE!
He shrugs his shoulders and winks at the camera slowly and without a trace of subtlty.
Dean Ambrose: But hey, it's a sweet gig and the cheques still cash. For what they're paying me, they're gonna have to start paying migrant workers to fight me. Because nobody with any sense wants to fight Dean Ambrose! Because they know they'll get their fingers broken, their teeth chipped and their skull smashed in! So...so yeah. No-one in the back wants to fight me.
Ambrose nods his head slowly, as if has accepted the fact, but then looks up at the camera.
Dean Ambrose: But as you can see, I'm still dressed to compete.
The crowd pop loudly, not sure exactly what's going to happen but convinced that Ambrose will find a way to compete.
Dean Ambrose: And I know...
[Ambrose sighs]
That a lot of you don't like me. I finished off Brian Kendrick and Ryback, I don't reply to anyone on twitter and I sure as hell don't sit and sign autographs for you losers for hours at a time.
[Heat]
And seeing as we're in Texas and a lot of you hillbillys have got in enough fist fights with your family over who gets to marry your sister
[Massive heat]
I'm going to let one of you step in the ring with me.
With that, the crowd erupt! They hated Ambrose before, but with his recent insults just about everyone wants to punch him out.
Dean Ambrose: To avoid any sort of lawsuit once I beat this redneck to a pulp, I'll fight the person blindfolded. So yeah, there you have it - one of you can face a blindfolded Dean Ambrose...
[Ambrose pauses for a moment, looks at his title on his waist, unbuckles it, and then holds it aloft]
and the World Heavyweight Championship is on the line!
The crowd erupt, all the men holding their arms aloft in the hopes Ambrose will pick them. The Champion rolls out of the ring and walks around the barricade. He peers into the face of everyone he walks past, grabbing a few by the face and mumbling 'Nah' to himself. He stops at a frail blonde woman, grabs her face and peers into it, clearly considering picking her. The crowd boo at the villainy of Ambrose picking a woman, who looks terrified by his glare, but mumbles 'No' again. Ambrose stops again and stares into the face of a little boy, no older than ten years old, who looks ready to cry and and begins to hug his father, seemingly fearing for his life! Ambrose reaches the other side of the ring, and stops on a guy in an old school Degeneration X t-shirt. Ambrose stares into the mans eyes, and unlike the woman and child from before, this man doesn't back down. The crowd begin to roar at this fan's refusal to stand down. Ambrose darts a glance at the nearest security guard.
Dean Ambrose: Get him in the ring, yeah, him, HIM!
The fan looks delighted as the security guard helps him over the barricade, as Warzone cuts to a commercial.
When TCW returns, a blindfolded Ambrose and the fan, around 6ft and average build, dressed shirtless in jeans stand across from each other.
Michael Cole: Ladies and gentleman, this is, this is something I don't think I've ever seen before.
Booker T: Yo dawg I don't think this is the best idea.
Taz: Come on, Booker, this guy has got the opportunity of a life time!
Booker T: Dean Ambrose is a dangerous man though, dream or no dream.
Michael Cole: If you're just tuning in, folks - Dean Ambrose issued an open challenge to anyone in the arena to face him for the World Title, and Ambrose said he would fight blindfolded. This man in the ring is just a fan from this Texan audience! Now, during the commerical break the fan signed a Hold Harmless Agreement. That means that if Dean Ambrose breaks this guys leg, or gives him a concussion, or anything of the sort, he or TCW cannot be held responsible.
Booker T: The contract might be a deathwish.
Taz: C'mon, guys! Give this guy a chance! He's pretty big, and Dean Ambrose is blindfolded! He can't see a thing! Come on, fan!
Match One
World Heavyweight Championship Match
Singles Match
Dean Ambrose vs Audience Member
Dean Ambrose is competing blindfolded

The crowd are on fire as they cheer on this hometown hero, who cautiously takes a step forward. Ambrose gets in a wrestling stance, and feels for a single collar tie up or test of strength, and the fan slowly approaches him. Instead of engaging though, the fan nails Ambrose with a right hand! The crowd go wild! And another right hand, and another! Ambrose stumbles backwards, and the fan pursues him, landing a few more big right hands! Ambrose has recoiled into the turnbuckle, and the fan goes after him - but Ambrose hits a kick to the gut! The fan drops onto his knees, clutching his abdomen. Wait, Ambrose has tore his blindfold off! What the hell! The crowd erupt with jeers and boos and all round hatred for Ambrose, who has snapped and begins stomping on this poor guy! Stomp stomp stomp! Ambrose drags him to his feet, stares in, but the guy slaps him across the face! The crowd erupt again, but it proved to be more gutsy than smart as it just infuriates the world champion, who clotheslines him! Ambrose mounts the fan and begins to land a flurry of punches, and referees run to the ring to try to pull Ambrose off the fan. Ambrose yells to them 'I'm in the middle of a match, here!' and continues to stomp on the fan! Road agents and referees cannot get a berserk Ambrose off of th--
LA VITTORIA É MIA!
It's Santino Marella! Marella is here! The Number One Contender sprints to the ring, and Ambrose bails from the ring just in the nick of time! He snatches his title from ringside and hops the barricade, running through the crowd without looking back! Santino checks on the well being of the fan in the ring, and helps him to his feet, while a scornful Ambrose looks on, clutching his world title and looking very,
very
pissed off. TCW cuts to a commercial.
Cole: For those of you just tuning in ladies and gentlemen we just saw something that I think has to be a first in the world of Pro Wrestling!
Taz: You got that right, Cole! Our World Champion Dean Ambrose challenged a fan to a World Title Match!
Booker T: Not only that, but he agreed to fight blindfolded, and then when the going got tough off came the blindfold and he decimated the fan!
Cole: I can't believe the higher ups are going to be happy about this!
Booker T I'm sure they won't! But movin' swiftly on, it's time for our first match!
Match One
Five Way Dance
Daniel Bryan vs. Batista vs. Christian vs. Wade Barrett vs. Ken Kennedy
Christian and Batista begin by double-teaming Daniel Bryan in one corner of the ring while at the opposite end Wade Barrett and the returning Ken Kennedy exchange blows. Bryan tries to fight back but is grounded by stomps from Christian and Batista. Both men place Bryan onto the turnbuckle, possibly for a double-superplex, but their would-be victim grabs their skulls and knocks them together. As the two stumble back, Bryan stands on the top ropes and jumps, hitting a crossbody on both men. Elsewhere, the fight continues outside the ring as Kennedy whips Barrett over the top rope. As Kennedy taunts his opponent from the safety of the squared-circle, Barrett grabs onto his feet and drags him onto the arena flow. The two opponents take turns throwing punches until Barrett misses his target, giving Kennedy the opportunity to throw him into the crowd barricade. Returning to the action in the ring, Batista and Christian regain the upper hand with a double-suplex on Bryan. After Christian hits an elbow drop, Batista turns on him with a big boot. Filled with rage at the betrayal, Christian redirects his attacks towards Batista by hitting him with a flurry of kicks. After sending his opponent to his knees, Christian displays his strength by picking up his opponent and hitting him with a backbreaker. Outside the ring, Barrett has recovered and is in the process of smashing Kennedy's face in by repeatedly slamming it on top of the barricade. Becoming visibly bored of this attack, he grabs ahold of his opponent and throws him over a set of steel steps. Kennedy flips over them and lands on his back. Barrett proceeds to climb the steps and, reaching the last one, leaps to hit a two-legged stomp on Kennedy. Returning to Batista and Christian, the larger of the men has returned to his feet. Christian goes for the Irish whip, but Batista reverses and instead whips Christian out of the ring towards Wade Barrett, leaving three men down on the arena floor. Batista turns around and is hit with a powerful shoulder block from Daniel Bryan. He gets back to his knees, but receives Bryan's signature series of kicks. After the last one that puts Batista on his back, Bryan climbs a turnbuckle and leaps, looking for the Diving Headbutt... And he hits it! As Bryan stands up before going for the pin, Barrett runs back into the ring. Bryan turns around and Barrett sweeps him up. Barrett wastes no time in hitting Wasteland! He pins Bryan. 1...2...3! Wade Barrett picks up the victory in his return to TCW!
Taz: What a terrific match from Wade Barrett! He beat four other men to win tonight.
Booker T: I think I just might put him in my Fave Five.
Cole: Why don't you just put all five men in that match in your Fave Five, Booker?
Booker T: ...Maybe I will.
Match Two
Tag Team Match
The Brothers of Destruction vs. Dolph Ziggler & John Morrison
The Undertaker and Dolph Ziggler start out the match as their teammates root them on. The younger Ziggler easily runs circles around his opponent, throwing some elbows into the Deadman's back. With a kick to the knee he sends the Undertaker down. Ziggler follows up with kicks to his opponent's chest, giving himself time to show-off with a handstand, and finishes with a roundhouse kick to the Undertaker's head. The big man goes down as Ziggler walks over to tag in John Morrison. Ziggler's partner springboards off the ropes towards the now standing Undertaker. Instead of hitting a crossbody, Morrison is caught by Undertaker. A look of pure fear covers Morrison's face for he knows what to expect next as Taker throws him onto the turnbuckle. Snake eyes, big boot, and the Deadman finishes with a legdrop. After the onslaught, Dolph runs into the ring and hit the Undertaker from behind, causing both legal men to be down on the ground. The ref ushers Ziggler out of the ring as Taker crawls to tag in Kane. Morrison gets back to his feet at the same moment Kane grabs him to hit a neckbreaker. The Big Red Monster then tosses Morrison into the corner, where he hits him with a big boot of his own. Morrison stumbles out as Kane picks him up for a vintage sidewalk slam. He covers. 1...2...kick! Morrison rolls over to the ropes to help himself up as Kane's fiery eyes glare at his opponent. Kane goes to grab him, but Morrison quickly hits him with an elbow to the face before running into the opposite ropes and returning with a dropkick. Morrison then hits a corkscrew kick as Kane gets back to his feet. Rather than trying to pin his opponent, Morrison stands over Kane and insults him, yelling obscenities at him. Kane grabs Morrison with both hands and picks him up while getting to his feet. He drops Morrison on his knee for a gutbuster, but before he can make another move his opponent hits him with a low blow. Morrison rolls over to Ziggler for the tag before collapsing outside of the ring. Dolph runs into the ring, but Kane immediately grabs his throat. Ziggler shakes his head in a plea for mercy as Kane lifts him up and hits the Chokeslam! Kane goes for the pin. 1...2...3! The Brothers of Destruction are victorious!
Booker T: Now that was a good tag match. I'm liking the return of the Brothers of Destruction, dawg.
Cole: I just think the two men are a bit overrated.
Taz: You do realize you just called two future hall-of-famers overrated? I'll let you think about that as we watch this Television Championship Match.
Match Three
Singles Match for the TV Title
Jayson Anthony Paul vs. Damien Sandow
The bell rings and immediately the former Champ dashes forwards and tries to assault the current Champion, but he ducks out of the way of his opponent and begins throwing strong right handed shots towards Sandow, slowly sending him backwards towards the corner before whipping him across to the corner opposite, chasing him immediately and hitting a big corner splash onto Sandow, which causes him to drop down to the mat. JAP doesn't waste any time, dropping down to one knee and punching Sandow repeatedly in the head until the referee forces him away from the former Champ, insisting that Damien has time and space to get his bearings back and return to his feet. After a few moments, Sandow is back to his feet and the ref moves away, allowing the battle to continue, however as soon as Jayson approaches Sandow, the latter throws a strong knee into the gut of the champ, before throwing him into the corner and slamming an elbow into his jaw. Sandow walks away from the corner, before quickly lunging in and slamming a shoulder into the mid-section of Paul, causing him to drop down to his knees. Sandow grabs ahold of the Champion's head in a headlock, and continues holding as the referee begins to count to five, with Sandow releasing the hold just on the brink of being called up for a disqualification. He moves away from JAP, allowing him to get to his feet, before charging at him and immediately forcing him back to the ground by slamming a knee into the gut of the Champion, which makes him drop down to the mat again. Sandow grabs Paul by the leg and drags him into the middle of the ring, before circling his leg and locking in a figure four leg lock! The referee gets down to his knees, talking to the TV Champion in order to see if he is prepared to tap out, but he refuses, not wanting to lose his TV Title so soon after winning it! He keeps fighting it, and eventually is able to roll over, reversing the hold! The audience urge him on, hoping Sandow taps as they have really gotten behind the new persona of the formerly known JTG, and continue to chant his name as eventually Sandow is able to pull himself towards the side of the ring and wrap his arms around the bottom hope, forcing the hold to be broken by the current champion. After a few moments, JAP finally releases the hold and gets up to his feet slowly, grabbing ahold of his leg which still aches a little bit from when the hold was previously locked in on him. Sandow as well gets up to his feet, and JAP moves towards him in an attempt to finish the match off, he grabs ahold of Sandow's head, and smashes him to the ground with the Black Panther! He makes the cover for an easy three count, and retains the championship!
Cole: I hate to say it, but that was a great finish.
Taz: I hate to agree with you, but I do. Congrats on retaining your title, Jayson!
Booker T: I hate to do it, but I'm taking Sandow out of my Fave Five.
Cole: A man isn't in Booker's Fave Five! It's a miracle!
Backstage Josh Matthews anxiously holds a microphone next to Wade Barrett who seems to be looking past the young interviewer and ruminating on other events. After several seconds Josh manages to compose himself enough to attempt to begin the interviewer though it's obvious that Barrett staring intently off into the distance is throwing him off a bit.
Josh Matthews:
I am joined here tonight by none other than Wade Barrett! How does it feel to be back in the ring here in TCW?
Josh's voice snaps Barrett back into reality and he shakes his head, as if to clear this thoughts, before responding.
Wade Barrett:
To be honest it's great to be back doing what I love. I fought my way up bare-knuckle fighting in dingy pubs and back alleys back home to get here. Fighting is what I do, it's what I am good at and the only thing in life I truly understand. Coming down to the ring and going at it with one, two or even three other competitors is what I live for. I am not here to count wins or losses, to win titles or any other sort of award you can think of. Josh, I am here for one reason and one reason only; that is to kick some ass. So I'm putting the TCW locker room on notice. If you get in my way you will feel the Barrett Barrage! Once the bull hammer strikes home they will be picking teeth out of the arena for weeks. I am ready to take on all comers, it doesn't matter who it is...
Suddenly another man struts into the frame either completely oblivious or perhaps intentionally disrupting the interview! The camera man does gives the scene a swerve and brings Alberto Del Rio, and Ricardo Rodriquez, into the fray. He's already dressed and prepared for his upcoming match and smiling at Wade as if he found something about him remarkably comical. Josh Matthews, caught between the British Barrett and the Pride of Mexico, looks hapless.
Alberto Del Rio:
Oh Josh, come now, surely you can find someone more important to waste your time on than this ... thug?
He hesitates on the last word as if were attempting to put some extra weight behind it. The even more uncomfortable Josh Matthews looks from on man to the next, then raises his microphone.
Josh Matthews:
Alberto it's great you stopped by, you yourself are just minutes away from yout Money in the Bank qualifier but what did you think about Wade's debut tonight?
Alberto chortles a response just as quickly as soon as he was asked the question.
Alberto Del Rio:
Not bad, for a nobody I suppose. If you want to see something truly impressive Josh then I suggest you watch what is about to happen to our young colleague; one Mr Kyle O'Reilly. He's what you like to call yourself, a fighter right? He's all about the power will and determination, a lot like you. Well allow me to use Kyle O'Reilly as an example: skill will beat will, every time out of every time.
And with that the Pride of Mexico's brown polished face splits into a leering little smirk. Was it confidence or arrogance? Either way it surely puts low on Wade Barrett's "likely to be friends with" list. As if sensing the brewing animosity, like spider sense with a sun tan, Alberto moves to take his leave.
Alberto Del Rio:
You have yourself a good night now Josh, I'm sure I'll be seeing you later for my post victory interview...
Then he looks to Wade Barrett.
Alberto Del Rio:
Watch and learn Wade, you might pick a trick or two.
He says this with a tactical little wink, just quick enough to get a rile out of Wade before he retreats off camera with Ricardo falling in behind him to cover him. Then he was gone, and the camera gave Wade Barrett a few more seconds focus before Josh Matthews brings the spoiled interview to a close.
Josh Matthews:
Well that's all we have time for here, thanks for joining me tonight Wade and good luck in your next match next week.
Then, on cue, the camera fades to black...
Michael Cole: Looks like some beef is a'brewin' between Del Rio and Wade Barrett!
Taz: Shut up, Cole. I'm trying to watch Santino take on Randy Orton.
Match Four
Singles Match
Randy Orton vs. Santino Marella
The bell rings signalling the beginning of the match, and both men slowly circle one another, neither wanting to make the first move and risk the other taking advantage of a mistake. Eventually the ref (as well as the crowd) implore them to hurry up, and the pair lock up in the middle of the ring, with the King of the Ring quickly gaining the upper hand over his third generation opponent. He locks a headlock in on Orton, before pushing him back into the corner and slamming his hand down hard, slapping Orton on the chest which naturally elicits a huge 'WOOO' chant from the audience. Santino continues the offence by landing another slap, before whipping Orton across the ring into the corner opposite, which causes Orton to stumble forwards due to the impact. Santino charges towards his opponent and goes for a clothesline, but Orton has the presence of mind to duck the attempt and as soon as Santino turns around, Randy lifts him up and slams him back down to the mat with a spinebuster! Orton gets back up to his feet and rests on the ropes for a few moments, catching his breath before moving across to Santino and landing a couple of fierce stomps onto his chest and arm, before lifting him up and whipping him across to the ropes, before jumping up and taking him down with a Lou Thesz Press ! He throws several strong right hands at him before getting off, and standing tall, looking around at the audience who seem to be urging him on to complete a fairly considerable upset against King Santino! He drops down to the ground, punching the mat repeatedly as the audience go wild at the thought of Orton vanquishing the monarch, and as Santino gets up from the mat, Orton attempts the RKO but Santino finds the strength to stay on his feet, and throw Orton to the mat! Orton quickly gets back up, but Santino is quick enough to kick Orton in the gut and grab him for a DDT, but keeps going with it and locks in the rolling blackout! Orton taps without hesitation, and the ref calls for the bell! Santino wins it!
Booker T: I can't say I like Santino, but he certainly deserved to win tonight.
Cole: How can you not like him? He is not only dominant but also smart and cunning.
Taz: Bending the rules and taking advantage of your opponent is not being smart and cunning. Shut up, Cole.
Cole: Well I'm sure Booker T agrees...
Booker T: Actually I do not. Hush.
The camera come back from commercial to show that a wonderfully crafted set resembling famous New York City nightclub, CBGB's has been erected in the middle of the ring. The fans cheer at the sight of something new appearing before them, and only cheer moreso when suddenly out of the loudspeaker...
Hahahah.... Dance
They erupt into a chorus of cheers at the beginning of the music of one of their favourite superstars, and before long they are treated to the sight of the man himself, as the Sultan of Sleaze, Alex Shelley, appears from behind the stage set. He throws his arms out to the side whilst spinning around on the stage amidst as sea of dry ice and purple lighting, his gold and purple trenchcoat causing the dry ice to rise and fall and swirl around him. He stops atop the ramp and looks out at the audience, before slowly making his way down to the ring and sliding in underneath the bottom rope. He smirks as he looks at his stage-set, before ascending the top turnbuckle and raising his arms into the air, eliciting a strong positive reaction from the crowd. He jumps back down as the lighting returns to normal and the dry ice begins to fade away, before walking across to a fake bar that has been set up in the corner of the ring and lifts up a microphone that has been convinientely placed upon it. He lifts the microphone up to his mouth, before letting out a deep exhalation of breath, and finally beginning to speak as the fans begin to quieten down.
Alex Shelley: Tonight, I step into the ring with one of the most feared sportsmen on the face of this planet. Not just one of the most feared wrestlers, but sportsmen. He isn't just an incredible athlete, he's a real, true fighter, and this is going to be by far the biggest challenge of my stint here in TCW so far. I have to admit to everybody out there tonight, I have some serious reservations about whether it's a good idea me stepping into the ring with Brock Lesnar. In the past few weeks, time and time again we've seen him rip people to shreds, absolutely decimating people who dare stand in his path, and even though I know I'm one of the best in the world at what I do, I can't help but worry that I'll just be another name to add to the list of people that the Superbeast has put on the shelf.
Shelley lowers the microphone, before placing his hand on the neck and shoulder region that has caused him so many problems throughout the previous few years of his career. He begins to squint, and runs his hand across his forehead, throwing a few beads of sweat that had formulated underneath the hot stage lighting to the ground. He rolls his shoulders, almost trying to convince himself that he's in good enough shape for his match tonight, before raising the microphone to his mouth once again.
Alex Shelley: But then, I remembered something. I'm not just any man, I'm truly one of the all time greats that this industry has seen. I'm a former Undisputed Champion, in three weeks time I'm going to add the Money in the Bank briefcase to my list of achievements, and if anybody in this industry is capable of going toe to toe with Brock Lesnar and defeating him, that man without a doubt is the Sultan of Sleaze, Alex She-
BEST IN THE WOOOORLD
Halfway through Shelley's speech, a familiar voice echoes around the arena auditorium before a well known guitar riff follows, and almost immediately the self proclaimed 'Best in the World', CM Punk, steps out onto the stage. He looks around at the fans in attendance as the boos rain down upon him, before looking down towards the ring and striding down the ring with purpose, microphone already in his hand as he does so. He enters the ring via the steel steps, and walks around Shelley's set, feigning interest in the bar that has been set up. His music begins to die down, and he walks across to Shelley, who looks suitably pissed off at the interruption of his talk-show debut. Punk rolls his tongue around in his mouth, before grinning arrogantly across the ring at his long-time rival, before raising the microphone up to his mouth and speaking.
CM Punk: One of the best in the World? Alex, I don't think you're in a position to make that assessment of yourself. I however am, given I really am the best in the World.
The audience boo Punk's arrogance, but it phases him not as he completely ignores the reaction and continues to talk over the top of the booing.
CM Punk: You are not one of the best in the World, hell you're not even on of the best on the roster. I'm not saying that because of our own personal issues, I'm saying it because it's true. The best in the World doesn't take two years out due to injury, he works hurt. He wouldn't let the person who injured him walk away from it all, he'd go after him. Yet constantly you shy away from any confrontation. Sure you say that it's because you have no reason to go after me, but that's just not true is it? Ask anybody backstage, if they got put out for two years by somebody they would want to get a level of revenge on them. So stop lying to the people Alex, be honest with them. That's one thing you take pride in isn't it? The fact you can be fully open about every aspect of your life. So tell these fans the truth, Alex. You don't shy away from me because I'm not worth your time, you shy away from me because you're scared! Hey, I don't blame you I'd be afraid of what I could do to you as well. The only problem you face though is I'm not bothered if you're scared or not, hell I'm not bothered if you think I'm worth your time or not. I'm not done with you yet, so you better get used to seeing my face because it isn't going away.
Shelley smirks, which causes Punk a little bit of annoyance, clearly thinking Shelley should show a little bit more respect to him. The Straight Edge Superstar takes a couple of steps forwards towards Shelley, but thinks better of trying to pick a fight at this point in time. Shelley raises his eyebrow at Punk, clearly suggesting that a fight wouldn't have been completely unwelcomed, but Punk steps back away from Shelley, a smirk formulating on his face as the Sultan lifts the microphone back up to his mouth.
Alex Shelley: You know what, Punk? I don't know what you have to gain coming out here and getting involved in my business yet again. It's becoming clear to me that you're hung up on trying to best me, and the longer time goes on you're getting further and further towards that point where you have to accept you just can't! From the moment you injured me two long years ago, you've been waiting for me to come back, because you never got that chance to beat me fair and square in a match, oh how you did try but you just couldn't do it! And so now the second I walk back into the ring, you keep showing up because you just want to beat me so damn badly! The truth is, Punk, you're just not the best in the world. Whether you like it or not, I'm the best wrestler in the world, and until you beat me, not one single person in this arena, watching at home, typing up their reviews on the internet, working backstage or in the office on creative direction, not one of them is going to think you're the best. A great man once said, 'to be the man, you gotta beat the man', and Punk? I'm the man.
Suddenly, CM Punk attacks! Clearly the lack of respect from Shelley pushed him over the edge, and he lunges at the Sultan, taking him down to the mat and hitting him with several strong punches! Shelley forces Punk off of him and jumps back up to his feet, before attempting a superkick, which CM Punk ducks, before grabbing ahold of Shelley and lifting him up onto his shoulders... Go To Sleep! Shelley is down! Punk breathes heavily as he looks down at Alex Shelley, who lays in a crumpled heap on the mat, before smirking and looking out at the audience as the camera fades out to a commercial break...
Michael Cole:
Did you see that?! CM Punk just assaulted Alex Shelley!
Tazz:
He had it coming, Cole, Punk has it right, he shouldn't be ignoring him!
Booker T:
That still ain't alright, Tazz! That was a cheap shot, on a guy who has a match with Da Superbeast later on tonight!
Michael Cole:
I'm sure that isn't the end of the problem between these two, but right now we have to move on to another Money in the Bank qualifier!
Match Five
Tag Team Match
Cody Rhodes & HHH vs. William Regal & Drew McIntyre
Cody Rhodes and Drew McIntyre enter the ring to start off the match. They soon lock up, but McIntyre gains an edge after a few shots to Cody's stomach. He delivers a knee to the skull and then tosses Rhodes into his own corner. The man consumed by darkness pushes his forearm into his opponent's throat and only lets go at the ref's count of 4. McIntyre then hits a shoulder block before tagging in William Regal. The Englishman grabs onto Rhodes and hits him with a vertical suplex before bouncing off the ropes and delivering a legdrop. As he takes a few steps back to survey his opponent, Triple H hits him with a chop to the back. Regal turns around to confront his attacker and Rhodes takes the moment to hit him with a backbreaker. The Dashing One brings Regal to his feet by tugging on his arm and tags in his partner. The Game climbs through into the ring and steps onto the middle rope. He jumps down and connects his elbow with Regal's forearm. William Regal stumbles a bit before Triple H throws him into the ropes and, as he rebounds back, hits a flapjack. McIntyre climbs over the top ropes, begging for the tag as Regal inches towards him. Triple H appears to be unaware as he immediately performs a Boston crab on Regal, his back turned to his opponent's corner. Regal crawls a few more centimeters towards his partner and barely touches hands with him, just enough to make the tag. Triple H wrenches the hold more, oblivious to the tag that was just made, and McIntyre hits him with a big kick to the side of the head. The Game releases the hold and slumps to the floor as McIntyre stomps on his head and arms. Bringing him to his feet, Drew puts him into position for Apocalypse Rising. He hits it! But before he can cover Cody Rhodes runs in and takes Drew out. From outside the ring William Regal grabs ahold of Rhodes's foot and pulls him back out of the ring. Drew McIntyre returns to his feet and finds Triple H also standing back up... Triple H kicks his opponent in the gut and places McIntyre's head between his legs. Pedigree! The Game covers. 1...2...3! Triple H and Cody Rhodes pick up the win and become the newest members in the Money In The Bank Match.
Cole: And they're in! These two great men make it in the Money In The Bank Match.
Taz: It'll be interesting to see how they do when they are forced to compete against one another.
Booker T: You're right, dawg. I will most definitely be interested to see how that unfolds.
Taz: The match up next will determine who will join those two men and Alex Shelley in that PPV match.
Cole: Right now is Alberto Del Rio and Kyle O'Reilly.
Match Six
Singles - Money In The Bank Qualifier
Kyle O'Reilly vs. Alberto Del Rio

The match begins with Alberto Del Rio going for a clothesline, which Kyle O'Reilly ducks under. O'Reilly throws punches like a boxer, sending Del Rio into the corner with his fists of fury. The referee pulls him away as Del Rio holds his stomach in pain. O'Reilly takes a few steps out before running in with a dropkick, but Alberto dodges the attack as his opponent bashes his knee on the corner post. He rolls himself off the tope rope and then out of the ring, needing a moment to survey the damage. He takes a few steps on the leg before Del Rio dives through the ropes and sends him to the floor. Both men struggle to get up, but O'Reilly gets in the first shots as the referee begins his count. Del Rio misses a high kick, giving O'Reilly the chance to hit him with a spinebuster. He crawls back to the ring as the referee reaches four. Ricardo Rodriquez runs over to Alberto's side, helping him to his feet. Del Rio manages to return to the ring at the count of seven but Kyle O'Reilly delivers a series of stomps all over his body the moment he gets in. As he stomps with one foot, Del Rio grabs the other and causes his opponent to fall back. Del Rio gets up and hits O'Reilly with a powerslam before climbing the turnbuckle. As his opponent dives towards him, O'Reilly lifts his knees to shield the attack. He goes over to Del Rio, brings him to his feet, and repeatedly throws his elbow into Del Rio's head. Eventually Alberto flops on his back, but before O'Reilly can cover Ricardo pulls his amigo out of the ring. The angered O'Reilly flies out of the ring and grabs ahold of Ricardo. He tosses the manager into the announcers' table multiple times before turning back at his opponent. Del Rio is to his feet and hits the unsuspecting Kyle O'Reilly with a high kick to the face. O'Reilly falls forward as Alberto Del Rio climbs back into the ring. The ref's count is at five and O'Reilly is still down. Six. Del Rio breathes heavily and looks down at his opponent from the safety of the ring. Seven. O'Reilly starts to twitch and get to his knees. Eight. Can Alberto Del Rio win this match via count-out? Nine. O'Reilly gets to his feet but collapses again. He cannot make it into the ring! Ten! Alberto Del Rio gains entry into the Money In The Bank Match!
Cole: Yes! He wins it!
Taz: Still, I wonder if he can compete with the likes of Alex Shelley. Hell, I wonder if Alex Shelley himself can compete tonight!
Booker T: It looks like it, Taz, because here he comes!
Main Event
Singles Match
Brock Lesnar vs. Alex Shelley
The bell rings and Shelley looks hesitantly across the ring at the Beast, Brock Lesnar who glares back at him venomously, a slightly sadistic smirk beginning to encroach onto his face. Shelley exhales deeply as he raises a hand to his neck for a couple of seconds, clearly the former injury playing on his mind as he slowly begins to make his way forwards towards Lesnar, who is obviously in no mood at all to hang around, as he lunges towards Shelley and takes him down to the ground immediately with an incredibly violent clothesline that causes Shelley to do a mid-air back flip before slamming onto the mat face first. Lesnar looks down at his opponent, before lifting him up by the neck and grabbing him around the chest, throwing him over his head with a belly to belly suplex that sends Shelley sliding across the mat and eventually falling to the outside of the ring underneath the bottom rope! Lesnar quickly runs across the ring and slides to the outside of the ring, again picking Shelley up off of the ground, giving him no time to rest before slamming his head into the turnbuckle post before rolling him back into the ring and following inside himself via the ring steps. He looks down at Shelley before looking around at the audience who boo him wildly which causes him to smirk once again. He drops down to his knees and covers Shelley, but after a two count the Sultan of Sleaze kicks out which causes Brock to look at the referee in disdain, clearly thinking it was a slow count. He approaches the ref, shouting at him to count faster, and Shelley takes the opportunity to lunge towards Lesnar's leg, taking it out from behind which brings the beast down to the ground in a heap. Lesnar quickly jumps up to his feet and attempts to clothesline Shelley, but it's ducked and the Sultan hits a dropkick on Lesnar which sends him stumbling back towards the ropes, but he bounces off of them and moves back towards Shelley, who has the presence of mind to hit a low dropkick this time and kick Lesnar's leg out from beneath him, again taking the beast down to the ground and this time leaving him on the ground a little bit more. Brock slowly begins to get up to his feet, but Shelley runs the ropes and as Lesnar is on he knees hits a shining wizard, sending Lesnar once again down to the ground, to mass cheers from the audience! Shelley walks around the ring, making the crowd pump up madly, before running to the corner and jumping up onto the top rope... he raises his hands and the crowd erupt, knowing what is next, and he leaps off of the top rope... But Lesnar uses his incredible, catlike speed to jump up to his feet and catch Shelley in mid-air! He throws him up onto his shoulders... F-5! F-5 to the Sultan of Sleaze, and surely it's all over! But lesnar smirks as he looks down at his opponent, and clearly he isn't ready to make a pin just yet. He grabs ahold of Shelley's leg and drags him into the middle of the ring, and kneels onto the back of Shelley... Before locking in the Brock Lock! Shelley wails in agony, and almost immediately taps out, declaring Lesnar the winner of the match!
Michael Cole:
Brock Lesnar with a dominant win there!
Booker T:
I really thought Shelley may be able to steal it there! He almost had it!
Tazz:
Come on, Brock! That's enough now!
As the referee calls for the bell, Brock refuses to let go of the hold, no matter how much agony Shelley is clearly in. The referee calls for some support from the back, and lots of referees charge down to the ring, all begging and imploring Brock to release the hold, but he just screams, desperately wanting to inflict as much pain as he possibly can! Eventually even Paul Heyman, the WarZone General Manager makes his way down to the ring, pleading with Lesnar to stop what he's doing, telling him that enough is enough, but even he is unable to make any kind of leeway with Lesnar, and nobody wants to get inside the ring with the monster for fear of who or what he'll limit his assaults to. Shelley is clearly in incredible agony, screaming in pain, when suddenly the fans begin cheering wildly, but noone has any idea why! The camera cuts to the entrance-way, and nobody is coming down the ring, why are the fans cheering! The camera cuts back to the ring, where Lesnar is pulling even harder on Shelley's leg, before he turns his head and quickly releases the hold and turns but wh-
*SPEAR*
What the hell? That... That's Edge! Edge is here! And he just speared Brock Lesnar right off of Alex Shelley! He looks down at Brock Lesnar who clutches his ribs as he rolls around on the ground, and Edge nudges Shelley out of the ring to the outside, where he can finally be given medical attention by the referees and medical staff. Edge looks down at Lesnar once again, who, still clutching his ribs, looks up at Edge in shock, unable to believe that he is stood before him. Edge looks around at the audience, before raising both arms and sporting the devil horns on each hand, with the camera facing him as it fades to black, signalling the end of the show...