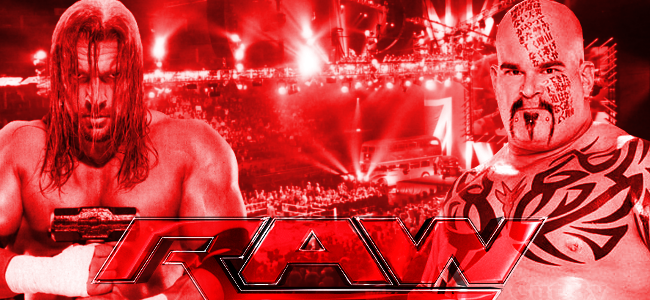 WWE RAW IS WAR APRIL - WEEK 1
Raw Is War kicks off with pyro, and fans packed into the arena! This is the first Raw since the arena change and rebranding! A video highlights the major points of Wrestlemania from the previous night, focusing on Edge defeating Triple H to retain the title.
TIME TO PLAY THE GAME!
Triple H walks out into the arena to tons of cheers from the fans. He makes his way down the ramp, a serious look on his face. He gets into the ring and grabs a microphone. He says that last night, Edge and him fought to a decisive finish, but in the end, Edge was the better man. Triple H then says he's down but not out, and fully intends on getting a rematch to take back the World Heavyweight -
Suddenly, Vince McMahon's theme hits, and he walks out onto the stage to a chorus of jeering. Microphone in hand. He tells Triple H that he thinks he's an arrogant bastard, thinking he deserves another title shot at Backlash. McMahon then says he has an idea. Tonight, on Raw Is War, there will be a fatal 4 way steel cage match, to determine the #1 contender! Big pop! McMahon says that it'll be Triple H, Sheamus, and a couple of guys Triple H will remember from back in the Attitude Era days. Big pop! Who will they be?
BIG BOSS MAN VS. VAL VENIS
Both of these Attitude Era stars couldn't wait to get it on! Boss Man had the advantage in the early going, with his sheer size showing the domination. Val managed to dodge a clothesline and hit a powerful neckbreaker. Val would go up to to the top rope, but Boss Man was already up and knocked Val down. Big Boss Man ends this one with a Boss Man Slam, and gets the 3 count.
6:01
Daniel Bryan's theme rings out into the arena, and the US Champion makes his way down to a ton of cheers. Raising his title high, he enters the ring and grabs a microphone. He tells us that as our current US Champion, he will do his best to continue his streak, and says he's heard rumors that Cody Rhodes isn't done with him. Daniel then says that Cody's free to come down and get his ass kicked, just like at Wrestlemania last night!
Suddenly, Christian's theme hits, and he walks out onto the stage with a microphone. He tells Daniel that Cody's old news, and he's more than ready for a championship shot. Bryan urges him to come down, and they can have their singles match scheduled for later tonight right now! Pop!
CHRISTIAN VS. DANIEL BRYAN
These two guys put in a hell of a bout, with lots of back and forth action. Daniel Bryan's technical wrestling and Christian's diverse style meshed well. Bryan was constantly going for the Yes lock, but Christian just wouldn't allow it. Just as Bryan kicks Christian in the head, Cody Rhodes makes his way down to ringside and begins clapping, staring right at Daniel. While Daniel has his back turned, Christian hits the Killswitch! 1-2-3! Christian just secured a victory over the US Champion!
10:03
Christian stares at Cody Rhodes, before exiting the ring. Bryan is left shocked and argues with the refree as Christian brings home a victory tonight on Raw Is War!
Backstage, we see Paul Wight walking through the arena, heading towards the ring. Will we hear from the Giant who took out Shawn Michaels last night?
MARK HENRY & THE MIZ VS. SIN CARA & REY MYSTERIO
Both of these teams put in a great effort in this rematch from a few weeks ago on Raw! Sin Cara and Mysterio had the advantage in the early going, taking Henry down with their high flying and managing to keep him off his feet. Once Miz was tagged in, things started going Henry and Miz's way, and Miz was very aggressive. Miz hit a powerful DDT on Sin Cara before tagging out to Henry, who then would hit a devistating World's Strongest Slam on Sin Cara! Rey tried to break up the pin, but Miz clotheslined him! 1-2-3! The World Tag Team Champions pick up the victory!
12:31
After the match, Miz grabs a microphone and says he's sick and tired of being able to beat the same old tag teams over and over. He says that he proposes that both Sin Cara and Rey Mysterio take on the team they beat last night, Booker T & RVD, and the New Age Outlaws take on the Road Warriors on Smackdown, the two winners face off, and the team that wins, takes on the Miz and Mark Henry at Backlash! Big pop!
Backstage, we see the Alliance in Vince's office. Edge's head is wrapped in bandages from Wrestlemania the night before. McMahon says that he's glad Edge retained the title, and tonight, the Alliance will show just why they're not to be screwed with, and whoever wins the cage match, Edge will decimate at Backlash! Stone Cold agrees. McMahon then pats Lesnar and tells him to go get ready for his match.
Tensai makes his way down to the ring and grabs a microphone. He speaks a few sentences in Japanese, and then translates. He says that last night, he retired Batista, and plans to destroy anyone who gets in his way.
Suddenly, Brock Lesnar's theme rings into the arena to a mixed reaction. Lesnar, with Vince McMahon, makes his way down to the ring. Monster vs. Monster action next!
BROCK LESNAR VS. TENSAI
This was a powerful match, but it was Lesnar who had the advantage from the get-go, dominating the big man, Tensai. Lesnar hit a devistating spinebuster, followed by a brutal powerbomb. Lesnar smiles as he toys with Tensai. Tensai counters an F5 attempt, and gets some offense, but only a little before Lesnar's back in control. Lesnar hits a bone-crushing F5, and picks up the victory! 1-2-3! Lesnar wins this one!
5:41
Suddenly, CM Punk's theme hits, and the Straight Edge Superstar makes his way out onto the stage with a microphone. He says that after he kicked Lesnar's ass last night at Wrestlemania and beat him, he decided it's time to put his plan he's been formulating in his mind to action once and for all. He says that next week, here on Raw, he has a revolutionary announcement, and the Alliance is going to be running scared.
Suddenly, from behind, Stone Cold slams a chair over CM Punk's skull, sending him crashing to the ramp. Stone Cold smiles at Vince, and his theme song hits as Lesnar, Vince, and Austin celebrate Lesnar's victory.
Lawler and Cole tells us that next week, Eddie Guerrero will be on Raw live to address Stone Cold, the Alliance, and his injuries sustained at Wrestlemania.
DDP VS. DAVID OTUNGA VS GANGREL
The fans were really into this triple threat match. Lots of momentum changes and shifts in dominance. Gangrel started this one out strong, managing to clothesline both DDP and David Otunga out of the ring. Gangrel went to irish whip Otunga into the steps, but Otunga reversed it, sending Gangrel into the steps. Otunga and DDP got back into the ring and went back and forth for a bit. DDP nailed Otunga with the Diamond Cutter, but Gangrel then threw DDP out of the ring and covered Otunga for the 1-2-3! Gangrel wins this one!
12:51
Gangrel then drinks more blood out of his cup and then works the crowd. A big victory for the returning Gangrel!
In Mr. McMahon's office, we see Christian and Cody Rhodes both demanding a US Title Shot. McMahon finally tells them both to shut up! That next wee, there will be a triple threat #1 Contender's Match, between Christian, Cody Rhodes, and the winner of the previous match, Gangrel!
Backstage, in the interview area, Josh Matthews is standing by with Sheamus. Josh asks Sheamus how he feels about his odds tonight in the Fatal Four Way Cage match. Sheamus says he's not delusional, he knows it'll take a lot, but he's a true Irish Warrior. He then says once he Brogue Kicks whoever is in his way, he'll scale the cage, and go on to kick Edge's arse at Backlash, and get the gold back where it belongs. Big pop!
Paul Wight makes his way out to the ring to a ton of boos from the crowd. He grabs a microphone, and asks the WWE Universe if they know why he's happy. He says he's happy because he completely destroyed Shawn Michaels last night, and he's damn proud of it. Lots of booing. He then says that he'll destroy anyone in his path, and -
Suddenly the lights die, and a loud gong is heard. The fans cheer like crazy. The lights come back on, but Wight's clearly spooked, and gets out of the ring as soon as he can.
Cole and Lawler introduce a video package that highlights the previous nights' Wrestlemania, focusing on the main events.
Backstage, we see a split shot of Triple H and Sheamus walking through the halls. Fatal 4 Way Action In The Cage Next!
#1 CONTENDER'S MATCH FOR THE WORLD HEAVYWEIGHT CHAMPIONSHIP
STEEL CAGE
TRIPLE H VS. SHEAMUS VS. ????? VS.?????
Triple H and Sheamus made their way to the ring, anticipating who their other opponents may be. The fans went crazy as it was revealed they were X-Pac and Ken Shamrock! Two huge names from the Attitude Era! All four men go at each other in the cage, with nobody getting a clear distinct advantage. Shamrock manages to irish whip X-Pac into the cage, and then taunts as the fans cheer. Triple H and X-Pac worked together a bit, and then Triple H attacked X-Pac and gave him the DX Chop taunt. Towards the end, Sheamus hit a powerful Brogue Kick to Triple H, and started to scale the cage. X-Pac tore him down though. Ken Shamrock tackled X-Pac, and Triple H began to scale the cage. Shamrock began scaling the other side! The fans cheered both! Both men dropped off the cage, and nobody knew what happened. A camera replay was shown, indicating Triple H's feet hit the ground a few seconds before Shamrock's. Triple H is the new #1 Contender!
12:04
Triple H celebrates as the fans cheer him on. Triple H is going to Backlash to face Edge for the World Heavyweight Championship!