As many of you will be aware by now, Phishing links have become a major problem not just on this website, but in all FIFA communities. Despite them becoming fairly infamous, many people are still falling victim to them, hence I decided to post this. Moderators are keeping an eye out for such links, although we cannot always remove them before someone clicks on them.
Firstly, if you think you have fallen victim to one of these links CHANGE YOUR PASSWORD IMMEDIATELY
---
» What is Phishing?
According to Wikipedia: "In the field of computer security, phishing is the criminally fraudulent process of attempting to acquire sensitive information such as usernames, passwords and credit card details by masquerading as a trustworthy entity in an electronic communication."
In Layman's Terms, Phishing is basically when someone sets up a replica of the EA website in an attempt to trick users into entering their email address and password
---
» How can I tell the difference between the official EA website and a phishing website?
The simple answer is, you can't. They look exactly the same (after all, that is the point). However, there are other ways of telling the websites apart other than simply looking at them.
Can you spot the difference?
Larger Image
---
» So how do I avoid visiting these websites?
There is a number of ways to avoid falling victim to phishing scams.
» Check the URL before you click the link
A phishing link obviously cannot start with www.ea.com, because that domain belongs to EA. Anything else is a phishing link. Sometimes they are well disguised and sometimes they are blatantly obvious. Either way, be sure to hover above the link and check the URL before clicking. It is worth noting that the most common culprit on neoseeker have been links redirecting to h1 ripway, but the domain could be anything, from www.eas.com to www.fifaphishing.com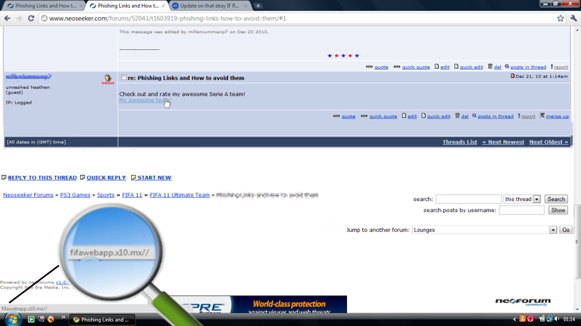 Larger Image
» Store your password on the EA website
While storing your password can sometimes be a risk, it is very beneficial in preventing your details being stolen. Hopefully the first step will stop you from ever stumbling upon a phishing website, but if ever you did, this measure should stop you from entering any details. Sign into the official EA website and and tell them to remember your password. This means that the next time you visit, your details will be remembered. If you visit a phishing website, it won't have these details stored, which should make you realise that you aren't on a genuine site.
The first instance remembers my details, thereby showing it is safe
» Try to 'browse' the website
This one applies to most, but not all phishing websites. Normally, when you click on any other tab at the main page (Home, Games, News & Media etc), the page won't load because the phishers didn't bother to create the rest of the website, as the Web App is the main area they target.
---
» How can I help?
I'm well aware that some of you have never clicked a phishing link and are eagle-eyed enough never to do so, but many people are not. In order to avoid visitors from having their teams stolen,
please report these links to moderators (hide them from view if you have the capabilities)
. If in ANY doubt, report the link anyway and the moderator can deal with it at the first chance.
Moderators have also banned guest posting within the forum to try and prevent the spread of phishing scams