Log in to remove this advertisement
In what could be only said as one of the most amazing, tough and down right unbelievable things I have seen on FM, this has to be the biggest achievement of all my games. Enjoy!
Tralee Dynamos: A Background
Founded in 1961, Tralee Dynamos are a semi-professional Irish club currently playing in the Irish First Division. The club play their home games at Togher Road and possess fairly basic training facilities and very basic youth facilities. The club also has fairly basic junior coaching and an average youth recruitment network. The club is affectionately known as The Kerry Men.
Although they have never won a competition, the club are enjoying probably their best spell of success this decade.
Never winning a competition was something I thought needed to be sorted. Their finaces where poor, the team however had some quailty.
Start of season expectations
You have told the board that you believe you can achieve a top half finish.

As a result, your transfer budget for this season has been set at £0 and your wage budget at £2.2K p/w.

The club is currently spending £580 per week on wages.
I saw this and thought, "Oh crap". Did I loan or get some free's? No, I looked at my team and said "Right, back to square one".
Match Day

Tralee Dynamos face the impossible
Tralee Dynamos: 10-1 Draw: N/A Sligo Rovers: 1-6-(Fav) (Irish League Cup Final)

Senior Challenge Cup semi-finalists Tralee Dynamos face a near impossible task in this extremely tough encounter against a vastly superior opposition in the shape of league leaders Sligo Rovers, according to Sky Bet.

Sligo Rovers beat Avondale United, Shelbourne F.C. and Drogheda United whilst Tralee Dynamos beat F.C. Carlow, Derry City, Waterford United and St. Patrick's Athletic to get this far. Sligo Rovers were able to enjoy a bye in the First Round.

The referee for the match will be Alan Kelly from Cork who has shown 18 yellow cards and one red card in his four League Cup games so far this season.
I hate the press, let it be stated here and now. There is nothing more in the world I love than a challenge. They really think we as a team are going to sit down and take a defeat? My only comment to them was that we are going out there to attack from the start and win. They thought I was mad, maybe I am?
First Half
Like I said we was going out there from the whistle to attack and take the game to them. It got a bit heated towards half time. Then one minute in to added time this happens!
Surgue kept the ball moving
Surgue moved the ball right for Michael McGrath
McGrath advanced with the ball through the driving rain
An inch perfect tackle from Foran, winning the ball from McGrath
Surgue did well to spot and intercept the pass
Surgue took the ball past Dolan
James Surgue put the ball into the six yard box
Purcell came forward
PURCELL SCORED FOR TRALEE DYNAMOS!!
Amazing scenes, we did everything we said we would and for that goal to happen, it just meant everything for the club. Then disaster, McGrath was injured by Foran's challenge. I still feel it was intentional, some how Foran escaped a booking. Half time finally arrived...We where winning!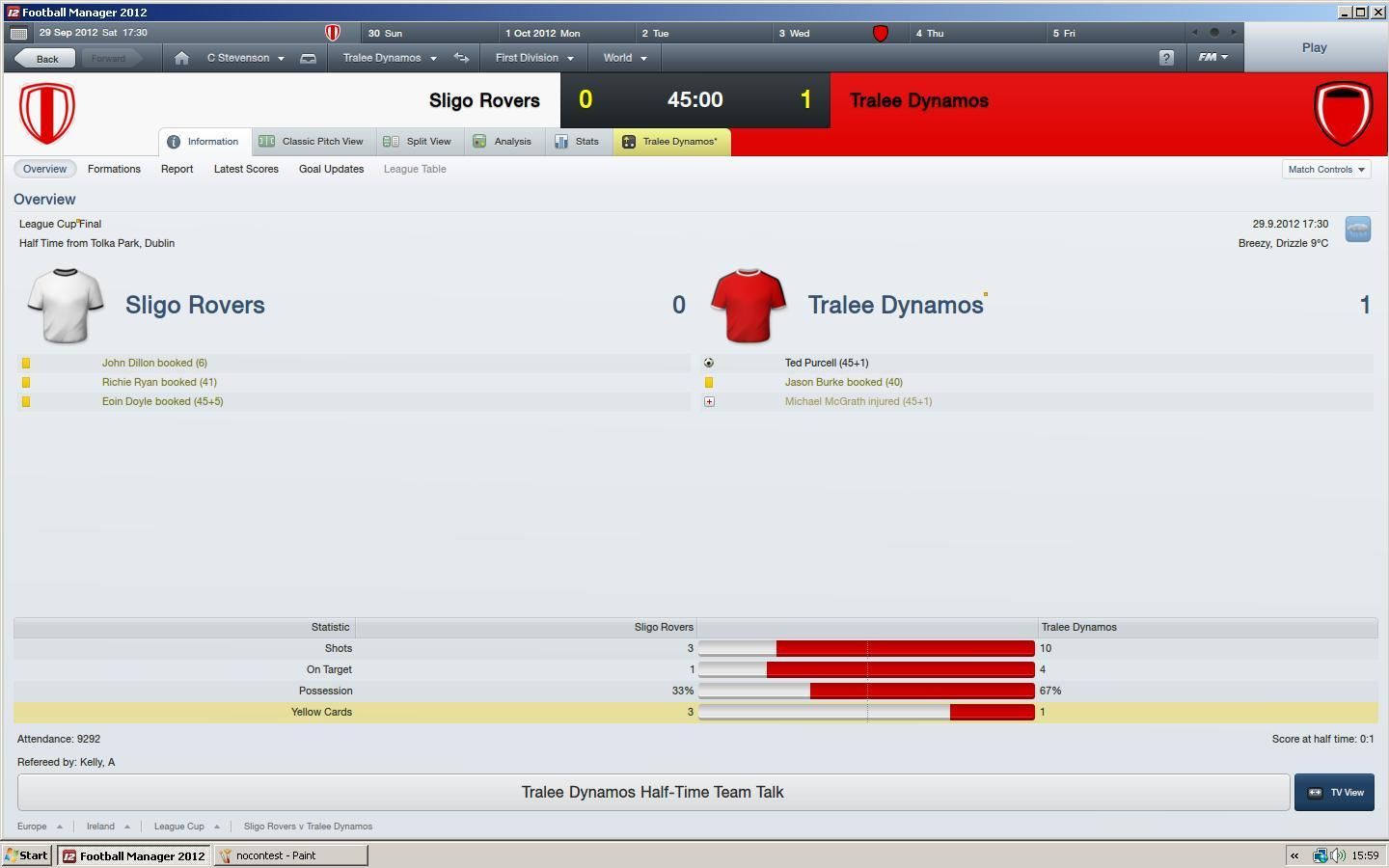 Second Half
The only logical thing I can do is not defend or attack but play it calm. Counter everything they do and keeping the fast paced action we love. Cotter are keeper took a knock and had to come off. Defensively we where tired and nearly ten minutes later we concede. Gutting for us, so close they score in the 75th minute, I decided it was time to attack and attack with force.
O'Mahony in the 79th minute came off and it just looked like getting worse. Somehow we managed to keep the brick wall up and it went to Extra Time. Drama!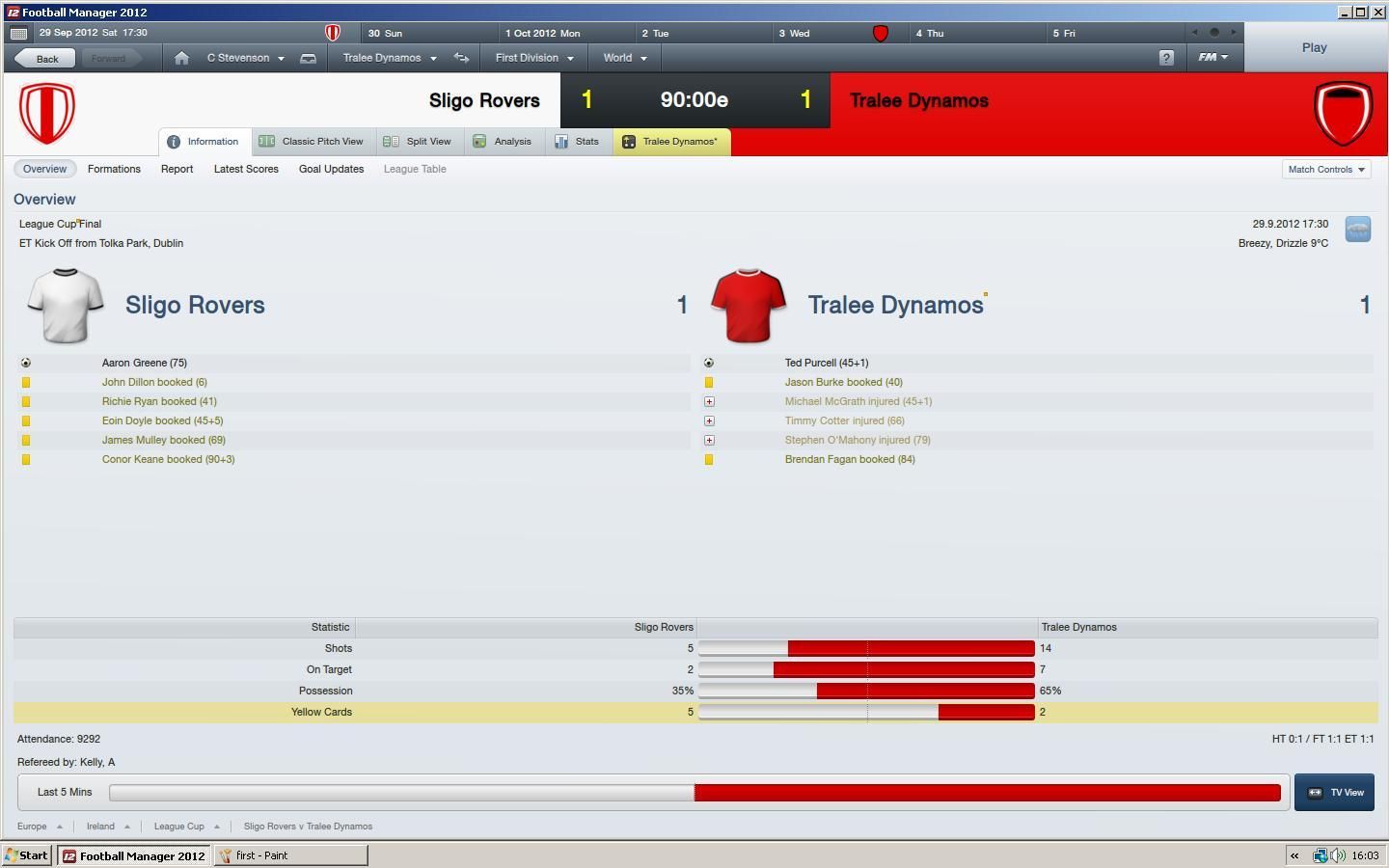 Extra Time
Nothing changes, we go out fighting! Bookings everywhere, we had nothing to lose. They would soon score, Ryan scores from a well worked corner and what a goal. We was deflated but not by any means out. Then the greatest moment in our club history and for me a near heart attack moment, this!
117 min
Tralee Dynamos had a chance to launch a counter attack
Ted Purcell took the ball over the halfway line
Purcell continued unchallenged
Purcell came forward
Purcell put a low cross in to the near post
Corner
117 min
Surgue looked to send a hanging ball over from the corner
O'Rahilly looked to latch onto it
The head of O'Rahilly met the ball
MAURICE O'RAHILLY SCORED FOR TRALEE DYNAMOS!!
We did it! We held on and this game is going one place, Penalties!
For the first time
EVER
on this game I put myself through the pain of watching it in 3D mode. I don't know why but I just had to see it, win or lose we came this far. So here it is
120+2 min
The match went to penalties!
120+2 min Mahon Goal 2 : 2
Mahon ran up to hit the penalty
MAHON SCORED!
120+2 min Purcell Goal 2 : 2
Ted Purcell took the penalty
PURCELL SCORED!
120+2 min Ryan Missed Penalty 2 : 2
Ryan began his run-up
But Ryan put it over the bar!
120+2 min O'Rahilly Goal 2 : 2
Maurice O'Rahilly began his run-up
O'RAHILLY SCORED!
120+2 min Keane Goal 2 : 2
Keane began his run-up
KEANE SCORED!
120+2 min Stokes Goal 2 : 2
Stokes took the penalty
STOKES SCORED!
120+2 min Foran Missed Penalty 2 : 2
Foran began his run-up
But Foran blazed it over
120+2 min Scully Goal 2 : 2
Tralee Dynamos would win if Scully scored
GREG SCULLY SCORED!
Tralee Dynamos won the shootout!!

A truly great match, FM 2012 threw everything at me that day and I still beat it. I personally don't think I will ever have a match like that again and to be frank i'm glad. This game gives you some really great moments and for me this has to be it. Here's the reactions afterwords!
Tralee Dynamos lift League Cup trophy
Sligo Rovers 2 - 2 Tralee Dynamos (League Cup Final)
(Tralee Dynamos won 4-2 on penalties)
Tralee Dynamos produced a tremendous performance at Tolka Park this evening to gain a 4-2 victory on penalties over Sligo Rovers.
Tralee Dynamos finally took the lead when striker Ted Purcell scored a simple finish from close in on 45 minutes. Striker Aaron Greene then equalised for Sligo Rovers in the 75th minute with a real poacher's effort.
Midfielder Richie Ryan put Sligo Rovers in front in the 99th minute with a tidy finish. With Sligo Rovers already beginning to celebrate, experienced centre-back Maurice O'Rahilly then scored a header in extra-time to snatch the equaliser for Tralee Dynamos.
Better late than never for Tralee Dynamos and the fans were clearly delighted with O'Rahilly's impact. In the shootout that followed it was left to young midfielder Greg Scully to keep a cool head and smash home the winning penalty for Tralee Dynamos.
Man of the Match: James Surgue (Tralee Dynamos)
Attendance: 9,292
Tralee Dynamos fans ecstatic
Tralee Dynamos fans are over the moon after their boss Christopher Stevenson beat all the odds to bring them glory in the Irish League Cup.
One fans' spokesperson was heard to remark that Stevenson had performed miracles with the Tralee Dynamos team and they would be petitioning the mayor to give him the freedom of the city.
League Cup win delights Stevenson
Christopher Stevenson fielded several questions about the penalty shoot-out and his reaction to the match from The Sligo Football Messenger and The Tralee Football Free Press following Tralee Dynamos' 4 - 2 Irish League Cup Final penalty win over Sligo Rovers.
The Tralee Football Free Press chose the main focal point for the conference with journalist Tony Curran asking, "Tralee Dynamos fans will be celebrating tonight after you guided them to victory in the League Cup. How do you feel after such a wonderful victory?"
Stevenson's response was, "I am absolutely thrilled. The performance from the players was fantastic and we fully deserve this. I BLOODY TOLD YOU SO!"
Historic League Cup final for Tralee Dynamos
Tralee Dynamos will appear in their first League Cup final in the club's 51 year history when they play Sligo Rovers on Saturday.
Whatever the outcome, Tralee Dynamos fans will no doubt look to thank Ted Purcell, the competition's top goalscorer, whose goals have propelled them into the final.
Meanwhile, two-times winners Sligo Rovers head into the final with the knowledge that history has seen them finish runners-up in the competition more times than they have won it.
http://www.youtube.com/watch?v=18nrDie02Vk&feature=share&list=UUOfhkHYwKZ6tpvcTRnoCIKw