Milan end Inter's title hopes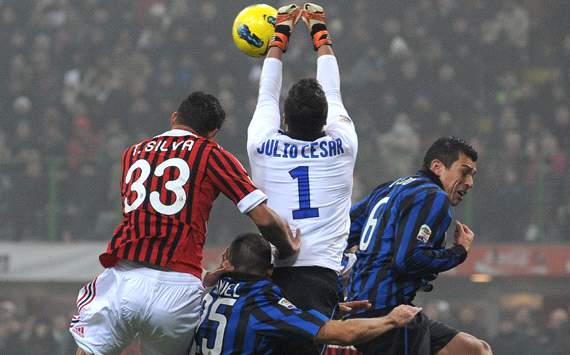 AC Milan ended Inter's chances of a late push on the league title with a 3-1 win at the San Siro today. Goals from, Robinho, Ambrossini and Niang wer enough to win the 3 points with, Robin van Persie getting one back for D4N's side. Attentions will now turn to maintaining the Champions League spot till the final day.
RESULTS UPDATE
Serie A
Inter 1-3 Milan
....
'van Persie
Inter had no answer for Robinho today in a nutshell. The Brazillian was playing to his best and he controlled the out come of the game, getting one for himself and creating both Ambrossini and Niang's goals. Inter looked flat with the question being raised on whether or not they had one eye on the upcoming
Europa League
Semi-Final second leg. Robin van Persie, pulled one back for Inter after taking the ball down on his chest from a long ball by Debuchy, the Dutchman flicked the ball through the legs of Thiago Silva and passed it into the net. Great individual goal but that was where the positives stopped for Inter. It finished 3-1 to Milan.
MAN OF THE MATCH: Robinho
Robinho looked back to his best against Inter today.
_________________________________________________________________________________________
Welliton named on the bench for Schalke
Brazilian forward, Welliton has been named on the bench for the semi-final second leg clash with FC Schalke 04 in the Europa League. Welliton, who has scored 29 league goals this term has spent the last 3 weeks out injured with a slight ankle sprain. At first it was thought that the player would not be fit until after the semi-final but Inter's chief of medical staff, Franco Combi has given D4N the green light to call upon Welliton if he is needed. Inter are currently a goal behind in the tie after loosing the first leg in Germany by a goal to nill. To be able to call on arguably one of the world's best strikers will be a huge plus for D4N.
_________________________________________________________________________________________
Inter through to Europa League Final
RESULTS UPDATE
Europa League - Semi-Final - Second Leg (0-1 first leg)
Inter 4-0 Schalke
....
'van Persie, 'Pirlo, 'Welliton x2
....
(Inter advance 4-1 on aggregate)
Inter Milan are through to their first European Final since they won the Champions League under Jose Mourinhio in 2010. Inter went into the tie a goal down following Jefferson Farfan's winner in Germany, but goals from Robin van Persie, Andrea Pirlo and a brace from Welliton ensured them of a place in the final. Andrea Pirlo ran the show from midfield today creating all three goals and scoring an absolute worldie himself. D4N made a bold decision in dropping Yohan Cabaye for today's game but Pirlo is more technically gifted than the Frenchman and it paid off.
Robin van Persie opened the scoring with a strike on the half turn. Nico Gatain played it to Pirlo in field and the Italian hit a superb first time ball into the feet of van Persie, the number 9's first touch bought him away from his marker and a first time left foot drive took the ball past the keeper to put Inter ahead. Andrea Pirlo got the second. Gareth Bale with the throwing deep inside Schalke's half Pirlo received the ball on the edge of the box and curled the ball into the far corner. The stadium erupted and Pirlo ran towards his manager in celebration, great strike. Welliton entered the fray around the hour mark coming on for Cristian Pasquato, and it wasn't long before he found the net. Pirlo again received the ball from Dzagoev and didn't even need to look he knew where Welliton would be and he found him, The Brazillian was 1 on 1 with the keeper and he smashed it into the roof of the net. Inter wer safely through now but they would add a fourth. Gareth Bale with the cross and the ball was cleared only as far as Pirlo who chipped the ball back towards goal, surprisingly Welliton controlled it instead of hitting it, the keeper came out but Welliton chipped the ball over his head and it just crept in under the cross bar. 4-0 was the score and joy all around the San Siro as they wer heading to Bucharest for the final.
MAN OF THE MATCH: Andrea Pirlo . 21
"It's a fantastic feeling to be in the final, I think the lads showed terrific character today and are deservedly in the final. I've been here 3 years now and this is my first final so i will make the most of it on a personal basis but on a professional level, we will be ready for who ever it is."
Geoff Shreeves: News coming from Manchester is that it will be City, they have beaten Liverpool again 2-1, what do you make of that?
"City? That's fine we will play who ever who is put in front of us. Like i say we have shown terrific character over the course of this tournament, we came back against Arsenal, and we came back today against Schalke, who make no mistake are a very good side. So we will be ready but City will need to be ready as well."
- Inter boss, D4N speaking after the game.
_________________________________________________________________________________________
Alarm bells ringing for D4N as Udinese win 1-0
Inter will be kicking themselves today after slipping to defeat against Udinese. Inter wer a point ahead of them in the league before today, but the result means Udinese move ahead of Inter in the table knocking them out of the Champions League places. It's a massive blow for D4N as potentially they could be relying on other results for a place in next season elite competiton.
RESULTS UPDATE
Serie A
Udinese 1-0 Inter
Inter had a run of bad luck today but Udinese wer solid defensively. Chances wer few and far between for the Nezzurri but another questionable penalty decision was what decided the game. Di Natale converted the spot kick after Mathias Ranégie was deemed to be fouled by captain Lucio but replays show there was little contact if any and the Sweedish forward went down easily. The former Brasil international was shown a yellow card much to the frustration of the Inter players. Diego Milito was thrown on in the second half and went the closest to scoring but could only find the side netting. It finished 1-0.
MAN OF THE MATCH: Faraoni
Diego Milito went closest for Inter.
Serie A
Inter 2-0 Lazio
....
'Welliton x2
Inter wer back to winning ways in Serie A with star striker Welliton hitting a brace after his full return to fitness. Lazio had Inter scared for the first 10 minutes, with Inter unable to get out of their own half. But the Brazillian fired D4N's side to the win with two in quick succession with 20 minutes left on the clock. Inter did their part but Udinese also beat Sampdoria and remain a point ahead in the
Champions League
place. D4N is now relying on Udinese to loose or draw and his side to win again to move back above them in the league. At the San Siro it finished 2-0.
MAN OF THE MATCH: Welliton
_________________________________________________________________________________________
Leandro Germinale makes step up to the first team.
Youth Academy prospect, Leandro Germinale has penned a 5 year deal at the San Siro, his first professional contract. The 16 year old Italian's preferred position is right back but can easily adapt to play anywhere across the back. Leandro has been at the club for the last 8 years after being scouted at the age of 8. He has risen through the ranks of the Academy and has earned his first professional contract after impressing with the reserves. Leandro has been given the number 25 jersey last worn by Walter Samuel.
"It is a proud day for me and my family, I have been at the club a long time and have always dreamed of making it professional. Today that dream has came true and i would like to thank everyone who has helped my progression in the past for helping me get where i am today."
- Leandro Germinale
"The boy is a talent theres no doubt about it. He is versatile as well so he can adapt where needed. We have 5 world class full backs here and within time that could increase to six with this lad always improving. Leandro has a bright future, provided he keeps his feet on the ground and works hard."
- Inter boss, D4N
_________________________________________________________________________________________
Inter Milan crowned Europa League Champions
FC Internazionale 1 - 0 Manchester City
Arena Națională, Bucharest
EUROPA LEAGUE FINAL
D4N has delivered his first trophy since his appointment in July 2011, The Uefa Europa League. A 68th minute strike from forward Welliton was enough to see Inter across the line, and they defended heroically. It was an emotional send off to skipper, Lucio who is retiring at the end of the campaign, but was on hand tonight to lift the trophy.
"Over the moon! can't believe it, massive relief and hopefully the club can kick on from this. It's been a rollercoaster 3 years here and ive loved every minute of it. So glad to have repayed the faith shown in us to the fans, they are the most important people of this football club and that was for them."
- Inter boss, D4N
"It's emotional, a great way to end my career and it will live long in the memory. I would like to thank the manager for having the confidence in me to name me captain when he arrived and my team mates for always giving there best. Inter is a magnificent club and are on the way up, Forzza Inter!"
- Inter captain, Lucio
Inter are the Europa League Champions of 2013/2014 and manager D4N can be proud of his sides achievments. They have arguably the worlds best striker in Welliton in their ranks, so if they build on that the future is bright here is a break down of the first and second halves.
1st Half Analysis
The nerves where clear all over the pitch after the players walked past the trophy whilst taking to the field. Both sides new what was at stake and it took a few minutes for the game to take any real pace. The first few minutes wer very cagey when in posession the players wer content at playing the safer, simple pass. It took 15 minutes for the first real chance, former Inter forward, Mario Balotelli was through on goal but the offside flag was raised, Inter's defence wer in tandum there and stepped up well. Nothing really materialised through out the rest of the first half, Alan Dzagoev forced a save from Joe Hart from around 20 yards but not much after that the score at half time was 0-0.
HALF TIME SUBS:
Man City : Edin Dzeko
<---
, Sergio Aguero
---->
Inter: Yohan Cabaye
<---
, Andrea Pirlo
---->
2nd Half Analysis
The introduction of Andrea Pirlo seemed to work for Inter as things began to tick in midfield. The Italian veteran was the focal point in attack and for 5 minutes Man City could not get out their own half. Aguero though would have the first opportunity of the half, Gareth Barry beat Dzagoev to a loose ball and played a tremendoues ball with the outside of his right foot to Aguero, the Argentine slalamed his way past Douglas and Lucio then hit the outside of the post, let off for Inter. A goal was coming in this game, you could just sense it. The crowd new it as well as both sets of supporters wer right behind their teams. The break through came close to the 70th minute mark, when Serie A top scorer Welliton danced his way past Lescott and Zabaletta, then smashed it into the roof of the net. Great goal and the travelling Inter contingent went crazy. Even Julio Cesar left his goal to celebrate Welliton's opener, great moment for the club there. D4N's next move was to bring on Andrea Romano for van Persie to pack out the midfield and defend their lead. Andrey Arshavin came on as well to replace Gareth Bale for some fresh legs down the left flank. The change in formation contained City well until the final stages when the sky blues won a corner. James Milner swung it in and Balotelli lept up to head goalwards, Julio Cesar was forced into an acrobatic save to deny his former team mate. Inter ran the clock down for the final 3 minutes and at the final whistle, Jubilation for the Italians. Europa League Champions 2014 wer Inter Milan.
2nd HALF SUBS:
Man City: Kolarov
<----
, Clichy
---->
Inter: van Persie
<----
, Romano
---->
Bale
<----
, Arshavin
---->
MAN OF THE MATCH: Lucio
An emotional Lucio celebrates the cup win with his children.
_________________________________________________________________________________________
Season ends on a sour note for Inter
D4N will be disappointed in how the season finished for Inter, with his side missing out on a Champions League spot. The final game of the season saw Sampdoria visit the San Siro and Inter did their part and won the three points. But results elswhere meant they would finish 4th in Serie A and would compete in the Europa League again next season.
RESULTS UPDATE
Serie A
Inter 2-1 Sampdoria
....
'Welliton, 'van Persie
Inter went into this game knowing that nothing less than a win would suffice if they wer to qualify for Europes elite next season. Although even then they would be relying on results elswhere. D4N's men did have a scare early on. Sampdoria went a goal ahead after a shot deflected off the back of Douglas and went the opposite way of the keeper. Desperatley unlucky. Inter wer quick to hit back with a strike from Welliton for his 32nd league goal of the season. Inter controlled the game from then on and the winner came around the hour mark. Robin van Persie with the header from a Yohan Cabaye corner kick.
MAN OF THE MATCH: Cabaye
Cabaye in pre match warm up
_________________________________________________________________________________________
2013/2014 Season Review
Although the season did finish in disappointment for Inter there are lots of positives to be took from the campaign. Inter wer right up there challenging the likes of Napoli and Juventus for top spot until a bad run of results ended their title hopes and eventually ended their hopes of a Champions League place. The season should however be considered a success with D4N giving his new owners the UEFA Europa League trophy, his first since his appointment in 2011. Domestically Inter played some sincilating football at times and some would argue that they are hard done by not to at least be in the Champions League, but football is a results business and Inter didn't win enough games to qualify. The Coppa Italia was a disappointing one this season with D4N's men being knocked out at the first time of asking by Serie B outfit Reggina. D4N will hope to build on this seasons progress next term though, and with a couple of fresh faces should well be right up there next season.
Serie A Final Table
C. Juventus ---- P38----W25----D9----L4----GF72----GA33----GD39----PTS84
2. Napoli --------P38----W23----D9----L6----GF69----GA41----GD28----PTS78
3. Udinese ------P38----W23----D7----L9----GF60----GA31----GD29----PTS73
4. Inter Milan ---P38----W22----D6----L10----GF76----GA58---GD18---PTS72
5. AS Roma ----P38----W20----D10----L8----GF68----GA41----GD27----PTS70
6. Catania ------P38----W17----D17----L4----GF60----GA37----GD23----PTS68
7. AC Milan -----P38----W18----D11----L9----GF62----GA37----GD25----PTS65
8. SS Lazio -----P38----W18----D7----L13----GF50----GA38----GD12----PTS61
9. Palermo -----P38----W16----D11----L11----GF50----GA43----GD7----PTS59
10. Genoa ------P38----W15----D8----L15----GF56----GA52----GD4-----PTS53
11. Fiorentina --P38----W13----D9----L16----GF50----GA48----GD2-----PTS48
12. Cagliari -----P38----W11----D12----L15----GF48----GA51----GD-3---PTS45
13. Chievo ------P38----W12----D9----L17----GF42----GA48----GD-6----PTS45
14. Parma ------P38----W9----D13----L16----GF37----GA56----GD-19----PTS40
15. Sampdoria--P38----W9----D10----L19----GF32----GA55----GD-23----PTS37
16. Bari --------P38----W10----D5----L23----GF34----GA74----GD-40----PTS35
17. Atalanta ----P38----W6----D12----L20----GF38----GA60----GD-22----PTS30
R. Leece --------P38----W7----D8----L23----GF34----GA64----GD-30----PTS29
R. Bologna------P38----W7----D7----L24----GF31----GA64----GD-33----PTS28
R. Cesena ------P38----W6----D8----L24----GF34----GA72----GD-38----PTS26
Inter's most memorable win this season was against Champions Juventus as they won 4-2. Proabably the 4-3 defeat to Giuseppe Baresi's Leece was the hardest to take for D4N but unfortunatley for the former Inter assistant his side could not beat the drop and will be fighting it out in Serie B next season.
This season was captain, Lucio's last as the veteran defender decided to bring his illustrious carrer to an end. He managed to end it on a good note with lifting the Europa League trophy for the club but was disappointed not to have finished in a Champions League spot.
"It was a great moment for me personally to lift the cup in Bucharest. The manager has shown tremendous faith in me since he arrived here and i can't thank him enough. I am sad that we could not reach 3rd place it was a huge blow as we wer so confident we could do it. Never the less i am proud of my achivements in my career and would like to wish the manager and all the staff and players all the best for the future."
- Former Inter captain, Lucio
Alan Dzagoev will take over the armband for next season with Yohan Cabaye named as the vice-captain. Dzagoev's first competative game as captain will be in the European Super Cup Final agianst Champions League winners, Barcelona.
Despite finishing 4th in Serie A Inter managed to score the most goals, most of which came from Welliton who scored an impressive 32 of the 76 goals to take the golden boot.
1. Welliton - 32 goals (Inter)
2. Quagliarella - 23 goals (Juve)
3. Gomez - 20 goals (Catania)
4. Cavani - 18 goals (Napoli)
5. Pasquato 15 goals (Inter)
Manager's End of Season Notes
"It was a fantastic way to end the campaign in winning the Europa League. Everyone at the club worked tirelesly for us to get there and in the end it was fully deserved. Disappointed not to have got into next season Champions League but we have lots of positives to take into the next campaign, Welliton was on fire in front of goal all season yet again, i can't ask for more from him. I would personally like to thank Lucio who has been a top professional since my appointment and wish him all the best in his retirement. And a special mention to all the fans who travel with us all over the world to support us, thank you and we will strive to bring you more sucess next season."
_________________________________________________________________________________________
Andrey Arshavin & Julio Cesar depart the club.
Both Andrey Arshavin and Julio Cesar have today departed FC Internazionale. The Russian International joined from Arsenal for £12,000,000 in 2011 and has turned down the option of a 1 year contract. Arshavin is now a free agent and it is thought that former club Zenit St.Petersburg are lining up an offer for the player.
Julio Cesar has ended a 9 year association with Inter and has joined Brazilian side, Santos on a free transfer. The number 1 had earlier stated his desire to leave the club and has got his wish. The Brazillian had fallen out of favor with D4N towards the end of last season so the move suits all parties.
_________________________________________________________________________________________
D4N Completes Douglas move
Inter Milan have completed the sigining of Douglas from Twente on a Four year deal. Douglas spent last season on loan at Inter and the Italian club had the option to make the deal permanant once the loan had ended, an option that the club have taken. It is though that £16,000,000 is the fee that Inter have paid and Douglas has been given the number 6 shirt vacated by the retired Lucio.
_________________________________________________________________________________________