D4N to Return for Zárate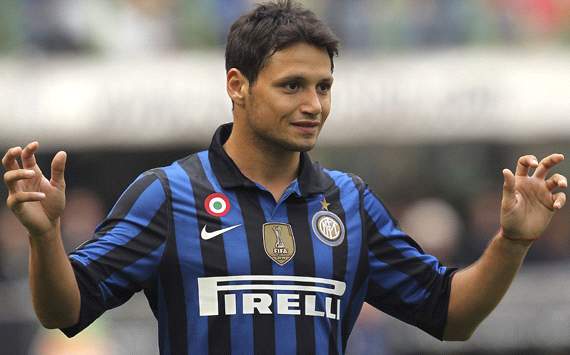 Inter Milan boss, D4N plans to challenge Genoa's resolve with a huge bid for striker Mauro Zárate in the summer. D4N had a bid rejected for the Argenitine last summer and turned his attentions to van Persie after the deal with Edinson Cavani (Napoli) fell through.

It's thought that D4N will not be taking up the option of a permanent transfer on van Persie as he has suffered with injury and hasn't really found the net as much as D4N thought he would. Mauro Zárate spent D4N's first season in charge, at Inter on loan from then parent club Lazio. Zárate scored 22 goals in 35 appearances for Inter that season, but a deal could not be struck at the end of the loan. Zárate has since moved to Genoa and is rumored to be unhappy at the club. Prompting D4N to piece together an escape route for the player.
This story has been reproduced from today's media. It does not necessarily represent the position of FC Internazionale.
________________________________________________________________________________________
Bale relishing the prospect of playing in the della Madonnina
Gareth Bale flew back to London during the International break, to do some promotion work for Adidas (his main sponsor). Our number 14 was at Adidas HQ where he answered Questions from fans that had been posted on Twitter. Here we have selected our 10 favorites.
@_Sam_Lansbury (Spurs Fan)
Gareth, do you miss Spurs Lodge? and how are you finding Serie A?
"I do miss Spurs, i made some great friends there but in football you always have to be aware that circumstances change and i'm loving life in Milan at the moment. Serie A is a competitive league, i have to be honest i didn't expect it to be as quick as it is but i'm really enjoying my football as well."
@_Fiona10Carlise (Spurs Fan)
How did it feel to score against Arsenal in the Europa League? I celebrated that goal like you where wearing a Spurs shirt again.
"(laughs) It was special, it always is when you score but that goal was my best moment yet in an Inter shirt. We wer winning the game comfortably but my goal put us back in front on aggregate i think, and what made it extra special was it was knocking Arsenal out as a former Spurs player that always feels good."
@_1nt3r_mafia (Inter Fan)
How are you looking forward to the upcoming, della Madonnina? (Milan derby)
"I cannot wait to play against AC Milan. I loved playing Arsenal whilst at Spurs and this will be no different in terms of my passion for the result. Obviously the fixture is draped in history and with both clubs sharing a stadium it will be different in that respect as really there is no home or away side. If im picked ill give my all as i always do to help the team to 3 points."
derby della Madonnina is always a momentous occasion
.
@_BillyLFC (Liverpool Fan)
Is there any possibility you may return to Premier League in the future?
"Anythings possible in football, but for now i'm an Inter player and i'm really enjoying it there. The manager is top class and the players work for one and other. But who knows what the future holds."
@_Intersupporters (Inter Fan Group)
Does the transfer fee Inter paid to Spurs, sometimes way heavy on your shoulders?
"No not really. The manager has shown his faith in me and believes I'm good enough, that's all i think about to be honest. The money exchanged between the two clubs is never really in my mind, I just go out and perform to the best of my ability."
@_Kane_Spurs4Life (Spurs Fan)
I have been watching Inter closely since you joined them and you already have 4 goals, Do you think it's easier to score in Italy than it was in England?
"I have scored 4 that's right but i perhaps would not have scored them if not for my team mates. When i look around whilst waiting for the whistle, sometimes i think, what a team we have. There are world beaters all over the pitch at this club and as a wide man if you look across at the midfield and you see the likes of Pirlo, Cabaye and Dzagoev with Gatain or Ben Arfa over the other side then upfront we have Welliton, Milito, van Persie and Pasquato it makes your life easier and you get more opportunities in front of goal. Couple that with who we have behind us, really there is not a lot you have to worry about."
@_NoelGallagher (Man CIty Fan)
I heard you turned down a move to City, how come?
"Haha putting me on the spot now. Yeah Man City did give me an offer as did a few other clubs across Europe but at Inter, the manager made me feel wanted and he really sold the club to me. The chance to play at Inter doesn't come round very often as a professional. So my mind was made up, and i'm glad i made the right decision."
@_Jack_Livermore (Spurs Player)
Gazza, we miss whooping you on FIFA get your backside down here once you've finished this?
"(laughs) He's a wind up merchant isn't he. (laughs) Yeah Jack ill be down to teach you all a lesson."
@_Amedeo-Welliton-Magnifico (Inter Fan)
What has been your proudest moment so far since joining Inter? Forza Inter!
"My proudest moment has to be my first goal against Juventus. It was a relief to score then to ad a second against last seasons Champions as well, It was a fantastic result and i was immensely proud to have played a part that day."
@_Nerazzurri-till-death (Inter Fan)
How do you see your Inter future mapped out?
"Hopefully my future will be decorated with lots of winners medals. I have a 4 year contract at Inter and for those 4 years at least, i hope to have won many trophies."
Thanks for taking the time to answer those questions Gareth from everyone at Adidas.com
_________________________________________________________________________________________
Inter, the season so far
We are heading into the business end of the season now and with only 8 games remaining in Serie A and going into the second leg of a Europa League semi-final we take a look at how the season has progressed to this stage.
We have a few new faces in the team since last season with the likes of, Debuchy, Roderick, Douglas, Balzaretti, Thorgan Hazard, Cabaye, Bale, van Persie, Airton & Pasquato all joining in the summer and in January. We have also seen some youth players come up through the academy, Erik van de Laak and Daniel Borghese. So the manager and staff behind the scenes have worked extremely hard to achieve their targets.
Since D4N's appointment in July 2011, silverware has seemed elusive but with each season their has been improvement. Following the sacking of former Manager, Claudio Ranieri in May 2011, after failing to finish in a European spot. Then Inter, President, Massimo Moratti appointed the inexperienced D4N. In his first campaign in charge D4N took Inter back up to 5th in Serie A and back into European competition. The 2012/2013 season had significant improvement with Inter finishing 4th in Serie A and wer beaten semi-finalists in both the Europa League and the Coppa Italia. This season (2013/2014) however, D4N has taken Inter back where they belong in the Hunt for the title. Although it may seem gone at this stage, mathematically Inter can still finish 1st so D4N will want his side to be picking up all the points available.
Serie A ,top 4 as it stands:
Juventus - Points = 72
Napoli - Points = 69
FC Internazionale - Points = 68
SS Lazio - Points = 65
Juventus on course for back to back titles then with the 'Old Lady' 3 points ahead of Napoli and 5 points ahead of Inter. They are the bookies odds on favorites to retain the title this season. Inter have all but guaranteed Champions League football next term with them being just 2 points behind second place Napoli and 4 points ahead of 4th placed, Lazio with a game in hand. In European competition this term Inter are currently a goal down in the semi-finals after a first leg defeat to FC Schalke 04 in Germany. But with plenty of football left to be played in that tie who knows where they will end up.
Inter's most recognised win this season would be the 4-2 win over Juventus at the San Siro. The Champions had an almighty shock that day with D4N's Inter playing at their best.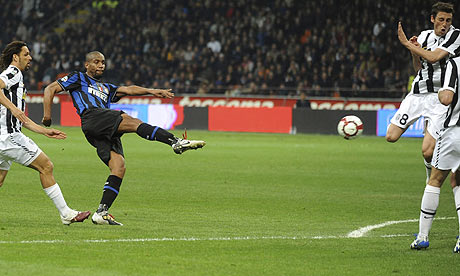 Maico has a go against Juve.
Inter have been prolific in front of goal this term with star striker, Welliton hitting 29 goals in Serie A so far. The Brazillian is out injured at the moment but has ran away with the golden boot award in the goal standings.
Serie A Leader Board (Top Goal Scorer)
1. Welliton - 29 goals(Inter)

2. Quagliarella - 19 goals (Juve)

3. Gomez - 18 goals (Catania)
4. Pasquato - 15 goals (Inter)
5. Cavani - 15 goals (Napoli)
Welliton has ran away with the gong this year with still a few games left. When the Brazilian returns from injury I'm sure he'll be back to finding the net again on a regular basis.
"First name on the team sheet for me. He's been prolific since he joined. He's scored 85 league goals already, that's just in the league. Welly cost us £30,000,000 from Spartak Mosow and he's more than proved his worth. He's ripped opposing defences apart all season and I'm sure other managers dread seeing him on the team sheet."
- Inter boss, D4N
Serie A Leader Board (Most Assists)
1. Marchisio - 17 assists (Juve)

2. Dzagoev - 15 assists (Inter)
3. Pirlo - 14 assists (Inter)

4. Modric - 12 assists (Juve)
5. Robinhio - 10 assists (Milan)
Claudio Marchisio leads the list for most assists this season with Inter's Alan Dzagoev and Andrea Pirlo breathing down his kneck. Pirlo stands out for me as he is not a fixture in the squad for D4N but his rate for creating chances is second to none and always healthy to have in your armoury.
"All the midfielders have contributed to goals this season. Obviously Dzagoev and Pirlo stand out but the creation of chances has been superb this year, just hope the lads keep it up."
- Inter boss, D4N
Inter's Path to the Europa League Semi-Final
Group Stage -
Match 1 -
Inter 3-0 VSC
....
'Romano, 'Adryan, 'Lewandowski
Match 2 -
Odense 1-2 Inter
....
'Pirlo, 'Milito
Match 3 -
Inter 2-0 Bordeaux
....
'Milito, 'Pasquato
Match 4 -
VSC 4-2 Inter
....
'Arshavin, 'Milito
Match 5 -
Bordeaux 0-2 Inter
....
'Arshavin, 'Douglas
Match 6 -
Inter 1-1 Odense
....
'Welliton
Inter topped Group H winning, 4 drawing 1 and loosing 1. D4N's men found the net 12 times and conceded 6.
Round Of 32 -
First Leg -
Rosenborg BK 1-1 Inter
....
'Dzagoev
Second Leg -
Inter 2-0 Rosenborg BK
....
'Pasquato, 'Welltion
Inter advance 3-1 on aggregate.
Round Of 16 -
First Leg -
Inter 2-0 Sporting CP
....
'Pasquato, 'Pirlo
Second Leg -
Sporting CP 3-3 Inter
....
'Pasquato, 'Welliton, 'Douglas
Inter Advance 5-3 on aggregate
Quater-Final Stage -
First Leg -
Arsenal 2-0 Inter
Second Leg -
Inter 6-3 Arsenal
....
'Arshavin x2, 'Milito x3, 'Bale
Inter Advance 6-5 on aggregate
Semi-Final Stage -
First Leg -
Schalke 1-0 Inter
Second Leg -
Inter _-_ Schalke
With the second leg just around the corner, Inter still have lots to play for this season. They are still well within a place in the Europa League Final and are still in the hunt for the title. Only time will tell and we will see what happens come the end of May.
_________________________________________________________________________________________