Log in to remove this advertisement
Updated 2.16.2011
DYNASTY WARRIORS 7
SHIN SANGOKOU MUSOU 6
OFFICIAL SITE
RELEASE DATES
NA: March 22nd, 2011
UK: April 1st, 2011
TRAILERSNEW FEATURES IN DW7
*The Addition of the JIN DYNASTY; their animal will be the Kirin and their associated color is Teal
*Expansion of the Storyline past Wu Zhang Plains
*Kingdom Based Musou Modes
*Chronicle Mode (similar to DW Strikeforce)
*Each Character will be able to Switch between Two Different Weapons
*Renbu Out, the Old Charge Chain System Back In
*Addition of Aerial Combos and Musous
*Battles Will Offer Multiple Perspectives (ie. Switching between *Zhao Yun and Zhang Fei at Chang Ban)
*Over 60 characters, featuring at least 10 totally new characters
CONFIRMED RETURNING CHARACTERS
WEI:
Cao Cao: Sword
Xiahou Dun: Saber
Xiahou Yuan: Bow
Xu Huang: ???
Zhen Ji: Flute
Cai Wenji: Harp
Cao Ren: Wrecking Ball
Dian Wei: Axe
Zhang Liao: Dual Halberds
Zhang He: Claws
Xu Zhu: Club
Cao Pi: Dual Swords
SHU:
Liu Bei: Twin Swords
Guan Yu: Halberd
Zhang Fei: Voulge
Zhao Yun: Spear
Zhuge Liang: Fan
Xing Cai: Spear and Shield
Ma Chao: Spear
Jiang Wei: Spear
Huang Zhong: Bow
Yue Ying: Scythe
Wei Yan: ???
Pang Tong: ???
Guan Ping: Broad Sword
WU:
Lu Xun: Twin Swords
Zhou Tai: Katana
Da Qiao: Folding Fans
Ling Tong: Nun-chucks
Lu Meng: Halberd
Sun Ce: Tonfas
Sun Quan: Sword
Zhou Yu: Staff
SSX: Chakrams
Taishi Ci: Screaming Sticks
Xiao Qiao: Folding Fan
Sun Jian: Saber
JIN:
Sima Yi: Fan
OTHER:
Zhu Rong: Throwing Knives
Meng Huo: Gauntlets
Zhang Jiao: Staff
Yuan Shao: Rapier
Dong Zhuo: Chain Mace
Lu Bu: Sky Scorcher
CONFIRMED NEW CHARACTERS
WEI:
Jia Xu: Chain Sickles
SHU:
Bao Sanniang: Bladed Yo-yo
Ma Dai: Magic Paint Brush
Liu Chan: Rapier
Guan Suo: Nunchaku
WU:
Ding Feng: Gauntlets
Lian Shi: Crossbow
JIN:
Sima Zhao: Dao
Sima Shi: Rapier
Zhuge Dan: Fan
Wang Yuanji: Throwing Knives
Deng Ai: Drill Lance
Zhong Hui: Floating Swords
Guo Huai: Drill Cannon
Xiahou Ba: Broadsword
OTHER: NONE
KINGDOM PORTRAITS
WEI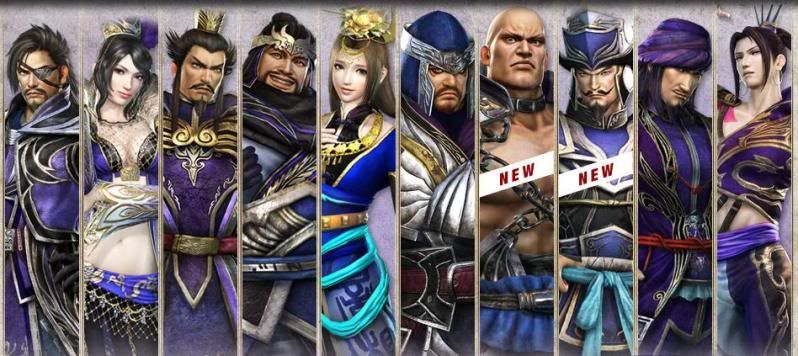 Xiahou Dun, Zhen Ji, Cao Cao, Xiahou Yuan, Cai Wenji, Cao Ren, Dian Wei, Zhang Liao, Jia Xu, Zhang He
SHU
Bao Sanniang, Zhao Yun, Ma Chao Xing Cai, Jiang Wei, Ma Dai, Huang Zhong, Yue Ying, Zhuge Liang, Liu Chan, Liu Bei
WU

Zhou Tai, Lu Xun, Ling Tong, Da Qiao, Lu Meng, Ding Feng, Sun Ce, Zhou Yu, Taishi Ci, Sun Shang Xiang, Xiao Qiao, Sun Quan, Lian Shi
JIN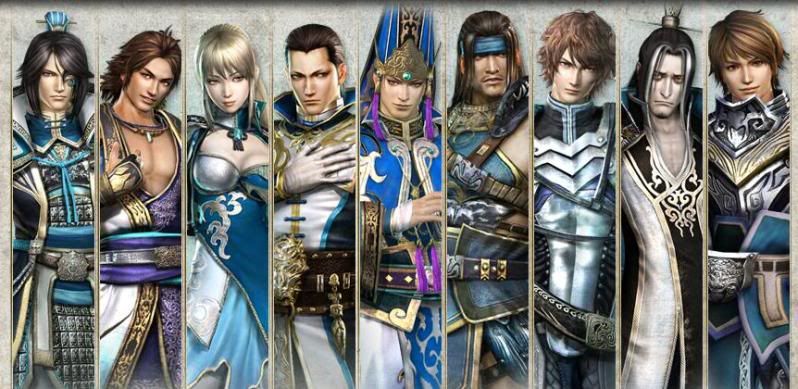 Sima Shi, Sima Zhao, Wang Yuanji, Zhuge Dan, Sima Yi, Deng Ai, Zhong Hui, Guo Huai, Xiahou Ba
OTHER
Zhu Rong, Meng Huo, Yuan Shao, Zhang Jiao, Dong Zhuo, Lu Bu
WIKI ARTICLESMa Dai
quote wikipedia


Ma Dai was a general of the Kingdom of Shu during the Three Kingdoms era of China. He was a former officer under his uncle, Ma Teng, and later Ma Chao, the eldest son of Ma Teng and, finally, Liu Bei, founder of the Kingdom of Shu.

Little of Ma Dai is known through historic records, except he at least participated Zhuge Liang's last expedition to the North in 234 AD. During that war, he was defeated by the Wei general, Niu Jin; but he was credited with hunting down Wei Yan, when the latter insisted on contiuing the northern expedition after the death of Zhuge Liang.

In the Romance of Three Kingdoms, by Luo Guanzhong, Ma Dai went with Ma Teng to the capital on a summon from Cao Cao, and escaped from Cao Cao's trap by disguising himself, and participated activiely during the battle of Tong Pass. He later followed Ma Chao to serve under Zhang Lu, and defected to Liu Bei when Liu besieged the city of Chengdu. He was depicted as a trusted general under Zhuge Liang after Liu Bei's death, and was often used in crucial parts of the battlefield during Zhuge Liang's Southern Campaign alongside Zhao Yun and Wei Yan. But his most notable deed is for slaying the rebellious Wei Yan in a ploy set up by Zhuge Liang and Jiang Wei. When Wei Yan revolted, Ma Dai pretended to join him, then snuck up behind Wei Yan and assassinated him. His reward was the rank that Wei Yan had forfeited.
Sima Zhao
quote wikipedia


Sima Zhao (died 265), courtesy name Zishang (子尚), was the son of chief military strategist Sima Yi of Cao Wei, during the Three Kingdoms era of China.

He maintained control of Cao Wei, seized by his father Sima Yi and maintained by his elder brother Sima Shi, and had himself created the Lord of Jin -- the penultimate step before usurpation of the throne, although he would never actually take the throne. He took advantage of weakness in Shu Han to the west and attacked it, forcing the surrender of Shu's people. His military credit helped to set up the plot of overthrowing Cao Wei by his son, Sima Yan, who usurped the Cao Wei throne proclaimed the Jin Dynasty. After the establishment of Jin, Sima Yan posthumously honored him as Emperor Wen of Jin (晉文帝), with the temple name Taizu (太祖).

A Chinese idiom involving and inspired by Sima Zhao is one that states, "Everyone on the street knows what's in Sima Zhao's mind." (Sīmǎ Zhāo zhī xīn, lùrén jiē zhī, 司馬昭之心, 路人皆知) meaning that a person's supposed hidden intention (in this case, usurping the throne) is so well known that it is not really hidden any more. It came from a quote said by Emperor Cao Mao of Wei, who launched an unsuccessful uprising against Sima Zhao to try to take back imperial power.

Sima Zhao was born in 211, as the second-born son of Sima Yi and his wife Lady Zhang Chunhua (張春華), younger only to Sima Shi. As his father was an important Cao Wei official, Sima Shi himself climbed up the ranks of officials fairly rapidly. Due to his father's achievements (not his own) in destroying the warlord Gongsun Yuan, he was created a marquess in 238.

Sima Zhao's involvement in his father's coup d'état against the regent Cao Shuang in 249 is unclear. According to Jin Shu, he was not told about the plan, hatched by his father and his older brother, until the last minute -- a view disagreed with by other historians, who believed that he was intimately involved in the planning. In the aftermaths of the successful coup, however, his father became regent, and he himself became important in status. In 251, when his father suppressed the failed rebellion of Wang Ling, Sima Zhao served as deputy commander. During the next few years, he was involved in commanding forces in repelling invasions by Shu Han's commander of the armed forces, Jiang Wei.

In 254, while Sima Zhao was at the capital Luoyang, advisors to the Wei emperor Cao Fang suggested that the emperor surprise Sima Zhao and kill him to seize his troops, and then use those troops against Sima Shi. Cao Fang, apprehensive, did not act on the suggestion, but the plot was still discovered, and Sima Zhao assisted his brother in deposing the emperor and replacing him with Cao Mao. In the aftermaths of the removal of the emperor, the generals Wuqiu Jian and Wen Qin rebelled in 255 but were defeated by Sima Shi.

Sima Shi, however, had a serious eye illness that was aggravated by the campaign, and he died less than a month later. At that time, Sima Zhao was with his brother at Xuchang (in modern Xuchang, Henan). The 14-year-old emperor Cao Mao made an effort to regain imperial power. He issued an edict which, under the rationale that Sima Shi had just defeated Wuqiu Jian and Wen Qin's rebellion and that the southeastern empire was still not complete pacified, ordered Sima Zhao to remain at Xuchang and that Sima Shi's assistant Fu Jia return to Luoyang with the main troops. Under Fu Jia and Zhong Hui's advice, however, Sima Zhao returned to Luoyang anyway against edict, and was able to maintain control of the government. Indeed, from that point on, he would not let Cao Mao or Empress Dowager Guo to be out of his control.

During the next few years, Sima Zhao consolidated his authority further, leaving the emperor and empress dowager with little power. He further built up a series of events that were viewed as precipitations to usurpation of the Cao Wei throne. In 256, he had the emperor grant him the privilege of wearing imperial robes, crowns, and boots. He further tested waters by having his close aides hinting to the generals around the empire as to his intentions. In 257, when he sent Jia Chong to probe Zhuge Dan's intentions, Zhuge rebuked Jia Chong severely -- leading Sima Zhao to summon Zhuge Dan back to the capital under guise of a promotion. Zhuge Dan refused and started a rebellion, submitting himself to Eastern Wu for protection. Sima Zhao advanced quickly on Zhuge Dan's stronghold of Shouchun (壽春, in modern Lu'an, Anhui) and surrounded it, eventually capturing the city in 258 after cutting off any hope of an Eastern Wu rescue, killing Zhuge Dan and his family. After Zhuge Dan's death, there was no one who dared to oppose Sima Zhao further for the next few years. In 258, he would force the emperor to offer him the Nine Bestowments -- a step that put him closer to usurpation -- and then publicly declined them.

In 260, Sima Zhao again forced Cao Mao to issue an edict granting Sima Zhao the Nine Bestowments, which Sima Zhao declined again, but which drew Cao Mao's ire. He gathered his associates Wang Chen (王沈), Wang Jing (王經), and Wang Ye and told them that, while he knew the chances of success were slight, he was going to act against Sima Zhao. He took lead of the imperial guards, armed himself with a sword, and set out toward Sima Zhao's mansion. Sima Zhao's brother Sima Zhou tried to resist, but after Cao Mao's attendants yelled loudly, Sima Zhou's forces deserted. Jia Chong then arrived and intercepted the imperial guards. Cao Mao fought personally, and Jia Chong's troops, not daring to attack the emperor, were also deserting. One of the officers under Jia Chong's command, Cheng Ji (成濟), after asking Jia what to do and was told by Jia to defend the Sima power regardless of the consequences, took a spear and killed Cao Mao with it.

After Cao Mao's death, public sentiments called for Jia Chong's death, but what Sima Zhao did first was to force Empress Dowager Guo to posthumously demote Cao Mao to common citizen status and order that he be buried as such. He also executed Wang Jing and his family. The next day, after pleas from his uncle Sima Fu, Sima Zhao instead had Empress Dowager Guo order that Cao Mao be demoted back to duke but buried with the ceremonies of an imperial prince. Sima Zhao then summoned Cao Huan, the Duke of Changdaoxiang and a grandson of Cao Cao, to the capital to become the emperor; by now, Empress Dowager Guo was powerless to speak further. Nineteen days later, however, Sima Zhao publicly accused Cheng Ji and his brothers of treason and had them and their family executed to appease public sentiment while sparing Jia Chong. No one dared to act against Sima Zhao even in the aftermaths of the emperor's death, however, for Sima was effectively the imperial authority by this point.

In 262, aggravated by Jiang Wei's incessant border attacks, Sima Zhao considered hiring assassins to murder Jiang Wei, but this plan was opposed by his two advisors, Zhong Hui and Xun Xu (荀勗). Zhong Hui and Xun Xu believed that Jiang Wei had worn out his troops and that it would be an appropriate time to try to destroy Shu Han once and for all. Sima Zhao put Zhong Hui and Deng Ai in charge of the invasion forces (even though Deng Ai initially opposed the campaign), and they set out in spring 263.

Zhong Hui and Deng Ai faced little opposition from Shu Han's forces, whose strategy was to draw the Cao Wei forces in and then close on them -- a strategy that backfired, as the Cao Wei forces, much quicker than expected, lept past Shu Han border cities and immediately onto the important Yang'an Pass (陽安關, in modern Hanzhong, Shaanxi), capturing it. Still, Jiang Wei was able to regroup and block off the Wei forces from further advances -- until Deng Ai led his troops over a treacherous mountain pass, descending on Jiangyou (in modern Mianyang, Sichuan), defeating Zhuge Zhan and heading directly for the Shu capital, Chengdu. Surprised by Deng Ai's quick advances and believing that Jiang Wei would be unable to return fast enough to defend the capital against Deng Ai, the Shu Han emperor Liu Shan surrendered to Cao Wei. During the campaign, in light of the successes, Sima Zhao had the emperor Cao Huan bestow on him the title of the Duke of Jin and accepted the Nine Bestowments.

Another turmoil quickly came after Shu Han's destruction, however. Deng Ai, proud of his achievements, became arrogant in his correspondence with Sima Zhao, drawing Sima's suspicion. Zhong Hui, who had plans to rebel himself, quickly forged letters that further damaged the relations between Sima Zhao and Deng Ai beyond repair, and Sima ordered Deng to be arrested. Zhong Hui did so, seizing Deng Ai's troops and merging them with his own, and then, with Jiang Wei as his assistant (but with Jiang's actual intentions to eventually kill Zhong and restore Shu Han), declared rebellion in 264, but his troops rebelled against him and killed both him and Jiang Wei.

After Zhong Hui's rebellion was defeated, Sima Zhao was granted the title King of Jin -- the penultimate step to usurpation. He set out to revise the laws and the civil service system in accordance of how he would want his own empire to be. He further sought peace with Eastern Wu, to prevent further complications for his planned takeover -- a gesture that was not reciprocated.

Later that year, Sima Zhao considered whom to make his heir. He considered his talented younger son Sima You, who had been adopted by Sima Shi because Sima Shi did not have sons of his own -- under the rationale that because Sima Shi had great achievement in the Simas' obtaining and retaining power, the succession should go back to his son. The majority of his advisors, however, recommended his oldest son Sima Yan instead, and Sima Zhao finally resolved to make Sima Yan his designated heir.

In the autumn of 265, Sima Zhao died, before he could receive actual imperial authority -- although he was buried with imperial honors. Four months later, however, Sima Yan would have the Cao Wei emperor Cao Huan abdicate in favor of him, ending Cao Wei and establishing the Jin Dynasty. After he did so, he posthumously honored Sima Zhao as Emperor Wen.
Sima Shi
quote wikipedia


Sima Shi (208–255), courtesy name Ziyuan (子元), was an official of Cao Wei during the Three Kingdoms era of China. He ultimately became the actual wielder of imperial power. In 249, he assisted his father Sima Yi in overthrowing the emperor Cao Fang's regent Cao Shuang, allowing the Sima family to become paramount authority in the empire, and he inherited his father's authority after his father's death in 251. He maintained a tight grip on the political scene and, when the emperor Cao Fang considered action against him in 254, he had Cao Fang deposed and replaced with his cousin Cao Mao. This tight grip eventually allowed him to, at the time of his death in 255, transition his power to his younger brother Sima Zhao, whose son Sima Yan eventually usurped the throne and established the Jin Dynasty.

After Sima Yan became emperor, he, recognizing Sima Shi's role in his own imperial status, posthumously honored his uncle as the Emperor Jing of Jin (晉景帝), with the temple name Shizong (世宗).

It is not known when Sima Shi was born, but it is known that he was Sima Yi's oldest son, born of Sima Yi's wife, Lady Zhang Chunhua (張春華). When he was young, he was known for the elegance in his conduct and his intelligence. As his father was an important Cao Wei official, Sima Shi himself climbed up the ranks of officials fairly rapidly.

When Sima Yi planned a coup d'état against Cao Shuang in late 248; according to Jin Shu, Sima Yi confided only in Sima Shi, with even his younger brother Sima Zhao excluded from the discussion (although Sima Guang found this unlikely and, in his Zizhi Tongjian, opined that Sima Yi planned the coup with both Sima Shi and Sima Zhao). Sima Shi put together a group of 3,000 loyal men without knowledge by Cao Shuang or his associates, and when Sima Yi set to carry out his plans in 249, Sima Shi was able to quickly summon the men to carry out the coup.

Once Sima Yi overthrew Cao Shuang and replaced Cao as regent for the emperor Cao Fang, he rewarded his son with the title the Marquess of Changpingxiang. Sima Shi became his father's assistant, although there was no particular record of his accomplishments during these years. After Sima Yi died in 251, he took over his father's positions without significant opposition—after his father had, earlier that year, suppressed a failed rebellion by Wang Ling (王淩) and massacred the clans of Wang and his associates.

Sima Shi was a capable politician and administrator, but he also quickly wanted to prove his military reputation. In 252, he made a major attack against Eastern Wu, whose founding emperor Sun Quan had recently died and whose current emperor, Sun Liang, was under the regency of Zhuge Ke. Zhuge Ke was able to deal Sima Shi's forces a major blow, but Sima Shi maintained himself well by making humble admissions of faults to the public and promoting the generals who tried to stop his campaign. In 253, after Sima Shi defeated Zhuge Ke in a major battle, his reputation was established, while Zhuge Ke's own was undermined (due to Zhuge Ke's failure to admit fault), and Zhuge soon fell while Sima's power was affirmed.

In 254, Sima Shi made a violent move to consolidate his power, at Cao Fang's expense. Cao Fang had endeared himself to the minister Li Feng (李豐), and there had been suspicious by Sima Shi that they were plotting against him. He summoned and interrogated Li Feng, and when Li refused to disclose his conversations with the emperor, Sima Shi beat him to death with a sword handle and then accused Li Feng and his friends Xiahou Xuan (夏侯玄) and Zhang Ji (張緝) of treason, and had them and their families executed. Cao Fang was further forced to depose of his wife Empress Zhang, who was Zhang Ji's daughter. These moves further terrorized the officials into submission.

Cao Fang was very angry about the deaths of Li Feng and Zhang Ji, and later in 254, his associates submitted a plan to him—that when Sima Shi's brother Sima Zhao would arrive at the palace for an official visit before heading to his defense post at Chang'an, to kill Sima Zhao and seize his troops, and then use those troops to attack Sima Shi. Cao Fang was apprehensive and paralyzed, and did not implement the plan, but news was still leaked to Sima Shi. Sima Shi then forced Cao Fang to step down, although Sima spared his life and gave him his old title of the Prince of Qi. When Sima Shi notified Cao Fang's stepmother Empress Dowager Guo that he intended to make Cao Pi's brother Cao Ju (曹據), the Prince of Pengcheng, emperor, however, she managed to persuade him that such a succession would be improper—that since Cao Ju was the uncle of her husband Cao Rui, such a succession would leave Cao Rui effectively sonless with no heir. Sima Shi was forced to agree with her, and he made, as she suggested, Cao Mao emperor instead. (Cao Mao, although 13 years old at the time, was known for his intelligence, and Empress Dowager Guo might have believed that he, alone of the princes and dukes, might have had a chance of counteracting the Simas.)

Despite Empress Dowager Guo's intentions and Cao Mao's own intelligence, they made very little impact in trying to stem the tide of the Simas' growing power. In reaction to the removal of Cao Fang, in 255, the general Wuqiu Jian, the commander in the important eastern city of Shouchun (壽春, in modern Lu'an, Anhui), along with another general Wen Qin (文欽), raised a rebellion against the Simas, but were quickly crushed by Sima Shi's army. Wuqiu Jian was killed, and his clan was slaughtered. Wen Qin and his sons fled to Eastern Wu.

The campaign had its tolls on Sima Shi, however. He was ill with an eye disorder at the time that Wuqiu Jian and Wen Qin's rebellion started, and had just had an eye surgery. He was initially therefore reluctant to lead the forces himself and wanted his uncle Sima Fu to lead the forces against Wuqiu Jian and Wen Qin. At the urging of Zhong Hui and Fu Gu (傅嘏), he led the troops himself, which was important in the victory against Wuqiu Jian, but during one of the raids made by Wen Qin's son Wen Yang (文鴦), Sima Shi, in his anxiety, aggravated the eye that he had just had the operation in—causing his eye to pop out—and his conditions soon deteriorated greatly. Less than a month after he put down the rebellion, he died while at Xuchang (許昌, in modern Xuchang, Henan), with his brother Sima Zhao in attendance to succeed him.
Zhuge Dan
quote wikipedia


Zhuge Dan (died 258) was a high-ranked officer of the Kingdom of Wei during the Three Kingdoms Era of ancient China. When he held military positions during his middle to late career, he got involved in all Three Rebellions in Huainan, which aimed to drive the de facto rule of Cao Wei, Sima clan, out of power. During the second rebellion of AD 255, he actively assisted Sima Shi to destroy Wuqiu Jian and his rebels; however, in the third rebellion, he would be the main performer on stage, wherein he initiated an even larger revolution under exactly the same reason Wuquiu once held.

Zhuge Dan was born in Yangdu County (陽都) in Langya Commandery (琅琊), at present-day Yinan County (沂南), Shandong Province. As a direct descendant of Gate Commandant, Zhuge Feng, Zhuge Dan was educated, and became a clerk working in the Imperial Secretariat Office. Although his position was not very high, he held an intimate connection with many celebrities of Wei, his best friends were Xiahou Xuan and Deng Yang (鄧颺). He moved up the ranks smoothly until he reached the position of Imperial Secretariat Assistant Clerk (御史中丞尚书, a senior clerk that directly assists the Imperial Secretariat). This was the zenith of his career as a civil officer, and along with his friends, they enjoyed the highest praise at the time.[1] During his tenure, he would do a favor for anyone who went for him for a position, so he was loved by his men, but started to draw resentment from the emperor.[2] Furthermore, the reason his faction received such a good fame was due to the propaganda of their affiliates instead of solid accomplishments, so they were eventually demolished by the Emperor Ming of Wei, Cao Rui, who got Zhuge removed from office as a punishment.

After Cao Rui's death, Xiahou reinstated Zhuge as the Imperial Secretariat Assistant Clerk, and granted him the title of a general before promoting him to be the Governor of Yang Province. At the time, Cao Shuang and his affiliates including Xiahou and Deng represented the dominant faction which controlled the court of Cao Wei. However, the situation was reversed after the Incident at Gaoping Tombs, during which Cao's political enemy, Sima Yi, wiped the whole clan of Cao Shuang out, close aides like Deng and several friends of Zhuge were put to death, and Xiahou Xuan was replaced by Guo Huai. Facing political instability, many once influential gentries wavered on their belief that Wei would continue to have a Cao to be on the throne.

Wang Ling, the grand commander who held the authority to mobolize troops around Yang Province, suspected Sima had controlled the court and actually was the one wielding state power. His belief was reinforced when Sima sent an envoy to announce Wang's promotion to Grand Commandant (太尉), which was a post that did not have the direct command of armed force.[3] Therefore, he secretly contacted his nephew Linghu Yu, who was recorded to be a talented civil officer, to plan for the overthrow of Sima Yi. Linghu acted as Wang's strategist, and told his uncle that Price of Chu, Cao Biao, was a brave sage, and suggested Wang to replace the young emperor with the elder Cao Biao. Wang then started preparation for a coup d'état; however, Linghu died of an illness during the process, and Wang was unable to draw much support. His intention was later reported to Sima by a traitor, in response, Sima granted Zhuge the staff of authority, and granted him the title of General who Pacifies the East to assist him on his operation against Wang. The expedition army advanced swiftly and pressed Wang within 100 paces, and the latter submitted without a fight. Even Wang did not actually start a revolt, this incident was regarded as the First Rebellion of Huainan.

After the whole clan of Wang was executed, Zhuge became the new district commander of Yang Province, and was made a Marquis. Not long after Wang's demise, Sima Yi also died, and was succeeded by his eldest son, Sima Shi, who continued to control the court. In AD 252, Sima devised a three-pronged offensive on the Kingdom of Wu. One of the attack point was Dongxing (aka Dongguan), which was tasked to Zhuge and his 70,000 strong army. Upon arrival, Zhuge took quick control of the Dongxing dam (東興隄, in modern Chaohu, Anhui), which was destroyed in 241, but was rebuilt by Wu regent, Zhuge Ke, recently to create a reservoir near the Chao Lake, with the dual purpose of using it as a defense against potential Cao Wei attacks and, with two castles built nearby, as forward attack mechanism for Eastern Wu ships. There were only 1,000 defenders for each castle, so Zhuge Ke immediately took 40,000 men with him as reinforcement. At the time, Zhuge Ke was near the battlefield, Zhuge Dan had already laid siege upon the castles, stationed his troops on the dam, and set up camps beneath. Despite possessing both geographic and numerical advantages, Zhuge Dan was outmaneuvered by Wu vanguard, Liu Zan and Ding Feng when the two adopted an unusual strategy and charged recklessly towards him with only 3,000 men.

After his embarrassing defeat, Zhuge Dan was demoted to General who Pacifies the South, and Guanqiu Jian replaced him as the Governor and District commander of Yang Province.
Deng Ai
quote wikipedia


Deng Ai (197–264)[1] was a general of Cao Wei during the Three Kingdoms era of China. It was said that whenever he saw a hill or wide valley, he would immediately size up the best places to store grain and position troops. His talents were discovered by Sima Yi, and contributed to fighting off Shu's northern campaigns led by Jiang Wei.

In 263, he took part in the war to conquer Shu Han with Zhong Hui. Jiang Wei fended them off somewhere south of Hanzhong. Deng Ai suggested to pass troops through Yinping (陰平) but Zhong Hui rejected the idea.

Deng Ai then carried out his own plan with his son and troops and it turned out to be a great success. They eventually managed to enter Chengdu, and the Shu emperor Liu Shan surrendered.

Jiang Wei, however, did not want Shu to fall. He determined that Zhong Hui wanted to rebel against Wei. They united, defamed Deng Ai, and ordered the officer Wei Guan to capture him. Jiang Wei's plan failed and the Wei army killed Zhong Hui and Jiang Wei. These soldiers tried to rescue Deng Ai, but Wei Guan feared that they might take vengeance on him so he killed Deng Ai and his son, Deng Zhong.

Deng Ai, prior to his appointment, was often harassed because of his stuttering problem, a fault which he used to his advantage in speaking with his superiors, who often regarded his curious stuttering as jokes or witty expressions.
Zhong Hui
quote wikipedia


Zhong Hui (225–264), courtesy name Shiji (士季), was a Chinese military general active during the Three Kingdoms era of China. He was the son of Zhong Yao, a calligrapher and military officer for Cao Wei.

He played a significant role in the final collapse of Shu Han by Cao Wei. Zhong Hui and Deng Ai were equal in rank in the campaign against Shu Han, but Zhong Hui always considered himself more skilled than Deng Ai. He later befriended the Shu Han general, Jiang Wei, and they plotted to rebel against Deng Ai, but failed and died in 264.
Guo Huai
quote wikipedia


Guo Huai (187–255) was a Wei general during the Three Kingdoms era of China who served under Cao Cao. He later rose up through the ranks during Cao Pi's reign, eventually becoming a grand marshal serving under Sima Yi. Guo Huai defeated the Qiang and Di tribes several times, defended against Jiang Wei's campaigns and defeated him. Guo Huai died in 255.
Ding Feng
quote wikipedia


Early life and career

Ding Feng was born in Anfeng County of Lujiang (Presently Hequi, Anhui), he started his career by serving the Wu general, Gan Ning, as a captain, and was transferred to different Wu generals from time to time. He followed his generals to fight the enemies several times, and during which he always stayed in the front, thus earned a reputation for himself in the army.
[edit] Service under Sun Liang

When Sun Liang succeeded Sun Quan as the new ruler of Wu, Ding was appointed as "General Who Stays in the Front" and was made a Marquis. Taking the opportunity the young Sun Liang just ascended the throne, the de facto leader of Wei, Sima Shi sent Zhuge Dan and the likes to invade Wu. In response, the Wu regent, Zhuge Ke personally led Wu forces to reinforce Liu Lue, who was under attack by the Wei troops at Yu castle in Dongxing, and Ding Feng, acted as the vanguard as he led 3,000 troops to occupy the strategic Xutang (徐塘) before the main army arrived. After Liu Zan (留贊, father of Liu Lue) arrived to support Ding, they ordered the divestiture of heavy equipment to increase flexibility. It was snowing at the time, the Wei generals were holding a party and laughed at the Wu soldiers when Liu ordered them to discard their armour.[1] Not anticipating a direct attack, the Wei camp in the front was routed by Wu's sudden charge; incidentally, the Wu forces arrived the scene at this critical moment, so the Wei forces were destroyed. He was thus promoted to "General Who Eliminates the Bandits." When the Wei general, Wen Qin failed to put Sima Shi out of power, Ding was sent to receive Wen into Wu's domain. At Gaoting, Wen's pursuers caught up with Ding, and Ding personally led a raid into the enemy formation and dealt his foe a loss of several hundreds. Ding was made the Marquis of Anfeng for accomplishing his task. Later, Zhuge Dan also raised an army to oppose the dictatorship of Sima, but was surrounded inside Shouchun. Along Zhu Yi, Ding was ordered to rescue Zhuge. Despite the mission failed, Ding was promoted to the Left General because of his valiant performance in battle.
[edit] Removing the regent

The regent Sun Lin replaced Sun Liang with Sun Xiu as the new emperor after he knew Sun Liang was planning to take the power back. But the new emperor and the regent soon plotted against each other, because Sun Lin's arrogance was unbearable for Sun Xiu, and Sun Lin knew the emperor had been cautious towards him. Sun Xiu asked his advisor, Zhang Bu to kill Sun Lin, and Zhang suggested Ding be summoned to discuss the issue. Ding then told the emperor that Sun Lin had so much influence and connections that they had a slim chance to fight Sun Lin's power directly, so an assassination should be carried out during the Laba (臘八, eighth day of the 12th lunar month of the year) festival when imperial bodyguards would be present. Ding's plan worked, and for that, he was given the seal of authority, and was promoted to Grand General, acting Left and Right Commandant. When Wei launched its final campaign against Shu, Ding led an army to Shouchun, but retreated after Shu was annihilated.
[edit] Later life and demise

In summer 264, Sun Xiu fell ill and was unable to speak but still could write, so he wrote an edict summoning the prime minister Puyang Xing (濮陽興) to the palace, where he pointed and entrusted his son, Sun Wan the Crown Prince, to him. Sun Xiu died soon thereafter. However, Puyang did not follow his wishes. Rather, after consulting with the powerful generals Zhang Bu and Ding Feng, they believed that the people were, in light of key ally Shu Han's recent fall in 263, yearning for an older emperor. Thus, along Puyang and Zhang, Ding welcomed Sun Hao as the new emperor. Sun Hao promoted Ding to Right Minister of War and Left Master at Arms. In Ding's later years, he had already became a rich and powerful man, and he started to become arrogant. After some military failures which Ding was held responsible, his family was exiled by Sun Hao to Linchuan (臨川). Ding died in AD 271, and his titles were not succeeded.
-------------------