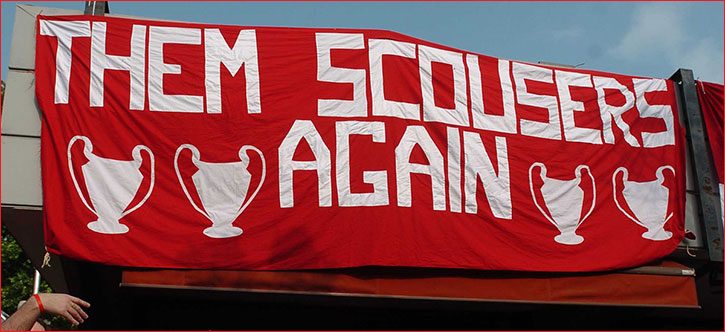 LIVERPOOL FOOTBALL CLUB

2012/13

Sarabia came in as a backup left winger to replace Cole and shows good promise as a squad player, Belhaoua and Damberg are youth regens. In January I signed two players I'd been scouting for two seasons, first Junior Stanislas to cover either wing and hopefully become first choice with time, and Bernardo as a technically proficient playmaker who can also play in any attacking position. Once again there were too many departures for one screen shot, but the major ones were-

Andy Carroll  | £10m  | Sevilla
Michael Ngoo  | £350k | PNE
Brad Jones    | £1.4m | Sampdoria
Conor Coady   | Loan  | Leyton Orient (half season)
Kofi Agyei    | Loan  | Monaco
Andre Wisdom  | Loan  | MK Dons (half season)
Joe Cole      | Loan  | Atletico, £925k fee
C Derflinger  | Loan  | Doncaster
Joe Lewis     | P/Ex  | West Ham
Raul Meireles | £11m  | Udinese
Recouping a total of £23m so we made a profit on transfers, moving Carroll on because he's shite and Meireles because he is aging and this was probably the last window we'd get upwards of £10m for him. A good window leaving us with a very good squad.
---

Will we ever win this bastard? It came inexplicably midweek between two away matches so a reserve side got outplayed by Arsenal's first team. They won from a set piece though. Not so Arsenal.
---

My reserves did very well away to a Premier League side but they were more clinical. It may not be an important cup but I would like to do better than shit in it one day.
---
On the way to Wembley we were once again fairly untroubled, but this time the only real challenges we faced were Arsenal and Man City. Two goals from Jonjo Shelvey sent us into the final to face archrivals Man Utd though, as in the end we had only three matches where it was necessary to play full strength.

Mata and Suarez were out injured, but within a quarter hour Suso and Pacheco made amends for that. We then frustrated them for the rest of the game and satisfyingly Meulensteen got sacked at the end of the match.
---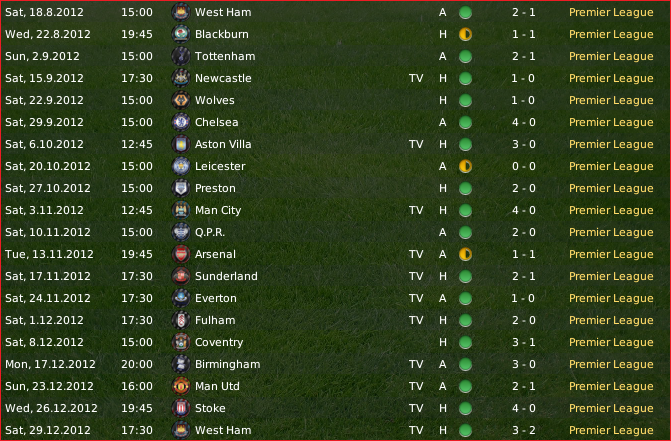 In the first half of the season we dropped only 6 points. We remained unbeaten, had a run of eight cleansheets and despite numerous injuries were scarily consistent. Highlights were a 4-0 thumping of Chelsea and our ability to score lots of goals against any lower half side (except Leicester, where we missed players and potency).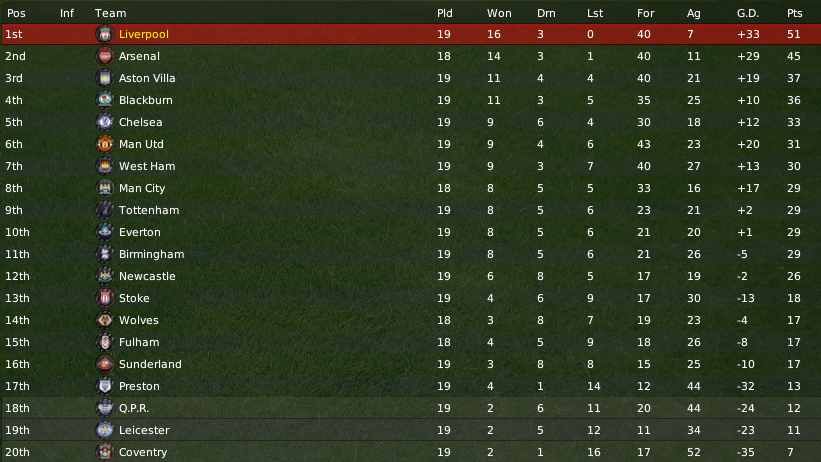 As has become a tradition, we fell off in the second half of the season, starting the year with away draws in games we ought to have won. Our unbeaten run ended a week after we had smashed Leicester 5-0, away at Man City. Lucas scored and it wasn't a normal day from then on, as we dominated but failed to capitalise. Two more 5-0 wins and then we had an awkward moment of inconsistency at the Stadium of Light as we were deservedly beaten by the Black Cats.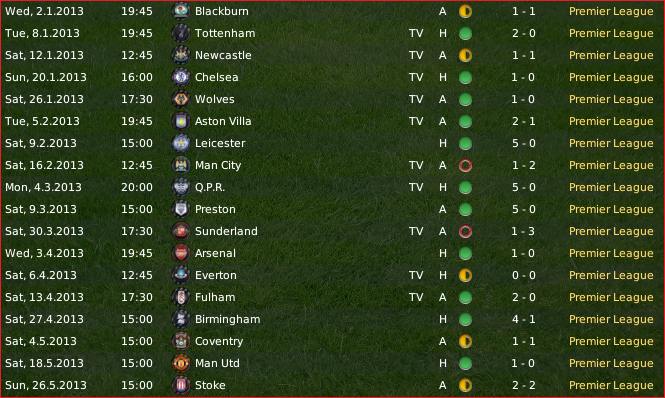 In the run in our squad did start to tire, after beating Arsenal and giving ourselves six clear points at the top with 7 games to go we then performed to the minimum required, finally sealing the title in sweet fashion at Anfield against old rivals Manchester United. Daniel Pacheco netted the single goal that took the trophy to Liverpool for a record 20th time. In the final game we were resting for the FA Cup Final. Which we won.
---

The Run to Cardiff:
It would have been easier to walk. We got a bastard group but qualified pretty easily in the end, including some gratuitous playing of youngsters. Napoli had Pastore, that's my excuse. Good one? We did get payback over Villareal for the last 16 last year though. CSKA got asskicked away from home so I let my second XI including two u18 debutants deal with them at Anfield. In the quarters we got through against Fiorentina with two 2-1 victories, although it was closer than it looked as in the last minute at Anfield they had a corner at 1-1. Frey went up, but we cleared it and Suarez calmly put it away to seal the deal. The semis were a shitbricking affair, a draw away from home with an away goal set up some serious nerves. My squad were knackered after fighting on all fronts and depleted from injury. 1-1 at Anfield, both of us on ten men. Kuyt got the winner. I love the old Dutchman so much. So much so he's on a new contract. So yeah, we made it to Wales. *bleep*ing long way to get there from Liverpool but heyho.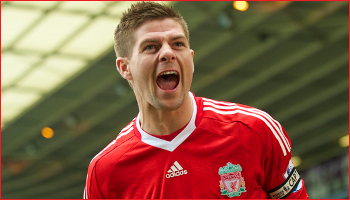 First, let us set the scene and look at the squads-
A battered and depleted squad- injuries and suspension both biting hard. Against Barcelona at full strength. Dzeko, Xavi, Iniesta, Villa, Messi. On the other side, Suso, Shelvey, Aquilani, Gerrard, Suarez. In defence, Insua at right back, Wilson and Agger, and young Jack Robinson on Leo Messi. Lucas is holding down the middle.
The treble is on for Liverpool. They win today it's a 6th European Cup and a first ever treble. If Barca win, another double, although the first since the glory days, but Barca draw level onto 5 European Cups too.
The holders travel to the Millenium Stadium, the site of Liverpool's last treble winning antics in 2001 as they lifted the League and FA Cups here in Cardiff. Good omens? Their bench is also somewhat underwhelming. Nathaniel Clyne, Daniel Ayala and Alex Chamberlain here for a massive occasion.
First half and it's an even game, 19 year old Jack Robinson has certified best player in the world Leo Messi in his breast pocket. Aquilani has sustained a knock but so has Iniesta, Liverpool have had two glorious chances but Valdes has been in fine form, Reina always leaping like a cat to deny Dzeko.
Second half and it creeps on, Liverpool tired but gaining dominance and asserting themselves over the Catalans, Suarez toothless and removed for Kuyt. Bernardo replaces Aquilani as he stops being able to run. Extra time.
Shelvey dances through the box and is hauled down by Caceres... penalty! Kuyt walks up, blasts it expertly into the bottom corner. Where Valdes has stretched to claw it away. Heartbreak. Barcelona are bound to score now. Has Kuyt thrown it all away?
Full time. Penalty shoot out to separate the best two teams in Europe. Liverpool have been here before, in Istanbul. Barcelona have always before won in normal time. Instead of Jerzy Dudek the bald, insane, Spaniard Pepe Reina is between the sticks for the Reds. For Barca, the similarly bald but more tatooed Valdes...

Pepe saves twice to make up for Kuyt's poor attempt. In denying Villa and Maxwell he brings the European Cup home for a sixth time. Liverpool are Champions of Europe. The heroes- Pepe Reina and young Jonjo Shelvey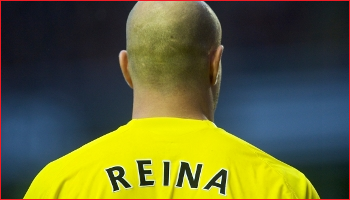 ---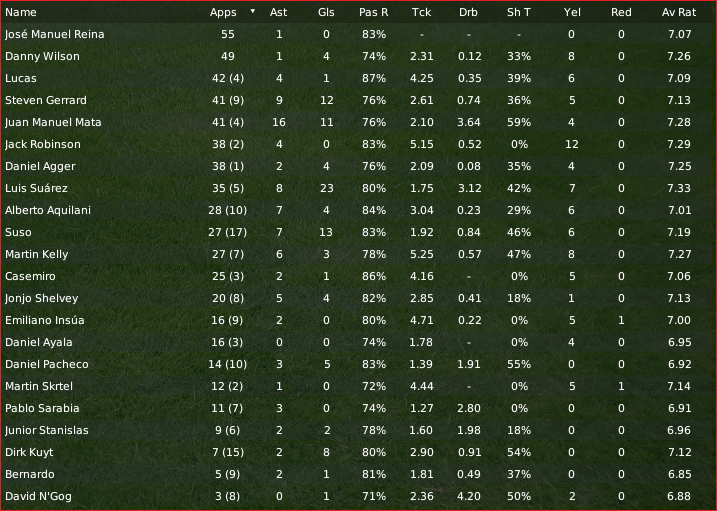 *not in shot is
Glen Johnson
, who was injured, he made 22(3) scoring twice and winning one MOTM
A marvellous season, the best in the clubs history, and also my best since FM09. So good I wish I had SOMSed this save, but then maybe it would not have been so enjoyable in the long run...
First, between the sticks the imperial
Pepe Reina
who was basically perfect, his job being to save everything and spray it to full backs. Usually
Martin Kelly
on the right and solid in the absence of the perenially injured
Glen Johnson
and on the opposite side young
Jack Robinson
who made his England bow this term on the back of being a wonderful fullback who no-one got past, even Messi. His backup,
Emiliano Insua
covered both right and left back with ease and is all I ask of a homegrown squad player.

In the middle of defence
Danny Wilson
was almost ever present, the young Scot a keystone of the new Liverpool, I preferred him alongside the majestic
Daniel Agger
who was key in the quick transition from attack to defence, but often
Daniel Ayala
or the less sophisticated
Martin Skrtel
would have to cover for Agger and Wilson would move onto the left. Both were solid although prone to more mistakes than my first choices.

Anchor man
Lucas Leiva
was the only midfield player not to succumb to injury at any point and the Brazilian had yet another season with no complaints, as a platform for more attacking players, also often filling in for
Jonjo Shelvey
as a ball winner, as the youngster spent much time in the medical room but was incredible when he did play, usually alongside
Alberto Aquilani
who justified my faith in him (and the biggest contract at the club) with some assured performances and unflustered playmaking with an eye for goal.
Meireles
was poor before he left midseason.
Casemiro
filled in at anchor man for large portions of the year due to injury and won his first Brazil cap, fast developing into a very good player.
Suso
was not as impressive as last year but is still improving and will take over at some point next to Shelvey.

On the wings we had a multitude of riches, as aging
Steven Gerrard
is ripening into a fine right winger, still scoring and assisting but not tiring his legs out. On the left
Juan Mata
was simply brilliant, involving himself in an incredible amount of goals but sadly missing the endseason through injury. Backing them up were
Pablo Sarabia
on the left, who was decent and held down the spot, and new signing
Junior Stanislas
to cover for Gerrard and being average but improving as he became used to the clubs demands.
Bernardo
also covered and was very good, making an immediate impact and proving his worth.

Up front the preferred choice was the simply brilliant
Luis Suarez
who netted over 20 league goals for the first time and really grew into his attacking role, the Uruguayan a constant menace even when he was struggling to hit the net. His primary backup was
Dani Pacheco
, young, Spanish and useless unless it was a very important match. Can't insult his title winning goal though.
Dirk Kuyt
had his best season yet and will hopefully keep going and then join my coaching staff. He got hat tricks, he set goals up, he was sometimes better than Suarez. Meanwhile,
Plan N'gog
got injured at the start of the season and gradually lost his place and will leave at the end of the season.
The reserve squad
was decent, the standout players were versatile quick attacker
Alexey Rudenok
who did well in Europe and wide man
Alex Chamberlain
who performed far about his stats and was good enough to be first team next year for sure at least as backup.
Nat Clyne
was decent as always as a last resort full back,
Conor Coady
returned from loan for an individual training regime and some good appearances.
Jay Spearing
made a few starts in case of injuries and was on the whole decent and worth keeping as reserve captain.
Jordon Mutch
earned himself a new contract with a few decent performances and should be sold for money soon.
Andre Wisdom
was similar to Thomas and might replace Skrtel next year. The rest are regens (ask for screens) apart from
Carragher
whose sole appearance was in the dead rubber at Stoke when he had the title won. A legend who is coaching next year.

---
As you can tell, I am loving this game, and if anyone read all of that they deserve a medal. Anfield is now a 60,000 seater and my facilities are top training, good youth and established recruitment and all being upgraded. My finances are good and I'm pleased that most of my squad is still the original. *bleep* Roy Hodgson saying it wasn't any good, they are treble winners now. Individual training regimes and micro managing has really paid off in this respect. My scouting technique of focusing mostly on Brazil has found me several very good regens and hopefully I won't need to spend much on a player for quite a while. I will keep playing and you poor sod has kept reading, you can go now.
If anyone is masochistic and actually wants any more, ask for screens