2012/2013 season review
---
Transfers
Bianchi, Ridel, Carter and Segar are all regens and were brought in as they've all got some potential (rated 3.5* or above by my scouts). Diakhate, Gago and Willian added some squad depth, whilst Iker Muniain was my big money signing to add some firepower to a lack-lustre forward line. I should also add that in January I bought in
Andrea Poli
for £3.1m,
Benedikt Howedes
for £12.5m and
Kwadwo Asamoah
for £11.5m in the January transfer window which meant that my total spent on players in the 2012/2013 season was £58m.
---
Premier League
I am incredibly happy with my performance the PL this season. We comfortably finished 3rd and secured Champions League football again for next season, which was always something that I wanted to achieve. Next season I'm looking to challenge more for 2nd place as United and Arsenal ran away with it for large parts of the season.
---
Carling Cup
I played a youth/reserve side throughout and was just concentrating on giving some squad players some much needed gametime to keep their fitness up. I was disappointed to be knocked out by my major rivals Sunderland but they're beginning to become a big 'cup team' as they managed to reach the final of this competition this year, losing out to Aston Villa (who just got promoted from the Championship).
---
FA Cup
After defeating Chelsea, Spurs and United quite comfortably I was starting to get the feeling that this might just be my tournament and that I could go all the way, but Sunderland quickly demolished any ideas of that kind. Incredibly disappointed to get hammered by Sunderland but again they proved how good they are in cup competitions as they went all the way and eventually beat Arsenal in the final. I really want to win either the FA Cup or the Carling Cup next season.
---
Champions League
I was given a tough group and I wasn't overly confident of qualifying but after beating Inter at the San Siro I was a little more optimistic. Still, we put up a good fight and I was glad to see that we didn't embarass ourselves in our first outing in the CL. Next year I hope to qualify from my group. As it was, I got knocked out and was entered into the Europa League instead...
---
Europa League Knock-Out Stage
We demolished all in our route to the final and I was very, very happy to see how many goals we scored. We were drawn against AC Milan in the final and here's how it went: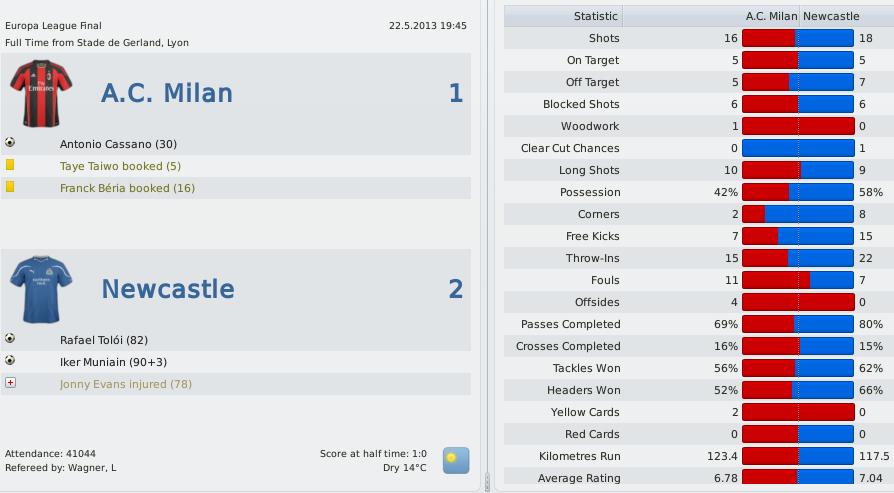 This was my first trophy as Newcastle boss and I was ecstatic when Muniain scored in stoppage time to win us the game. To make it even better it was a headed goal and he's only 5ft7!
---
The Squad
Howedes was a rock at the back and will hopefully form a formidable partnership with Evans for years to come. Dembele, Muniain and Jagielka all scored 20+ goals each which I was very, very happy about. I was also very happy with the performances of Toulalan and Kofi Agyei who both stepped up to the plate when it was needed of them and performed admirably this season.
---
The Youth
In the Under 18 squad
Not entirely sure what to make of this kid to be honest. He's got potential according to my assistant manager (Sidnei Lobo) but I doubt he'll get played much at all as he just doesn't look good enough to even be thrown in at the deep end.
This kid has massive potential according to my assistant manager and I think he'll be one of the best wingers in the world one day if he gets enough game time. I might send him on loan this season to see if he develops more.
I have very high hopes for this kid and I might send him out on loan as well as Bianchi for some first team experience.
I got this kid from Man United's academy last season and he's got potential, at least according to my scouts and assistant manager. He's labelled as the 'next Les Ferdinand' so hopefully he'll turn into a good player in the future.
This kid will hopefully will be one of my starting CB's one day. I'm currently working on his strength as he's too weak for my liking but I'll continue to give him some game time this year and he's my 5th choice CB.
The kid looks like he could become a decent squad player for me in the future but I'm not holding out too much hope of him become anything special.
Another product I knicked from United's academy. He doesn't look that great at the moment but I'm thinking of sending him out on loan to a League 1 club to get some first team experience under his belt and to aid his development.
Product of my academy at the beginning of the fourth season. He's a very versatile defender as he's a natural LB/WBL but is also accomplished at CB, DM and CM. I'll probably aim to give him a few games in the starting XI this year as he can hopefully become my first choice LB in the future. 3.5* potential according to my Assistant Manager.
In the First Team squad
A solid enough defender who's suspect in the air and not that great going forward. He's my back-up to Jose Enrique and I'm hoping he'll improve even more this coming season. 3.5* potential.
My star youth product. His physicals are starting to looking very good, especially for an 18 year old, and the fact that he managed to score 21 goals and get 12 assists this season shows how much potential this kid has. I'm hoping he'll become one of the best strikers in the world day and will hopefully fire me to numerous CL titles.
I think this kid has good potential. He's got 3.5* potential according to my Assistant Manager but he's only got 1.5* current ability so he's got a lot of room to improve. I'm not sure whether to loan him out this coming season or keep him as back-up and give some more gametime in the first team.
---
Other News
We now have a 60,000 all-seater stadium which I am very proud of. I didn't even ask for the stadium to be expanded so I'm loving my new chairman.

We're finally starting to make ourselves a bigger force in world football. Next season I'm hoping to make a bigger impact on the PL as well as the CL so hopefully we'll rise even further up the rankings next year.
Harry Redknapp retired at the end of this season and Tottenham offered me an amazing opportunity. They have a quality squad including the likes of Bale, Modric and Lavezzi and I could have made them PL champions within a season or two with the financial backing that was offered. I did, however, reject the offer as I have big plans for Newcastle and I'm only just starting to stamp my mark on the club.