2016/17
In came Matt Burdett (£1.4m), a Robinson-esque left back from Middlesbrough and Javier Diaz (£1m) a solid centre back from Valladolid as we enter our third year since a major signing
Major Transfers Out:

Cattermole    | £7.5m  | Hoffenheim
Wisdom        | £2m    | Bristol City
Damberg       | £1.5m  | Bristol City
van den Berg  | Loan   | Real Sociedad
Casemiro      | £10m   | Inter
Nat Clyne     | Free   | Hull City
Barely any changes, simply promoting a few youth higher up the ladder to replace Clyne/Cattermole/Wisdom. Van den Berg goes on loan to Europa League side Sociedad to get games and come back ready to replace Aquilani more fully.
---

We were down to ten men after half an hour and Chamakh scored two wonderful goals to deny us the trophy. A good experience for some youth players though.
---

Our reserves against one of the best teams in Italy, staring Wesley Sneijder. And we matched them, a penalty, an own goal and a red card against us swerving the result. Pablo Sarabia grabbed a consolation.
---

The Carling Cup doesn't matter anyway. Win it once and you've won it all the times you need. Pacheco did score 5 on our way out of the competition though which was pleasing.
---

A hat-trick from Adel Belhaoua against Enyimba as our 10 men were spearheaded by little Jay Spearing, providing both goals, set us up against River in the Final. Stanislas, Mata and Lee Wright got us a 3-1 victory as for the first time Liverpool became Champions of the World.
World Club Cup Winners 2017
---

We overcame the rest of the top four fairly easily with relative ease to reach the final as we proved ourselves superior to our nearest competitors. The biggest challenge we faced was the mighty
Crewe Alexandra
who gave us a stiff test and we were lucky to escape Anfield with a 3-1 win by the skin of our teeth.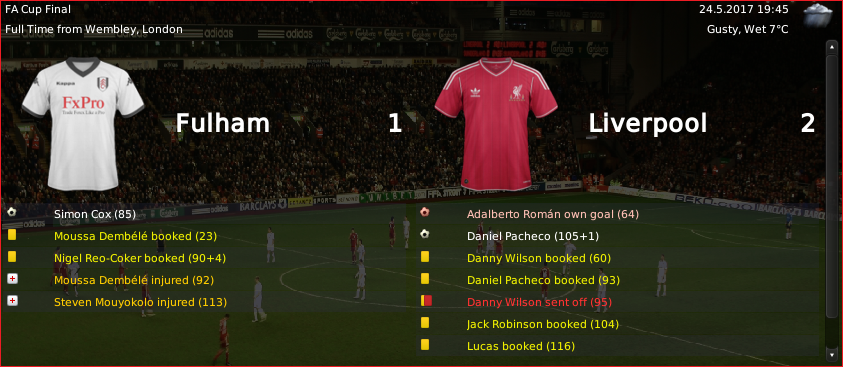 The Final came midweek between Ipswich and the Champions League Final, but a strong team still helped grab us an 11th title that draws us equal with Manchester United and one behind Arsenal. The own goal should have belonged to Gerrard, but apparently the deflection from his volley meant they could steal the legends goal. Despite dominating we couldn't break them down and Cox scored after Salazar parried Di Franco's effort. Dani Pacheco's extra time goal won us the Cup, but were we too tired for the Champions League Final...?
FA Cup Winners 2017
---
We have won this trophy five years running. The idea is no-one challenges very much, and if they do it falls off around 25 games. But this year, Mick McCarthy was in charge of Manchester United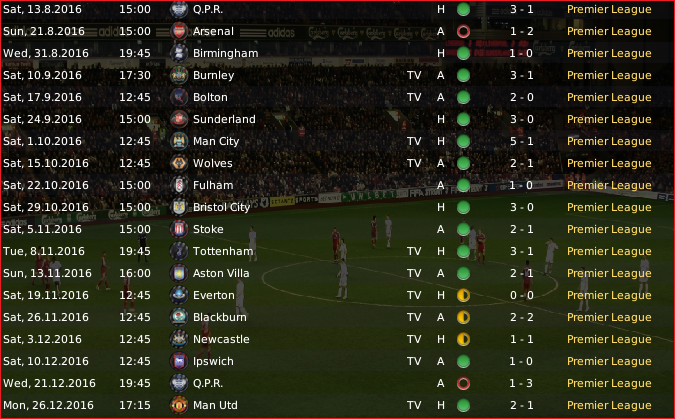 Decent results in the first half of the season, including that run of wins- part of a 14 game streak that broke a club record. But we never went top. Man Utd were in insurmountable form, extending their lead after our poor streak during a November/Decent injury crisis that put Jay Spearing on the teamsheet on a regular basis. We did manage to down United in their first league defeat of the season but the table was still poor...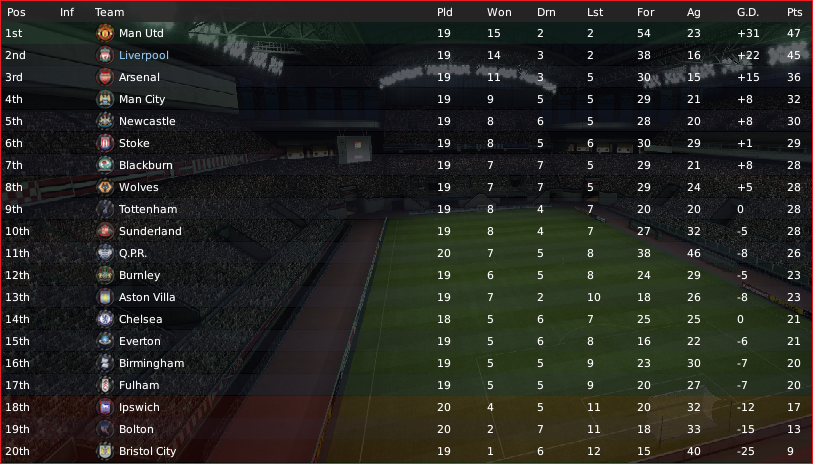 Up until April we looked like we would follow United all the way, as they maintained only a narrow 3 point lead throughout the race- every time we slipped up, so did they. Then challenging on three fronts really hit us, along with injuries, and our form faltered drastically as they continued to score endlessly. We had lost the title by Blackburn.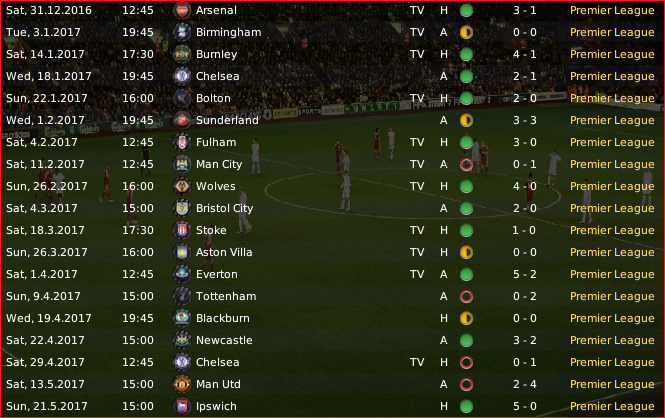 We had given up on the title after that, but even if we had taken 6 more points by taking Chelsea and United seriously, we'd have been ten behind the Devils. Look at their goal total - that shows how overpowered counter attacking is on this game, McCarthy literally just hoofs the ball to Hernandez/Rooney/Delfouneso and it works. Against us he got penalties and two corners as well. A shameful season after our past exploits and Gerrard's last- he netted twice in his sendoff home to Ipswich though in an emotional match.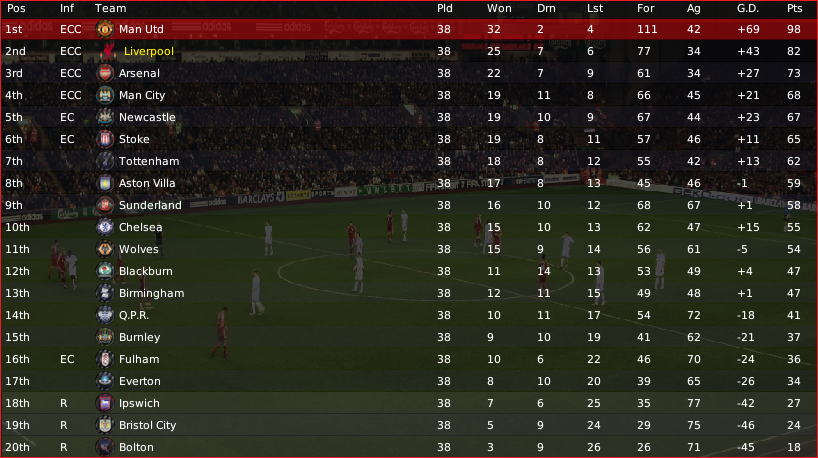 Premier League Runners Up 2017
---

We came second in a hard group containing Bayern and Shakhtar thanks to two away losses. Thanks to Steven Gerrard for scoring twice in a qualification earning comeback home to Donetsk. As runners up, the last sixteen was not kind to us, AC Milan one of the toughest teams to face in Europe, especially with the bad memories of our 4-0 defeat at San Siro in 2015. We dominated the home leg, but Paloschi scored a 40 yard screamer to set up a dodgy leg at San Siro.. Alexey Rudenok converted a penalty though to send us through a tight clash. Aquilani, Pacheco twice, Wilson and Mata netted as we thrashed Lyon 5-2 at Anfield. My reserves had no trouble keeping score down
Marseille in the semi finals, on the face of it a kind draw. But the first leg was a disaster as we failed to score when we should have, conceding twice on the counterattack after taking the lead, including a heartbreaking last minute winner from Derdiyok. The second leg was an epic, Shelvey put as ahead after quarter an hour, but at 30 minutes in Danny Wilson got sent back. Lucas dropped into centre back and we continued to play as we could, but were out on away goals as it stood. Suso finished a team move, then substitute and legend Steven Gerrard made it 3 in a heroic match.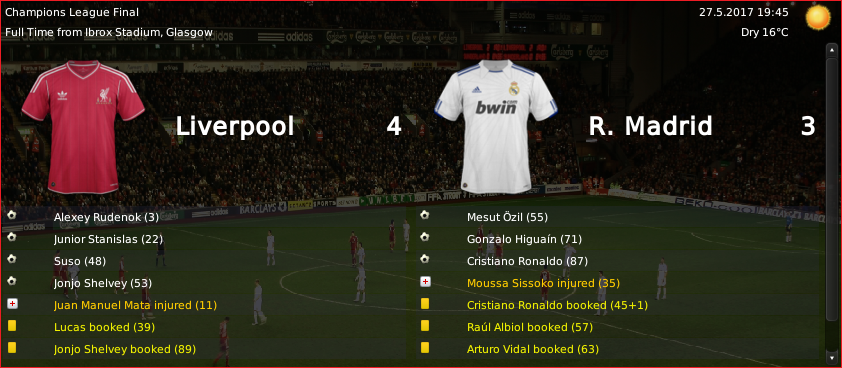 I have no shame in admitting I was a nervous wreck by the end of this. We went to the Ibrox tired after the FA Cup Final in midweed, against a fresh Madrid side. 7 times winner versus 12 times winners. We had to rotate, Wilson suspended, Johnson/Gerrard/Robinson/Pacheco on their last legs. We went to Glasgow aiming to defend our title and served up a stunner.
Replacement Alexey Rudenok smashed it in after just three minutes though as we took the game to Real. Then disaster struck as our key player Juan Mata was out of the game. On came Aquilani and Suso moved to left wing, ten minutes later it was 2-0 as Stanislas placed a shot in the corner. Another two just after half time as Suso slipped it past Bernd Leno and Shelvey looped a header gave us a 4-0 win. Seeming unsurmountable. Or not, as straight from restart Ozil equalised. Then Higuain clawed it back to 4-2 with a long range wondergoal. 3 minutes to go and 4-3 as Ronaldo finished in the box. We played it out though, winning our second consecutive 4-3 Champions League Final as Steven Gerrard lifted his fourth Champions League.
Champions League Winners 2017
---
Daniel Salazar
was our goalkeeper through all important matches this season and the humongous American was once again very solid, setting up moves with throws to fullbacks.
Glen Johnson
was our experienced head at the back during
Daniel Agger
's frequent injury hit spells, both performing well when called upon, although at 32 they are entering the zenith of their illustrious careers.
Martin Kelly
was slightly disappointing in terms of consistency, with
Emiliano Insua
far better defensively when he played, although offering less going forwards.
Sergey Akhmetov
played nearly 40 games as he covered numerous injuries and was decent, probably replacing Agger over the next season or two.
Jack Robinson
had his first captaincy season and excelled with his responsibility, although he is still yet to score for Liverpool.
Danny Wilson
played regularly and avoided major injury, our best performing defender.
Conor Coady
was versatile cover again, with decent passing and tackling making up for 0% shot on target rate (including one goal) all season, a feat shared with
Jay Spearing
who was called upon in times of injury and was surprisingly good, netting and setting up 3 goals.
Lucas
was as always the man between attack and defence, excelling in his tempo-dictating role, spreading the ball to
Jonjo Shelvey
who had another good season, scoring important goals despite a few injuries.
Alberto Aquilani
is 32 this year, and is still young for an Italian, obviously, he assisted many key goals and will look to see out his career at the club before joining the coaching staff.
Suso
was once again injury prone but came up with some very very good moments when available.
Anderson
covered both positions and was average on the whole, although he earnt a Brazil cap.
In more attacking positions the most impressive player was
Juan Mata
in no surprise to anyone as the Ballon D'Or third place oozed class. On the opposite flank
Junior Stanislas
was as always solid and set up as well as scored his fair share. Perennial backup
Pablo Sarabia
was his usual self, earning a Spain callup despite being rarely used.
Steven Gerrard
, The Legend That Is He. For a 36 year old he has very impressive stats, 5 goals in 2 starts and 10 sub appearances? He is a GOD.
Up front I had a competitive set of three,
Alexey Rudenok
the athletic man with a good header on him. He disappointed me this season after pushing 30 goals last year, he blasted too many easy chances wide in a manner almost reminiscent of Carroll.
Lee Wright
started well, but faded off. He only stayed on at the club rather than be loaned out thanks to making his England debut and scoring twice (before he'd ever scored for Liverpool!). The star was
Dani Pacheco
who nearly got 30 goals and won us the FA Cup. Full of flair and class, he could be relied upon the convert when Wright or Rudenok failed.
Reserves: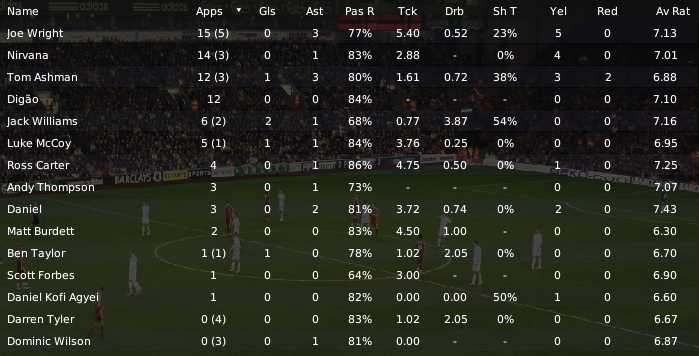 ---
Next year the Champions League Final is at the Olympic Stadium. Having won a European Trophy in Ireland (Dublin, Europa League 2011), Wales (CL 2013) and now Scotland (CL 2017) we only need England and N.Ireland to cross off our list. Ask for screens, I have them of every player mentioned but they won't upload which has annoyed me considerably :<