Alright so lets get this started!
---
Littleroot Town
Lalala cruising in the back of a moving truck... Wait what? I SWEAR THIS IS AGAINST THE LAW OR SOMETHING. I don't even have a seatbelt, what if these boxes crush me or something? Anyway, the truck finally arrives, and I walk out to be greeted by Mom!
Who clearly cares nothing about my well being and safety
Anyway, time to go in and set the clock, while the Machoke check out my mom. Lalala done. Apparently Dad's on TV. I just noticed there's no room for my parents... Is dad not getting any ass at home? So time to go next door an introduce myself. Ohey there pretty lady? What, you want me to go and barge into your daughters room? Well sure, if you insist. Nice to meet you to braggywaggy. Oh you wanted to be friends? WELL *bleep* YOU. I roll alone

Anyway, since she's left me alone in her room
imagine if i was a pervert
, I guess it's time to leave and stroll around Littleroot Town. Oh hi little brat! Pokemon screaming? TIME TO INVESTIGATE EVEN THOUGH I HAVE NO POKEMON! Wow rreally? Birch you're getting attacked by a Zigzagoon? COME ON man up already. Fine, I'll take one of your pokemon and save your ass. I choose you.. no not you, YOU! Gooooo

Aww hell yeah. Time to wreak havoc on this thingymabob!
About ten seconds later
Yes Birch WORSHIP ME FOR SAVING YOU. And yes, I will take this pokemon. Since the theme is Harry Potter, I'll be naming him Harry Potter!... Go figure. Anyway, after insisting I stalk his daughter I'm on my way!
Route 101 -> Oldale Town
Awwwww yea time to FEAR ME SON.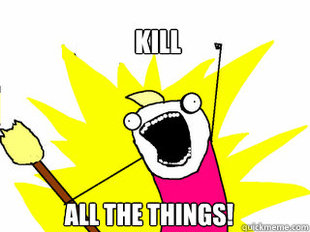 Route 103
It's grind time here and then up to stalk May some more!
I feel like Swizz stalking Pirate x).
Pffft Treecko SAY HELLO TO HARRY POTTER.
TACKLE
EXPECTO PATRONUM.
Yup yup, beat your butt and now its time to stalk you some more back to Littleroot

Route 101 -> Littleroot
Why yes Birch i did enjoy beating your daughter

Perhaps she would benefit from learning to dodge bludgers

Thanks for the Dex and Pokeballs, and thanks for the shoes mom!
Route 101 -> Oldale Town -> Route 103
This was basically a massive grindtime session. My first catch was

. I decided to name him Kreacher since similar to his character, he was craptastic in the beginning, but finally comes through at the end
so he can further kiss RAB's ass
. It took some massive grinding and repetitive switches to Harry, but finally I got Kreacher to level up and become

! The only problem with that is now his attack is AWFUL. FREAKING. AWFUL.

Time for my next catch. This was on Route 103, I caught the pokemon I had been
hoping
to catch on Route 101,

! Finally I have something to abuse Pickup! Wee grindtime continues.
Route 102
Now that all my grindtiming was done, it was time to get going. Unfortunately my catch for this route was a freakin

. Since this thing is absolutely useless to me, I named it Mundungus and chucked it straight into the PC. I REALLY wanted Tailow

Cruising through this Route (Thanks Zigzagoon for all the Super Potions!)
Petalburg City
This part was seriously just absentmindedly pressing B. I mean really dad, i don't want to hear about Wally catch a pokemon that I can't since my catch was wasted on a freakin' Seedot. screw off.
Route 104 -> Petalburg Woods
Route 104 is the route that probably trolled me the most. ALL I WANTED WAS A FREAKIN TAILOW. I kept worrying that I would run into a Marill first, but NOPE. Ruby had to troll me even more, by sticking me with


I named it Errol, and i bet you can guess where that *bleep*er is going. FUUUUUUUUUU RUBY. Maybe I'll have better luck in the woods... OH *bleep* OFF.

I honestly feel like Ruby is trolling me. All I wanted was a Tailow, or maybe even a Shroomish, but instead I was stuck with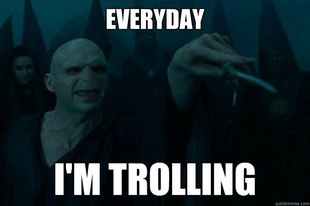 I srsly got some Death Eaters or Horcruxes in my game that need to be wiped out >: Anyway lalala marching through the
Forbidden Forrest
Woods, I come across a dood looking for Shroomish (I mean come on, how did you even make it this far with a pokemon) who is then jumped by a member from Team Magma. Wait a minute... I KNOW YOU.
Dafuq were you doing in the first pokemon movie? And where did your shitty but clearly more kick ass pokemon go? Anyway, I beat his ass and he runs away, followed the the dood afterwards back to the next city. I should probably get going too, It's just a massive bugfest in here, and I'm sure there'll be higher level mons outside. Now here's where the game gets REALLY trollish. I came out expecting to be on Route 105, hoping that I could
Finally
catch Hedwig the Tailow, BUT ONCE AGAIN, the game trolls me, insisting that its Route 104 and that I can't catch anything here. Grinding some more, and Kreacher evolved again

Please welcome

. You might come in handy later

Let's keep going
Rustboro City
Pokemon Center here i come. And now to jump right into the gym. After beating the first trainer, Harry Potter finally and got passed his OWLs and evolved into Harry Potter the

.

vs. Umbridge
Okay so she's not QUITE a Death Eater, but we all wanted to kill her as much as we wanted Voldemort dead. Honourable mention to Rita Skeeter. Thanks to Harry evolving before the gym battle, he took resisted damage from Rock Tomb (the speed drop wasn't that important). A couple water guns later and the badge was mine!

Now off to the Pokemon Center when what's this? That guy got robbed. Damn Death Eaters.

Find out what happens next time folks
---
Save Location
: Rustboro City
Party
:
(Harry)

: Level 17
(Kreacher)

: Level 10
(Dobby)

: Level 10
PC
:
(Mundungus)

:Level 3
(Errol)

: Level 4
(Grawp)

: Level 6