Log in to remove this advertisement
Harnessing the Power of the Sun:
A guide to using and countering the sun in Gen 5
Greetings and welcome to supergoji18's guide to the weather condition sun in Pokémon. Here you will learn the basic mechanics of sun in Pokémon and how to use and counter it.
The Basics
Lighting your Darkest Hour: Solar summoners
There are only two ways to summon sun in battle: Sunny Day and Drought.
The first of these ways is a move. This will summon the sun for 5 turns. However, if the user is holding a Heat Rock, it will extend the duration to 8 turns.
The second of these methods is to use the ability Drought. Only two Pokémon in the game get this ability: Groudon and Ninetales. However, since Groudon was banished from the rest of the metagame into the Ubers tier, Ninetales is the only way that you can use it in standard play. Ninetales gets this ability in the Dream World. Unlike Sunny Day, Drought summons the sun permanently, meaning that you don't need to keep using a move over and over again to get back your sun.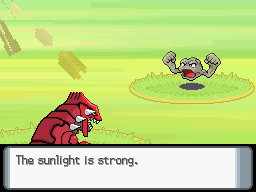 Sunny Day or Drought?
All around, the ability Drought is the best way to create a team using sun. Permanent sun is going to benefit the team so much more than using Sunny Day. With Drought, you don't need to waist a move slot on most of the Pokémon on your team. It also gives you more turns to attack/defend without having to waist time using a move, which gives your opponent a free turn to set up.
That being said, there are ways to benefit from using Sunny Day. It's always good to have it along with a Drought Ninetales on your team so that if Ninetales gets knocked out, you'll still have a way to create sun. And if you would rather only have a few Pokémon on your team be sun abusers, Sunny Day may be a better option for you since the effects of the sun will only last temporarily and won't hinder the rest of your team.
Speaking of the effects of the sun…
Effects of the Sun
The sun grants many effects to abusers of the sun:
• The base power of Fire Type attacks is increased by 50% while the base power of Water Type attacks is decreased by 50%
• Solarbeam no longer requires a turn to charge
• The accuracy of Thunder and Hurricane is reduced to 50%
• Moonlight, Synthesis, and Morning Sun recover 2/3 of the users health instead of ½.
• Growth will raise the user's attack and special attack by 2 stages each.
• Activates Dry Skin, Chlorophyll, Flower Gift, Forecast, Leaf Guard, and Solar Power
• Harvest never fails to restore a berry.
• Weather Ball changes to Fire Type and Castform and Cherrim change forms.
• Reduces the chance of being frozen.
So with this all in mind…
Harnessing the Power of the Sun (solar abusers)
Gen 5 has introduced TONS of new ways to use and abuse the sun. Here are a few Pokémon that can be great for sun teams.
Ninetales
73/76/75/81/100/100
Ninetales' role is pretty obvious. Set up the sun. But it can also abuse the sun effectively as well. STAB + sun boosted Fire Blast will be quite a lethal force, even against Pokémon that resist it. Ninetales' great speed and decent special attack can make it a potent weapon. Its base 100 special defense is great even against water types thanks to the sun being up. One must be wary of its poor defense stat however, as its other two weaknesses, rock and ground, are mainly physical attacks. This problem can be fixed if one uses will-o-wisp however. The burn caused by will-o-wisp will decrease the afflicted's attack by 50%, thus making Ninetales' defense more manageable. If you want to make an effective sun team, Ninetales is a necessity.
Venusaur
80/82/83/100/100/80
At first glance, Venusaur looks like a terrible option for a sun team. It has lackluster stats and a horrid Grass typing. On top of this, grass types are weak to fire types, which get a boost in power in the sun. So why should anyone use a Venusaur? The answer lies in its new Dream World ability: Chlorophyll. Chlorophyll doubles the speed of its user when the sun is up. This brings Venusaur's speed up from horrid to one of the fastest Pokémon in the game. Coupled with Venusaur's versatile movepool, and you've got one heck of a sweeper. In addition to the speed boost, the move Growth now raises the user's attack and special attack by 2 stages instead of just 1. In just one usage, Venusaur can double its attack and special attack. Or, if you feel like trolling, you can go for an effective substitute + synthesis set. Venusaur's massive speed coupled with the boost in the HP recover of Synthesis can make Venusaur a though nut to crack. Combine it with Sleep Powder, and Venusaur can ruin mostly any Pokémon's day. Just be careful of fire type attacks.
Charizard
78/84/78/109/85/100
Ah, Charizard. The ever-famous flaming dragon we all got as a pet in the old days of RBY. Ever since the beginning, Charizard has been considered to be one of the strongest Pokémon alive. Unfortunately, it never quite lived up to this standard. Charizard has some rather mediocre stats. It does have a great speed stat and good Special Attack stat, but it is easily defeated by many other Pokémon. And with the introduction of Stealth Rocks in gen 4, Charizard has really been struggling to make a mark. However, this generation has blessed Charizard with a wonderful new ability: Solar Power. This ability will raise Charizard's special attack by a whopping 50% while the sun is up, giving Charizard a maximum of 522 Special Attack, the equivalent of a base 188 Special Attack stat! Combine this with the 50% boost to the power of Fire Type attacks AND the STAB that Charizard gets for being a fire type, and even water/rock types with high Special Defense will take quite a pounding. But one must we careful when using a Solar Power Charizard. This 50% boost to Special Attack comes with a price. For every turn that the sun is up, the wielder of this ability looses 1/8 of their HP. This is a faster loss than the recovery of leftovers, so Charizard's survivability is cut down badly. Coupled with a HUGE stealth rocks weakness, Charizard becomes a tough Pokémon to keep around long enough to sweep. Nevertheless, Charizard IS a deadly force on the field when the sun is in play.
Arcanine
90/110/80/100/80/95
With The Highest BST of all non-legendary Pokémon that are NOT pseudo Legendaries or have hindering abilities, Arcanine is a force that should not be taken lightly. Arcanine is perhaps one of the most versatile Pokémon that you can use on a Sun team. Arcanine's great 110 base attack allows it to deal large amounts of damage with a STAB Flare Blitz, even without the sun up. With it up though, is can deal tons of damage, even to Pokémon that resist Fire Type. Arcanine also has access to Extremespeed, one of the best priority moves in the game. Access to other powerful moves, such as Crunch and Close Combat, make Arcanine even more dangerous. What's surprising is that Arcanine can run a defensive set too. Access to Morning Sun lets it recover from most hits, and with some decent defensive stats this can allow Arcanine to survive for a while so it can sweep. Its Special Attack is also very good as well. It can easily deal heavy damage with a Flamethrower. Just make sure you invest in its speed stat. A base speed of 95 is only useful if it is maxed out.
Exeggutor
95/95/85/125/65/55
Exeggutor may not look like much at first. Base 65 Special Defense and 55 speed seem highly lack luster. But when one looks at his abilities, Chlorophyll and Harvest, it becomes clear that Exeggutor was built for a sun team. With Chlorophyll, Exeggutor's horrendous speed suddenly becomes amazingly awesome. Access to Leaf Storm, combined with that awesome 125 special attack, makes Exeggutor a powerful sweeper. But if you want a bit of a more bulky set, try experimenting with Harvest. With the sun up, Harvest guarantees that the berry will always be restored at the end of each turn. If given a Sitrus Berry, it can make taking down Exeggutor a frustrating process. Combined with Substitute and Leech Seed, Exeggutor becomes even tougher to take down. This type of set is also a great surprise, since Exeggutor is most commonly used as a Special Sweeper. But always be careful of Exeggutor's weakness to Fire Type attacks.
Volcarona
85/60/65/135/105/100
This mystical fire moth is perhaps one of the most surprising and versatile Pokémon alive! This Mothra knock off managed to surprise everyone by being able to run an effective rain team set! A fire type! On a rain team! And it works! If Volcarona can shine brightly in the cloudy skies of a rain team, imagine how great its fire will burn on a sun team! Perhaps the best set to use in the sun is the Bulky set that Smogon came up with. With this set, Volcarona's lackluster defense stat becomes manageable. Normally, Volcarona's defense is what gets targeted, since it is the lowest of the defense stats. This set buffs up that weak spot, and with Flame Body physical attackers become very hesitant to attack. Then we have Quiver Dance, one of the best boosting moves in the game. This move boosts Volcarona's Special Attack, Special Defense, and Speed all at once. Being able to set up a few of these will be very easy if your Volcarona has Morning Sun, which recovers 2/3 of the users HP in the sun. And then we have Volcarona's signature move: Fiery Dance. Fiery Dance has a base power of 80, which is pretty good. When combined with STAB, a very high Special Attack stat, and the boost in power of the Sun, Fiery Dance is amazing. But what's even better is the 50% chance to boost Special Attack when used. This can turn bulky Volcarona into a sweeping monster. But be very careful of entry Hazards. Volcarona is weak to all of them, especially to Stealth Rocks. If you want Volcarona to survive, make sure you have support from a Rapid Spinner.
Heatran
91/90/106/130/106/77
Ok, enough of these weakling Pokémon. Now we're breaking out the big guns! Heatran is perhaps one of, if not thee, best fire types outside of Ubers. The bad defensive abilities of fire types is fixed on this beastly Pokémon by its awesome steel type, the best defensive type in the game. The combination of Steel and Fire is one of the best in the game. It has the highest number of ¼ resistances in the game, having 4 of them. It has a total of 10 resistances, and 2 immunities to poison and fire type attacks. This fire type immunity is especially useful on a sun team since all fire type attacks get boosted, including your opponent's fire attacks, so an immunity to fire type attacks is great. It has a great defense spread of 91/106/106, which allows it to survive a number of blows. It also has a super high base 130 special attack, and a vast special movepool. When using Heatran, however, be careful of its massive weakness to ground type attacks. It is highly recommended that you give it an air balloon to hold so it can switch into ground moves and avoid damage.
Victini
100/100/100/100/100/100
Victini is officially the most adorable thing to have ever come out of the Pokemon franchise. Just look at it! SO! CUTE! But don't let the look fool you. Victini is every bit as powerful as Heatran is, maybe even more powerful! It has great stats all around, each one at base 100, letting it run numerous sets, each one being very effective. But Victini's main niche on sun teams doesn't come from versatility (though it is very versatile). Instead, it comes from a move it recieves Via a special event: V-create. V-create is the single most powerful Fire Type move in the entire game! It makes Blast Burn look like a little match! It has a massive base power of 180, an accuracy 95%, a PP of 5-8, and will drop the user's Defense, Special Defense, and Speed all by one Stage. A base 180 power can destroy even the bulkiest of Pokemon. Combine it with STAB, and it goes up to a massive 270 base power! Combined again with the Sun Boost, and you get a move with a base power of 405! THAT'S HUGE! Combine it with a good attack stat, and not much will survive! The only real problem is that Victini can't stay in for very long after its use, thanks to the drop in defense, special defense, and speed. So it's probably best to use either a Choice set (Choice Band or Choice Scarf) or a Life Orb/Expert Belt set that has U-Turn in it. But despite the drop in its survivability, V-create will, not can, WILL do some serious damage!
These are only a few of the many Pokémon that can easily abuse the power of the sun when in play. But if you really want your team to survive, make sure you have good support for your team. A rapid spinner is a MUST for any team, since stealth rocks can ruin many Pokémon on a sun team.
Sudden Storms (Notable threats to sun teams)
Politoed
90/75/75/90/100/70
Politoed is the bane of any and all sun teams. Politoed's dream world ability, Drizzle, will counter the effects of Drought by summoning rain. This can be extremely problematic, especially if your team relies heavily on the sun to work. And with the rain up, Politoed's water attacks get a super boost, which will utterly wreck any fire type.
To counter:
If you want to counter Politoed, perhaps the best Pokémon to do this is Kingdra. It may seem odd to place a water type on a sun team, but if Politoed is sent in, Kingdra can easily slaughter it and the rest of the opposing team thanks to its ability Swift Swim, which double's its speed in the rain. Even without any speed EV investments, Kingdra is able to out speed almost any Pokémon once Swift Swim activates. Plus, Kingdra has a great Dragon/Water typing that leaves it only weak to dragon type attacks. It also has a great 75/95/95 defense stat spread, combined with its heavy resistance to water, allows it to take even rain boosted water moves and live to tell about it. On top of this, it has great attacking stats as well, both at 95. And with access to Dragon Dance, one of the best boosting moves in the game, it can become a deadly physical sweeper that takes almost no damage in the rain, making it a great counter to the common rain team.
Tyranitar
100/134/110/95/100/61
I pity the poor sun team that tries to take on this beast. Tyranitar is a MONSTER! Its HUGE movepool combined with awesome stats make for one of the deadliest Pokémon even created! What's even worse is that its ability, Sand Stream, creates a Sandstorm that blocks out the sun and creates TONS of problems for sun teams. Sandstorm will damage Pokémon that are not Steel, Rock, or Ground type each turn, chipping off 1/16 of their maximum health. In addition, Tyranitar gets a 50% boost to his special defense, making it even tougher to take down. Tyranitar has access to Stealth Rocks as well, thus making the majority of your team take serious damage each time they switch in. His presence usually means that the rest of the team can abuse the Sandstorm, thus meaning that you're going to be in for one hell of a time trying to counter this guy.
Counter:
Have a fighting type move ready. Tyranitar's Rock/Dark typing makes it have a 4x weakness to fighting type moves. Considering this, Infernape is a good counter for sun teams. STAB fighting type moves and a high attack stat make taking down Tyranitar relatively easy. Another great counter is Terrakion. He resists both of Tyranitar's STABS, out speeds it, and takes no damage from the sandstorm. In addition, if you switch into a Crunch, Terrakion gains a free attack boost, making him an even bigger threat for Tyranitar.
Hippowdon
108/112/118/68/72/47
He's a threat for almost the same reason as Tyranitar is. He can set up a sandstorm and Stealth Rocks and then use an Edgequake combo to get almost perfect neutral damage against all Pokémon.
To counter:
Hippowdon is easier than Tyranitar to counter since it doesn't get a 50% boost to special defense. Kingdra can out speed it, even without Swift Swim, and go for a super effective water attack. But if you want to get rid of the Stealth Rocks, you'll need a Rapid Spinner. Forretress may be the best option since it can rapid spin and go for its own entry hazards, while also being able to tank most of Hippowdon's moves.
Kingdra
75/95/95/95/95/85
Just as Kingdra can help a sun team, so too can it hinder one. With access to Rain Dance, it can get rid of the sun and out speed almost any Pokémon on the team. And with the bulk to keep it alive and attack power to take down many other Pokémon, Kingdra is a big threat.
To counter (Smogon Style):
Thanks to the Drizzle + Swift Swim combo being banned, Kingdra's only means of getting the speed boost of Swift Swim, outside of having an opponent with drizzle (which is not going to be the case on a sun team), is Rain Dance. Since it needs to waist a turn to get the rain up, this gives you a free turn to work out your plan to counter Kingdra. A good way to counter is probably to set up a Toxic on the turn it uses Rain Dance, or if a different Pokémon sets up the rain, set up toxic spikes so that when Kingdra switches in, it gets poisoned. This will cut down his survivability down considerably, since each turn he will take damage (and damage will increase each turn if he is badly poisoned). Afterwards, stall it out, maybe even start a weather war with it. Switch in a Ninetales and pray it can survive a Hydro Pump or Waterfall (though it probably can with the sun up). If you couldn't get the toxic up on it before switching in Ninetales, try to go for a Will-o-wisp. The burn will cause a 50% drop in attack (a big problem for a physical Kingdra) and cause it to loose 1/8 of its maximum HP each turn.
To counter (non Smogon style):
If you're opponent doesn't exactly follow Smogon's rules, then the whole Drizzle + Swift Swim ban doesn't apply to them and you may find yourself faced with permanent rain AND a massive speed boost. Taking down a set like this will be tricky, but not impossible. Ferrothorn is perhaps the greatest Pokemon for such a thing. Ferrothorn's Steel/Grass typing resists both of Kingdra's STABs, and its high defensive stats (74/131/116) let it survive many hits from Kingdra. Ferrothorn is really meant to stall it out, surviving its hits and waiting for either Leech Seed or Toxic to finally kill it. Another way to counter is to start a weather war. Send in a Pokemon that has sunny day (hopefully one that can survive a rain boosted and STAB water move) and let it use Sunny Day. This will force Kingdra to have to switch out so your opponent can switch into Politoed, giving you time to set up on this switch. But if you've already taken out the Politoed, You're pretty much set, unless they have Rain Dance. This will still give you time to set up.
Once again, there are only a few of the threats, and they are likely the most common. Be sure to prepare your team for other threats too. Experiment a little and see what works against these and other threats.
Another thing i need to mention is support! Every team needs support, especially Sun teams. So, with that said...
Solar Supporters (sun support)
When using a good Sun team, one cannot simply use only Pokémon that abuse the sun. They must also have some good supporting Pokémon to help deal with the common threats to Sun teams. Here we have a few of the Pokémon that can help keep a Sun team shining.
Xatu
65/75/70/95/70/95
Yeah, yeah, you know how I'm going to start out this one. Average stats, weird typing, blah blah blah. But in all seriousness, Xatu is a great Pokémon to use for support. Perhaps it was just a "meh" Pokémon in past generations, but this generation has granted it a great gift from the Dream World: Magic Bounce. What does this ability do? Well, lets say your opponent's Pokémon uses Toxic. Normally, the target of this move would become badly poisoned. But with Magic Guard in play, this does not happen. Instead, the effect of toxic is "reflected" back at the user, and they get poisoned! Fantastic isn't it! This ability also reflects status lowering moves (like Scary Face, smokescreen, etc.), non-damaging status ailment inflicting moves (like Will-o-wisp, Toxic, and Hypnosis), taunt, torment, and even Entry Hazard moves (only when the move is used while Xatu is out. If the hazards have already been implanted, this will not occur). With such an awesome ability, it's no wonder why Xatu would be so awesome for a roll on a sun team. Here's an awesome set that you can use that will easily help your sun team:
Espeon
65/65/60/130/95/110
In a sense, Espeon is two things in one: A miniature Alakazam (nearly identical stats and exactly the same typing) and an alternative to Xatu. Espeon's job on a team is pretty much the exact same thing as Xatu. The difference is that it can run a bit more of an offensive set as well, thanks to its huge 130 base special attack, great base 110 speed, and vast special movepool. There are several sets you can use for Espeon, including Dual Screens, Baton Pass, and Calm Mind sets (and even a type suited for use in the sun, hint hint!)
Cresselia
120/70/120/75/130/85
You can already tell why I'm mentioning Cresselia can't you. Take a look at those defensive stats! They're awesome! 120 HP is HUGE! And she has awesome 120/130 defenses to make all of that HP last a long time! Cresselia also has a wonderful movepool as well, with access to Dual Screens, Moonlight (which heals 2/3 of the users health in sun), Calm Mind, and it's signature move Lunar Dance. Lunar Dance is a great move for a supporting Pokémon to have. If you're low on HP or you know you can't survive any more hits, just use Lunar Dance, and Cresselia will not go down in vain. Upon use of this move, Cresselia will faint. HOWEVER, the Pokémon that switches in after her get all of their HP restored, has the PP of all of their moves restored, and has any status ailment cured! Of course, if you don't like the idea of having to KO Cresselia in order to for this to work, you can always run an effective Dual Screens set such as this:
Donphan
90/120/120/60/60/50
Donphan may not be as cute as its pre-evolution Phanpy, but it packs the necessary moves and bulk needed to help sun teams. Donphan's main roll on any team is to use Rapid Spin, which will rid the player's team of all Entry Hazards, as well as remove the trapping effects of moves such as Fire Spin and Whirlpool and also removes Leech Seed form the user. In a game where Entry Hazards and Leech Seed run a Muk (pun intended), the ability to get rid of it all in one turn is one of the most useful tools for any team. And considering how dangerous Entry Hazards are to a Sun team, a move like this is incredibly beneficial! And since Donphan can set up an Entry Hazard of its own, it's always a good idea to consider Donphan for a sun team.
Dugtrio
35/80/50/50/70/120
Dugtrio may not look like much when looking at its stats, especially with terrible base 35/50/70 defensive stats, but one look at its ability and you'll see why Dugtrio is such a huge threat today. You see, Dugtrio is what is known as a "revenge killer", a Pokémon that switches in after one of your Pokémon have been KOed and finishes off the Pokémon that took out your Pokémon. Dugtrio is the only fully evolved Pokémon to get the ability Arena Trap. Arena Trap does exactly what you'd think it does. It traps the opposing Pokémon and prevents them from escaping. This is great because now your opponent can't switch out, and will be helpless as you rip them apart. An ability similar to this, Shadow Tag, was what propelled Wobbuffet into Ubers for the longest time! You all remember Wobbuffet right, that Pokémon that can't learn any attacking moves? He's been an Uber for that ability! Dugtrio probably is best used for the infamous Focus Sash + Reversal set. If Dugtrio's HP is knocked down to 1, the power of Reversal is increased to base 200! That's huge! And it gives it the necessary power it needs to KO most of the top threats to Sun teams, including Tyranitar! Also, with hone claws, you can get a turn to set up before your opponent attacks! With all this in mind, always consider using Dugtrio for a revenge killer for your team. The ability to trap and KO Pokémon is invaluable in today's game!
As I've stated for the 1000'th time already in this page these are only a few of the Pokémon that can support a Sun team. It's a good idea for you to go out and experiment on your own. You may find some new ways of utilizing certain Pokémon to be good in a supporting roll for Sun teams.
To Solarbeam or not to Solarbeam?
One of the biggest choices you'll make when making a sun team is your move set. And of all the choices, whether or not you should use solar beam is a BIG choice. Lets look at this move closer:
Solarbeam is a grass type move with a base power of 120, 100% accuracy, 10 to 16 PP, and is a special. Under normal circumstances, it would take a turn to charge before it can be used. But under the sun it takes no time to charge.
Consider its power, accuracy, and the coverage it gives to fire types (it grants perfect coverage against its weaknesses), it's hard to imagine why anyone wouldn't want to use it. There are, however, a few downsides. As you can probably gather from the threats section, opposing weather teams are the biggest problem for Sun teams. If they manage to get their weather up, it means that Solarbeam will require the usual turn to charge. On top of that, with other forms of weather up, Solarbeam's power is halved. Therefore, your big choice is to decide whether or not you will use Solarbeam or a different grass type move.
Other options over Solarbeam include:
Energy Ball: 80 power, 100% accuracy, 10-16 PP, 10% chance of lowering the target's Special Defence by 1 stage.
Giga Drain: 75 power, 100% accuracy, 10-16 PP, Restores user's HP by half of the damage dealt to target.
Leaf Storm: 140 power, 90% accuracy, 5-8 PP, lowers User's Special Attack by 2 stages after use.
Hidden Power Grass: 30-70 power, 100% accuracy, 15-24 PP
Energy ball's distribution is limited to a few Pokémon, as is Leaf Storm (which also has a Special Attack Drop). Giga Drain is useful, and most Grass types get it, but it still isn't granted to types other than that (bar a few bug, poison, and/or flying types). Usually, the only way to get the grass type moves on a Fire type or some Pokémon other than Grass is to use Either Solar Beam or Hidden Power. The latter of the two can only have a maximum base power of 70, which is low in competitive standards. However, it has no other negative drawbacks. The choice is yours. If you think you can work around the problem of other weather teams, use Solarbeam. If not, Energy Ball and Hidden Power Grass are usually better options.
Conclusion
Overall, Sun teams are an effective choice for building a team. Sun teams have a few problems here and there, but if you play your cards right, you'll be certain to see victory come your way. Before I end this article, here are a few useful tips about building sun teams to help you when constructing one:
• Have at least 2 or 3 sun makers on your team. One of these must be Ninetales and the others must have Sunny Day with them. If you only have one Pokémon for setting up the sun, you'll be in a heap of trouble if it gets knocked out and your weather somehow gets blocked out. Therefore, it's always a good idea to have a backup sun maker.
• DO NOT, I repeat, DO NOT HAVE A TEAM OF ALL FIRE TYPES! THAT IS A DEATH SENTENCE! YOU WILL BE DESTROYED BY POLITOED AND TYRANITAR!
• Be sure to have good support on your team. A rapid spinner is a must to get rid of entry hazards.
• Please, PLEASE, don't just spam fire moves. The fire type boost is great and all, but when someone sends in Heatran, you're screwed.
• Be sure that your Pokémon can function on there own, but make sure that your team can help each other out as well. As Steven Kubby said, "Until we become independent, we can't become interdependent."
• Watch out for opposing weather teams. Work out a plan to defend against them in advance. If you don't have a plan for them, they will rip you a new one very quickly (trust me. I've had experience).
If you can keep all of these things in mind, your team should be able to survive and lead you to victory.
That's all for now. Alveterzane.
Edit: Aug 18, 12 5:50pm