Accepted Characters!
Wow, people joined, I'm shocked!
Harvest Life
Name: Fate Ravenwing
Age: 14
Race: Angel
Gender: Female
Normal Appearance: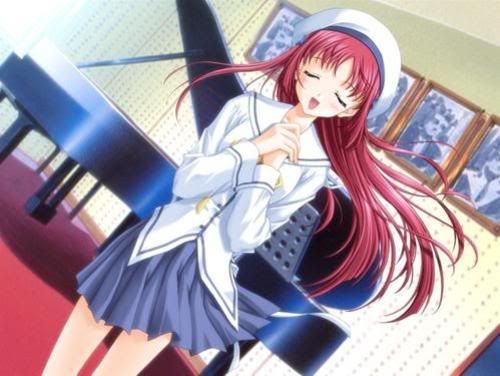 Transformed Appearance: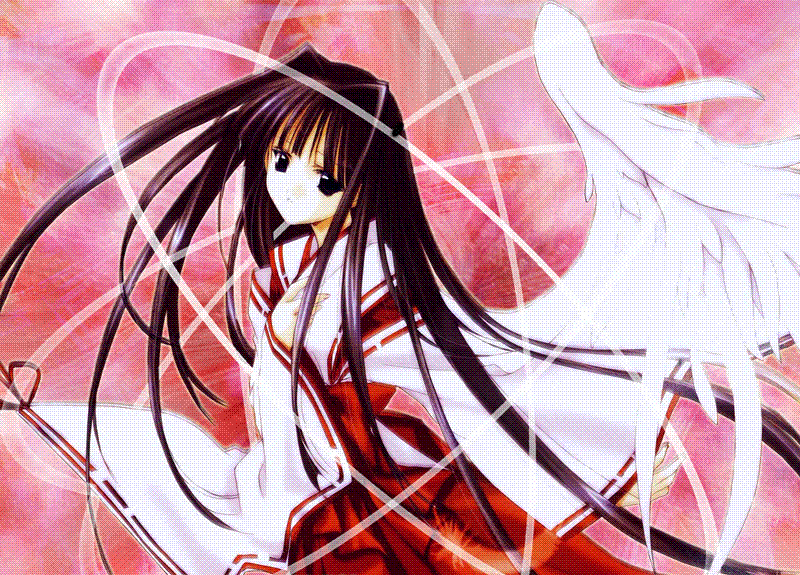 Alignment: Good
Bio: Fate always loved to sing and she nearly won the school talent show. She lost because someone had locked her in the janitor's closet and left her to wait so they would win by forfeit. Fate always loved to read to though people tease her because of it. If that's not enough people always tease her because of her glasses. She always smiles though.
Instrument/Weapon: Fate's instrument is her voice. Her weapon is a pink rod as long as a baton. It doubles as her microphone.
Other: Fate is one of the seven chosen Angels by God- the Pink Angel.
Mousie Munch
Name: Tam
Age: 16
Race: Angel
Gender: Female
Normal Appearance:
Transformed Appearance:
Alignment: Good
Bio: Tam was given a guitar by her uncle when he died. She has always suffered from her abusive parents, and she still does. At school, she had it okay- she wasn't bullied or anything. She would tend to do solos at the annual concert, and also doubled as a talented actress. At school she's creative, but hopeless at things like maths. Her best friend, Lilly, seems...weird (Tam doesn't know, but Lilly is a dark angel)
Instrument/Weapon: Tam's instrument is her guitar (classical). Her weapon is a knife, which she usually wears alongside her green amulet. It's usually just a small blade on a grubby piece of string, easily overlooked as decoration. When in battle, this knife will grow to be a dagger or sword.
Other: Tam has asthma. She is also one of the seven angels chosen by God- the Green Angel, though Tam sometimes doubts if she is truly good.
Ultimate Shadow
Name: Jonas
Age: 13
Race: Angel
Gender: Male
Normal Appearance:
(Also has a sapphire necklace on)
Transformed Appearance:
Alignment: Good
Bio: Abandoned when he was five, he was wandering around, when suddenly, a man gave him his first little drum kit. (Electronic, he recalls) And when he started playing, he had talent, and kept playing. That was his own little escape from reality, and he loved it. When he was eleven, he was given the chance to play at his first concert, and he did it with style. Two years later, he got transformed and whatnot, and he's who he is now.
Instrument/Weapon: His drum kit that man in the bio gave him is his instrument, and his weapon is a katana, usually disguised as his sticks. (It splits in half, activating the disguise, but when he puts the two sticks together one on top of another, it transforms into the sword)
Other: He's the blue angel. He's also a very logical person.
Rex the Water Rider
Name:Rei
Age: 17
Race:Dark Angel
Gender: Male
Normal Appearance:
Transformed Appearance:
Alignment: Evil
Bio: Before the cursed transformation, Rei was a beautiful man that was a ladies-gentleman that loved to play brass musics. When he turned 13, a small fire happened at his house which burned it down killing his family. He survived but became enraged with losses and became God's new Dark Angel who vowed revenge against arsonists who started the fire.
Instrument/Weapon:A brass, and a sword that emit sound waves when struck.
sakura nymph
Name:Ariana
Age: 15
Race:Angel
Gender: Female
Normal Appearance:
Transformed Appearance: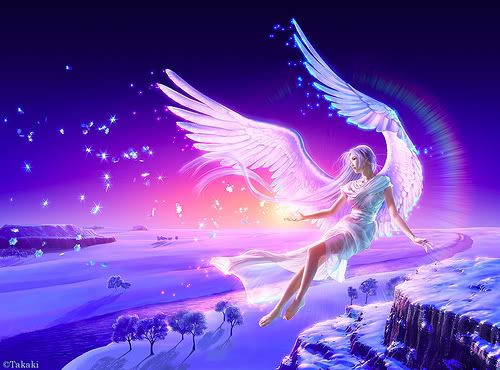 Alignment: Good
Bio: She was a great flute player once and she lived with a good family, that she loved (she was a foster kid). Then she was moved any into an other abusive foster home. Now she just goes day by day, trying to survive in the world.
Instrument/Weapon: Flute; Daggers and throwing knives that have been blessed by god.
Other: she has a diamond necklace that she never takes off. One of the seven chosen ones- the silver angel.
she can sing, too.
00100100
Name: Zach Miller
Age: 15
Race: Angel
Gender: Male
Normal Appearance: ALways wearing his school uniform for some reason, has strawberry Blond hair, and icy blue eyes. He's about 6'3" and is almost paler than snow.
Transformed Appearance: Pretty much the same save the white tunic and wings
Alignment: Good
Bio: Zach is the class outcast. Everyone makes fun of him because he's always hyper and can't stand still. He still tries to be everyone's friend dispite the fact pretty much nobody likes him it seems. He often practices his violin alone and sings to himself.
Instrument/Weapon: Violin and a bow and arrow.
Other: He likes buttons. :3
Master of Keyblades
Name: Lanx
Age: 17
Race: Semi-Angel (basically dark angel that has a white wing)
Gender: Male
Normal Appearance:
http://i90.photobucket.com/albums/k252/Aros890/matt.jpg
Transformed Appearance: same as above but with one white angel wing and his sword becomes another guitar.
Alignment: Neutral
Bio: Lanx grew up on pure rock often playing guitar simulators in his free time. He also owned his own real guitar in which he practiced each day for a couple hours. His favorite genre was rock, but hated the new "Screamo" that was just yelling and screaming. There was no meaning to any of it; actually there weren't even any words in them. Classic rock and metal was the way he went. When he turned 13 he was visited by a person that said he was "God." The rest of his life wouldn't be the same with the transformation he was granted. Because of Lanx's good heart, he was to be an angel, but his taste in music only gave him one wing. He was also given orders to fight, even destroy devil-like creatures that were attacking angels. Lanx rejected his duty by not helping the angels or attacking the devils. For years he's been minding his own business…until now…
Instrument/Weapon: Real Guitar (not guitar hero guitar) and sword. Both used as weapons.
Other: Has rock concerts in abandoned buildings and such.
Kushluk Shimazu
Name: Gerald von Shimazu
Age: 20
Race: Dark Angel
Gender: Male
Normal Appearance:
http://s.bebo.com/app-image/7938710311/5411656627/PROFILE/i.quizzaz.com/img/q/u/08/06/12/Anime_Warrior_by_chaotixwolf.jpg
Transformed Appearance:
http://www.kaoswar.com/images/concept-art/concept-art-guardian.jpg
Alignment: Neutral
History: Young Gerald joined the military at the age of seventeen and fought in many battles for the defense of his country. Due to his bravery and skill at combat he reached the rank of sergeant at the age of nineteen and was in charge of squad of warriors. Sadly one day he and his men where caught in an ambush and where being systematically slaughtered to a man.
In an effort to save the remainder of his he tried to outflank the enemy, even after sustaining injuries to himself he slayed over thirty-seven soldiers alone. But the last soldier dealt him a grievous injury, so severe it was it rendered him to crawl back toward his men.
When he finally arrived back to his squad he found the bodies of his soldiers strewn across their last holding ground with their foes killing all survivors. Gerald could hear the wounded cries of his men as they where slain without mercy as the enemy jeered and butchered them. Tears welled up inside the warrior until he felt a burning sensation he never felt before, he tried to crawl toward his men with an inhuman effort despite the pain.
Yet every inch of ground he covered seemed more like a mile, it took everything he had to not pass out to the darkness that threatened to take him, yet Gerald clenched his teeth and went on refusing to die. Finally after what seemed like an eternity in agony he arrived at the scene of the massacre, his foes long gone to find someone else to fight.
He forced himself to sit up in on of the earthwork trenches and he stared in disbelief and shock at the faces of his fallen comrades. In utter horror he began to feel tears well inside him as a gentle rain poured down over the battlefield. Soon enough Gerald von Shimazu began weeping just just like the heavens above until he himself passed on from the world, his injuries finally succumbing him to death.
Yet death was not the end of this warrior. His sadness, grief and rage became so strong that he broke from natural order and he returned in human form unsure of why is is even alive. In human form he travels aimlessly as a wanderer with his bagpipes, though he knows his name and he knows what happened he refuses to speak of it though anyone looking can see the sorrow behind his eyes. He only seems at ease when playing his pipes and is even known to smile when playing with someone who has great natural skill.
In contrast night comes his grief and sadness overcome him and he becomes a silent archangel of death, causing havoc and destruction wherever he goes. His wish for misery blackens the very air and land about him as the past memories come back to drive him insane. However when he hears peaceful music he will investigate as it brings him some small measure of peace for a time and he can speak as if he where human.
Personality : Gerald speaks in a command voice from his past in the military. He is a blunt man who says what's needs to be said and does what needs to be done. In a company he trusts he will eventually come around to talking but not at first.
Instrument/Weapon: A set of pipes he plays when he feels the weight of the past on his shoulders. When transformed he bears a Longsword made of ebony and metal that can cut cleanly through anything known to man and he carries with him two pistols from his military career though he rarely uses them
Other: After transforming back into human form he never remembers what he did, wither this be his mind blocking further horrors from driving him further insane or not no one can tell.
NPCs
Name: Lilly Artico
Age: 16
Race: Dark angel
Gender: Female
Normal Appearance:
Transformed Appearance: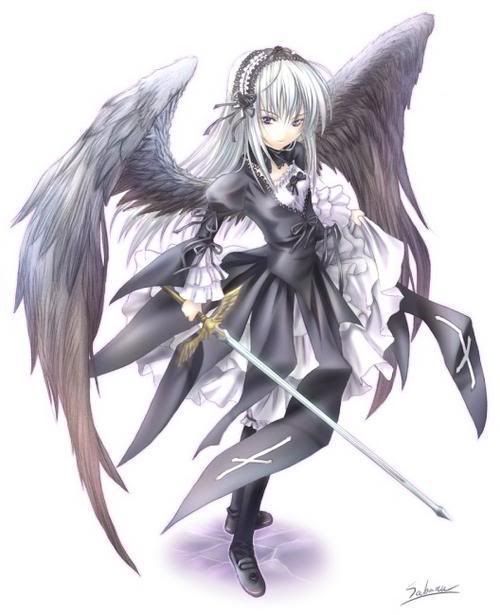 Alignment: Evil
Bio: Lilly was dumped in a cardboard box in a gutter as a baby on Christmas eve. A street performer found her, and looked after her until she was five. Then she got lost in the nearby woods, where an old lady found her and took her in.
Instrument/Weapon: Lilly plays the harmonica. She also a sword that works like a boomerang.
Other: After her life in the street, Lilly's always been a rebel. She's leader of a street gang, made up of other dark angels. Also, I know it's not a requirement, but I've devised a theme song for Lilly- Supermassive Black Hole (in case you're wondering, yes, it is the song from the baseball scene in Twilight)
Name: Sara Delgatto
Age: 14
Race: Dark Angel
Gender: Female
Normal Appearance:
Transformed Appearance:
Alignment: Unknown
Bio: Sara grew up like a normal person, playing the electric guitar. She was very kind and sweet until her family left her. She had been taken in by a sweet old lady. She lived happily for two years. Then on her birthday she transformed and killed the lady. She was supposed to be a normal angel but when her family left she was filled with hate, causing her melody to turn dark.
Instrument/Weapon: Her instrument is an electric guitar. Sara's weapon is a staff with metal hoops hanging from it.
Other: Sara's mission is unknown.