Log in to remove this advertisement



Table of Content: -
- Introduction

Who Is Luigi?
Why main Luigi?
Pros and Cons
-
Moveset
Grounds
Tilts
Smashes
Specials
Aerials
Grabs/Throws
Final Smash
Taunts
-
Strategies and Combos
Basics
Aerial Tactics
Throw Combos
Advanced Attack
Offensive Tactics
Defencive Tactics
Tag Team Tactics
KO Charts
-
The Edge
Edge Guarding
Edge Recoveries and Usage
Gimp Guarding
-
Match-Ups
Good Match-Ups
Even Match-Ups
Bad Match-Ups
Tag Teams
-
Misc
Costumes
Move Pics
Combo Videos
---
Introduction:
Who Is Luigi?
Luigi is a video game character created by Nintendo's game designer Shigeru Miyamoto. He is portrayed as the younger brother of Nintendo's official mascot, Mario. Luigi first appeared in the arcade game Mario Bros, where he was featured as the main character alongside Mario. Since his debut, Luigi has appeared in many games throughout the Mario series, often accompanying Mario as the central protagonist, but has starred as the main character of his own game, Luigi's Mansion. In most games of the main series, Luigi is playable, occasionally as a secret revealed in-game or as an unlockable. At times, Luigi is usually in his brother's shadow due to his some-what cowardly personality.
In the Super Smash Bros. series, Luigi has always appeared as an unlockable character. In general, his moves are similar to Mario's, but in defiance of the usual assumption that Mario is stronger, Luigi's attacks tend to be stronger. He is better at jumping and running than Mario, but lacks coordination and traction. His special moves are similar to Mario's, the main differences being that his fireballs are green and are not affected by gravity and his Super Jump Punch catches on fire at close range. His low traction makes him a difficult character to maneuver; however, his strong smash attacks, balanced moveset, speed, and nearly limitless horizontal recovery capacity makes him a powerful opponent under the experienced player.
Why Main Luigi?
Luigi is a well balanced character, who is relatively easy to become good with. He is also one of the best characters in terms of jump height, plus has a high speed. Once you've mastered this character you will be hard pressed to be beaten by anyone. He also has the ability to combos others in terms of aerial game. Meaning he has a great aerial side, he can kill at moderately low %s, and he's a floaty.
Pros and Cons:
Pros: -
Good Jump Height
Well Rounded Moves
Higher Speed than Average
Great Aerial Game
Decent Recovery Moves
Alot of KO moves
Lagless attacks
He's floaty
Has a Green Hat
Cons: -
Light Weight
Easy to KO on low Percent
Low Traction causes sliding
Has been Reduced in Combat Quility from Melee
He has poor range in his moves
Infinite Chain Grabbed by Dedede
He has a harder time shield grabbing
---
Moveset:
Grounds:
Jab/Standard Combo
- 3%, 2%, 10% - This is your basic attack move, and Combo. With Luigi this combo is often used as it has high priority and is east to fit in with other moves.
Dash Attack
- 1% per hit, Hits 8 times max. - This attack works well with the F-Throw, and combos well with most moves.
Edge Attack (-100%)
- 8% - Your Speedy, high priority edge move, also has a good range.
Edge Attack (+99%)
- 10% - This is a slower but more powerful version of above.
Trip Attack
- 5%, 2 hits (one infront one behind) - The kicking attack if you trip.
Floor Attack
- 6% - Similar to D-Smash.
Tilts:
F-Tilt
- 10% - This is a brilliant move to rack up damage on the opponent. In just over 2 seconds you can have 30% damage on your foe, just to be followed up with a dash Attack. Good for setting up for combos. (can control direction, High, Med, Low
D-Tilt
- 9%, chance of tripping the enemy, Spikes if hits the sole of the shoe - Great move to scare the opponent. The chance of tripping is an added bonus.
U-Tilt
- 10% - This move is similar to the F-Tilt, but knocks the foe upwards. The combos this sets up will be described in the Aerial Tactics section.
Smash Moves:
F-Smash
- Uncharged 14%, Fully Charged 21% - This smash move has a variety of uses, as you can direct the attack's direction (High, Straight, Low) Each having a different effect. The high version of the attack is good for KOs, where as the Low strike sets up for the difficult meteor smash.
D-Smash
- Uncharged 16%, Fully Charged 22% - This is a good move for racking up damage, and it can be used to edge guard with surprising success.
U-Smash
- Uncharged 12%, Fully Charged 21% - This move is good for KOs and to set up Aerial combos.
Special Moves:
N-Special - Fireball
- 6% - This is Luigi's only ranged attack. This is good to keep the enemy guessing and stop attacks.
F-Special - Green Missile
- Uncharged 5%, Half Charged 15/16%, Fully Charged 26/27%, Explosion Launch 25% - This is a good horizontal recovery move. The explosion launch has a 12.5% chance of happening. This move when maxed can make you stick into the side of the stage.
D-Special - Luigi Cyclone
- 2% Per hit, Hits 4 times, and at the end a 5th hit with 4% - This is a great move to approach your foes. Also if you tap the special button during the move you rise into the air, if you are on the ground or after a jump.
U-Special - Super Jump Punch
- 25% Close up from ground, 20% Close up start from air, 1% if hit during move in the air - This move is only to be used as a recovery or KO move. KOS all character in the air and on the ground with the fire punch under 100% (not including Dedede).
Aerial Moves:
N-Air
- 14% - This is a great move to use at the end of an aerial combo, also good for KOs.
F-Air
- 10% - This move looks like it should be a meteor smash, but it is
not
a meteor smash.
B-Air
- 12% - This is a great aerial move, and is the base of most aerial combos.
D-Air
- 11%, Meteor Smash - this move is really hard to use, and the meteor smash area is around the back of Luigi's body, if it hits his arm. Also a key move for aerial combos. Meteors during the first few frames, as his hands start to spin. (both sides)
U-Air
- 13% above and infront of Luigi, 7% Behind Luigi - This is another key move for aerial combos, but if the enemy goes behind you use B-Air.
Grabs/Throws:
Grab Hits
- 3% Per Hit - This is rarely used as you should throw as soon as you grab because Luigi can not hold on for long.
F-Throw
- 9% - Good move to starting a combo involving a grab.
B-Throw
- 12% - The throw with the greatest distance and damage.
D-Throw
- 6% - This throw is used the most in combos.
U-Throw
- 8% - This throw is mainly used to start aerial combos.
Final Smash
Negative Zone
- Luigi's final smash is a rather unique and crazy one. Luigi creates a sphere around him encompassing most of a stage. In this sphere, everything is negatived. Anyone within the zone gets hit with a variety of effects including; Lower Strength, Flower Growth, Lower Speed, Greater launch distance, Damage Increase, Dizziness, Drowziness, Stuck doing nothing but Taunts.
(Also known as WTF Land)
Taunts
U-Taunt
- Luigi does a robotics dance.
F-Taunt
- Luigi falls forward and rocks on the floor and back onto his feet.
D-Taunt
- Luigi kicks the floor. (Has a spiking effect & 2% damage)
---
Strategies and Combos:
Basics:
Simple Fireball trick
- This relies upon the N-Special, Fireball. The basic idea is to use the fireball to stop attacks then counter with a smash, or tilt. The easiest combo is to use fireball then use F-Tilt or F-Smash (use F-Smash if there is a possibility you can KO before the dash, use F-Tilt otherwise), followed by your dash attack.
Punch-to-Air
- For this you use your jab then jump into your enemy with F-Air or N-Air this is great for giving the other player a surprise. You can use any air move other than U-Air for this, but it all depends on the percentage of the opponent. This works well as a way to rack up damage fast.
Punchbag
- For this you use a jab followed by your dash. This is one of the easiest combos ever with Luigi, and is one of the main attacks for beginners to use.
Basic Tactic
- This uses both the Simple Fireball Trick and the Punch-to-Air combo, along with the standard combo and the use of the D-Special. For this you need to use the D-Special, without making it float into the air, to approach the enemy, but wait until you are close enough to hit them with the D-Special. Then use the Punch-to-Air combo to deal out damage. But make sure not to only use the Punch-to-air, also use the Simple Fireball Trick and the Standard Combo followed by any thing you can invent. Once they are on a high percentage use the Fireball Trick with the F-Smash to KO.
Aerial Tactics:
Air From Header
- This is used to get your opponent into the air when they are on about 40% or higher. Start off with a F-Air or D-Air then on landing use U-Smash then jump and use B-Air, this should get high damage and can offer a quick KO to the light weight enemies.
Multi-Jump and Hit
- This works well against 'floaty' opponents. First us either U-Tilt or U-Smash to get the foes aerial, follow this up by jumping and hitting with U-Air or N-Air. Follow this hit with a jump and another air attack of any kind. A light weight foe will be sent sky high. now just wait for them to fall down and repeat until they air dodge.
Heavy Weight Air Attacks
- For this you jump towards your enemy with a short hop, then strike with F-Air, N-Air or D-Air. Them Grab and use the D-Throw, follow this with any combination of aerial attacks (best not to use D-Air).
Meteor Combo
- This combo utilises the Meteor smash, and either the B-Air or the F-Air depending on which side the opponent is (preferably the B-Air side). First hit into the air with U-Tilt or U-Smash, then then use the B-Air or F-Air to hit the enemy to the over the edge. Now for the hard part, jump over the foe and use the D-Air but make sure you hit in between the back arm and Luigi's back.
Aerial Attack Plan
- Use any combination of the above combos, and the Punch-to-Air combo, along with any aerial based attack. The last combo for you to use is normally the Meteor Combo as if done correctly it is a definite KO.
Throw Combos:
D-Throw
- The basic throw combos are the D-Throws, just D-Throw into U-Air or D-Air depending on the height of the enemies recoil from the ground. Good for racking up damage.
U-Throw
- Similar to the D-Throw combo but instead of D-Air you use all of the other Air moves (U-Air, F-Air, B-Air and N-Air). Good for damage.
F-Throw
- Use this then use Dash Attack, followed by F-Tilt, F-Air, N-Air or F-Smash. Good for KOs.
B-Throw
- Use the B-Throw then jump back and use the B-Air, D-Air or N-Air.
Advanced Attacks:
Fire Punch
- KOs Jigglypuff at 37%, KOs all but King Dedede under 100% on ground and aerial. Your
best
KO move. A good way to set this up is to Jab -> Second Hit -> Fire Punch (U-Special)
Dodge Roll
- This may seem basic and boring, but it is a key part of Luigi's game play. You need to dodge roll effectively, and attack directly after a roll. This also true with the air dodge, as Luigi has one of the most versatile characters in aerial play. Remember the distance of his dodge roll so you can time it to perfection for an exact attack that will pay off.
Cyclone Aerials
- A good form of approaching is to use the Luigi Cyclone (D-Special) as during the approach you can get aerial and then attack with Luigi's best attacks (F-Air, D-Air, B-Air and N-Air). Remember that just like the dodge rolling timing is the key.
Special Tilting
- This is the use of Special moves combined with Tilts. You can invent many tricks with this, like D-Special to F-Tilt or U-Tilt, but without these self invented tricks you can not hope to become the best Luigi user, as these attacks work so well in giving out damage. Also you must use moves that feel right for you to use, not just what someone tells you to do, that is the whole point of Luigi, no one uses him like another person, he is unpredictable, and playable in many ways, from Aerial based play to Ground based Juggling (staying on the ground and keeping you enemy in the air). Use these tricks to make Luigi your own. I can not stress this point enough. Use your imagination.
Short Hops
- Do a short hop with D-Air, then follow up with N-Air. Simple and easy way of attacking.
Offensive Tactics:
All Out
- For this tactic you must be willing to get on high percentage and be able to air dodge to stop your self flying off the stage. As the name suggest it is an all out attack, approach with D-Special or Dash Attack, then use the any combo you see fit to deal out damage. KO with you Air moves (N-Air, F-Air and B-Air), the F-Smash and D-Smash, and U-Special as these have the greatest KO ability of his moves in my experience. (not including Fire Punch)
Multi Jumpers and Flying Recoveries
- For all the characters that can multi jump or have a flying recovery you must keep them on the ground, or when they get airborn you must teach them not to fight in the air against Luigi!
Spring Board
- Jump. Stay aerial and attack from above. Air dodging, Air attacks and D-Special, the three things you need. If your attacking from the Air they'll have a hard time fighting back, unless they are using another good aerial character.
Defensive Tactics:
Cyclone Roll
- For this simple yet brilliant defensive tactic you use the Luigi Cyclone (D-Special) combined with you dodge rolls, and air dodges to avoid damage. basic idea -> D-Special (rising approach) -> Air Dodge/Attack -> Dodge Roll Back -> Repeat later in match.
Flaming Cyclone
- Basic idea is that the greatest defence is a good offense. Combo -> N-Special -> D-Special (rising approach) -> Air Dodge/Attack -> Repeat once or follow with an offensive tactic.
Fireball Wall
- It is basically short hop retreating fireballs and fitting in F-Tilts for spacing.
Tag Team Tactics:
Gimper
- Your team mate focuses on knocking the opponent off the stage while you focus on doing what Luigi is best at, gimping. A full guide to gimping with Luigi is in
The Edge
section.
Multi-Target Defence
- D-Special approach none rising at one, then as the other comes to get you Dodge Roll behind the first, causing them to hit their ally. (only works if team attack is on - Standard in tag teams)
KO Charts:
Firepunch - U-SpecialF-SmashU-SmashN-Air
Note 1: All percentages were done in training mode, with no move decay. This will alter the percentages by a few percent. Also all were done in the center of Final Destination, other stages may vary.
Note 2: Still collecting Percentages
---
The Edge
The Edge, one of Luigi's best places to be to defeat the opponent. There are many ways to use it, from edge hogging to gimping.
Edge Gurding:
Taunt Guard?
- Luigi's D-Taunt spikes, so is great for getting those KOs on an unaware foe.
Smashing
- The use of smashes to prevent the opponent returning. D-Smash, F-Smash(D), and F-Smash(N) are good for this. Combined with taunt guarding it works well.
Fireball Guarding
- This involves using the Fireball (N-Special) to prevent the foe from jumping to return. This can also be used during jumps to creat a Wall Of Fire. Jigglypuff is one of the few characters that have a side-recovery that can get though it. (Luigi being another)
Blocking
- This is using aerials to knock the opponent back off the stage, a safer form of gimping. F-Air, B-Air, D-Air and U-Air and good here.
Edge Recovery and Usage
Cyclone
- As we all know the Luigi cyclone is great for recoveries. Some new Luigi mains may be un aware of how to use it properly. After a jump use the D-Special, before it forces a fast fall, and rapidly tap B (special button), this cause a great recovery move. Now try grabbing the edge, dropping off and using it to get back on. This can be used as a mind game or just to give the enemy a shock.
Aerial Return
- Same as above, but you use an aerial move to knock the foe back, preferably F-Air, U-Air or D-Air but N-Air also works.
RASEN GAN!
- Same again but with the fire punch. WARNING only use to KO, as it leaves you vurerable for afew seconds.
Edge Block
- As you will know if you watched the tutorial on the nintendo channel Luigi is the easiest character to grab the the edge with (turning grab). You use that to prevent a recoverer from grabbing the edge.
Gimp Guarding
B-Air
- Start off with the turning edge grab, as it is the easiest way for Luigi to get setup, then drop back and use B-Air to knock the foe back. Then recover and repeat.
Madness?
- Your main tactic for gimping. Jump off the edge and knock the foe back, recover and repeat. F-Air, B-Air, and D-Air are normally the best moves to use, but U-Air can be used if your blocking them from the air above stage height.
Wall Of Fire
- Same as the Fireball wall in defencive tactics but used as you jump off the edge. Stops most recoveries.
---
Match-Ups
Good Match-Ups:
Wario
- This is one of your easier matchups. You'll want to fight in the air for this matchup. He's a alot more of a speedy aerial type fighter but your attacks have more speed and outprioritize him. You can combo him as normal and easier. You can outcamp with your fireballs. D-Air > N-Air approach works wonders as its a combo starter. Just be wary of the chomp bite as it can stop a few of your attacks like your tornado. You can just fireball him to be careful. Also be wary of the deadly F-Smash. It has Super Armor frames and it comes quick and kills pretty early if kept fresh. Non-stop offense, aggressive wins here.( 70:30 Luigi's favor)
Ike
- This is a matchup where you don't wanna make a mistake but you'll have to rely on the "wait and punish" tactic. Many of Ikes moves have ending lag so take advantage of that and he has a big range on you. You can force him with fireballs. Spotdodging/powershielding is more needed here than shielding because of how far it knocks you back. Gimping his recovery is piece of cake. For his QuickDraw (F-Special), just get in front of his face or airdodge or you can fireball him and set yourself up for a F-Smash. For his U-Special, aether, you just B-Air him for a stage spike. Be wary of his Jabs as they are quick, and it cancels out your fireballs, F-Smash can kill you as early as 40% ~ N-Air autocancels as well. Gimping his recovery, spamming fireballs and punishing wins here. (60:40 Luigi's favor)
Diddy Kong: This is pretty easy matchup and sometime's annoying one because of how the bananas trip you. When you get hit by bananas, you slide too far because of your low traction so you won't be combo'd effectively. Also you dominate Diddy's airgame which gives you higher advantage. Diddy's dies moderately early since hes a lightweight so all your ko options are open espically a shoryuken at 42% fresh. But things you should watch out for is the bananas. Even though they trip you and you slide far, they'll still do damage and piss you off. So take control of banana game, watch out for the dash attack (you can easily powershield this) and learn how to glide toss and you'll do fine. (70:30 in Luigi's favor)
Neutral Match-Ups:
Mario
- Ah the red plumber has everything you got. His fireball game, aerial game,
edgeguarding/gimping
game is where it really shines for the red plumber. Luigi can put up with the same thing, aerial game, some fireball game and KO-ing game. First off, you'll want to look out for the deadly Cape/Fludd combo. FLUDD basically stops your green missle momentum, open for a spike. Cape basically just reflects your Green Missle's direction. If your doing a rising tornado recovery, try to get him in the tornado, so you can gimp him. Also watch out for the U-Air string to a F-Smash/Spike kill. Both have equal air/ground game so comboing normally can be here. Edgeguarding Mario is tricky as well. He has fireballs, a spike if your not careful, a cape. For the fireballs, you cancel it with your aerials. Throwing F-Airs/B-Airs works here for gimping. (Neutral 50:50)
Lucario
- Combo demon vs Combo King. Both have great aerial combo game. Lucario has slightly superior ground game and has slightly better range overall so he'll be using that to his advantage. Charged Aura Sphere's eat your fireballs while baby, Aura Sphere's cancel out fireballs. Lucario dies to a shoryuken around 60% so keep in mind in that. Watch out for Lucario's deadly F-Smash, it has disjointed hitboxes, very hard to punish if spaced correctly. F-Smash and a force palm outprioritizes your tornado, so becareful with tornado approaches. Being in the air comboing him quickly, and getting him offstage (you can easily edgehog his extremespeed) is your best bet here. (45:55 neutral matchup)
Luigi
- OMG! It's you!! Ditto matchs are troublesome. You know everything every strength and weakness he has. Unpredictable, mindgames, exploiting your oppenent's weaknesses. N-Air is your friend and enemy. It will help you start combos and their N-Air will break your combos just as easily so be aware. (50:50 neutral)
Bad Match-Ups:
King Dedede
- One thing to say if you get grabbed
YOU WILL DIE
, With his infinate CG you are in for an incredibly hard time if he grabs you. Other than that, He is the only character not to die under 100% with a fresh aerial fire Punch so save it for when it is a definate KO (110% preferably). Basic tactics for Dedede, punish his lag (especially the F-Smash) and gimp his recovery. Ground attacks to aerial work well, go over the aerial and offensive sections. The fireball wall also works well. (65-35 Disadvantage)
Marth
- Disjointed hit box, great at punishing, nice aerial game and good KO moves. This is a tough one for Luigi, You have a better aerial game, so use it to your advantage. Careful of his parry, and do not leave your self open to his Side Special (sword dance). Use of your grabs are esential in this match, D-Throw does not work, he will spike you with D-Air. Keep either too Close or too far away for him to tip you. Fireballs allow you to range him, while he can not do it back, thanks to his lack of ranged moves. Also cyclone approaches work well, along with the D-Air -> N-Air approach. (70-30 Disadvantage)
Mr. Game&Watch
- The hardest match-up for Luigi, better recovery, Bucket, 1-hit KO move, and insane damaging moves. They are just a few of his many advantages. However he is really light, and at a disadvantage in the air, and doesn't have a green hat. You can see Luigi is so much better. Right, try not to get hit by his side-special or F-Smash, as these are great weapons at his disposal to kill you with. Also his turtle is a move to be warry of, it will give you so much damage, really quickly. Now to beat him, keep moving, Fast attacks and faster escapes. He is a real threat to you if you in close for to long. Fire Punching is a bad idea. You will be dead before you hit. (Unless aerial is used) Keep in mind that Jab -> Jab -> U-Special allows for a good killibng combo, great for this guy. (80-20 Disadvantage)
Tag-Teams
I know this is the only guide to have a tag team section, but as Luigi performs so well in tag-teams, it is well deserved.
First of there are three possible ways to play Luigi in tag. Offencive, Defencive, or Gimper. Each uses different tactics, and move more often.
Offensive - If you play offensive then you focus on giving the opponent as much damage as possible. You target the foe with less damage. The Offensive Tactics section help here.
Defencive - In defensive you protect your ally, and stay undamaged. The Luigi cyclone works well for this, along with the dash. Review the Defensive Tactics Section.
Gimper - Basicly the KOer of the team, you knock the enemy down and keep them down. Review The Edge Section.
I will combine two of the above to provide alternative chooses, depending of your partner character.
Luigi & Mr.Game & Watch (Great Tag Team)
Style: Gimper/Defencive
Best Stage: Smashville
Mr.Game & Watch your worst enemy is your best friend. His ability to give damage combined with your abilty to KO makes you the best team. Fire Punch is deadly to everyone on the field, use it sparingly. Aerial attacks are best, as Mr.Game & Watch can easily get the opposing team in the air for you to kill.
quote Team Rating


Team Play = 17/20
Reliablity = 32/40
Match-ups = 14/20
KOing Speed = 18/20
Total = 81/100
Luigi & Mario (Decent Tag Team)
Style: Gimper/Offensive
Best Stage: Battle Field
I'm see almost double... The red plumber is here. They work really well together, but they both play the same roles, Gimper/Offencive. With a bit of imagination this tag is realy good. Fireball blocking is good in this team (both using fireballs to trap the other team). Aggresive play works well.
quote Team Rating


Team Play = 18/20
Reliablity = 27/40
Match-ups = 10/20
KOing Speed = 10/20
Total = 65/100
Luigi & Ike (Bad Tag Team)
Style: Gimper/Defencive
Best Stage: Not on one.
This team is really
bad
, it does not work. Everything you do, the oauf with the sword will mess it up. DO NOT USE THIS TAG TEAM!
Anyway, for this to work at all you need to stay away from each other. Take a player each and an edge each.
quote Team Rating


Team Play = 7/20
Reliablity = 15/40
Match-ups = 5/20
KOing Speed = 5/20
Total = 32/100
Luigi & Lucario (Brilliant Tag Team)
Style: Gimper/Offensive
Best Stage: Battle Field
This team works so well, No one can beat it, With two combo legends on the field you can easily beat most tag teams. Try to use the fire punch under extreme conditions only. Stay above as Lucario is better on the ground. Against a groud specialised team you will fail slightly. It is also a good idea for you to do the KOing, as for Lucario to KO he needs aura boost. (Percentage=Powerboost)
quote Team Rating


Team Play = 19/20
Reliablity = 37/40
Match-ups = 17/20
KOing Speed = 19/20
Total = 92/100
Luigi & Jigglypuff (Brilliant Tag Team)
Style: Gimper/Defencive
Best Stage: Yoshi's Island (Brawl)
Great team, while Jigglypuff is damaging like hell your stealing the KOs. KOing with this team is probably the best in brawl. The best in terms of team compatability. Only drawback is that both characters are light.
quote Team Rating


Team Play = 20/20
Reliablity = 37/40
Match-ups = 19/20
KOing Speed = 20/20
Total = 96/100
---
Misc
Costumes:
Original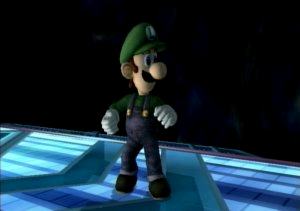 Fire Flower



Orange



Pink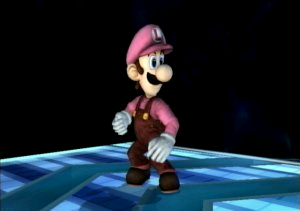 Blue



Waluigi

Move Pics

Fireball - N-Special



Green Missile - F-Special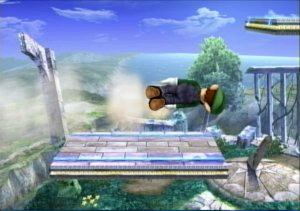 Super Jump Punch - U-Special



Luigi Cyclone - D-Special



Negative Zone - Final Smash (WTF LAND)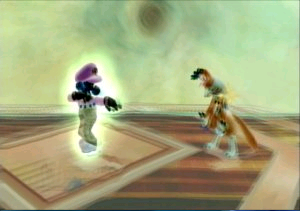 Combo Videos:
Green ReaperOvershadowedLuigi's Nightmare
---

Credit to The 'Former' Nightmare of Corruption Crew, The Chaos Legion Crew, and The creator of the Videos above for their help in the guide. Also a thanks to the Smash Wiki for the Meteor Smash info on the D-Tilt and D-Air.

Approved By Gotenks