Log in to remove this advertisement
Table of Contents
code

I. Introduction
   A. Background
   B. Pros and Cons
   C. Why MK?
II. Moveset Introduction and Explanation   A. Grounded Moves
   B. Aerial Moves
   C. Specials
   D. Throws
III. Strategies
IV. Tricks, AT's and Combos
V. Matchups

I. Introduction
A. Background
"Meta Knight (メタナイト, Meta Naito) is an enigmatic character, created by Masahiro Sakurai...He follows a code of honor, and usually gives Kirby a sword before they fight to be fair. He is called Kirby's rival, and while Kirby often battles him, they have worked towards the same goals in the past.

He is revealed as a member of the same group as Kirby, the Star Warriors, and is a high ranking and respected member of the Galaxy Soldier Army which fought against the armies of Nightmare, though he ended up being the only surviving member. He works for King Dedede, but is in truth an ally to Kirby and only stays with the king to keep a close eye on his schemes. He wields a golden, spiked sword called Galaxia...and acts as a mentor to Kirby, occasionally training him or defending him when needed, but tries to make Kirby learn for himself so he may eventually be able to defeat Nightmare. He is also well known for hating people who lack common sense."
-Wikipedia excerpt
B. MK pros/cons
pro =
+
con =
-
kinda both =
+/-+
Quick, disjointed everything(aerials, tilts, smashes, specials)
+
Great ground speed and multiple jumps to utilize said disjointed everything
+
Shuttle Loop is ridiculous. It creates a large hitbox while keeping MK's tiny hurtbox flying everywhere. When used on the ground, the hitbox is longer and can be a vertical KO move at higher %'s(like 130). It can be used straight out of a dash and can be reversed(Dash away, reverse grounded shuttle loop FTW?). When used in the air, it can kill off the side of the stage very early(like 60% if near the edge of the stage). After performing the Loop, MK goes into glide mode where he has instant access to his broken Glide Attack. Not only can it kill at higher %'s(like 120) and do large damage (13%) and comes out insanely fast, but MK has no lag after landing it. He can Dsmash, SH aerial, whatever he wants.
+
Mach Tornado is ridiculous. Some matches become slanted JUST BECAUSE of this move. When figuring the matchup, characters have to set aside moves to take care of this one move.
+
Ground game is strong. Dsmash, dtilt and ftilt make the party.
+/-
Fsmash, Usmash and utilt are less useful, but still practical
+
Air game is just as strong if not better. He completely covers himself with his aerials and uses his multiple jumps to play around anything that might outrange him. And heck, he can just tornado through things that would bug him otherwise(G&W's bair lol).
+
Sick recovery. He even edgeguards you while he recovers.
+
Insane edgeguarding abilities.
-
Lightweight. Less than average horizontal resistance. Terrible vertical resistance.
-
KO moves must be saved. Dsmash can kill efficiently, but decay greatly hurts it. Nair can kill, but must be sweetspotted. Shuttle loop can kill, but must also be saved. Glide Attack also has a decay problem. When KO'ing with MK, you must remember what moves have decay and what moves don't when it's time to KO. Fsmash is balls unless you can predict your opponent running into it(or in a ditto. Fsmash rocks the ditto).
+/-
Is outranged in some matchups(Snake, G&W, Marth, Ike). MK's mobility and his specials can get around most attempts to outrange him, though.
C. Why MK?
While MK has no bad matches and near broken mechanics, MK is simply fun to play. I enjoy the focus and reflexes it takes to play the character at his optimum level. He's no replacement for melee fox, but I take what I can get.
II. Moveset introduction and explanation


A. Ground Moves
Jabs
: 2%
MK swings his sword quickly on both sides of himself and continues for as long as you hold down the A button. The hitstun isn't enough to capture an opponent if he is grounded, as they can attack/shield/grab between slices.
What you can do with this move is jab lock while an opponent is down on the ground in a prone state, or lock them while they are airborne falling next to an edge or platform.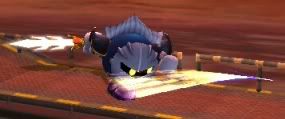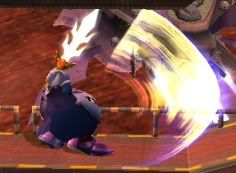 Forward Tilt
: 4,3,5%/12%
MK performs a quick slash in front of him and follows through with two more as you press the A button. Each hit leads into the next, finishing with the last hit.
MK has significant lag on his last slice, so don't continue with the ftilt if they are not caught in the first two cuts. With that in mind, this is a very good way to rack damage. Quick and nice range.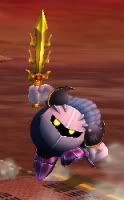 Up Tilt
: 8% SS(sweetspoted), 6% non-SS
MK spins with his sword while pointing it upward. The hitbox lasts a good while, and the SS is at the beginning of the move.
This is surpisingly a KO move for MK. Characters with poor vertical resistance (Kirby, MK, Jiggly) can be KO'ed at around 105% when SS'ed. Landing the move is easiest when your opponent is above you on a platform or using an airdodge to land.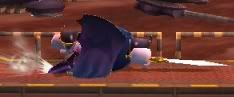 Down Tilt
: 4-6%
Imagine Marth's dtilt, slightly increase the range(lol no way) and speed and reduce damage. Contains tripping properties.
This move can trip the opponent, setting them up for a grab/ftilt/dtilt/dash attack/sh fair. I like alternating this with the first slash of the ftilt.
Forward Smash
: 13-14%
MK focuses and slashes in front of him. Large startup but low cooldown.
While this is a KO move, it's difficult to land due to the large startup frames. Best used when you can predict an approach, since it covers a large area in front of MK. It also makes shielding opponents slide back, usually far enough to whiff a shieldgrab if they try it.
Your opponent also matters when using the move. If it's an opponent that has to apporach you sometime(Kirby, Sonic, MK) it's decent. Opponents with more range and projectiles are ones you shouldn't use fsmash on.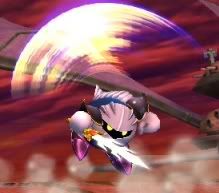 Up Smash
: 3,3,3, (9%)
MK slashes at a wide area above him. Has startup time and cooldown lag. Low damage, and rarely kills(+160%). Your opponent can DI out of the final hit. Not a recommended move.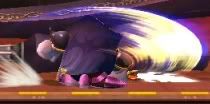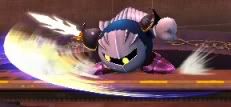 Down Smash
: 11, 13%
MK slices in front of him and behind him in quick succession. The first hit comes out on frame 5, which is 1/12 of a second. Large area damage and KO's very well off the side. It is also possible to hit with both parts of the Dsmash.
Every MK style incorporates the dsmash in some way. I recommend that you either save it or spam it, and leave another KO move open. The damage it performs on an enemy is large and is easy to land, so you can use it as a damage racker if you can reliably land your other KO moves.
Dash Attack
: 6, 8%
MK does a flying side kick with his shiny metal boot. The SS is on the beginning of the move, otherwise there will be less knockback and damage.
This is actually a good move. With the priority and speed it contains, it is another tool to use to keep your opponent on his toes. Depending on whether your opponent is approaching or defending, you should use it early or late, respectively. Using it late on a shielding opp will let you pass through them. Using it early on an approaching opp will usually beat out their approach. Either way, it gets you inside and ready for close combat.
Follow up this move with dsmash or nair. I prefer the nair(lol Falco) as you can SS from the hitstun and chase airdodges.

B. Aerial Moves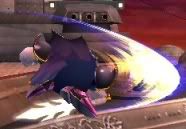 Forward Aerial
: 3,3,4%
MK performs three consecutive slashes in front of him. Good range and should be autocanceled.
Shffal(short hop fast fall autocancel) this to give yourself a wall of fairs. The move is very flexible when autocanceled and can lead into ftilts, dtilts, dash grabs, etc..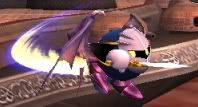 Back Aerial
: 3,3,4%
MK performs another three consecutive slashes behind him, but with a longer, more narrow range. There is also a larger interval between the three slashes than with his fair. The last slash has more knockback, and can kill off the side of the stage at high percents.
The autocancel window for the bair takes some getting used to. This is a good move to cover air by fastfalling and bair'ing when you are about six character spaces airborne.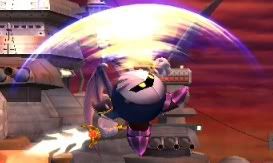 Up Aerial
: 6%
MK quickly slices a small area above him. Extremely low startup and cooldown; can combo with itself at low %.
Also, this move is a killing move at higher percents on characters with low vertical resistance. Another good aerial in MK's toolbox.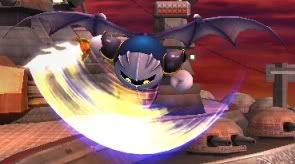 Down Aerial
: 8%
MK cuts the area below him with a wide slash. Good range, comes out quick and autocancels. A good OOS(out-of-shield) tactic and covers a lot of ground when done after a sh.

Neutral Aerial
: 12, 7%
Just like in
Kirby's Adventure
, MK performs a somersault while holding his sword in front of himself. Decent priority and has two hitboxes, both start at the beginning of the move but only the 2nd hitbox lasts to the end of the attack.
My favorite aerial. It's possible to hit with both hitboxes, doing a surprising 19% damage to your opponent. Also, the initial hitbox is a great KO move. To top it off, you can chase airdodges and spotdodges with this attack.
C. Specials
(Credit to T!MmY for pics and info)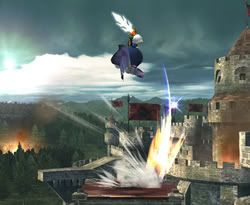 Shuttle Loop
: 9% SS, 5-6 non-SS
MK flies up into the air with his sword and starts an auto-glide. Some info from T!MmY:
quote

* Use Standard Attack, Throw button, or C-stick to attack out of your glide (you will go into FallSpecial).
* Jump or Special Attack to cancel the Glide mid-air (you will go into FallSpecial).
* Cancel your Glide (Jump or Special Attack) right before landing on the ground to negate landing lag.
* Hitting with the "non-sweetspot" of this attack only does 6% damage, but you can get twice the hits in since Meta Knight will hit once initially and then loop around for a second hit.
* You can reverse the Shuttle Loop by pushing the control stick in the opposite direction immediately after executing the Up Special.

The Loop has different properties based on whether you use it on the ground or in the air. On the ground, you have invincibility frames on startup, and the move will vetically kill. While airborne, the move will horizontally kill.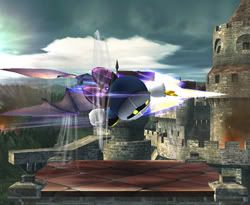 Drill Rush
: 1% x7 hits, +3%
MK does a Tengen Toppa Gurren Lagann with his sword. Large startup and cooldown; sends you into fallspecial.
This move is bad as an offensive one, but amazing for recovery. Learn how to attach yourself to the ledge with this move.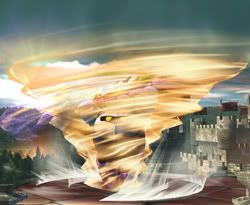 Mach Tornado
: 1% x 19, +3%
MK spins around and creates a tornado..somehow. Medium startup, low cooldown(if you land as soon as you end) and extremely large and painful multiple hitboxes.
This is one of the moves people have considered banning MK over. It's not a completely bogus claim, some characters just don't have a solid answer for it. The priority increases as you tap the B button, doing plenty of damage and refreshes decayed moves(dsmash anyone?).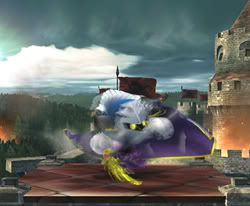 Dimensional Cape
: 14%
MK teleports and will perform a sword slash when warping back in if you hold the B button. Large cooldown lag if you do the slash.
I've been trying to use this as an offensive technique, and it sometimes works if you can accurately predict. 14% is great if you can land it. So far, I haven't been consistent with it, but there's probably potential for using the slash.
Other than that, MK has a banned technique with this move--called the "Infinite Dimensional Cape". Here's a vid:
D. Throws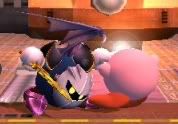 "Where's my Money attack(Pummel)": 3%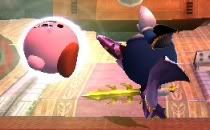 Forward Throw
: 9%
MK flipkicks his opp.
More than likely his worst throw. You can shuttle loop right after if you think they won't airdodge.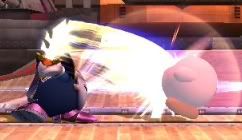 Back Throw
: 10%
MK teleports behind his opp and slices them.
Good distance means edgeguard setup.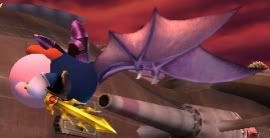 Up Throw
: 13%
MK Tengu Drops his opponent.
KO move at higher %'s.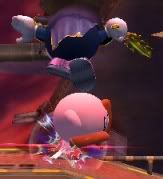 Down Throw
: 11%
MK performs a two-step on his opponent. James Brown would be proud.
You can fair or dash attack/dash grab out of this, depending if they try to attack/jump out of the throw or airdodge.
III. Strategies
Keep moving. Whether you're playing a campy MK or an aggressive one, you won't get anywhere sitting still. Pressure is something easily attainable with any MK style.
Aggressive MK
: This is Ninja MK. He runs in and doesn't let up. He forces his opponent into a defensive position and profits by grabbing or performing the correct attack for his techchase/airdodge chase.
Campy MK
: This is Bill Gates MK. He will sit back and look for his opportunity to profit. Retreating aerials are his game, and he will move in for strings or a grab when he gets his chance.
Both work, but both should be always watching the opponent closely as they perform their respective styles.
*more on this section later*
IV. Tricks, AT's and Combos
Infinite Dimension Cape
: see specials section
Dtilt Lock
: MK can use his Down Tilt to 'lock' somebody when against the wall.
Reverse Shuttle Loop
: Dash, flick back and UpB in a fluid motion. Very nice anti-approach.
Will Combo
: when your opponent is at low%'s, you can Glide Attack to upair to SS nair. M2K's variation is Glide Attack>nair>ftilt
Nair>reverse dsmash
:I don't know exactly how I do it, but watch this vid:
I perform it at 2:13. I think I just reverse dsmash after I autocancel the nair. It looks cool as hell tho.
*more later*
V. Matchups
This section will be updated by request.
Kirby
: A decent matchup. Approaching Kirby is very difficult, due to bair, fsmash and throw combos. His smashes and hammer can kill you very early, and fsmash cuts through your tornado.
Bair can beat your fair, which is another part of why your approach is crappy vs. the fellow star warrior. Careful when glide attacking after a loop, fsmash will be waiting when you land.
Dair gimp his recovery and hang out by the ledge. If he's forced to UpB back onto the stage, capitalize.
55/45 MK's favor. Very close.
Vids:
Falco
: A tough matchup. Falco's lasers and phantasms will try to keep you away and rack damage. This is a problem, because moving in can hurt your spacing. If you get grabbed, you have a guaranteed 50% at low percents, due to a chaingrab+gatling attack(hitting with both parts of a dash attack cancel).
Bair and usmash are his best bets of killing you. Fsmash and uair can also KO, but more difficult to land. While lasers can go through tornado, you can still use it as an approach. This is mostly due to it being a countermeasure to his phantasms. Also, your aerials trump his, so get him in the air and profit.
Careful when fighting him up close, he has a jab that comes out on frame two, which is three frames faster than your dsmash. All the more reason to keep your spacing.
Get him off the stage and gimp. Always prepare for a phantasm, and predict whether he's going for the stage or the ledge. If he firebirds, then dair gimping is all too easy. Dsmash is fine for spamming in this match, you just need to get him off the stage to kill him.
50/50 even.
Vids:
Snake
: A difficult matchup. Snake outranges you, outpowers you and outlives you. Playing around his tilts/jabs/grabs/snakesliding with quick, careful movements is key. You have to put up a better offense than his defense. If he's shielding or airdodging to the ground, grab. If he's spotdodging, nair. Predict rolls and punish. Don't walk into his tilts, don't tornado into his grenades and watch out for his bair when chasing Snake in the air.
Make the slightest mistake and take 21% from a ftilt. Get to 95% and an uptilt will KO you. Bair and Nair can also do you in, and fair if the Snake is gutsy. C4, nades, mortars and nikitas can kill you as well as rack damage. Snake can grenade camp you very well. It's best to grab him at that point, as your attacks and tornado approaches will only end in both of you getting blown up, and damage to you means more than damage to snake.
Save your Dsmash, but if you get Snake off the stage--chase him down. You
can
gimp Snake by nairs and shuttle looping him while he's trying to recover. Wait until he brings out his Cypher, and then you'll be free to shuttle loop(make sure you hit the cypher while looping so it knocks out of it before going into auto-glide). Also, if you shield the 2nd hit of the ftilt, you're all clear to dash grab him.
You corner him well in the air, but you still have to be extremely careful of his bair/nair/uair. Keep cutting and don't let up.
45/55 in Snakes favor.
Ganon
: A decent matchup. Ganon can scare your approach off after just a few hits. Uair/usmash can easily kill and he can actually land them.
Ganon has a lot of ways to rack up damage and kill you, but the pressure is nowhere near Snake-bad. He has plenty of trouble with the tornado, so throw it out there to create openings. Dsmash spam is acceptable, you need to get him off the stage. After that, gimping is relatively simple.
A wall of fairs work well, just watch out when he gets a chokehold off. Then he'll techchase you. My only advice for that is to do the opposite of what you were going to do. If you were going to roll left, roll right. If you were going to do your get-up attack, get-up without attacking.
On the stage, the fight is somewhat even. Ganon had enough range and tricks to deal with MK(dair and downB hurt). However, off the stage Ganon is at a loss. Remember not to grab the ledge until Ganon performs his UpB. Recover you invincibility frames by dropping and regrabbing.
60/40 MK's favor.
Marth
: A good matchup. Marth is a tough stuff, and his tipper fsmash can kill you ridiculously early. His dancing blade will get a solid amount of damage for the slightest opening, and his fair is a big problem when fighting him in the air.
Your tornado helps a large amount, as does your grounded shuttle loop and glide attack. Dash attack is a good opener, coupled with dash grabs.
You can't let Marth set the pace. Make the most of your style and rack the damage. Once you get him off the stage, edgeguard him quick. It doesn't take much to gimp him.
55/45 in MK's favor.
Meta Knight
: An even matchup(obv), but one of the largest mental matches this game has to offer. Spacing, position, maneuverability, knowledge of what move beats what and OMN the mindgames(haha sleps).
Every approach and every defense can be countered. It's simply a matter of picking the right move--like rock/paper/scissors, but you control when and where your choice is thrown. Ftilt is great spacing, but a sh fair can reach over it. Glide attack and drill rush have massive priority, but tornado can beat both. Tornado reaches in to do damage, but is beat by all five of MK's aerials, smashes and ftilt. Dash attack is useful when the enemy is overly aggresive, and can link you to some more ever-important damage. Grabs are awesome for doing so, and properly mixing them in with other approaches can make an opponent feel helpless, making them play even more defensively.
Also, when caught in the tornado, DI out by smashing both the control stick and the C-stick upwards as fast as you can. When catching your opponent in your tornado, regulate your b-button pressing to a rhythmic pace to keep him in it.
Some moves are particularly geared/not geared to the ditto. Ftilt and fsmash are great moves to use, and nair is much more difficult to land. Fsmash covers your front nicely from your enemy MK, and ftilt reaches in and damages well. Nair is blocked out by the enemy MK's strong aerial game.
Obviously, you're going to want to space extremely well here. A grab can mean a good 30% damage(pummel, dthrow, dashattack>aerial or fair or even regrab) and MK's ridiculous out-of-shield options come back to bite you after every shielded aerial.
Save your dsmash. 90% of the time you use dsmash in the ditto, ftilt would have worked out better for you. Speaking of 90%, that's about the % you need to KO an enemy MK off the side of the stage with an undecayed dsmash.
In a ditto, MK is weak from below. A good MK will pressure you with camping while you try to get back to the stage from above. They'll follow your descent and scare you off with potential shuttle loops and aerials. A well-timed dair can solve your problems, but it has to be just that: well-timed.
Edgeguarding MK is difficult, but possible. You can achieve a lead by gimping with a reverse shuttle loop. Most of the time, you're going to want to hug the ledge when you think they're going to perform their recovery action and attack from there. Remember that the tornado can beat an aerial shuttle loop and glide attack.
This matchup is one every MK should be well versed in. As more Meta Knights enter the tournament scene, this could be a very common matchup to experience. Keep up your pressure, don't get pressured yourself, build damage with ftilts/aerials/grabs/tornado and save that dsmash for the end.
Lucario
: A good matchup. Lucario's weight, strange hitboxes and increased damage/knockback at higher %'s make this a tougher fight than a MK main would expect.
Aside from Luc's dair, you dominate the air game. However, if he gets a fair off at low %'s, he's got a few combos he can pull off. Spacing is crucial in the air.
On the ground, ftilt/dtilt him hard. His fsmash is your biggest problem. It outranges you and will kill you easily to ridiculously easily depending on Luc's %. However, get correct spacing and dtilt and ftilt all you want. Luc can't throw fsmash fast enough (unless he started performing the move before you got in range) and the rest of his ground moves either can't reach or don't come out fast enough. Also, usmash has a very weird long-lasting hitbox, so be careful when attacking a grounded Luc from the air, as he also has uptilt.
From there, it's just predicting Luc's defensive movements. Tornado can beat small aura spheres, but Luc's fsmash will go through nado easily.
Aggressive edgeguarding is key in this matchup. His UpB technique won't hurt you, so don't worry about hanging on the ledge. Your aerial game trumps his, so don't be afraid to chase him off the ledge. You will still need to watch for his dair/uair, etc..
55/45 MK's favor.
Pit
: A relatively easy matchup. It's best not to underestimate him, as he does have a few tricks to rack up damage and KO you. Namely, retreating nair, aerial to dtilt/fsmash, among other things.
Spacing is especially important here. It's best not to be in range of fsmash/jabs, and grabs can lead to combos at low%. If you can space your fair, ftilt and dtilt perfectly you can easily rack up damage for a quick nair/dsmash kill.
Pit isn't exactly weak to your approach, as he does have ways to counter them. However, properly mixing your approaches will throw off defensive pits with ease. He'll have to predict whether you're going to sh fair/dair/nair, tornado, grounded shuttle loop, dash attack or dash grab, etc.. Most of the time, they'll perform some sort of retreating aerial. Cure them of it by shielding out of your dash and immediately acting out of your shield(ftilt/dsmash or sh aerial or even grab).
Nair can work against your tornado, but most of the time you can press on through depending on the position. Pit's downB can reflect your tornado/shuttle rush, so be careful when using it as a recovery move. Other than that, Pit has big problems with the tornado.
Don't be afraid to edgeguard Pit. Get out there and give him the works. Take into consideration his jumps, glide, glide attack, fair and uair when going out, though. Also, if you hit Pit during his UpB, he won't be able to use them again until he lands. Most of the time, Pit will use his UpB to get to the other side of the stage depending on which one. A good counter to that would be stages like Yoshi's Story(brawl), where you can't go under them.
KO %'s on Pit are average, so don't go dsmashing early.
65/35 MK's favor.
Wolf
: A good matchup. Wolf has large zoning properties, and chargeable smashes due to such properties.
Remembering to grab is crucial in this matchup. Wolf has this unusually large shield for his frame, and MK can't cut through it easily. Wolf can sit there with his shield up until you create an opening for him.
Lasers cut through your tornado. Other than that and his large shield, wolf has trouble with the tornado. Throw it up when you need to rack damage and refresh KO moves(dsmash). Wolf can shield a full tornado with a full shield, so it becomes a mindgame of whether you're going to keep it or run and if he'll keep his shield up or chase.
Out-of-shield tactics are mandatory for fighting Wolf. His attacks are too quick to react to without good reflexes, so it's either that/anticipation or solid out-of-shield tactics. Nair/dair out of shield, dashgrab/attack or UpB out of shield, etc.. Nair to ftilt is very useful on wolf. Remember that there will be a moment where he will switch from defense to offense, and pelting him with attacks will hamper his style. Ftilt especially.
Dsmash is his KO move. He can also kill marginally early with fair. Edgeguarding Wolf is fine. You can beat the beginning and the middle of the wolf illusion with a well timed nair or tornadoing on the edge. However, the priority becomes too strong during the end of the attack. If you are caught in Wolf's UpB, double stick DI out of the last hit.
This matchup is a lot about pressure. You know that Wolf can start a string at the smallest opening, and Wolf knows that you can mess him up in general. Keep your distance and watch for what moves and tactics he favors.
55/45 MK's favor.
Fox
: A good matchup. Fox is quick and pelts you with blaster fire before moving in the dair and uptilt lock you. And then he usmashes you, which can kill as early as 85%.
You outrange him, but a good fox will use his speed to get around your priority. Keep your aerials flowing and watch your head. Many foxes want to enter in quick with a dair to uptilt/grab/jab/dsmash/usmash. While you can shieldgrab the dair, fox can bait your shieldgrab with an aerial approach and switch it up by landing with a turnaround fsmash or just sh lasering. The best way to deal with fox's dair tactics and baiting is to approach with well spaced aerials. Keep your distance and swing your sword, and grab when they become too reliant on their shield.
Fox has his own ways to deal with tornado, so use it sparingly. It is still crucial for disrupting fox's momentum.
Remember to keep the pressure going. Being just out of aerial range means a possible dair baiting, and any farther away than that means laser camping. Defensive play isn't as strong here.
60/40 MK's favor.
Pikachu
: A good matchup. Pikachu is another character you happily outrange, yet Pikachu can get the lead if you're not careful. With smart usage of QAC and thunder gimping, Pikachu can be a hard match if you're inexperienced against him.
Quick Attack Cancel is a nasty little thing for pikachu. It lets him zip around the stage with the ability to attack right out of it. Tornado can deal with QAC to some extent, as can some of your attacks with long lasting hitboxes(grounded shuttle loop, nair). Don't let yourself get mindgamed by QAC tricks, try to predict his patterns as he zips back and forth.
Spacing is as important as ever here. Ftilt can hit Pika out of thunder, and your aerials outrange his in general. Keep on him and save your dsmash for the kill as usual.
Pikachu's smashes can kill you easily, so it's best not to stay very long in close quarters with Pika. Also, Pikachu has some grab combos to work on you at certain percentages, so it's yet another reason to keep your distance.
While there aren't many Pikachus in the meta right now, this is a matchup many MK's could use experience in. A rogue Pikachu in the winner's bracket could cause much trouble for an unsuspecting Meta Knight.
60/40 MK's favor.
Diddy Kong
: A close matchup. Diddy Kong is a solid character that utilizes technical skills to make the most out of his bananas. His KO moves are surprisingly easy to land, but they won't kill even MK until a relatively high percent.
This fight is similar to Snake, in that you are forced to approach constantly while being somewhat safe and cautious. Diddy's bananas control the match, so disrupt his momentum by catching them with aerials and throwing them away or onto the stage. Don't let him get to work with those bananas, it will lead to grabs, subsequent strings and combos.
Bananas even go through the tornado! This makes the tornado less easier to spam, yet it is still a very practical move in the matchup.
If you get Diddy in the air, meet him and attack. Your range almost ties with his, but your hitboxes are disjointed and you have more aerial control(due to jumps and upB). If you get Diddy off the stage, throw his bananas off and then edgeguard. Don't waste any time bringing the match back to your favor.
Edgeguarding Diddy is relatively simple. Punish his monkey flip kick and ledgehog his upB. As when edgeguarding Shiek, they will usually aim for the stage rather than the ledge when they see you edgeguarding. Whatever they aim for, time getting back on the stage so your invincibility frames activate as a small ledgehog opportunity.
The matchup is difficult and is extremely close to being even. However, a stronger airgame and edgeguarding possibilities make up for the ground game shortcomings(bananas) altering this match slightly in MK's favor.
55/45 MK's favor.
NOTE: Akira and Gano are my favorite Japanese Brawl players. Watch the whole set if you have the time.
*More Later*
That's all for now, but I'll updating as I play more people and experience further aspects of competitive smash. Thanks for reading!
And here is a link to Nilah/L'arc's guide, for old discussion reference:
Nilah's Guide
Credit to

Menkoy

for help streamlining the guide and making it pretty. Also for providing moveset pics other than the specials.

-------------------