Wiki Pages

Log in to remove this advertisement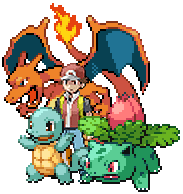 Table of Contents
1. Foreword
2. Attributes of the Pokémon Trainer
-Pokémon Stamina
-Pokémon Change
-Shared Techniques
3. The Pokémon
-Squirtle
-Statistics
-Movepool
-Other Options
-Opinion
-Counters
-Ivysaur
-Statistics
-Movepool
-Other Options
-Opinion
-Counters
-Charizard
-Statistics
-Movepool
-Other Options
-Opinion
-Counters
4. Match-Ups
Foreword
Pokémon Trainer... who honestly could have expected the inclusion of such a character in Brawl? He was dismissed by most on the basis of "what on earth would he do?", but I have to compliment Sakurai on being so inventive.
Pokémon Trainer was the only character I truly played until after about a week of owning Brawl. Perhaps this was a mistake on my part; it's not an easy character to play. What's more, the results you'll experience with PT will often be sub-par, for at this point in time he's looking to be a low-tier character (though not likely for much longer on account of TheReflexWonder's achievements, along with some others). If you're shouting "tires don exits!" or "Tiers r4 queers" at this moment, I suggest you stop reading now. This is a guide to competitive Pokémon Trainer play, and we all have to deal with his problems.
Attributes of the Pokémon Trainer (AKA the general stuff)
To start things off, it only makes sense to analyze the properties of the character as a whole. The Pokémon carried by the Trainer are often the only ones recognized, but because they are merely tools (*gasp*) being used by the Trainer, they all have certain properties in common.
Pokémon Stamina
This was probably the most confusing attribute of the character for the longest time, ever since it was unveiled by Sakurai himself. After some time, though, players were able to crack it.
Every Pokémon carried by the trainer has a Stamina factor. That is to say, after a set amount of time, the damage and knockback dealt by a Pokémon becomes DRAMATICALLY less, which can only be rectified by a Pokémon Change. This state is referred to as "Fatigued". It may not be so easy to notice the fatigued state visually in a fast-paced battle, but the Pokémon will start to show outward signs of fatigue when standing still when they have roughly 36 seconds of their stamina remaining, so you'll probably want to switch (if you're going to) around then.
A Pokémon's stamina will start off at 2 minutes and will drop with time. In addition to the normal passing of time, however, a Pokémon's stamina will diminish by 1 second for each attack made (grabs and grab attacks excluded). What does this mean? Make every attack count! You're wasting precious time when you whiff attacks!
While a Pokémon is not active, it regains 2 seconds of its stamina for every 1 second benched. A Pokémon cannot have more than 2 minutes worth of stamina, nor can it ever have less than 0 seconds. Stamina is NOT reset upon death.
Pokémon Change
Protip! This is the character's Down B.
I think it goes without saying that this move is very valuable and necessary. The amount of time it takes to switch is only a testament to this fact, and getting that time is only a matter of getting a kill or great enough launch. You can even take a hit if you deem it necessary; most characters aren't going to kill you for it provided your percentage is low enough.
The first matter of really tapping into this move is figuring out when it is actually appropriate to switch. Ivysaur is about to die! The first response would probably be to switch to Charizard. Is that always wise? Zard may be durable, but his usefulness is drastically cut when he doesn't have enough wiggle room to make a mistake or two. Furthermore, he may be a great asset in the particular matchup. In a case like this, I would gladly fight on with Ivysaur until he dies. Not only does this give Charizard a full stock to go raging, but it also gives him some prior damage to work with, and his durability will be at its greatest. A similar mindset can be applied anywhere in the lineup.
The second major advantage to this move is that it obviously gives you access to a totally different moveset. If you're really into this character, you can probably adjust to playing the new Pokémon's style really quickly. Your opponent, however, does not likely have this advantage. It will take them longer to figure out how to fight against you than it will take you to figure out how to fight them. With this in mind, you may want to switch as often as you can get away with to ensure that your opponent is always on their toes. Remember, a flustered opponent is easier prey.
Shared Techniques
Yep, there are more things that every one of PT's Pokémon can perform. I'll list these in no particular order.
Shield-Grabbing
The act of grabbing with the A button while in your shield. The effectiveness will vary for each Pokémon - Squirtle has next to no grab range, so proper spacing will evade a shield-grab. Ivysaur's grab is rather slow, so you'll probably get hit before it comes out. Charizard's massive grab range generally defies spacing, so he has an easy time of it.
Dash-Dancing
Dash one way, then immediately dash the other way before the opening dash animation is done, repeat. Now, while the effectiveness of this is rather moot due to tripping, it can still be used as a mindgame. It can also allow you to Pivot Grab from a standing position.
Pivot Grab
If you hit backwards and the grab button at the same time while dashing, your character will turn around and grab. Pivot Grabs often vary in range and lag times in comparison to standing grabs or dash grabs. Ivysaur's Pivot Grab has significantly less cooldown time than a normal grab. Charizard's is roughly the same as a normal grab, as is Squirtle's.
Dash Grab
You generally don't want to do this - it's grabbing while dashing. These will often have more lag and less range than a normal grab.
Dashing Shield-grab
You can cancel your dash with your shield in this game, so likewise you can do a standing grab out of a dash if you make like you're doing a normal shield-grab.
Fox Trotting
It's like dash dancing, except you do it one only one direction. It's most useful to Charizard as a mindgame, as he can stop on a dime. Squirtle wins for being really, really annoying in the sound department.
Hugging
Run off the stage and hold toward it. This will allow you to grab the ledge in an easy fashion. Why do this? Well, it puts you in a good position for edge-guarding or edge-hogging. Each Pokémon will do this at varying speeds because of their fall speeds.
Edge-guarding
Basically this is just interrupting your foe while they are recovering. If you do this well enough, you will be able to get kills much, much earlier than normal.
Edge-hogging
Only one character may occupy a ledge at a time. Because of this, if you are on the ledge, your foe will fall past it if you are not hit. If your foe has a Tether Recovery, their tether will not be able to grab the ledge at all.
"Chain-handling"
Okay, Ivysaur can't exactly do this, but Squirtle and Charizard can. There are a few characters in the game that, when they break hold of a grab, they lag enough so that you can just grab them again. The idea is to just do grab attacks to your heart's content until you want to kill them off.
Short-hop
Well, this should be quite obvious, but if you let go of the jump button before your character's feet leave the ground, they will jump at a much lower height. This allows you to do aerial attacks closer to the ground.
Fast-fall
At the peak of your jump, hold down. Your character will fall significantly faster than normal. When appropriate, fast fall after an aerial attack to move on quicker.
Ledge Hop
You can drop off of a ledge by holding down or back. Ledge Hopping is double jumping immediately after this to land on the stage, which is often faster than a character can normally get up from the ledge. It also allows you to do aerial attacks straight from the ledge.
Auto-Canceling
Usually when you hit the ground while doing an aerial attack, you will suffer some nasty landing lag. Some attacks can avoid this in that they can be finished before you land (this assumes you short-hopped it). To name these moves, Squirtle's Forward Air, Back Air, Up Air, and Neutral Air, Charizard's Forward Air, Back Air, and Neutral Air, and Ivysaur's Forward Air, Back Air, and Neutral air.
Hyphen Smashing
You can use the C-stick to perform an up smash while dashing. This is most handy for Charizard, who has a quick and reliable up smash.
Crawling
Squirtle and Ivysaur can crawl. Hold down to crouch, diagonally down to move in a direction. Moving backwards is slower than moving forwards, and only Squirtle's crawl is actually low enough to avoid anything significant.
F, B, U, D, N
These letters will be used throughout the guide as prefixes. If you didn't figure it out or know already, they mean Forward, Back, Up, Down, and Neutral respectively.
The Pokémon
FINALLY! This is the part we've all been wanting to see, so let's get on with it.
Squirtle

Type: Water, Tier: NFE (or around high-mid, if you prefer)

Statistics:

+ Very fast attacks (for the most part)
+ Superior air speed to most characters
+ Several unique techniques that add to his tricky nature

- Light Weight, meaning early death
- Severely lacking in range
- Will suffer from fatigue fastest

Movepool:

Jabs

Holding A will get these started and will continue them if the first hit touches an enemy or their shield. You can continue the 3-hit series manually by tapping A at separate intervals. This is one of the more irritating moves Squirtle's arsenal, as his jabs are ridiculously fast and hard to punish. Feel free to use these generously, particularly after landing from an aerial attack. Do note that while the first jab comes out immediately (frame 1), the window between it and the second allows some characters to hit you back at lower percentages (other Squirtles, Zamus, etc.).

Ftilt

Squirtle flicks his tail out in front of him. This move is fast with appropriate power for being so. It's possibly better than his jabs, as it doesn't lunge forward to where you risk counter-attacks. That being said, it effortlessly links into said jabs as if it were part of them. It can be aimed up or down, but the differences are minuscule.

Utilt

Squirtle stands on his tail and thrusts his hands up. While relatively hard to land, this move combos into itself as well as grabs and Uairs/Fairs/Bairs/Waterfall against heavy and fast falling characters. It's not unusual to get 0-60 in this fashion.

Dtilt

Probably one of Squirtle's heavier damage dealers, provided it all hits. Squirtle does a little break dance. Unfortunately, it isn't all that useful other than for the occasional shield poke.

Dash Attack

Squirtle turns his back and attacks using his shell. The hitbox stays out for a relatively long time and travels with Squirtle, dealing less damage and knockback the longer the move has been out. The cool down time is pretty bad for Squirtle, but it comes out fast, so it's a decent move for mix-ups, and can even set up for other moves from time to time.

Ledge Attack

Under 100%, Squirtle will climb up with a flick of the tail. Over 100%, he will climb up with a headbutt. Neither is particularly fantastic considering they're rather slow, so shy away from these. It's better to ledge hop a Fair almost all the time.

Fsmash

A slow but fairly strong smash attack with a little bit of super armor near the beginning, since he is in his shell after all. It has its launching power I suppose, but it's not a reliable killer at all, so I'd keep away from it.

Dsmash

Squirtle retreats into his shell and spins in place while spewing out water over a short range. While fairly situational, the knockback angle of this attack is a quite favorable downward direction, which can lead to kills at later percentages.

Usmash

The range on this thing is fairly beastly, but Squirtle has issues with speed here again. Strength varies depending on when and where the opponent was hit. You can hydroplane with this for a surprise KO sometimes, but it's probably best when relegated to taking out those who don't cover themselves properly while falling.

Nair

This is actually a neat little move because it's relatively fast and safe. Squirtle again withdraws into his shell and spins around spewing water. Much like his dash attack, the hitbox remains for awhile and does less the longer its out. This naturally has next to no landing lag as is, but it can be auto canceled as well so you can feel free to jab to cover yourself. Sometimes you can even get a grab out of it! At later percentages, it can kill outright and is a particularly good edgeguarding option since it's usually fresh.

Fair

The range on this is actually a little deceptive, as you can also hit with part of his shell as well. Squirtle kicks his legs out in front of him. It is among his most effective damage dealers and can also be auto canceled. The natural landing lag isn't too bad, though I don't like to take chances. Attack with it or save it to kill later; it's up to you.

Bair

This is virtually the same as his Fair except I swear it has no landing lag, auto cancel or not, so fast fall this mofo to your heart's content. Has less knockback than the Fair, so this is probably what you'll want to use for racking.

Dair

Squirtle makes like he's doing a Mario Tornado. Because this move has multiple hits, it can be a little hard to punish, particularly if you short hop it and land on the opposite side of their shield. Suffers some landing lag and can't be auto canceled with a short hop, so be wary of that.

Uair

Shame on you if you land during this move, because Squirtle will land on his poor little head. =(

Squirtle flicks his tail to the air above him. If you reserve this, there's a chance for an off-the-top kill with it. Usually, though, you'll be using it in tandem with Utilt and Uthrow for some easy damage depending on the matchup.

Water Gun

The neutral B.

This is just a really situational move when charged. You can't generally follow up on it well, nor does it actually do anything hindering most of the time. It can, however, do some nifty things like stop Sonic's Spin Dashes, punish people for landing on the stage with their Up-Bs, return items to sender, etc.

When it is completely uncharged (hit b twice), Squirtle spits some water right in front of his face. Provided all of it hits, it can actually do some fair damage, and being a disjointed hitbox is always nice. Not something you'll get to use much, sadly.

Withdraw

Side-B.

Squirtle does just what the move name would have you think, then he moves along inside his shell, dealing a weak hit to anyone stupid enough to get in its way. Squirtle is completely immune to damage while in his shell, but if he should get jumped on while in this, he falls onto his back in a helpless "omg I'm a turtle and I can't get up" pose, which lasts for several seconds and kills you if it happened in mid-air. Also, he can be sent flying in the opposite direction if hit by an attack while in his shell. You can cancel the move at any time by hitting up or the opposite direction to where you're headed.

Waterfall

Up-B.

As far as recovery moves go, this thing is not very good (but this is Brawl, so it's not really bad either). While Squirtle is covered fairly well, there is a vulnerable point on the top of his rising tower of water. Should someone get hit for the whole thing, damage is okay again, but they generally won't considering it doesn't have much of a pull. You can control the angle of travel a little bit with the control stick. Oh yeah, don't land after this move. Very nasty landing lag indeed.

Grab and Throws

Squirtle's grab range is actually quite a bit larger than you'd expect - about a Squirtle's length. The standing grab is pretty quick and without much risk, so make sure you dash cancel before you grab. His grab attack is quick, so feel free to throw in a few before throwing. Uthrow makes for okay set up, where back and forward throws don't do a whole lot of anything except tack on damage. You'll use those to pitch enemies off the stage. Dthrow will kill depending on positioning, enemy weight, and percentage. Usually, it kills at around 120 or so on middleweights at the edge. Fthrow is capable of a pseudo chain throw on many characters depending on DI, inescapable for some at very low percents.

Ledge Get Up

If you hit toward the stage while holding the ledge, you can get up without making a move. Under 100%, Squirtle crawls up and is capable of acting as soon as his invincibility wears off. Over 100%, Squirtle will suffer lag on the beginning and end of the animation.

Ledge Roll

Hit the shield button while on the ledge to do this. Squirtle will crawl up and roll a considerable distance back onto the stage. The obvious disadvantage of this is that he isn't invincible the whole time and it takes awhile compared to other options. Over 100%, Squirtle will take longer hoisting himself up, much like the ledge get-up.

Ledge Jump

Hit the jump button while on the ledge to perform this. Squirtle's ledge jump is fairly good because he can act almost immediately out of it. Over 100%, this maneuver seems oddly unchanged.

Spot Dodge (aka Sidestep)

Hit down while in shield to do this. Squirtle will spin around, invincible in his shell for a moment. It's one of the more time consuming spot dodges, however, so take care of when you use it. He can act immediately out of it.

Roll

Squirtle's rolling dodge is okay, nothing to write home about. Don't spam it, since it isn't all that hard to punish.

Rising Attack

God forbid you're ever in a position where you can tech and don't, Squirtle can attack while getting up by pressing an attack button. The attack Squirtle does depends on whether he's facing up or down, but it's pretty much the same either way. He flicks his tail to one side, then the other.

Tech and Techroll

Speaking of teching, Squirtle's techroll is a lot like his regular roll. Teching in place is almost immediate. Chances are you won't need to tech a whole lot, but it happens, so be prepared to hit shield before contacting a surface.

Wall Cling and Wall Jump

Oh dang, Squirtle has wall cling. Basically, if you're facing a wall, you can hold toward it to hang there for a little bit. Hitting away from the wall will do a wall jump. While the applications for the wall cling are mostly stalling or tricksies, it has its moments, and is unique to Squirtle, Sheik, and Lucario, with Squirtle getting the most out of it. Try it out on Yoshi's Island!


Other Options:

Shellshifting

Squirtle's dash turn-around is special in that it actually INCREASES his momentum for a brief moment. In addition, you can do any attack out of it (provided you know the proper input, of course). It's useful for mindgames.

Hydroplaning

If you charge an up smash out of a shellshift, you should go gliding across the stage as you charge the move. It's a nice surprise sometimes, and that's what you need to land the up smash. This is easiest to perform with tap jump ON, though it can be done with tap jump OFF by additionally pressing X/Y when inputting the Usmash.

Forward Hydroplaning

Like Hydroplaning, except this is done without turning around first. Tilt the control stick in the opposite direction, then do a quarter circle upward while pressing A to conduct the Usmash. If done properly, Squirtle will swing forward at an alarming pace while performing the smash, naturally turned around. Again, easier with tap jump ON, but can be done with it OFF if you add X/Y to the Usmash input.

Shell Stalling

Merely flicking the control stick in the opposite direction of your dash without holding it will cause Squirtle to just stay in place for a moment before popping out of his shell.

Some other funky thing

If Squirtle uses Fair or Bair while running into a slope, he'll slide up it while canceling the move.

Another trick related to the pivot[u]

Yeah, if you jump out of a shellshift before you begin running the other direction, Squirtle will be catapulted in the direction you were heading. Helps get those aerials in.

[u]One more note

Squirtle has a resistance to fire, meaning it suffers less knockback from fire-based moves, which are plentiful in the game. Ironically, Flamethrower and Fire Breath trap it more effectively, but you can survive a lot of Snake's arsenal easily, for example.

Similarly, it's weak to grass-based moves, but only Ivysaur has these.


Opinion:

Squirtle has steadily been showing his true colors as time goes on, and is only getting better in the eyes of the community. This is probably rightfully so - he's very hard to punish and can take advantage of the tiniest openings himself. It is extremely difficult to play a good Squirtle, however... so be ready for a learning curve.


Counters:

Nearly any character with a significant range advantage that can keep up with Squirtle's pace, disjointed hitboxes helping especially. The likes of Marth, for example, will be very difficult.
Ivysaur

Type: Grass/Poison, Tier: NFE (Pretty horrible...)

Statistics:

+Powerful anti-air game
+Frustrating

-Tether recovery
-Inefficient damage dealer
-Kill options are very difficult to land

Movepool:

Jabs

Ivysaur attacks with with his vines, the hitbox expanding the longer the move is out. It can be a bit of a hassle to cancel this move once it's rolling. This move won't see much play, but it's there if the opponent is too far to safely follow up with anything else out of his Nair.

Ftilt

Ivysaur attacks with a flurry of leaves in close-quarters. It's fast and relatively safe, but due to DI, it isn't going to hurt a whole lot. Some characters can even end up on the opposite side of you long before you finish. Ew.

Utilt

Ivysaur throws itself into the air with its vines. It actually has momentary invulnerability to things on the ground. Anyway, this move is nice in that the range is fairly large and it's decently fast. You'll often be able to chain two of these at lower percentages. Use it to deter aerial approaches from directly above, or when a foe is sitting on an overhead platform.

Dtilt

A quick attack with two hits. I'm not a fan of it, but it can be useful as a shield poke, and can hit those who linger on the ledge too long as well.

Dash Attack

Ivysaur does a sliding tackle, effectually similar to Squirtle's dash attack, but much easier to punish. It is capable of killing at high percentages, but it's not exactly a great move. Take care of when you use it.

Ledge Attack

Ivysaur crawls up with a hooked vine attack. Over 100%, he simply forces his way up, though with a little less haste. Again, these things are slow and not to be overused.

Fsmash

Ivysaur lunges forward with a push of its vines, then returns to its original position. For some characters, this can be hard to punish, but since Ivysaur's hurtbox moves along with the attack, it's possible for the opponent to trade hits with it or even beat it outright with a disjointed move. However, its sending power is nice, and it's probably the go-to kill option in most cases.

Dsmash

Ivysaur sweeps the area around it with its vines. It's not particularly strong and could be faster, but it provides decent coverage around you, for what it's worth.

Usmash

Slow and short range, but MAN THIS SHIT HURTS. It's possibly the most potent smash in the game in terms of KO power. At merely 54%, a light and floaty character like Peach is ripe for an off the top kill using this move. Of course, it's not something you'll get to enjoy all that often. Punish bigger mistakes and air habits with this.

Nair

Ivysaur "does a barrel roll". The move has several hits, pseudo-spiking capabilities, and low lag, so SPAM IT LIKE NO TOMORROW. It is easily Ivysaur's best move, especially against bigger characters.

Fair

Ivysaur uses its vines to attack an arc of about 90 degrees from above its head to in front of it. Not only does this move have great range, it also possesses KO power in the later percentages. With proper execution, you can weave in to take a shot at the enemy with this, then land outside of grab range with no lag.

Bair

Ivysaur does a little pinwheel thing using his vines. The range on this is absolutely insane, and it has next to no landing lag. It can be taxing to get through a wall of Razor Leaf, Bair, and Ftilt, so use this often and well. The damage is sadly disappointing. Note that some characters such as Meta Knight, Kirby, Fox, and Sheik, can grab you for using this, even if perfectly executed and spaced. Grumble.

Dair

Ivysaur's vertical momentum will just stop when you use this move. He turns over and a big explosion fires from his bulb downward. This isn't something you'll use much because it experiences nasty landing lag, but it can be used for a momentary stall when you're in the air. On top of this, it can spike provided you hit the foe with what I believe to be the tip of the bulb.

Uair

Holy crap maaaan, Ivysaur basically does his Usmash in the air with none of that startup lag. This is a great KO move, though the air dodge mechanics of Brawl will really force you to predict well in order to land it. It should be noted that Ivysaur will get pushed downward by the force of this move and will suffer a fair bit of landing lag if used on stage.

Bullet Seed

If anyone gets caught in this thing, they are taking an unfair amount of damage. However, with good DI and anticipation, the "pop" won't send them into the stream of seeds, leaving you entirely vulnerable for some time. Take caution when using this, as it is far from reliable.

Razor Leaf

Razor Leaf is a funny projectile in that it has several different trajectories and spinning speeds that all seem to be completely random. Naturally, this can be a tad annoying for you. Regardless, this move is good for peppering damage and is decently fast. Most characters have an option to stop these altogether, though... on some characters at certain percents, you can follow up with a grab.

Vine Whip

There are 2 variations of this attack.

First, there's the attacking version, which is thrown into the air at roughly a 45 degree angle above Ivysaur's line of sight. There is a sweetspot on the end of the vine that will deal a stronger hit (noted by an electrical sort of sound).

Then, there's the Tether Recovery. If Ivysaur is in the vicinity of a ledge while he is in the air, this move will go for that ledge, if it is in range. The problem here is that if the ledge is occupied, the Tether Recovery version of this attack flat doesn't work, and you'll get the attacking version. As such, Ivysaur will get gimped easily if you're not careful.

Let's revisit the attacking variant. At first I didn't see it as a very good move, but I've come to appreciate it after a lot of practice. Once you get a feel for the angle and range of the attack, you'll be able to utilize it for its main purpose: striking at the blind spot of Ivysaur's other moves. Vine Whip is generally unexpected, and since the sweetspot is rather large and strong, it makes for a relatively safe KO option at times. It's useful for punishing airborne foes who aren't watching their placement, as well as striking those jumping from the ledge or on platforms above. Learn to integrate this move into your game!

Grab and Throws

Tentacle rape! Ivyaur's grabs are quicker than most long-range grabs, but they still are pretty laggy if you whiff them, so take care not to. Once he gets his vines on a foe, he can squeeze them for 2-3% at a time, though these grab attacks are also fairly slow. Fthrow and Bthrow will pitch them offstage, where Dthrow and Uthrow will set up for further attacks.

Ledge Get Up

It's pretty much the same as Squirtle's.

Ledge Roll

Also pretty much the same as Squirtle's except it obviously goes a bit farther.

Ledge Jump

...Okay, can I assume that all of these maneuvers will be near identical?

Spot Dodge (aka Sidestep)

A decent spot dodge. Not much to say.

Roll

Another decent roll, nothing special.

Rising Attack

Ivysaur throws his vines around him similarly to his Dsmash, but with much less range.

Tech and Techroll

The only thing I'll say is that these are a HELL OF A LOT BETTER THAN HIS NORMAL ROLL. Not that they're really ever used...


Other Options:

Okay, these aren't so much options as they are rules to keep in mind when using Ivysaur.

1. Fight center-stage. The farther Ivysaur is from a ledge, the less likely you are to get gimped.

2. Recovery. Hang on to your double jump! As you DI toward the stage, throw out Razor Leaf to keep your opponent off the ledge. If this hasn't worked, be ready to strike them with your Fair. If all goes well, you'll be in a position where you'll be able to Up-B. If not, just drop down and space appropriately to spank them with the attacking Up-B if they should hold on too long.

Also, kill it with fire

Yeah, the bounty of fire moves that Squirtle shrugs off will likewise have Ivysaur meet his maker quite easily. It resists water, but only Squirtle has water-based offenses.


Opinion:

Ivysaur is probably the most often misunderstood Pokémon in the set, which causes people to brush it off without fair reasoning. As awkward as Ivysaur may feel, however, he has a lot of power and defensive damage dealing backing him up - and he controls a lot of space. How easily he is gimped is only a testament to his ground control.

Well, that's only half true. Ivysaur is just too slow and weak in all the wrong places, and can die at the drop of a hat if you aren't careful. Look to minimize his screen time unless the opponent is seriously having trouble.

Counters:

Characters with superior ground game will give Ivysaur a difficult time. Anyone with a more spammable projectile forces it to approach. Things that stay in the air a lot like Peach are things you'd think would be easy, but they really aren't so long as they're properly positioned. Basically, that's most of the high-end characters...

Charizard

Type: Fire/Flying, Tier: BL (Somewhere around Mid)

Statistics:

+ Heavyweight
+ High power
+ Very strong edge game
+ Fantastic overall range, particularly on grabs
+ Some useful super armor
+ Speed where it counts

- Easily stringed
- Large target
- Poor at approaching

Movepool:

Jabs

A standard 1-2-3 jab combination. You'll be using this A LOT to get people out of Zard's face. Knockback and hitstun are as such that these will occasionally set up for a grab, more jabs, or even a Dtilt KO.

Ftilt

A flick of the tail, with a sweetspot at the flame. Decent range and power, suffers from some startup. It can kill at later percentages.

Utilt

Charizard hoists his wings up in a triangle formation. This is a great tilt. It can juggle some characters for awhile and gets people out of the air above you. It can also kill at later percentages.

Dtilt

Charizard bites the ground in front of him. Not only is this move fast and safe, it also has kill power at mid percentages and up. It's pretty scary, so save it for when the time is right. You can shield poke with it too.

Dash Attack

It reminds me a lot of DK's dash attack. I can't say it's a terribly useful move overall, but it will set up for further moves if you can connect with it. Just... expect to be grabbed if you use it a lot.

Ledge Attack

Charizard climbs up with a headbutt. The interesting this about it is if the enemy is too close, they'll get popped off the stage themselves. Over 100%, Charizard opts for using his tail instead.

Fsmash

Remember Bowser's Fsmash? This is kind of like that, except a lot faster. As you would expect, it's a fair finisher, but take care not to be predictable with it, or you're getting burned during the lag on either end.

Dsmash

Charizard used Earthquake! This move is fast and has good range on both sides. It pops enemies up into the air for further action. Punish the fools who think they can roll around you with this move. The killing power of this move is a lot less than his other smashes, however

Usmash

This move is bloody fast. A two hit wing attack, the first sets up for the second. Hyphen smashing is very effective with Charizard because of this move. It has some nice killing potential when reserved, but NOT if the enemy's percentage is too high, as they'll more easily DI out of it.

Nair

Moar barrel rolling. This is a defensive move more than anything else. It can be used while retreating or to cover a large area, and it sweetspots at the flame as usual. Use it in tandem with Dtilt to get a Marth-like defense going.

Fair

When did Charizard start playing D & D? He breathes fire in a cone on this one. Now, there's an issue with this move that makes it so you can't approach with it. The hitstun and knockback it deals depends on which area of the move connects. If they're hit with the edge of the flames, they're not budging. If they're hit by the wings, they're flying. I prefer it as an edgeguarding move for this reason. Rock Smash often serves better as an approaching and defensive move.

Bair

Charizard whips his tail behind him. It's a two hit move that also sweetspots at the flame. What can I really say? It's fast and has kill potential, so it's something to keep in mind on the edgeguard and at later percentages on stage. Has a really strange sourspot near the wings that spikes extremely weakly.

Dair

Charizard stole the stomp from Falcon and friends. Oddly enough, most characters ARE actually tall enough to get hit by full jumped Dair. Then again, this isn't really the purpose of the move. It's a powerful spike, meaning you should try to smack people on the edgeguard with it when you can. Certain characters will be more susceptible to death by Dair than others, so bear in mind when each individual character will fall. Fun fact, Peach is dead at 30% to this move. =3

Uair

Charizard bites the air above him. This move is great because of how long it stays out and its initial sending power, though you shouldn't rely on it to kill due to the game's air dodge mechanics.

Gliding and the Glide Attack

After a double jump, hold the jump button down (or hit back on the control stick) to begin a glide. Charizard takes some time to get into flight, and when he's in flight he's sadly pretty open to assault. His glide attack is pretty quick and suffers no lag whatsoever if you land with it, but the problem with it is that it's not a disjointed hitbox, so it'll have to meet other moves most of the time. Unless you have a significant amount of horizontal distance to cover, don't glide.

Flamethrower

This move is handy. Anyone who gets too close is eating an automatic 10+ percent. It beats a lot of projectiles. It's a great edgeguarding move on some characters. You can aim it with the control stick, which is useful on occasion. It'll dwindle over time, but it recharges quickly.

Rock Smash

OH MY GOD.

When we all first saw this move as part of Charizard's move list, let's be honest - we thought it was going to be useless. But apparently Sakurai doesn't like following canon, so he turned one of the weakest moves in the Pokémon universe into one of the strongest in Brawl.

If it all connects, it deals a whopping 45%. No, I'm not joking. If it doesn't all connect, there is a wide range of damage and knockback possibilities because of the multiple hitboxes. This move wrecks shields if not powershielded. If your opponent gets hit by some of the residual rubble at the end, feel free to run up and grab them. Did I mention this move has some super armor frames at the beginning? Yeah, like it even needed that. <_>

It's a fast move that you can approach or defend with. It can kill. What a wonderful special. <3

Expect to be punished if you spam it though.

Fly

If your opponent gets caught by this at later percentages, they may actually die off the top. Aside from that, it's just a fairly safe recovery move, particularly since it has super armor at the beginning.

Grab and Throws

Charizard's grab is not only fast, the range on it is huge. His grab attack is a simple and fast bite. Fthrow and Bthrow are edgeguard set ups, Uthrow is a juggle set up. Dthrow can kill at later percentages, much like Squirtle's can, though the knockback angle is much less favorable.

Ledge Get Up

It's pretty much the same as Squirtle's.

Ledge Roll

It's not very good. Charizard suffers some delay before he can actually act after losing invincibility.

Ledge Jump

Yep, it's pretty much the same as the other two.

Spot Dodge (aka Sidestep)

This spot dodge is actually the fastest in the party. It's a nice perk for bulky Charizard.

Roll

Not the best of rolls, but it has its moments.

Rising Attack

Charizard will swipe with his claw as he gets up. If he was face down, he flicks his tail and bites instead.

Tech and Techroll

Erm... well, these are okay. Not that they come up often.


Other Options:

Nothing particular to note here. It does have a water weakness and grass resistance, but these move types don't exist outside the Pokémon Trainer.


Opinion:

After playing PT for so long, I've really come to appreciate Charizard for a few reasons. The first is that he's a survivor. He's one of those characters that if you don't kill him early, he's hard to kill at all. The obvious second reason is that he's a powerhouse with great area control. He has no trouble cleaning up and getting the KO; hell, he might even net you two kills if you're really on. Lastly, we can't forget just how much of a badass he is. Like a friend once said, Brawl really made me like Charizard again. He will no doubt serve you well with practice.


Counters:

Charizard can often hold his own against a majority of the characters in the game, but the faster they get, the harder it gets. This is on account that Charizard is generally easier to string, so you have to stay frosty. Remember, Charizard has large hitboxes himself, many of which are quick, so if you ever begin to have trouble, play defensively. Well, unless you're faced with projectiles. Charizard really doesn't like that. Flamethrower won't beat all of them.

Match-Ups
Okay, so here's where we go all srs bsns. This is probably the most important part of the guide, so I'll take care to provide my best, most accurate analysis of each match-up that I can.
Time to revamp this garbage for real.