Nope, it's SvR07 now. I just had to put things right for that to happen. Creating a few crap CAWs just for those who are in here and not SvR07.
November 8
quote

Before the show began, a recap of the last scene on Raw played.

RVD : Hey Goth. Dude, like I can't believe a man of your intellect actually fell for it but we were here like hours ago. Right now, I think we have caused enough mayhem on Raw for you to think about and maybe, I'm WWE Champion. Oh and by the way, we gave you a nice parting present in your garage. Good night.

GR : My garage?

He slowly goes into his garage and it's as bad as the other parts of the house when suddenly...

GR : OH MY *bleep*ING GOD! *bleep* YOU ECW, *bleep* YOU!

The words echoed as the recap ends.
quote

The cameras then shift to the parking lot area where Cerebral Assasin comes out from his Corvette. He starts to greet the workers who are in the parking lot in a chirpy way. He seems to be in a good mood when suddenly, a limousine comes at him in full gear and he gets by it...well, he tried jumping out of the way but no use, he's done for...is he dead? The paramedics quickly attend to him as some wrestlers gather around him.
Now get the guns, the drugs, From my generation.
I'll take the fall, the saints, across the nation.
And it's the sex, the gods, the freaks, the frauds.
They're messin' with me, Come on, come on, come on.
Let's get it on!

Move to the music,
Play that *bleep*ing music,
Move it to the music, yeah! (Get it on)
Move to my music,
Play that *bleep*ing music,
Live through my music, yeah!

Now get the guns, the drugs, from my generation.
I'll take the fall, the saints, across the nation.
And it's the sex, the gods, the freaks, the frauds.
They're messin' with me, Come on, come on, come on.
Let's get it on!

Move to the music,
Play that *bleep*ing music,
Move it to the music, yeah! (Get it on)
Move to my music,
Play that *bleep*ing music,
Live through my music, yeah!

Forget the lies, the money, we're in this together.
And through it all, they said nothing's forever.
And they refuse to see the change in me,
Why won't they wake up? Come on, come on, come on.
Let's get it on!

Move to the music,
Play that *bleep*ing music,
Move it to the music, yeah! (Get it on)
Move to my music,
Play that *bleep*ing music,
Live through my music, yeah!

Move to the music.
Move it to the music, yeah.
Move to my music.
Live through the music yeah.

(Test, test, test, test)
Move to the music.
(Test, test, test, test)
Move it to the music, yeah.
(Test, test, test, test)
Move to my music.
(Test, test, test, test)
Live through the music yeah.
(Test, test, test, test)

Move to the music,
Play that *bleep*ing music,
Move it to the music, yeah! (Get it on)
Move to my music,
Play that *bleep*ing music,
Live through my music, yeah!

Move to the music,
Play that *bleep*ing music,
Move it to the music, yeah! (Get it on)
Move to my music,
Play that *bleep*ing music,
Live through my music, yeah!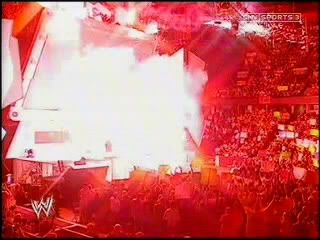 The fireworks explode loudly in the arena as the fans go nuts as that signals the start of Raw. The cameras shift to a few sections of the crowd before going to the commentary table where BTH and Coach are standing by. No CA since he got rammed.
BTH
: Welcome to Monday Night Raw people, I'm BTH...yes I'm using my initials, unfortunately alongside Jonathan Coachman. In fact this makes me quite suspicious on whether you rammed CA just now.
Coach
: Now let's not get too carried away. The Coach does not need to ram a newbie to be here but enough about all this because we have a show here tonight and I mean look at this main event...Rob Van Dam and John Cena will face off against the team of Triple H and The Undertaker. I mean how can those two work together to beat Cena and RVD?
BTH
: That you know...could be interesting. The cards fall directly in Cena's favour but you will never know if Team Angle may screw all this up but are you ready for this? Up next, yes now will be a match designated by the General Manager himself. It will be the newly crowned World Tag Team Champions, the Dudley Boyz facing off against Val Venis and Viscera in a Texas Tornado Tag Match.
Coach
: Now this is what happens when you mess with the GM and the Extremely Crappy Wrestling originals are going to pay for destroying such a beautiful house. Although I feel, MySpace does truly suck in the words of Ken Kennedy.
Texas Tornado Tag
The Dudley Boyz v Viscera & Val Venis
Viscera and Val Venis enter the ring together as they get a dead reception from the crowd. The fireworks then explode as the crowd go nuts for the Dudley Boyz who enter the ring with their street jeans and merchandised shirts on as they hold the gold aloft. They enter the ring but Viscera and Venis start to attack them mercilessly. Obviously they're under orders of such from the GM. Venis throws Devon out of the ring as Viscera hits a devastating Samolian Drop on Ray. Devon gets thrown to the steel steps with some force from Venis. Viscera hits the Big Splash on Ray but he manages to kick out. Viscera picks Ray up but Ray fights back with lefts and rights, followed by that elbow of his. Ray sees Venis and lands a Powerslam that only gets a 2 count. Devon throws a trash can lid, a street sign and a...walkie-talkie? He also finds a trolley but doesn't bring it inside. Ray picks up the trash can lid and slams it on Venis and Viscera twice on the skull. Devon enters the ring with a kendo stick and tells Ray to make Viscera kneel down. He then whacks Viscera on the head with it. Ray throws Venis out as Devon follows suit. Ray has that street sign and he sets it in between the turnbuckle. Devon puts Venis inside the trolley as he heads to the start of the ramp. Ray tries to throw Viscera to the street sign but Viscera counters it and throws Ray right at it with some force. At the same time, Devon is running with the trolley and they are going to collide with the ring post! Venis' head hits the ring post with some force. Viscera gets ready for the Visagra when Devon enters the ring and uses the walkie talkie...not hitting him with it but talking in it. The crowd laugh as Viscera looks behind and gets clubbered with the walkie-talkie as Ray hits him with the Bubba Bomb. Ray pushes Devon and tells him to get the tables. Devon goes outside and grabs the table when he gets ambushed by Venis. Venis throws Devon to the barricade before entering the ring with the table. Ray turns around and gets hit with the table into the gut as Viscera is up and slams him with the Visagra. He pins him but no! Kick out, they can't believe it at all. Viscera tells Val to go up as he sets up the table. Val though gets pulled out of the ring by Devon and he sprays PEPPER SPRAY right into the eyes before hitting the Piledriver. Viscera turns around but there's no sign of Venis as he decides to climb the ropes. He gets to the second when Devon knocks him out with the pepper spray can. Viscera falls as Ray and Devon now get ready, he wakes up and receives the 3D as the Dudleys get the win.



Winners: The Dudley Boyz
quote

The Dudley Boyz are busy celebrating in the ring when the General Manager's music hit the arena to the loudest chorus of boos he's heard in a long time as the ECW chants started once more. He comes out as the Dudleys look calm and relax.GR

: Cut the damn music please. You think this is a game guys? You think life is all ha-ha-he-he? Well it's not and your takeover plan is not going to work one bit. Hell, I may even lay Team Angle on you guys right now if I want to but I won't because I'm the General Manager of this damn show and as long as I'm here, I'm in charge and as long as I'm in charge, I'm going to cause your life a living hell until you stop all this crap about reviving old-school ECW

[Fans chant ECW]

Can you people just shut up for once? Boo me all you want because I'm in charge and I can just kick you out of this arena whenever I feel like it.

Ray

: Hey wait a minute here, oh great dictator but you said that as long as you're here, you're in charge?

GR

: Yeah, that's what I said? You don't understand?

Ray

: No, no I understand but there's one thing that I'm wondering and since you're that clever, you can answer this right? So, if you're not here...you're not in charge right?

GR

: That's true but that isn't going to happen. Why would I want to leave this place?

Ray

: I guess then, we can just kick the crap out of you...throw you out of this arena and take over Raw again right? If you're not going to leave on your own will, then I guess we will have to do it by force.

GR

: Wait a minute, hey! Can't we talk this over?

The Dudleys then march onto the stage area as GR makes a dash for it. Both men seem to be in no hurry to chase him as he runs around the hallway and to the door that reads "Team Angle" on the front of it. He opens the door and frantically calls out Kurt, Charlie and Shelton but there was no response. He tries opening it but it's locked. He knocks on the door again and he got a response...but not the one he was expecting.

RVD

: Hey dude, don't disturb their beauty sleep.

GR

: Wha...what are you doing here? And what the hell is that?

RVD

: Sleeping gas. Just unloaded it into their locker room so you won't get them for now. Let's see...two hours till they wake up and when does the show end? Oh...two hours so...

GR quickly makes a dash for it and runs towards his office. The Dudleys then arrive as RVD too does so. They try to open the door as a scared-looking GR stands on the opposite side of the door.
BTH:
Well it looks like the General Manager is in deep trouble Coach. I think he's in a position where he can't escape.
Coach:
Don't underestimate our General Manager. We all know he is the best there is right now, he'll eventually get out of there.
quote

The cameras cut to Carlito who's busy talking...or flirting for some people's taste with some of the make-up girls. Nothing seemed to be stopping this guy from talking when a familiar, confident yet cocky voice roared.

Orton: Holy crap, Carlito trying to flirt with white girls? Shouldn't you be flirting with some Caribbean reject or something?

Carlito: Excuse me ladies, what do you want Randy?

Orton: I want you to screw up Chris Masters. Screw up his chance at making to Survivor Series.

Carlito: Woah there, Carlito is no backstabber but you Randy Orton is capable to do so. Why do you want to ask Carlito when you could ask like...Batista?

Orton: Because Chris Masters was the one who cost you those tag team titles am I not wrong? If it wasn't for his hidden agenda, you two could have been champions a long time ago.

Carlito clearly looks flustered after that. Randy seems to have gotten him right where he wants him. Carlito continued...

Carlito: You don't understand Carlito at all. Carlito knows that Chris Masters will never cost the team. He's like Carlito, new breed. New breed of superstars who will eventually get what they deserve.

Orton: You're pathetic. You know that Carlito? At least Chris Masters had the balls to betray a weakling like you.

Carlito: If that's true, at least Chris Masters has the balls to do his own dirty work unlike you Orton.

That definitely struck a nerve in Orton as he immediately attacks Carlito before sending him crashing to the nearby mirrors. Orton slams Carlito's head hard to the concrete wall before nailing the RKO on him. Orton then spits at Carlito before leaving away.
BTH:
That Randy Orton...he's despicable.
Coach:
How can you blame him? He's not part of the Raw team for Survivor Series and he was replaced by Chris Masters? I mean, is Chris Masters ready for this? I say, hell no.
BTH:
I can't really disagree right there Coach. I think our General Manager has made a mistake and...
Coach:
And here comes Shane McMahon! This should be good and look, he's heading right here.
After receiving numerous jibes from the fans during his little routine, he heads to the commentary table.
Singles
Chris Benoit v Kane
Shane O' Mac commentary in italic
Kane starts backing towards Benoit to the corner and punches him. Kane picks up Benoit and throws him out of the ring. Kane takes his time to walk out of the ring. Man is he going to get his ass kicked when he gets down there. He grabs Benoit by the neck and yells at him. Benoit kicks his way free and throws Kane into the barricade. Benoit dashes to the ring. Kane walks back in the ring in a matter of seconds. As if I'm scared of that Coach? Kane tries some hard punches but Benoit ducks and blocks most of them. He then hits Benoit with a hard right uppercut. Benoit bounce off the mat. Shane O Mac would have sprung up BTH. Kane picks him up by the neck and Chokeslams him. Kane doesn't think that it is enough. He tries a Tombstone but Benoit kicks his way out of it and desperately grabs Kane's legs for a pin but he only gets a 2 count. See how stupid he is? He waits for Kane to get up then a German Suplex followed and another then one more. He does the neck cut taunt and receives a loud chrous of boos. He goes to the top but Kane sits up and goes up the same turnbuckle. A few punches and Kane has control and gets ready for a Superplex and nails it. He pins him but a kick out. Kane gets ready for another Chokeslam. I'm going to talk to Kane. Shane then distracts the referee. Kane has the hand on the throat but Benoit lands a low blow on Kane and quickly locks in the Crossface. Kane was in the middle of the ring and taps out immediately.



Winner: Chris Benoit
Aftermath:
Chris Benoit celebrates as he holds his arm up high when Orton's theme music hits the arena. Benoit looks surprised as that music rang around. The boos started to grow louder as Orton in his ring gear comes to the ring. He looks at Benoit, who likewise does so. Orton then pokes him in the eye and lands the RKO. Orton smiles for the cameras as Christian's theme music hit the arena.
Singles
Christian v Randy Orton
Christian and Orton start this fight off delivering hard right hands back and forth until Orton throws him against the ropes and he dropkicks Christian. Christian gets up and walks right into another dropkick. Christian gets up again and ducks a third dropkick to a suplex. Christian Shoulder Blocks Orton out of the ring. Christian dives out of the ring with a Vaulting Press Slam but Orton rolls away. Christian lands hard on his stomach. He holds it in pain as Orton gets up and launches Christian towards the steel steps. Christian hits it hard knocking the top one over. Orton slowly walks over in true Orton fashion, cockily. He throws Christian back in the ring and stalks for the RKO. Christian gets up and he pushes Orton against the ropes and Flapjacks him when he comes back. Christian picks Orton up and starts to punch him then lands one straight in the mouth. Orton holds his mouth as Christian whips Orton to the turnbuckle. Orton hits it hard and walks into a Tornado DDT. 1......2......kickout. Christian argues with the ref then starts to stomp and kick Randy. Randy is trying to move away but desperately fails. Christian finally lifts him up and suplexes Orton. He starts taunting but Orton shoots up and when Christian turns around... WHAM! RKO! Randy lands it and makes the pin. 1......2.....kickout. Orton can't believe it. He starts to argue with the ref. He grabs the ref by the collar and threatens him. Christian dropkicks Orton who collides into the ref knocking him out. Orton and Christian brawl before Orton nails a Neckbreaker. Suddenly, Carlito dashes down to the ring from the crowd and clocks Randy Orton on the head with a steel chair. He drags Christian onto Orton's body as he pulls the ref to the shoulder area and with the slow count, Christian wins again.



Winner: Christian
Aftermath:
Christian celebrates as Carlito goes to the back, proud of what he did. Orton looks at him with real menace as he slams the mat like an angry man.
quote

The cameras quickly go backstage as we see Team ECW (The Dudley Boyz and Rob Van Dam) still outside the General Manager's office. They continue to knock on the door. The cameras then shift to the office where GR is trying hard to find an escape route.

Ray: Hmm...what could he be doing that's so important, that he has to lock his door for this long.

RVD: I don't know but I could smell pot right here.

Devon: I know how to get him out...sir, it's room service!

GR: Don't think I'm stupid, I know it's you three.

RVD: I think I know what you're doing in there and you should stop because if you don't, you could lose your eyesight.

The crowd laugh as GR doesn't look amused. Then he spots his holy grail. A ladder and a ventalation shaft on the ceiling. He takes the ladder and slowly ascends it while unscrewing the shaft when...

RVD: Hey Devon, why don't you get that drill there.

Devon: Here you go.

RVD: Now Ray, you know what to do with that hammer.

Ray: Definitely.

Suddenly, they start to hack at the door plus drilling a hole near the door knob. GR ups the pace on unscrewing the shaft and he's done and crawls into it. The cameras then shift to another area as GR gets out of the shaft...a few seconds later that is. No sign of the ECW guys around. He slowly walks around before heading to an intersection, branching to 3 different ways it seems when he looks forward he sees...Rob Van Dam. He backs off and turns right and sees...Devon Dudley. He backs off again and turns left to see...Bubba Ray Dudley. GR quickly runs back as all 3 men chase him before GR made it to the boiler room. Suddenly, all 3 men stopped.

Ray: Wait...why are we stopping here Rob?

Devon: Yeah Rob, what's the scoop here? We're quicker than that little man.

RVD: Oh don't worry, he's right where I want him.

In the boiler room, GR looks for a door. He finds the door as he heads towards it. He opens the door and slowly walks forward to see Sabu jump in front of him. He has a piece of barbed wire with him as GR quickly runs, screaming at the sight of Sabu...or the barbed wire. He heads to another door that leads him to the outside of the arena and he slips on a puddle. The crowd laugh when suddenly, two big feet appear right in front of the slowly recovering GR and a Singapore Cane. The Sandman was right at him as GR pleads for mercy. Sandman then whacks him hard with the Singapore Cane, knocking him out. He carries GR up and calls for the garbage truck to come. He throws GR into the heap as it goes away. RVD and the Dudley Boyz then arrive.

RVD: Great job Sandman and you Sabu. Now let's rule this brand our way.
BTH:
Oh my gosh, are we going to see Hardcore matches all of a sudden?
Coach:
I don't know but Mr.McMahon has to do something about the situation soon or we're going to see a lot of chaos.
Singles
Chris Masters v Batista
As Masters and Batista get ready to do battle, Rob Van Dam appears on the titantron.
RVD:
Dudes, you know being General Manager is just as great as taking all this pot right here and tonight, for the next three matches there will be a taste of ECW once again so for this match, I want it to be a Hardcore match. Sweet.
Both men don't look too happy but it's Masters who's more alert and gives him a blow to the head. Masters goes outside and thinks of getting a weapon but smartly doesn't as he remembers that he wants Team Raw to be in good condition for Survivor Series. Masters gets back in the ring but Batista meets him with a Clothesline. Batista throws Masters to the turnbuckle and lands a huge Shoulder Charge before nailing a Samoan Drop. Batista starts to taunt Masters before stomping on him real good. He picks Masters up and lifts him high up in the air and drops him for the Jackhammer. He pins him but only gets a 2 count. Batista can't believe it at all and goes outside. He grabs a fire extinguisher and makes his way back in. Masters slowly gets up but he receives a face full of smoke as Batista nails a devastating Spear. Batista now has full momentum and gets ready to finish this match. He picks Masters up and signals his thumbs down. He lifts Masters but he received a shot right at the skull with the fire extinguisher from Randy Orton. It's all legal here. He starts to beat the crap out of Batista before giving him a shot to the torso. He sees Masters and nails him with the fire extinguisher as well. Orton starts to grin when Shawn Michaels comes in and asks him what the hell is going on here. Orton grins as he tries to talk his way out before of all people, John "Bradshaw" Layfield comes in and delivers a Clothesline From Hell to the back of Michaels' head. The crowd boo even louder as Muhammad Hassan comes in and locks in the Camel Clutch on Michaels. Michaels is suffering badly as Hassan finally lets go of the hold. Orton, Hassan and JBL all shook each other's hands as they raise their hands in glory. All three men walked out of the ring as Batista slowly woke up when Edge suddenly comes from the crowd. He wants Batista to get up and WHAM! Spear! Batista is knocked out as Edge finishes the job.



Winner: No Decision
BTH:
Damn! How could they do such a thing! That bastard Randy Orton, I hope he gets what he deserves!
Coach:
Calm down now. You're going to be as bad as JR at this rate.
BTH:
Yeah but you saw what just happened. SmackDown invaded Raw and Randy Orton showed no unity there. Imagine if he was in the team Coach.
Coach:
None of this would have happened.
BTH:
Exactly...wait a minute.
quote

The cameras once again go backstage as WholeDamShow gets ready for his match against Booker T when Team ECW enter the locker room.

RVD: Listen WDS, I'm not going to call you WholeDamShow since I am the Whole Damn Show but we're here in peace. We don't hold any grudges against you eventhough you agreed that ECW was rubbish.

WDS: Where is this going guys?

Ray: Hey we want to wish you luck in your Buried Alive Match at Survivor Series. What? That hard to believe? We support Raw too you know.

Devon: But since we're the GMs right now, we make the rules and we have a surprise for you WDS. We want to make the world think more highly of you so here's my suggestion.

Devon whispers something in WDS' ear. WDS looks extremely shocked and disgusted after that.

WDS: No way man, no way I'm doing that.

RVD: Suit yourself. If you don't agree, then we may have to fire you.

WDS: You can't do that, you're not the GM...oh wait...so what am I supposed to do again?

RVD: Just go to the office and you'll know what to do.

With that, WDS walks away as the other three men laugh out loud.

RVD: Man...this is going to be good.
Singles
Booker T v WholeDamShow
Booker T is waiting for WholeDamShow to come out and when he did, Booker couldn't stop laughing as WDS came out wearing a dress, like an evening gown. He enters the ring, face extremely red. He tries to Clothesline Booker but he trips. Booker stomps on the man but still continues to laugh at him. WDS tries to walk but he's definitely uncomfortable with the dress. Booker starts to attack him more now as he nails a nice kick to the face. Booker picks him up and lands a Scoop Slam followed by a Leg Drop. Booker throws WDS towards the turnbuckle and goes for something but WDS lands an elbow and sets himself up on the second rope. He jumps but receives a huge Powerslam. 1...2...kick out. Booker tries to kick him again but WDS ducks and gets out of the ring. WDS shouts at the crowd with anger as they continue to taunt him. WDS tells Booker that he's finisher and walks away. The ref gets to 10 and awards Booker a win on his wrestling return.



Winner: Booker T
Coach:
I think WDS was smart there. The match is not worth it at all. Wrestling in a dress in front of the millions of people.
BTH:
But Vito wrestles in one.
Coach:
That's because he lacks talent and charisma unlike this guy.
Tag Team
Rob Van Dam & John Cena v Triple H & The Undertaker
All three men were already in the ring when Rob Van Dam finally comes in but has a microphone in his hand as the Dudley Boyz follow him with a trolley of weapons.
RVD:
Alright listen up here you three. I respect you guys, let's make that clear. You three are the main contenders to the WWE Championship but tonight, I want you to receive a taste on what might happen at Survivor Series. Tonight's match will be a Hardcore Tornado Tag match and...you can't pin Rob Van Dam to get the win.
Triple H and Undertaker immediately attack Cena as RVD slowly made his way towards the ring. He throws in a few weapons. A chair, street sign, trash can and lid, a golf club and a baseball bat. RVD made his way into the ring but Taker and HHH were more interested in beating up Cena. RVD comes in and helps out Cena by giving both men Spinning Wheel Kicks. RVD gives Cena the trash can and Cena slams the trash can on HHH's head. RVD then holds the chair and he nails the Vandaminator on Taker. Suddenly, RVD nails the VanDaminator on Cena too much to the shock of the crowd. RVD tells Cena he's outta here as he walks out of here. It's suddenly a two on one handicap match. HHH gets up and sees Cena getting up and nails a Chop Block on him. HHH throws Cena to the turnbuckle and starts to deliver chops until Taker brushed HHH aside and nails his elbow right at Cena's chest before giving him a big Sidewalk Slam. HHH argues with Taker as Taker lifts the baseball bat. He waits for Cena to get up and he nails it right at the torso. HHH sees Cena bending down and he connects on his Pedigree. He wants to pin Cena but Taker pushed him away and nails a Chokeslam on him. HHH this time pushes Taker away as Taker tries to intimidate him. HHH tells Taker that he's not scared and lands a punch on him. Taker holds his face and gives a huge right hand and both men start to exchange punches before HHH low blowed the man and nailed the Pedigree. He turns around, only to see Cena up and smash his head with the street sign. Cena places the trash can lid on HHH's jewels and wielding the golf club, slams it sending HHH rolling to the outside. Cena picks Taker up but Taker gives him a Headbutt before nailing the Big Boot. Taker grabbed Cena's arm and went to the turnbuckle. He's going for the Old School but Cena kicks the ropes and Taker lands badly. Cena then pulls Taker towards him and he nails the F-U. He pins Taker and he gets the win.



Winners: Rob Van Dam & John Cena
Aftermath:
After Cena's victory, he spots HHH trying to nail him with the sledgehammer but he ducks and kicks HHH at the gut before nailing the F-U on HHH. Cena starts to celebrate when Taker suddenly sits up and is behind Cena. Cena turns around while taunting and Taker carries him and has him before nailing the Tombstone Piledriver. Taker starts to taunt to the fans as he stands tall with both Cena and Triple H lying down.
quote

Raw Results
The Dudley Boyz def. Val Venis & Viscera
Chris Benoit def. Kane
Christian def. Randy Orton
Chris Masters v Batista ended in a No Contest
Booker T def. WholeDamShow via countout
Rob Van Dam & John Cena def. Triple H & The Undertaker
Meh, not my best but I barely have any time these days.
This message was edited by Goth_Raider on Nov 20 2006.