Log in to remove this advertisement
SW BF II Forum Rules v1.12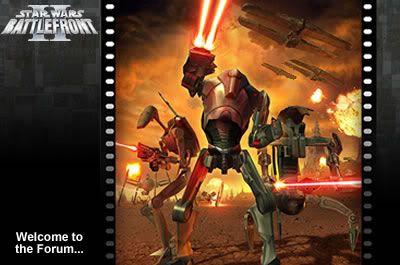 Battlefront II Forum Rules
Although I originally had hoped that these would be unnecessary, I've decided after closing four threads tonight that not only should perhaps the
Forum Rules
be reviewed, but perhaps some forum specific ones put in place as well. Please follow the following rules, as any breach of them could lead to punishment as decided on by the current moderator, and if resulting in banning, I can tell if you are a member or a guest coming to get around a ban. Remember, although there seems to be a lot of rules here, they are all common sense, and my PM box is always open.
1. Off Topic Posts
Although this is already listed in Neoseeker's forum rules, it would be good for all to review this specific rule itself. Any off topic posts will and can be deleted. This means that, unless it is specific to that thread or in the general discussion as set out by the original post, it will be deleted. If I begin to find similar posts all over the place, expect a short ban. Also, any short, one liner posts will also be dealt with accordingly, since most of the time, they contribute absolutely nothing to the discussions at hand.
Remember, for more off the cuff discussion on Battlefront II we do have a General Discussion thread stickied at the top of the forum.
2. Gaming/Non-Battlefront Threads
I've seen a definite increase of these over the past week, and I'm going to be cutting down on them as well. We already have an Elimination, Quiz and News thread, all of which are currently enough. If you want to make a new game, please PM me first, as otherwise it will be closed and deleted, depending on the circumstances. As long as Battlefront II topics get impeded by others, they will be closed.
Recently, the
General Star Wars
forum was created, allowing for more non-Battlefront discussion to flourish there.
3. Quoting
Please only quote if need be, such as to draw attention to a point or if the posts was several back. Otherwise, don't, as it does not help the thread to have six paragraphs and two lines in response.
4. Flaming and Trolls
Twenty day ban, no questions. When you insult any member, expect one of these to be flung in your general direction.
5. Memberation
I can use the mod queue. If you can't and decide to circumvent me, then your post will be editted. Repeated memberation will get you banned for a short period of time. If I need help, I'm sure a sufficient co-mod would be promoted, and asking will get you nowhere. Until then, please use the handy report feature (
report
) which is attatched to all posts in this forum.
6. Titles of Threads
If I can't tell the general idea of the thread from the title, then it is most likely not sufficient for your needs. This is more of a suggestion, as it is not I who will need help, but you. So give your thread a meaningful name, and not "HELP!!1!!1".
7. Language
We speak English on Neoseeker, and not some form of chatbox slang, 1337 or msn shorthand. If I can't decipher your post, it's worthless, therefore spamming and will be deleted.
8. Double Posting
These will be merged. If I see too much of this, then prepare to recieve a warning. There is an amazing tool called 'Edit' (
edit
) on the bottom of each of your posts. Use it! Otherwise, you might get a PPD limit placed on you for a short amount of time.
9. Reporting Posts
One report for a thread full of spam is fine, thanks, as I can find my way and read through the thread from there. Several posts in a row moved to the mod queue is just a pain to get through. If the entire thread is full of spam, mention it to me in the report summary and I will deal with it. Flaming the thread creator in your report doesn't help either, so making a report saying:
quote

He's being an ass again, ban him!
Won't be looked upon kindly. See rule number 4.
Please follow these rules and hopefully we will make BF II a model for Neoseeker!
EDIT 5/11/06: Removed Scarchelli as Section Moderator.
EDIT 12/11/06: Added self as Section Moderator.
EDIT 3/2/07: Fixed avatars.
EDIT 1/3/07: Fixed avatars, placed past moderators section.
EDIT 16/6/07: Fixed avatars
again
.
EDIT 12/9/08: Fixed avatars, section moderators, and current moderator