quote Scarebear305


I for one do believe God exists. Think about it. How could all come from nothing.
But why does it necessarily have to be a God, and then why does it have to be your God specifically? Do you have any evidence that supports this claim?
There are many other theories out there that try to explain how the universe came to be, but most cosmologists and astrophysicists subscribe to the big bang theory. It's not some idea that they came up with, and not one that you need
faith
to believe in. There's plenty of evidence that supports the theory. I don't really have time to explain it, but you should look up the details. I will point you in the right direction:
Doppler effect + universal expansion.
Your entire argument here is the first causal argument (you might not be aware of it). Basically it says that something cannot come from nothing, but at the same time the argument contradicts itself. God, for the sake of your argument is exempt from the rule making it a logical fallacy or special pleading. But how do you prove that God was the first cause? The burden of proof lies with those who make claims.
If you make an unsubstantiated claim, then how do you expect skeptics like me to believe it?
quote Scarebear305


I'm not a preacher or anything but my father is a pastor at a Baptist church. I have had many doubts about God but the doubts aren't great enough to destroy my belief in Him....

...These are my thoughts...Im a Christian and have a pretty good understanding of my religion and i stand by it. Id gladly try to answer any questions.
Atheism in a nutshell
I'm going to try and explain to you why I'm an atheist. I'm going to try to show why the atheistic outlook is a better one than that a of faith based belief.
Faith
Atheists, like myself, don't believe there is a god nor do they believe that something requires a god for creation. That said I don't have faith in naturalistic origins, I have trust in science and the scientific method. A trust that's earned. I don't know how a universe is created, but I don't necessarily have 'faith' in that naturalistic means is required either. I'm saying I don't know because their isn't any convincing evidence that says one mode of thinking is more correct than another.
Here's where the contradiction in faith and atheism. You claim to know for
absolute certainty
how and why a universe comes into existence without much if any evidence that leads you to that conclusion, and when asked about how you know this is true, you claim that faith is required ultimately. You even believe that since this seems logical for you, everyone must also believe this is logical.
Faith is not required for a disbelief in god as the causation for a universe because I haven't been shown any evidence that would forward a belief in a God. The only conclusion that I can possibly come to is that somehow the universe was created. I don't pretend to know how or why.
Science and Evidence

1. Science looks for truth in the world using rational, logical methods.

2. Nothing in science is considered true without evidence. As a scientist they have to be able to convince other scientists that what they have is valid by presenting evidence.
Atheism is built much in the same way. If anything this is perhaps a widely accepted construct of atheism. If you can't prove to me that something exists or something works then how and why am I supposed to believe it?
Another thing is, you can demonstrate your findings. You can show others the process that led you to that conclusion. When you make a claim of something the burden of proof resides on you to prove it.
Religion
Religion makes claims to the supernatural that can't be validated to be correct. It resides in this void that does not require evidence based knowledge to
know
something is correct. This to me is a great flaw in logic, and this is why I don't think that religion does anyone any good. You do things that can also be achieved by purely secular means, healing, and caring for sick/poor/elderly.
If all you have is testimony of an event with no evidence or means to recreate said event then how do you expect others to believe it?
But then most people, put their God into this supernatural category where it can't be proven to exist. When something weird happens they attribute it to God, and when we can't find any evidence for that claim it seems to further back up their belief that God did it because he can't be proven to be the cause.
It's circular logic and counter intuitive.
---
I'll try to explain the nature of science in greater detail:
I suppose you know the scientific method: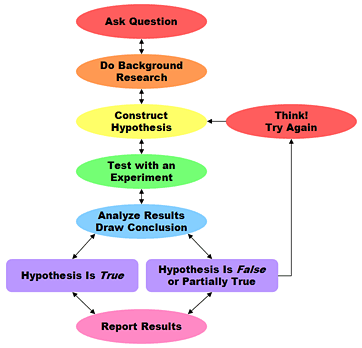 The image above outlines how scientists come up with an answer to a problem. Once they do the experiment often they will repeat the experiment to further their findings. Then they publish their findings in peer reviewed journals and put it to the test. Science is more or less a competition of ideas because in most cases funding for further research is available or simply prize money to whoever can figure out a problem. With that in mind it's safe to assume that scientists will look for anything to disprove a rival group's theory.
When the scientific community reaches a consensus or a majority on something they will publish it in textbooks for highschool kids to learn. This is why the evolution theory is taught in schools. The theory stood the test of scrutiny and has
earned
it's way into the classroom.
Science merely looks for truth in the physical world in which we live. It does it in a manner that excludes bias or at least does a good job in keeping it out.
If you've made it this far, then thanks for reading it

. Start paying attention in science class it's not only interesting, but you will learn something that you didn't know about I promise.
edit
quote Shadow of Truth


I'm pretty sure Albert Einstein was an atheist, but I may be wrong
I think he was an deist, and you ninja'd me